By Jan Westmark Bauer
Portraits by Melissa Fuller
Ansley Wright lives in sunny South Florida and is looking forward to her collegiate adventure, which will take her to another sunny state—it just happens to be 3,000 miles away. Ansley is headed to University of California, Davis in the fall as an incoming freshman, and said when she visited the campus and met the coach in person, she knew it was the right place for her. "I was also able to meet the team captains and they were so welcoming," Ansley said. "They made me feel like I could fit in on the team. I also saw the major academic benefits of a top public university."
At 18 years of age, Ansley is realistic about the distance from Florida to California. "I do think I'll be homesick, and I think I'll miss my family and horses a lot," she said. "I just try and think about it as only a plane ride home. Many people, when they go to college, have to ride a plane home—mine will just be longer."
Ansley has family in California and is counting on that to help relieve any homesickness. "My mom's cousin and uncle's family live nearby in San Francisco to help me if I have any trouble," she said. "Having family nearby is very comforting since I will be far from home. I had been to California to visit my family in the past."
How did you get into horses?
My mom started riding when she was about 12 and continued to ride consistently until I was born. She showed on the local circuit until she went to college and continued to keep her Junior horse while I was little. She would bring me to the barn with her and I loved playing with the horses and showing people how I knew the names of every horse in the barn. While we didn't have a barn ourselves, I spent so much time there that I soon wondered when it would be my turn to get a pony, and that happened when I got Houston when I was about 4 years old.
What has your riding life been like?
I have ridden on the 'A' circuit at shows such as WEF and Tryon. My horses and I live in Wellington for most of the year and travel for a few weeks in the summer. I showed in the 3'6" Equitation with my horses Clint and, before him, Dynasty. I also showed in the High Junior Jumpers with Diamanto JT Z. I ride with trainers Alan Korotkin and Susan Tuccinardi, and before that I rode with Melody Shapiro and Gary Duffy.
What appealed to you about UC Davis?
The most appealing aspects of UC Davis were the welcoming atmosphere of the team, and the high academic standard. I worked so hard throughout my life to be successful in my riding and my school work. I wanted to be able to improve my riding on a smaller team, while learning about how I could help change the environment at an agricultural school.
What is your major?
I have chosen to major in environmental engineering.
What impression did you have after visiting UC Davis?
I love the agricultural atmosphere and their large emphasis on sustainability. I loved the feel of the school, such as how it felt like a large university and a small town at the same time. The beauty of the plant life in the arboretum was so calming and almost took you out of the reality of a busy university.
What are you looking forward to in California?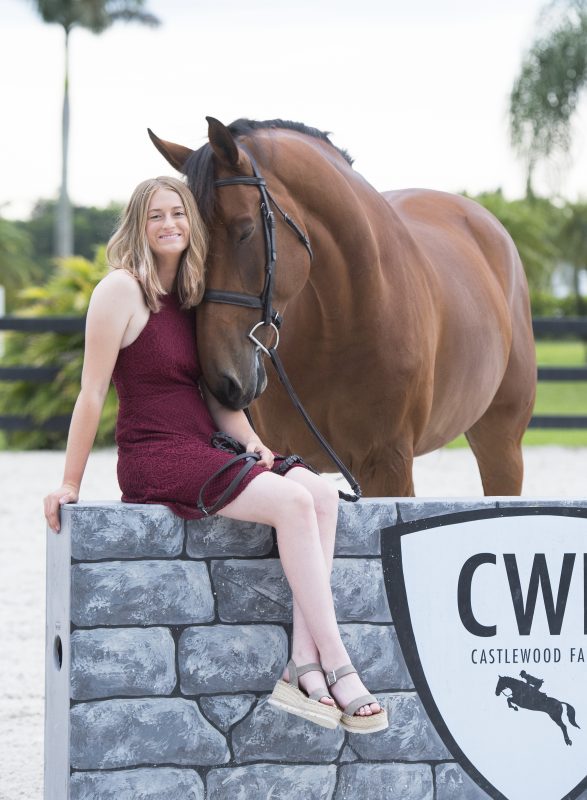 UC Davis is a Division 1 NCEA [National Collegiate Equestrian Association] team. I look forward to meeting the other incoming freshmen including my roommates, and forming a bond with the other students on the team. I'm excited for practices, riding many new horses and learning how to tackle complicated flat patterns.
What part will you play on your school's riding team?
I'm not quite sure yet what part I will play on the team. I'm hoping I can work hard at practice to prove my ability to compete at meets.
What are you looking forward to the most about riding in college?
I look forward to forming a bond with a team. Our sport is such an individualized competition and it's very difficult to understand what riding for a team feels like. I hope to learn how to work with others on the team to improve my own riding. This includes learning my place on the team and where they need me the most. I would also like to learn from others in group practices and have the opportunity to ride new horses I'm unfamiliar with.
What are your goals for the future?
I want to come out of UC Davis as a better rider and a person that can help in the environment with their large emphasis on ways to make the world greener. I also want to continue in the equestrian community whether that is large shows or working with a young horse at a smaller farm. In the future, I hope horses will always be in my life, even if my job takes me in a different direction.
What advice would you give to others who are looking to ride in college?
I would just say to continue and not give up in the recruiting process. It may seem like you have sent millions of emails, but the coaches are seeing them. It's also extremely important to send videos of yourself on as many horses as possible to show how you will be a great addition to their team. The most important part for me was the visit to the campus. I visited many different campuses and learned about many different team cultures before finally finding the one where I could see myself there. For me, living all the way across the country and going to meet the coach in person helped me show the coach that they were my number one school.
For more information, visit ucdavisaggies.com/sports/equestrian
Photos by Melissa Fuller, msfullerphotography.com
Double D Trailers Info