Story and portraits by Nikki Clingerman
What do an artist, a philanthropist, a naturalist and a retired CEO have in common? Usually not a whole bunch, but in the case of Barbara Nelson, it's everything. Barbara is all this and more, especially in the interest of equines and canines. Barbara is building her ever-evolving legacy on all things helpful and hopeful, beginning with the local animal shelters.
Art leads to Aiken
While light-hearted in spirit, Barbara has a no-nonsense approach to animals, nature, and all that they entail. In the early 2000s, while sitting on the board of directors for the Minneapolis Humane Society in Minnesota, she and her late husband felt it was time to move somewhere warmer. A visit to Charleston, South Carolina, set them on the path to do just that. 
As the featured sculptor for the world-renowned Southeastern Wildlife Exposition, better known as SEWE, held annually in Charleston, Barbara displayed one of her classic bronze sculptures—a bas-relief foxhunting-themed vase. The art collector who purchased the vase for his sister-in-law insisted that Barbara meet her, as she was also a foxhunter and a resident of Aiken, South Carolina. He felt that the two would have a natural connection, and he was right.
 "Gail and I met and struck up a wonderful conversation about Aiken and its equine history. She and her husband, David, invited us to visit on our way back to Minneapolis; we fortuitously agreed. As we drove into town that night, the picturesque steps of the First Baptist Church and the beautiful tree-lined streets captured my heart. I immediately felt comfortable; it was truly synchronistic that we were looking for a warmer climate to live in and suddenly this town I had never heard of pops up on the radar."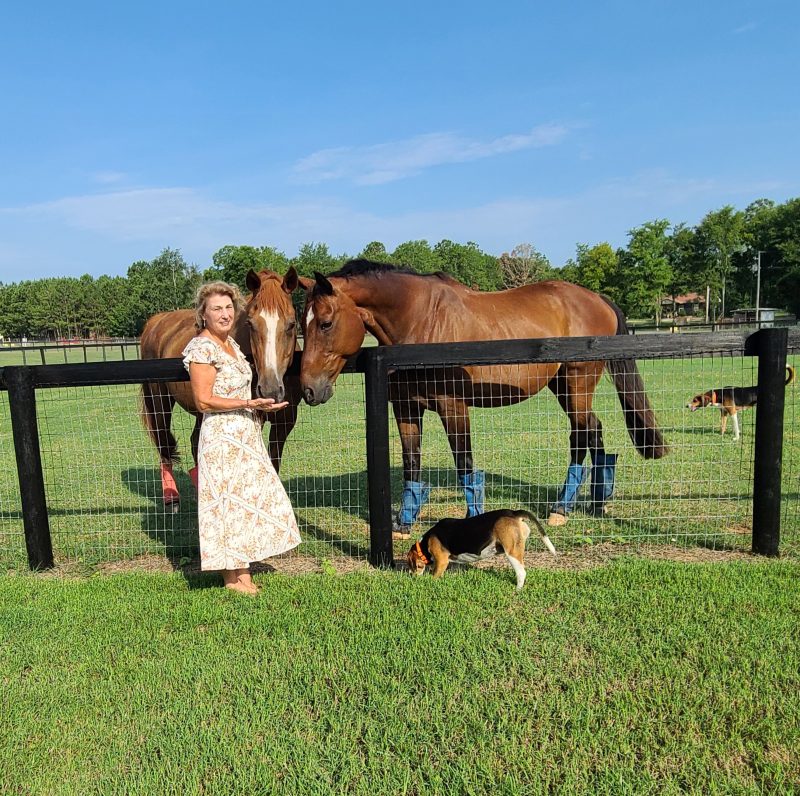 After just two nights and an extended stay the following winter, they knew it was worth the move. "We sold our farm outside of Minneapolis and headed south," said Barbara. They bought an 80-acre cow pasture and transformed it into what is now known as Gray Fox Farm: a horse farm with an Aiken Land Conservancy-protected wildlife area on Shaw Creek along the Highway 302 equestrian corridor. After selling Gray Fox, Barbara rebuilt a smaller farm just minutes away from her office at the SPCA Albrecht Center for Animal Welfare and within walking distance of the new Aiken Steeplechase Course and Highfields Show Grounds. "Leaving the land, the ducks I raised, and all the wildlife at Gray Fox was a bit of a tear, but this little farm has a spirit unto itself. It's quiet, my animals are happy here, there's a vixen and her family that comes by for chicken scraps, and it's two minutes to downtown to hang out with friends. What more can you ask for?"
As a sculptor, many have seen some of her work without even being aware. Barbara was among the artists chosen to participate in the Aiken Center for the Arts 'Horse Play' project. Each artist painted one of 21 fiberglass horses that were later auctioned at the Aiken Steeplechase. Many of these horses can be found placed pleasantly throughout the town of Aiken. Her eyes become a little brighter as she describes the joy of seeing her creation, named Hav Sum Fun, purchased by a syndicate and displayed at the Racing Hall of Fame located in Hopelands Gardens. Her bronze sculpture 'Savager,' of two exercise riders on trainer Mike Freeman's young horses, can be seen in the museum itself. 
Philanthropy and Legislation
Art being the catalyst that drew her attention to the South, she did not allow any moss to grow as she delved into the welfare of furry friends. When she initially became involved with the Aiken SPCA, it was due to the need to reduce the unwanted, homeless dog population. There were and still are many dogs, cats and other domestic animals neglected, abandoned and in need of care, love and responsible owners. 
Barbara remembers when she arrived in the area and discovered that both the non-profit SPCA shelter and the county government shelter were completely overwhelmed. Along with other SPCA board members such as Mary Guynn, Del Hickey, Linda Strojan and Steve Young,
Barbara worked tirelessly to implement change by appealing to the city to put into place ordinances aimed at encouraging spaying/neutering and microchipping.
Since that time, the admission of dogs by the City of Aiken to the SPCA Albrecht Center shelter has been reduced by half, even with the increase of thousands of new citizens to the area. "At the Albrecht Center, we are working hard to give our animals a safe place to live until they are re-homed, but we are also concerned with their mental well-being," Barbara said. "We give them a life worth living while they are with us. Domesticated dogs want a person to bond with. When they lose their 'person,' they're lost. It's our job and it is my personal life endeavor to bring positive energy to the human realm, through the love of animals." 
The Albrecht Center in Aiken is where her life's passion can be seen in full view. Barbara and her team created the first non-profit full-service veterinary care clinic in the state of South Carolina. That clinic is a life saver for pet owners who could not otherwise afford the cost of veterinary care in the private sector. The Center also gives back to the veterinary profession by offering a robust externship program for fourth-year vet students at no charge to the student. The program is extremely popular with vet schools across the United States, as well as England, Scotland and India.
"It's very costly to provide labor, feed and medical treatment to animals in shelters. We depend upon our thrift store, an efficient and frugal business plan and the contributions of our supporters to help us break even at the end of the year." And that is why, after spending nine years as the president and CEO of the SPCA, Barbara has handed the day-to-day activities of the operation of the Albrecht Center over to a new executive director while she assumes the role of chair emeritus and concentrates on philanthropy and legislation. 
Naturalist and Nature
Aiken is a place that has seen a lot of growth in the past few years. With growth comes change. Barbara admits that it's great to see the communal progression. As a wildlife biologist, however, she's grounded in nature and keeping things in their intended natural state. "I like seeing the equine community grow, but it's my hope that we will build our future by conserving the natural land, soil and trees. Let's remember that everything on the earth is part of the carbon chain. Remove one link and the chain doesn't work. It's that simple." Barbara feels that it's our human responsibility to live peacefully, in harmony and in synchronicity with the earth and each other.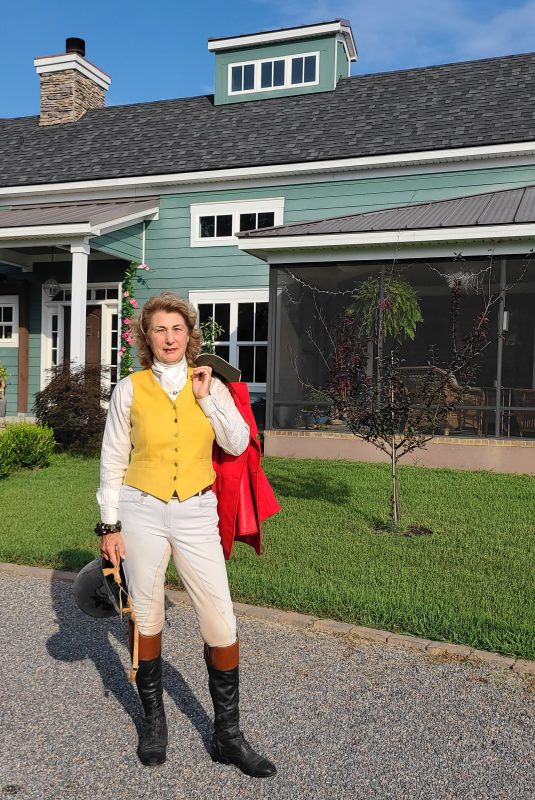 In her collective of accomplishments is the ex-Master of Foxhounds of Whiskey Road Hounds, and Barbara still loves to hunt on her 17.1-hand German Hanoverian import, Schnapps, who shares his pastures with her homebred show jumper, Peaches, a 16.1-hand Galoubet and Benvolio lineage beauty. While jumping Peaches is challenging, fun and rewarding, Barbara is drawn to the hunt for many reasons. The love of the outdoors, a partnership with a fine horse, the thrill of the fast gallop and the camaraderie with friends keeps the body both fit and happy. 
"I've been around horses nearly all of my life. When I bought my late horse, Hav Sum Fun, aka Andrew, off of the Canterbury Park Race Track in Minneapolis, I really learned what it was like to have an animal that was not only a thrill to event, but also to hunt," Barbara said. "He was the first horse to truly show me the bond between creation and a hooved animal. Many people don't get it with horses. They relate to their dogs, but treat horses like machines. They are not. They deserve our respect and goodwill."
Equine communities, she admits, are very inclusive in that each rider is working to learn more in development of themselves and their horses and to reach certain goals. She feels it would be even better if everyone could work together sharing the space and keeping trails open to all.
"We ought to be respectful of the earth and of each other—cats, dogs, horses, people," aspires Barbara. "It's never about just me or us. It's about appreciating what we have been given and leaving this world a better place."
As she continues to prosper in this area and grow personally, professionally and politically in the world of animal welfare, she hopes to see responsible expansion in the community. 
"These days, if I am not rescuing some dog or cat, or trying to convince an elected official to pass some common-sense animal welfare bill, you can find me with my horses, snorkeling in Hawaii or, if time permits, squeezing in some golf," Barbara said. "It's about doing good deeds, living consciously and in sync with life. It's short … lighten up and enjoy yourself."
For more information, visit www.letlovelive.org
Double D Trailers Info