By Victoria Sheehan
Portraits by Evelyn Szczepanek
Hanging on Olympic dressage rider Lisa Wilcox's wall is a prized possession. No, it's not her 2004 bronze Olympic medal from Athens, or her silver medal from the FEI World Equestrian Games. It's not a trophy, ribbon or title at all. On the Olympian's wall hangs a pencil sketch of her atop her beloved Oldenburg partner, Relevant. The careful hands that etched this moment in time belong to one of Lisa's cherished students, 18-year-old Bella Watson. 
"Her artistic ability is off the charts," Lisa said.  "This is a very, very creative mind we're working with. She has many more talents than just what she's doing with horses."
Bella's journey to become a student of one of classical riding's best at first seemed anything but ordained. The first time Bella sat in a saddle, she was 12 years old. Bella started in dressage because the 20-year-old Arabian she first rode couldn't jump. But Bella didn't care, just so long as she could ride. 
Bella seized the opportunity to groom and bathe horses in exchange for 30-minute lessons at the end of the day. Single lessons turned into multiple per week. She groomed, mucked stalls and hand-walked horses. As Bella worked for more time in the saddle, her parents weren't sure owning a horse was in her future. "We weren't planning on ever buying a horse," Bella said. "My dad always said, 'We are never buying a horse.'" 
Bella graduated from her beginner barn to another where, in order to ride, they had to lease a horse. So entered her first introduction to the hunter-jumper world, thanks to an older children's hunter named Worthy. 
"Worthy took me to my first show," Bella said. "I went from doing walk/trot crossrails on an OTTB to the Low Children's Hunters. I actually jumped an oxer backwards," she said with a laugh. "It was a whole different world for me." 
With Worthy, Bella's parents realized horses were more than a childhood obsession—they were her calling. But the reality remained they could not afford a made show horse, or the typical going price of a proven schoolmaster. However, a trainer stepped in. With some help, Bella's dad learned the meaning of 'never say never' and they were able to take ownership of Worthy. 
Bella didn't give up on her dressage either. She became a working student. Her trainer imported three unbroken 2-year-old warmbloods to train and sell as prospects. Bella helped her trainer take care of them and fell in love with a grey gelding named Yoyo. Their connection was obvious and the trainer offered the family an opportunity for Bella to own Yoyo. "He is literally my best friend," Bella said. "He's the type of horse I'm keeping in my life forever, even when he's a very old man."
With horse ownership came a natural learning curve. The family moved to train with hunter-jumper rider and trainer Tori Colvin, bringing both horses with them. While Bella was there, she competed in hunters and made her jumper ring debut, eventually moving up to the High Children's Jumpers. "Tori taught me a lot and basically built that strong foundation of riding for me that I never had," Bella said. 
Diamonds in the Rough
While at Tori's barn, Yoyo remained Bella's dressage horse but he was missing a strong dressage program. That's when Tori's mom, Brigid, offered to reach out to Lisa Wilcox on Bella's behalf and ask her to train the pair. 
"My jaw dropped to the floor," Bella said. "I have always been a huge fan of Lisa's. But I thought that someone like her would not take on a girl with barely any experience and a 4-year-old horse that was just picked out of the field."
But Lisa gave them a shot. She invited them to her farm to show her what they were working with. It was Yoyo's third time ever being in a new environment and Bella felt like she was going to be sick from nerves.  
"It was so embarrassing," Bella said. "Yoyo was exploding and I was holding on for dear life. Lisa was trying to teach me what a neck rein was and I had no idea what she was talking about. Yoyo was snorting and jumping all over the place. She knew I couldn't really control him and that I was nervous. She got on him and wrangled him right up into a frame." 
Lisa and Bella spoke after the near-disastrous start. Bella was sure this was where her dream of training with her Olympic hero ended. But Lisa saw something in Bella.
"Lisa basically said, 'You guys are a hot mess. But you seem like a nice girl, so when can you move?' I remember thinking, What's the catch?  Even to this day I ask Lisa, 'Why did you ever take us on?' and she says, 'That's what trainers do.'"
Bella says she and Yoyo are very much diamonds in the rough. She still jokes about how Lisa thought he was a Quarter Horse when she first saw him. It turns out Bella and Yoyo have a lot in common—people are willing to help them, and given the opportunity, both rise to the occasion.  
"My first lesson with Lisa, she said, 'I see every horse as puzzle pieces and no horse and no rider is the same,'" Bella said. "Lisa also said that if the trainers she had in Europe didn't take her on as some young American with no experience, there's no way she would be where she is today. She has completely transformed Yoyo into something I never thought he could be. She gave us both a chance." 
Yoyo stands today as an elegant, athletic and charismatic dressage horse—garnering no questioning second glances from those who see him in the arena. "A lot of people are shocked when I tell them about Yoyo and my story," Bella said. "With the way we look now, we actually look like we belong." 
Learning From the Best 
If Bella isn't in the saddle, you can usually find her standing ringside, watching silently, studying professionals around her. She has been training with Lisa for three years. About six months ago, professional show jumper Daniel Zetterman started to train Bella in addition to Lisa's instruction. 
"Bella's very ambitious," Daniel said. "She's always very grateful and listens and respects her trainers. She always tries to improve from lesson to lesson, and she's tough. You need to be tough without being ignorant." 
According to both trainers, it's rare to have a young person want to dive into the classical foundations of the English discipline so intensely. But the understanding that true flat work translates not only to the jumper ring but to better horsemanship is practically innate in Bella. 
"I don't generally take young people," Lisa admitted. "But it's remarkable that a young person has identified the need to learn about dressage to help her with her jumping. Most of these kids aren't thinking beyond that moment in the saddle or that opportunity to get to show, and they're not really considering the development from point A to point B."
Bella's equestrian curriculum, thanks to her trainers, is deeply rooted in true classic flat work—and they mean the real stuff: the detailed, day-in and day-out transformation of how a horse carries himself, how a rider can sense, feel and connect, and how that directly applies to adjustability.
"That's the part where you look at this young person and you go, 'Wow, you're barking up the right tree—you need this,'" Lisa said. "I'm just so impressed that she does understand it." 
Lisa and Daniel regularly communicate over Bella's training, even jokingly fighting over who gets to train her first. Together, they create a potent learning environment for Bella. It's a situation that sometimes brings her to tears. 
"One day I actually started crying after my lesson," she said. "I realized that I was training with an Olympic trainer—my dream trainer, the best situation I could be in. I had my own dressage horse, which I never thought I would ever be able to have, and now we're enjoying this amazing opportunity. It's just crazy, when that all catches up to you and you realize how life really worked out." 
Grateful to Learn
For those who know Bella best, what sets her apart is her dedication to her equine partners and her thirst for knowledge.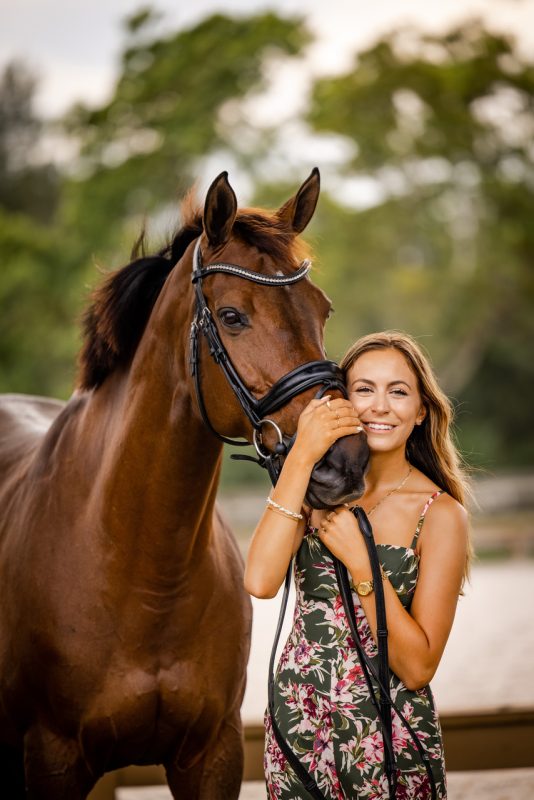 "I know how tough it can be," Daniel said. "There are no shortcuts. So it's amazing to have a student that is like a sponge and wants to soak up the information. She appreciates that, and that gives her the fuel and hunger to want to learn more and develop the art of riding and really have better communication with her horses. It's just great."
Bella's trainers and parents may not have realized it at the time, but with their investment in her riding, they're helping more than just one equestrian. "I'm happy for Bella that she gets this platform to tell her story of where she comes from," Daniel said.  "It's a journey that could be helpful and motivating for other riders like her."
"She has a heart the size of Texas. I see a lot of encouraging things coming her way," Lisa said. "I just love her."  
Bella currently attends college online to focus on her riding, and she plans to continue both disciplines. She will compete at WEF with her jumper, Avatar. Yoyo and Bella will make their competitive dressage debut this coming season. Her goal is to gain as much experience she can in order to 'make up for lost time.' Her dream is to turn professional, though the verdict is still out on which discipline. Despite the questions that lay ahead, one thing is undeniably carved in stone—her deep, unwavering gratitude. 
"I never thought this would happen to me," Bella said. "Just to be able to compete or even have a horse, to be able to sit on a horse or go to a barn every day. I mean, to where I'm at now—" she paused, shaking her head in disbelief. "It's incredible. I'm so grateful for everything. Everything my parents have done, my trainers have done. I wouldn't be here today if it weren't for them."
Photos by Evelyn Szczepanek, esequinephotography.com
Double D Trailers Info