By Ruby Tevis
Portraits by Melissa Fuller
Over the last few years, Bianca Schmidt has burst onto the dressage scene with a fierce drive to succeed. Not only has the 19-year-old rider triumphed at the North American Youth Championships, Bianca became a USDF Gold medalist as just a teenager. Now, she's looking forward to returning to the Grand Prix ring as a U25 rider, all while she earns her degree at the University of Notre Dame.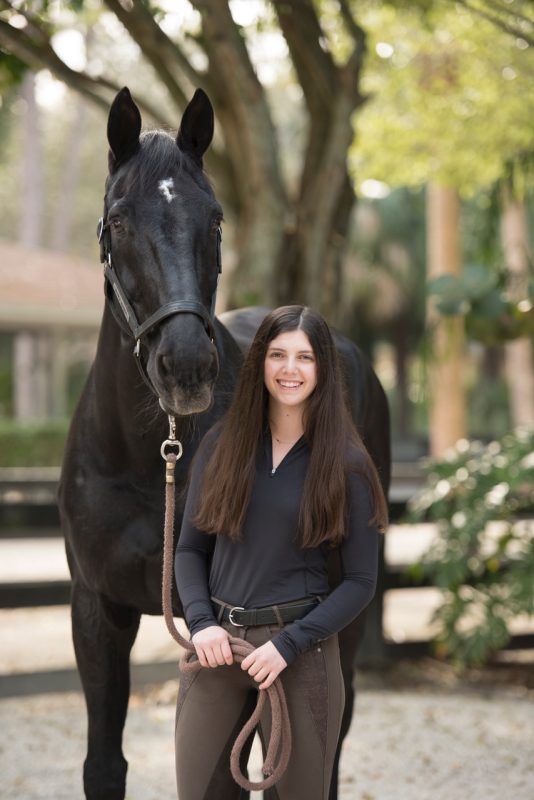 Bianca grew up just outside of Minneapolis, Minnesota, with her parents and sisters, Isabella and Priscila. "My parents moved to Minnesota from Brazil a few years before I was born. Because of this, I was raised in a bilingual home with Portuguese being the main language at home and English at school," Bianca said.
"My family and I are really close, and we spend a ton of time together and support each other in everything we do. Dressage is no exception; it's a family affair," she said. Bianca and her sister, Isabella, both fell in love with horses at their first riding lesson. Not long after, Bianca's family welcomed Petite Noire, their first ever pony.
Despite Petite's small stature, the pony was quite feisty. "My first recognized show was not what you would normally expect," Bianca said. "I was 8 years old with my little Petite, and we got eliminated! She bucked the whole time and refused to canter for my Training Level test." With every excuse to give up showing after that experience, Bianca didn't dwell on it. In fact, she left fueled with passion to get back out there and try it all again.
Learning the Ropes
Though Bianca had always enjoyed dressage, she discovered the true magic of the sport at age 12 with the help of her former trainer, Anne McKay. "Anne showed me the artistry of dressage," she said. "It was with her that I fell in love with the discipline and not just the horses. I wanted to learn and improve as much as I could and perform my best. Anne taught me so much about the importance of a strong and stable connection with my horse — and how much there was for me to learn."
With Anne's expertise, Bianca made her FEI Juniors debut with her family's Dutch Warmblood, Octavian's O'Neill. "My sister had ridden him for a few seasons, but I had just gotten him the winter before show season," she said. Despite their relatively new partnership, the pair landed a spot on the Region 4 NAYC team in 2016, bound for the Junior Championships at the Colorado Horse Park.
"I had never been to a show that big," she said. "I was just 14 at the time and I remember my one goal was to finish my test. I did not care what place I got; I was just so grateful to be there. Seeing all the events and disciplines together with so many participants from all across North America was awe-inspiring."
In 2018, Bianca was partnered with Lou Heart, owned by her mother, Eliana Schmidt, for her final season riding as a Junior before making the leap to Young Riders. "Lou is an 18-hand Hanoverian who acts like a little pony and will always give his best for me," she said. "When I transitioned from Juniors to Young Riders, it made me grow a lot in my riding, but it was a lot of fun to do tempis and pirouettes in the show ring and not just at home."
Together, Bianca and Lou have earned three NAYC silver medals and placed third at the US Dressage Festival of Champions in the 2019 FEI Young Rider National Championship. While she is proud of her accomplishments, Bianca credits her trainer Alison Sader Larson for her help every step of the way. "She has been a mentor for me as well as a good friend, and I am so grateful for her," Bianca said.
A Heartbreaking Loss
Alongside her campaign in the FEI Juniors and Young Riders, Bianca was working hard to earn her USDF Gold medal with her mare Cenna. 
"We earned half of our Gold in the Intermediate I in 2017, but then she had an injury that set us back. After a year of rehab, I rode her to earn one of the two scores in the Grand Prix. Unfortunately, before we could make it to the next show, Cenna passed away," Bianca said.
Despite a successful emergency colic surgery, Cenna experienced complications coming out of anesthesia that affected her neurological system, which led to the decision to euthanize. At the time, Bianca didn't know if she would be able to continue riding after such a devastating loss. "I saw Cenna as an extension of me, and when she passed away, I felt like part of my heart was cut out," she said.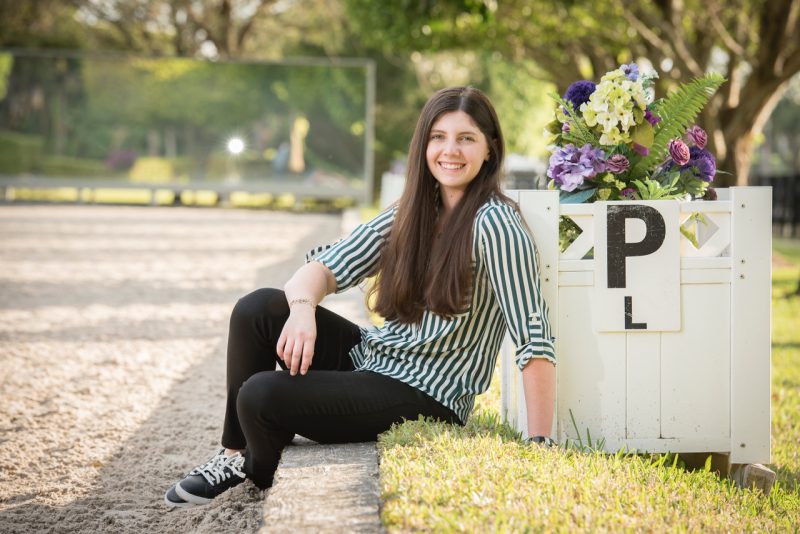 "One day she was in the barn aisle and the next day she wasn't," Bianca continued. "It took me a while to be able to walk in the barn aisle without looking at the empty stall and crying, but the love of the sport helped me overcome it."
Though she was still heartbroken, Bianca pushed through to continue riding. Bianca's father, Guilherme, was looking for a horse for himself to ride at the time. That's when Angelo-H, a Grand Prix schoolmaster, came along. "Angelo truly felt like a gift sent from Cenna," Bianca said.
A few months later, Bianca completed her Gold. "The moment I found out that I got my Gold medal, I couldn't believe it," she said. "It was always a goal of mine to get my Gold medal as a teenager and before going to college."
Emerging in Dressage and College
With her Gold medal pinned to her lapel and a third place at the Festival of Champions, Bianca was invited to join the USEF/USDF Discover Dressage Emerging Athlete Program for up-and-coming youth riders. "When I found out I was invited, I was beyond excited! I knew the Emerging Athlete Program would help me further my education with horses and become the best rider I can be," Bianca said.
As an emerging athlete, Bianca has participated in the Robert Dover Horsemastership Clinic for the last three years. "Every time I come down to Wellington from Minnesota, I'm always blown away by how the clinic is so well run and how much I learn every single year," she said. "The clinic puts a big emphasis on horse care, and I love meeting other riders from across the country and creating amazing friendships."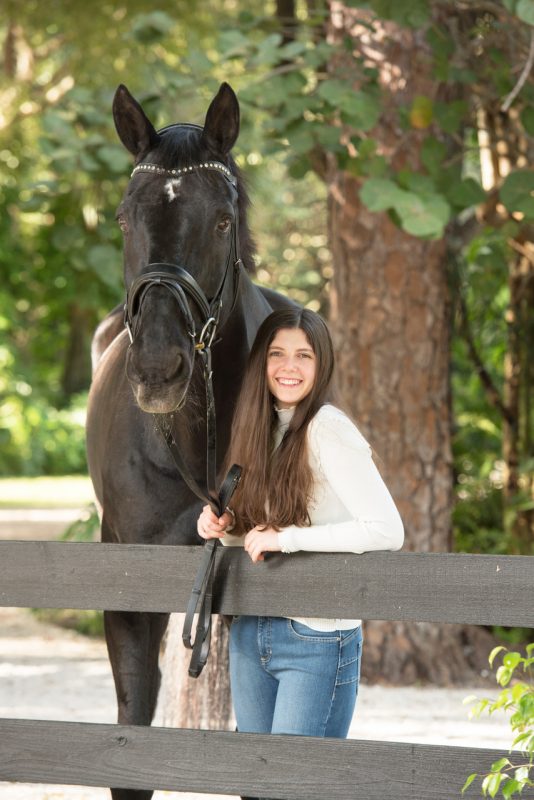 Friendship has always been an important part of Bianca's life, and it's one of the reasons she has chosen to live on campus full time at the University of Notre Dame. "I fell in love with Notre Dame on a visit that was actually for my sister, Isabella, who was applying for colleges at the time — but I think I fell more in love with it than she did! I knew I wanted to go to Notre Dame on that day," she said.
"Notre Dame is such an amazing school with a great educational program and everybody on campus is super nice and supportive," Bianca said. She's currently studying psychology and hopes to earn her PhD in the field. "I believe psychology and dressage can match very well for a career in the future, and I hope to be able to blend these two professions together."
Although she's busy balancing classes, homework and time to spend with her friends, Bianca has dedicated her mornings to riding five days a week. As the final years as a Young Rider are approaching, Bianca is looking ahead and planning for the future in the U25 division. "This year, I'm focusing on the Young Rider classes, but in the future I hope to compete in the Brentina Cup while I continue my education in psychology," she said.
"You can go to college and still be competitive in riding if you're willing to put the work in — and it will pay off in the long run," Bianca said. She hopes to inspire other young riders by succeeding at both. Ultimately, though, her biggest advice for others is to "never forget how far you've come. Take each 'setback' as an experience to learn and become a better rider, and make sure you enjoy what you're doing — don't lose sight of why you started."
Photos by Melissa Fuller, msfullerphotography.com
Double D Trailers Info