By Kimberly Gatto
Portraits by Jeni Brunner
From Nashville to Hollywood, Brandi Cyrus is a familiar face in the entertainment world. The daughter of singer Billy Ray Cyrus and sister to Miley, Brandi is a talented musician, a highly sought-after DJ and co-host of two popular weekly podcasts. In addition, Brandi is a successful actress whose credits include "Zoey 101," "Hannah Montana" and "Old 37," among others. Despite maintaining a busy career schedule, Brandi has always found time for her primary passion in life: horses.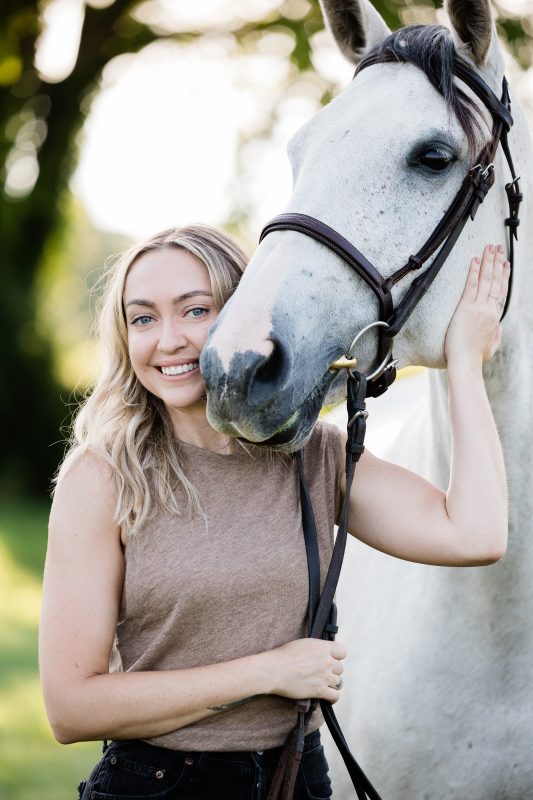 Having competed successfully on the "A" hunter-jumper circuit for many years, Brandi is well-known in the equestrian world not as a star entertainer, but rather for her devotion to horses, strong work ethic and positive attitude. Brandi's love of horses developed early. After spending her first few years in Kentucky, Brandi moved with her family to Nashville, Tennessee, at the age of 5.
"My dad had been around horses his whole life, as my grandfather had trained Spotted Saddle Horses. So when my dad got his first record deal, he bought a large amount of land and some horses. I was fortunate to grow up on a horse farm," she said. "Dad put me on a horse, bareback, when I was 5—and that was it. I have been obsessed with horses ever since."
Into the Saddle
"My first horse was a Tennessee Walker/Spotted Saddle Horse cross," Brandi said. "Dad and I would ride all around on the trails every day for hours. When my parents realized how horse obsessed I really was, they sent me to an English riding camp." There, 7-year-old Brandi learned to ride in an English saddle and eventually began jumping; it was the start of a lifelong passion.
"I started out in 4-H and then Pony Club," she said. "I was at the barn all the time and grew up riding all different types of horses." A natural rider, Brandi worked her way through the levels of Pony Club, eventually earning her C3 ranking, and competed through the Preliminary level in eventing. "I am still so thankful for all that I learned in Pony Club," she said. "It wasn't just riding—it was learning about veterinary care, nutrition, wrapping and many other things. To this day, I still do all of my own horse care. It's very important to me."
After graduating from high school, Brandi headed to college at Middle Tennessee State University, where she rode on the equestrian team. After her freshman year, however, the Cyrus family moved to California when Brandi's younger sister, Miley, began work on the TV show "Hannah Montana." Missing the closeness of her family—which, in addition to her parents and Miley, includes brothers Trace and Braison and sister Noah—she joined them in L.A. "At this time, my horse was retired so I decided to focus on developing my music career. I was in a band called Frank + Derol and was busy trying to make that work," Brandi said. "I actually didn't ride for about four years during this time."
But fate had other plans. Brandi's youngest sister, Noah, developed an interest in riding when she was around 10 years old and Brandi was recruited to help find a lesson stable. "When Noah decided she wanted to learn to ride, my mom, Tish, asked if I could help, since I was the only girl in the family who was already a horse person. I found a barn close to Burbank—the L.A. Equestrian Center—and started taking Noah there for her lessons. One day, Noah's trainer asked me if I'd like to ride also, and the rest is history."
Once she was back in the saddle, Brandi found it hard to imagine that she had ever been away from horses. "I kept thinking, Why did I stay away for so long?" she said. "I really needed horses back in my life, as I was struggling a bit and finding it hard to meet people in L.A." As an added bonus, the horses brought Brandi closer to Noah as the two sisters—despite having a large age gap—were able to bond over their common interest. "It was so great, because Noah and I spent so much time together and became even closer. My mom also enjoyed going with us to watch, so we all became closer as a family through the horses."
On Her Own
Like her older sister, Noah demonstrated a natural talent for riding and quickly began advancing through the pony hunter divisions. During the search for a new pony for Noah, Brandi inadvertently ended up with a hunter to show herself. "My mom took Noah to the Capital Challenge to find a pony for her, but ended up buying a pre-green hunter for me to ride instead," Brandi said. "He was a chestnut gelding called Samba Gracious. The 'A' circuit hunter world was foreign to me, as I had grown up doing eventing, so I felt as if I didn't really know what I was doing at the time, but I loved that horse. We trained with Jenny Karazissis at Far West Farm in Calabasas. We ended up doing the Amateur Owner hunters and did pretty well. We had a lot of fun."
When she turned 25, Brandi decided to leave L.A. as her band had dissolved and she longed for a less- hectic life back at home in Nashville. "I was trying to figure out what I wanted to do with my career," she said. Unfortunately, her beloved Samba wouldn't be able to accompany Brandi to Tennessee. Despite having grown up in an affluent family, Brandi was now on a budget as her parents had taught the kids to be self-sufficient and financially independent once they reached adulthood. "My mom said I could either pay to take Samba with me or we would have to sell him. I couldn't afford to move him at the time, so he was sold. It worked out well though, because we ended up selling him to my friend Nicole Kane and her mom, Heidi. They kept Samba for the rest of his career and really loved him."
Now on her own and living in Nashville, Brandi was determined to find a way to keep horses in her life while developing her career and living on a budget. "I didn't know what I was doing in my life, but I knew I had to have horses," Brandi said. "I ended up finding a 5-year-old Trakehner/Thoroughbred mare called Everlasting. She was a project horse that I was able to purchase for $5,500. I brought her up through the amateur jumpers, but she tore a tendon and had to retire early. I still have her now at my home and she is my best trail buddy."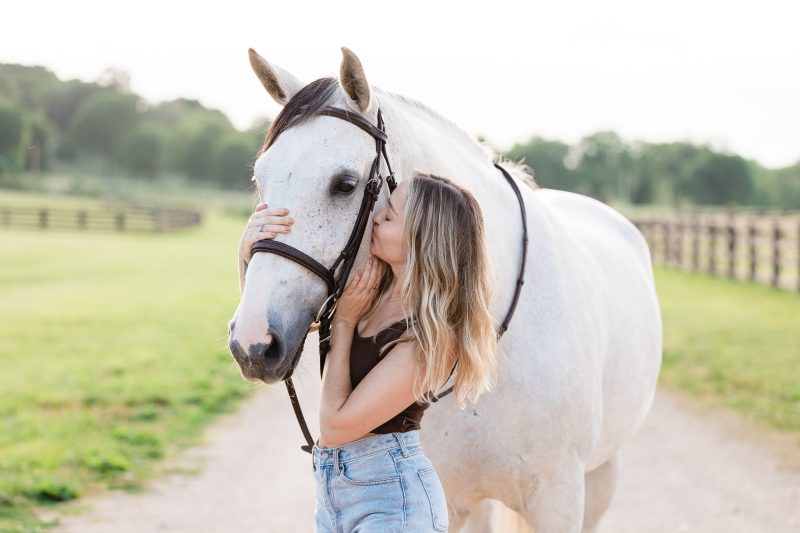 While Brandi had enjoyed her time showing in the hunters, she now realized that the jumper ring is where she belongs. "I enjoyed doing the hunters with Samba, and I have huge respect and appreciation for hunters as a sport—it's truly an art form," she said. "But my heart is in the jumpers."
With that in mind, Brandi began the search for a horse that could help her reach her goals. "Two years ago, I was horseless and was thinking that I really wanted to do the Amateur/Owner jumpers. But I knew I couldn't afford to buy a horse like that in the U.S.," Brandi said. "So, against my trainer's wishes, I bought Starpower from Europe based on a video." The horse, a gorgeous grey 16.3-hand Holsteiner/Hanoverian mare, had been bred in Estonia and was purchased from the Czech Republic. "When she arrived, she had lost a lot of weight from traveling and looked almost like a borderline rescue case," Brandi said. But Star—as she is affectionately known around the barn—quickly blossomed under Brandi's love and care.
"Star has incredible scope and talent. She is the most athletic horse I've ever had the pleasure of riding," Brandi said. "But she can be so difficult. For the first six months, I could barely canter, so we just worked on basics. I bought her the Christmas before the pandemic hit, so I used that quarantine time to learn how to ride her correctly. It has been a journey for me and a big reality check. She has tested me in the best way; she has taught me patience and humility. She is almost like riding a roller coaster: She turns it on at the shows and actually is easier to ride there. She makes a big show of herself when she enters the ring."
Balancing a Career
Brandi and Star are currently competing successfully in the Low Amateur/Owner jumpers with aspirations to move up to the Medium Amateur/Owner jumpers next year. While Star is still green, the pair has already achieved some success in the show ring, including top ribbons at the World Equestrian Center in Ocala, under the tutelage of Dani Grice of Hunters Court Stable. "Dani is amazing," Brandi said. "She is just a little older than me, and I've known her since I moved back to Nashville. Dani can ride any horse and is really great with those horses that are unconventional or don't fit the typical mold. I think I actually visited every hunter-jumper barn in Nashville before I decided on Dani's. I don't believe there is anybody else who could ride my quirky horse so well. I am so thankful for Dani."
When she's not at the barn or competing, Brandi continues to build a successful career as a DJ, for which she receives rave reviews. "After the band broke up, I wasn't sure I wanted to be in the music industry full time," Brandi said. "I got more interested in the fashion world and I noticed there were a lot of girls DJing the fashion parties. So I asked a friend, who had been a wedding DJ, if he would show me the equipment and software. From there, I just taught myself. I started doing it and learned along the way, and I found that I really love DJing. It is creative and fun for me to create energy in a room. I really enjoy it."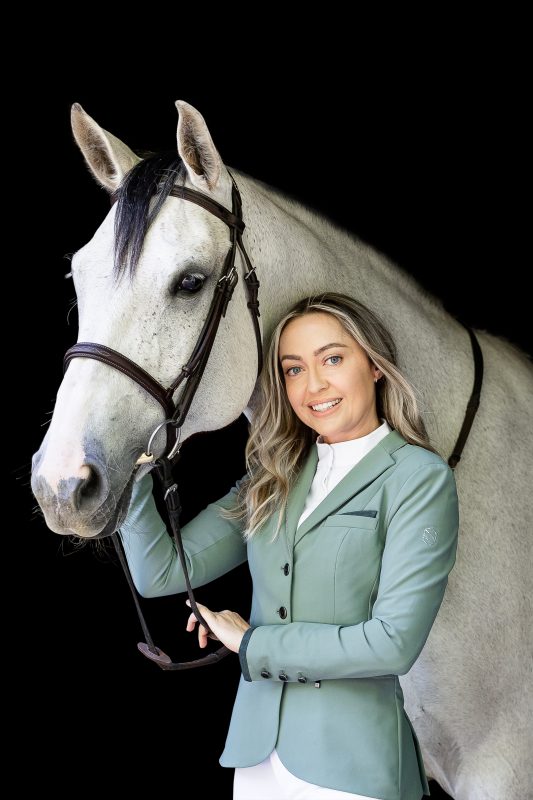 In addition to working full time as a DJ, Brandi hosts two popular weekly podcasts: Your Favorite Thing, which she co-hosts with her longtime friend Wells Adams from "The Bachelorette," and Sorry We're Stoned, a collaboration with her mom, Tish. "I actually don't smoke, but we liked the title because 'stoned' can also mean a state of happiness or bliss," Brandi said. "It's really a show about fashion, interior design and other topics from a mother and daughter's perspective. People can also call in for advice from us. It's a lot of fun to work with my mom."
As if she weren't busy enough, Brandi also maintains a widely-read lifestyle blog called Style Native. "It started as a fashion blog and now includes traveling too. I also try to incorporate some equestrian lifestyle stuff into the blog. Last year, I got to collaborate with Noëlle Floyd, which was super fun. I'm always looking for ways to incorporate the horse world into my blog because horses are truly my passion."
In work and in life, Brandi has become well known for her strong work ethic and her positive attitude, both of which have contributed to her success. "I'm willing to work hard to achieve my goals. I would love to move up to Medium Amatuer/Owners and the 1.30m classes, and someday do the mini prix. I'd also love to one day ride at some of the Longines show jumping competitions," Brandi said. "As an adult, it can be tough to find the balance, as we do have to work every day to pay for it all, but I wouldn't change a thing."
Brandi remains humble and grateful for the many horses that she has had in her life thus far. "Every horse has taught me so many different things," she said. "Green horses, quirky horses—I enjoy them all. Every horse I've had has been a 'horse of a lifetime' to me. I'm just so blessed to have horses in my life."
"Even though I enjoy competing, for me, it's purely for the peace and joy I get from being around horses," she said. "They are the most important part of my life."
For more information, follow Brandi @brandicyrus or visit stylenative.com
Photos by Jeni Jo Photography, jenijophoto.com
Brandi is wearing a dress by Cavanagh Baker, www.cavanaghbaker.com
Double D Trailers Info