By Laura Scaletti
Portraits by Ruby Tevis
When Derek Braun sets his sights on his equestrian goals, he's unstoppable. From his first lessons at age 7 to founding and managing the Split Rock Jumping Tour today, Derek has exhibited a tremendous amount of grit.
A constant companion at his sister's riding lessons and shows on Long Island, Derek figured if he was going to be at the barn anyway, he might as well give riding a shot. At his third lesson, Derek had a fluke accident in the barn aisle that sent him to the ICU for several days and should have halted his horse dreams, but didn't. "As soon as I could get back on a horse, I did. The need to be with horses was just in my blood, so I kept going with it," Derek said.
Although Derek's family had no real horse experience prior to his sister mounting up, they wholeheartedly supported his desire to ride. "When I was a Junior, my parents created Split Rock Farm as a business entity. We bought and sold horses through the business to fund my riding career," Derek said. He would go on to transform Split Rock into a multifaceted equestrian operation. 
LEARNING LESSONS
Throughout Derek's Junior career, his parents did whatever they could to help him become a top rider in the sport. They set Derek up at age 15 with trainer Bob Braswell in Ocala, Florida. It was this change in trainers that sparked Derek's competitive fire.  
"That's when I got the itch to go a little further in the sport, get a little more aggressive and be more competitive," he said. In fact, within a year of training with Bob, Derek won the USET Talent Search Equitation Finals.
With that win and many others, Derek started to feel like horses were his passion and would be his direction in life. Not only did his success give him the confidence to become a professional, but Bob's program gave Derek the skills he would need to eventually run his own business.
"Bob's program really lends itself to becoming a professional. He instilled a work ethic in all of his students; we all contributed around the barn and rode a lot of horses each day," Derek said. "My time with him really jump-started my career as he taught us the ropes of what it takes to be a professional in the sport."
Before Derek could hang up his shingle and start his own business, there was one matter to attend to: getting a higher education. "My parents always instilled the importance of education in me. For them to continue to support my riding up until that point, I needed to prioritize my education," Derek said. 
Derek selected Rollins College in Orlando, Florida, so he could pursue getting a higher education in the classroom and in the saddle. But first, he took a gap year to work for Debbie Stephens, with whom he would continue training and working with while he got his degree.
"I know college isn't for everyone, but I wanted to set myself up for future success in the horse industry by learning business skills I could only learn in college. It was really important to me to continue to progress in the sport, while getting an education at the same time," Derek said.
When Derek received his diploma in 2007, he turned professional and immediately started his business, revamping the Split Rock Farm entity that had been so beneficial to his Junior career.
IF YOU BUILD IT
With lessons from some of the best in the business, Derek was ready to open his own full training and boarding program. "I took something from everyone I worked with, watched how other horses went and observed other professionals in the industry. Through what I saw from others, I was able to create my own program and establish my business direction," Derek said.
From the summer Derek turned professional until 2014, he focused solely on Split Rock Farm, garnering numerous Grand Prix wins at notable competitions in both the United States and Canada. 
It was during this time as Derek traversed the country as an exhibitor that he started envisioning a brand-new horse show concept. After traveling to Europe to compete while he was in college, Derek was determined to bring that European show experience back to the States.
"I thought as a competitor myself, I had a leg up to create a special business where no detail for riders, exhibitors and everyone involved would be overlooked," Derek said. "I set out to produce that really unique experience for riders and it's just grown from that point forward."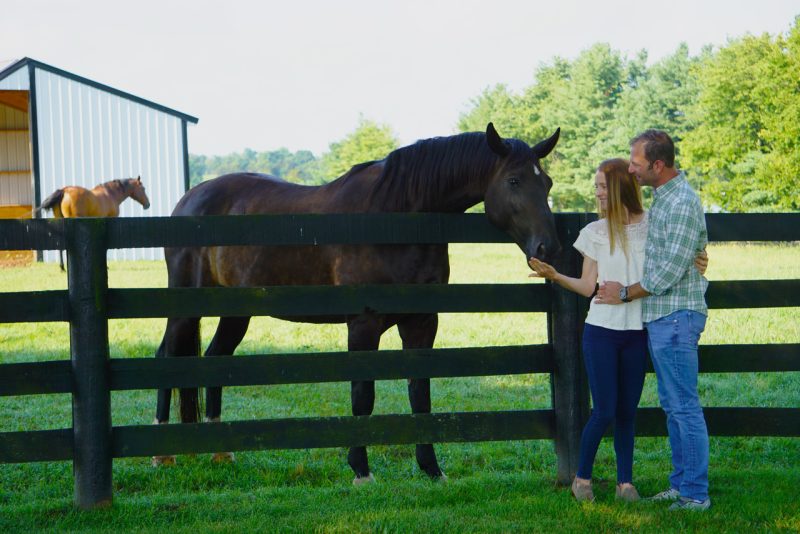 Derek started the Split Rock Jumping Tour in May 2015 with the first event at his farm in Lexington, Kentucky. In 2022, the tour will feature 10 to 12 events. Like in the movie "Field Of Dreams," Derek quickly learned, "If you build it, they will come."
What keeps exhibitors coming back to the Split Rock Jumping Tour is Derek's consistent approach to presenting an event regardless of the venue. "Anything that people expect from a horse show, I provide, whether that be proper stabling, footing, jumps, courses, course designers, a great schedule for their horses or more," Derek said. "It sounds basic, but people can trust in me that we're going to provide those things at a horse show we are managing."
Since that first competition at his own farm in 2015, Derek has viewed between 160–180 venues across America to hold possible Split Rock Jumping Tour events. "What makes a facility a good candidate is if dates fall into place, if the location can be successful at a certain time of year, if we can get enough participation and if there is already a good infrastructure in place," he said. "There are so many factors that go into deciding what venue will be a successful addition to the Tour."
FAMILY BUSINESS
Derek hasn't just added dates to the Split Rock Jumping Tour since it began, he added a valuable asset to his personal and professional life: his wife, Michelle. Married in 2019, Michelle runs Split Rock Farm and everything it entails, allowing Derek to put all his focus on the Tour.
A competitive Grand Prix rider herself, Michelle and Derek's lives mesh perfectly together. "Michelle is a far more accomplished rider than I am; she's been on many Nations Cup teams and competed at four World Cup Finals," Derek said. "With her background in sales, leasing and competing, it was just a natural fit for her to take over that part of Split Rock Farm and make it her own."
Michelle isn't the only Braun getting in on the family passion. Derek's daughter, Esme, recently took a keen interest in riding. "It was only about a year ago, when she turned 9 years old, that she showed any interest in wanting to ride. Obviously the second she told us she wanted to ride, we were super supportive of her decision," he said.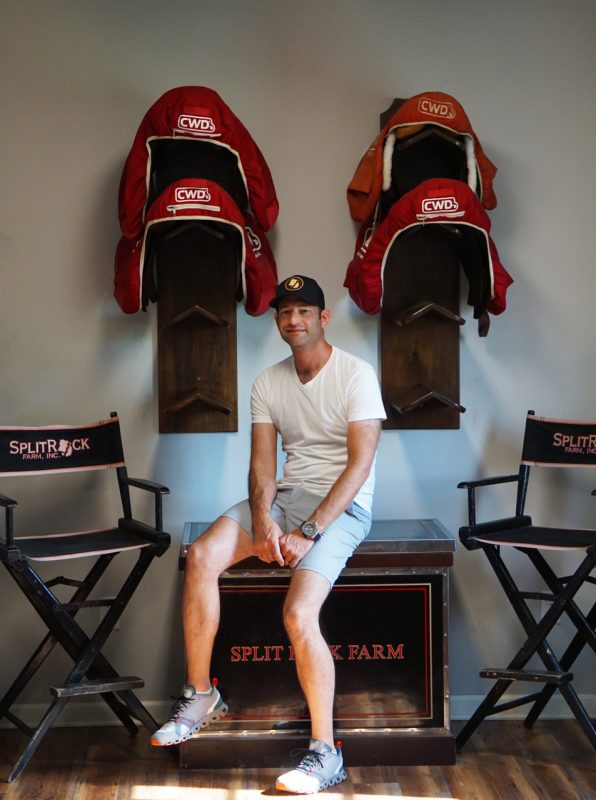 Unlike Derek, Esme was born into a horse family. This brings a conundrum Derek's parents didn't need to worry about while he was growing up. "I don't want to put pressure on Esme that she has to ride; we want it to be her choice," Derek said. "We are so equipped to help her succeed in this industry no matter what direction she chooses, but if she decides horses aren't for her, we will support that decision as well."
Today, Derek is enjoying another role at the shows as a horse show dad. "It's incredible to see her out in the show ring; she clearly has it in her blood," he said. "It's so amazing to share this part of my life with her. It's like nothing I've felt before."
In December 2020, Derek and Michelle added a son, Crew, to their family. "Sharing this life with my family is amazing. We live and breathe horses every day. When I look out our back door on the farm, I can see our retired Grand Prix horses, including my Lacarolus and Michelle's Darius," Derek said. "It's such a breath of fresh air to raise our kids on our farm here in Lexington."
GROWING THE TOUR
As Derek looks towards the future, he's excited to keep expanding upon the Split Rock Jumping Tour. In 2022, he will have brand new events in both Portland, Oregon, and Sarasota, Florida. "I hope to keep adding good events all across America over the next several years. I'm so thankful to have an incredible team behind me that has the same passion and lives and breathes the Split Rock Jumping Tour, just like I do," he said.
Unlike in the fabled "Field Of Dreams," Derek's competitors follow him around the country in search of his unique show offerings. "We're like a logistics company; we can mobilize our team and equipment anywhere, anytime, and host some of the best horse shows in America," Derek said. No matter where Derek builds it, the exhibitors come.
For more information visit, splitrockjumpingtour.com
Photos by Ruby Tevis
Double D Trailers Info