By Dani Moritz-Long
Horse. Of the millions of words in the English language, this was Diane Roth's first uttering — a word, mind you, that completely perplexed her urbanite parents, who found the equestrian term to be nearly as foreign as a word spoken in an entirely different language.
Nonetheless, despite her parents' confusion, horses became a lifelong passion for Diane, who grew up happily horse-obsessed.
After her first ride at 6 years old, her passion for all kinds of horses continued to mount. She dabbled in hunters and jumpers, competed in 4-H with a Morgan pony named Peter Pan and yelled "tally-ho" during foxhunting trips in the Northeast.
As an adult, Diane found a talent for and love of dressage when a friend connected her with Olympic dressage rider extraordinaire Lendon Gray who, after evaluating Diane's potential, took Diane under her wing. Fondly calling dressage a mind game, Diane says she quickly found joy and peace through the sport, as well as kinship with Lendon.
"It's great for discipline," she said. "You're so in-tune with the horse on so many levels." Laughing, she added that dressage is also much easier on her body than some disciplines of choice from her younger years. "When you're young," she said, "you bounce. When you're old, you break." So nowadays, Diane prefers the grace of dressage maneuvers to the youthful exhilaration of jumping.
Furthermore, Diane explains, dressage is undeniably good for the soul — which is why she doesn't mind the early mornings she spends with her gorgeous Lusitano stallion, José. Each day, after her morning coffee, she arrives at the barn at 6:30 a.m., when she says the only humans to be found are "me and the mucker."
"You can see the sun coming through the trees as it comes up," she said of her early-morning rides. "You feel so close to God and nature, and you have to focus. It clears your brain."
This calming effect is perfect for the busy professional, who, when she isn't at the stable, is busy running her business, L'Armoire in New Canaan, Connecticut.
Fashion Sense
Her business, which has been operational for more than 30 years, is a destination boutique devoted to dressing women for every occasion, from the Oscars to equestrian banquets and everything in between. Her favorite events to dress women for, though, are — hands-down — derbies, like the world-famous Kentucky Derby. "That's a riot," she said, alluding to the grandiose hats the races are famous for.
No matter what she dresses women for, though, Diane simply loves the impact fashion can have on someone's confidence. "If you make a woman look her best," Diane said, "she can conquer the world."
Oddly enough, unlike with Diane's love of horses, her passion for fashion didn't come early on. In fact, she said, she was quite the tomboy and only fell into fashion when she discovered an aptitude for it while working retail.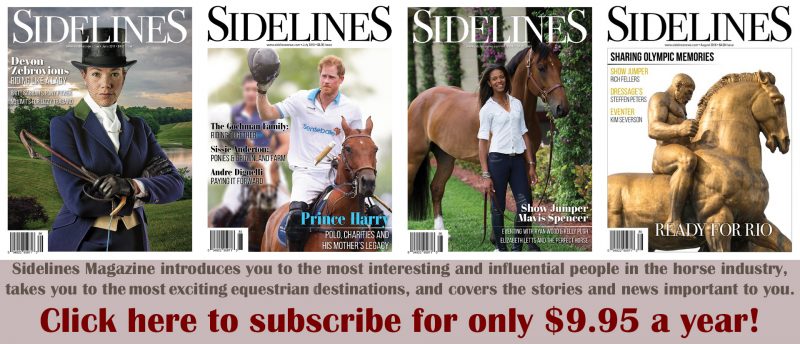 "I studied economics and political science," she said. "I got out of college and needed to eat. I got into retail, and discovered a talent for dressing people."
Today, some of her favorite styles are equestrian-inspired looks, and fashion designer Maggie Norris, who often employs equestrian style, ranks among her favorite designers. Faux riding boots, slim pants that resemble riding breeches, riding jackets, white blouses with stock ties and equestrian jewelry are all among her favorite components to a well-put-together outfit for anyone looking for classic elegance.
"If you think of a well-dressed dressage rider, it's a unisex look — classic and elegant," she said. "Hunter and jumper is the same thing."
Ironically, she says, her fashion sense doesn't entirely translate to her personal riding attire. "At the barn," she said, "it's down-home classic." But, she admits, she likely has the best cashmere sweaters and scarves at the stable.
Her horse, on the other hand, is always dressed in his best. "He's so handsome," Diane said. "He needs to look good. He thinks he's Fabian from the cover of a romance novel." Thus, you'll find José sparkling in the ring with rhinestone-studded tack.
Fortunately, Diane says, Lendon — who is also a client of Diane's — doesn't mind the star-studded look. "I amuse her," Diane laughed, "which is why she still trains me."
Giving Back
As if riding seven days a week and attending to her fashion business wasn't enough, you can also find Diane giving back to her community — something that was instilled in her from a young age.
"My father said to us when we were growing up, 'Don't give time and money randomly. Pick a couple of charities and go all in with your time and money, and make them ones you believe in.'"
Inspired by her father's words of wisdom and her passion for horses, Diane donates her time and money to the New Canaan Mounted Troop, a non-profit organization that offers character-building horsemanship and equine care programs for youth in Fairfield County, as well as a therapeutic riding program for the physically and mentally handicapped of all ages.
Explaining her passion for working with the mounted troop, Diane commented that "horses center you and give you an appreciation of life and taking care of something. I think everyone should grow up with animals and learn to take care of them. It teaches you empathy and the cycle of life." Plus, she said, it's a much better use of time than staring at computer screens.
Currently, Diane serves on the board as the gala chair. In doing so, she helps the troop organize fundraisers, which are vital to the program's sustainment. Derby parties, complete with fanciful hats, are among some of Diane's favorite events.
Aside from volunteering with the New Canaan Mounted Troop, you can also find Diane — who is an all-around animal lover — volunteering with Puppies Behind Bars, an organization that teaches prison inmates to train service dogs for wounded war veterans and explosive detection law enforcement units.
No matter what you find Diane working on — whether she's schooling before the sun rises, dressing clients for success or planning galas — one thing is constant: Diane loves life and you can almost always find a smile on her face.
"People take things too seriously," she said. "Life is short; make it fun. How lucky are we to have horses?"
Double D Trailers Info