By Laura Scaletti
Portraits by Lori Ovanessian
Elyse Hart's life has been a rollercoaster for the entirety of her 33 years. Adoption, discovering the magic of horses, addiction, overdoses, multiple trips to rehab, finding love, open heart surgeries, becoming a wife and mother, rediscovering her horse passion—and nearly losing it all. Through the ups and downs, Elyse has learned to fasten her seatbelt, throw her hands up in the air and enjoy the ride.
"I rode as a kid and left the sport due to a heroin and alcohol addiction. I was in love with horses growing up, then I burned my life to the ground as a result of my addiction," Elyse said. However, Elyse's story wasn't meant to end with her overdosing in a dark alley. Thanks to her perseverance, the love of her two adoptive mothers and her now husband, Mike, Elyse was able to overcome addiction-induced open heart surgery and begin living a sober life. 
Today, with seven years of sobriety under her belt, Elyse is living a life she almost missed out on. "I want people to know that you can have a difficult life, a colorful or scary past, but as long as you're still breathing you can start over and thrive regardless of your circumstances," Elyse said. "It takes a lot of work and it's a daily choice, but it can be done."
A few months after Elyse had her son, Jaxon, she made her way back into the saddle, quickly partnering with her heart horse, Baron, aka Bob. After a 17-year hiatus from riding, Elyse found herself in the dressage arena once again chasing her childhood equestrian dreams.
Path to PSG
When Elyse got Bob with co-owner Heidi Marusa, Elyse had never ridden above Training Level and Bob hadn't shown above Third Level. Their show records didn't deter Elyse from setting her sights on one day completing a Prix St. Georges (PSG) test together.
What Elyse thought would be an end-of-partnership goal, if it even happened, came lightning fast. "In 16 months, we went from doing intro level dressage to PSG. What made the accomplishment extra special was that we did our PSG test in the same arena, under the eyes of the same judge who'd seen us start our partnership together in the intro test," Elyse said.
With her rapid rise from intro to PSG in six shows, Elyse admits her test wasn't the most beautiful one ever seen. "There was so much to clean up, but at the time I didn't really care. I was so proud of Bob and all the hard work we'd put in to meet that goal," she said.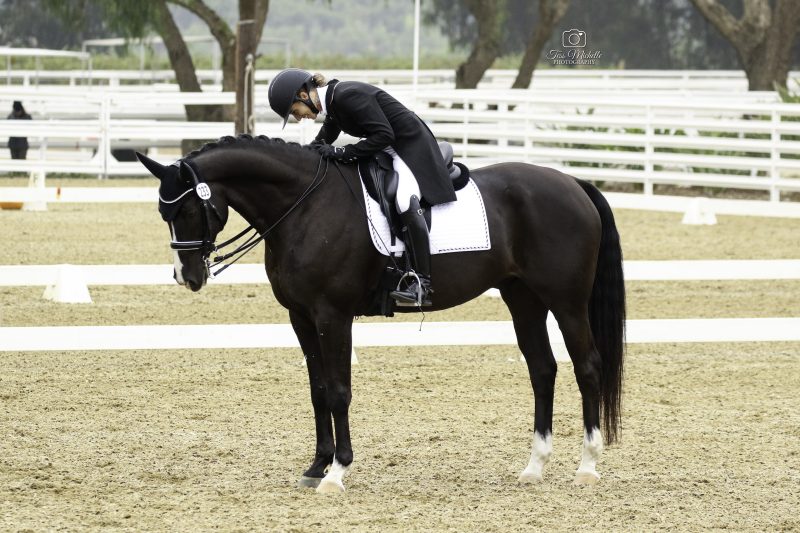 Completing a PSG test wasn't just a bucket-list goal for Elyse to check off; it also was an important step in her sobriety. "It was really cool, in my daily choice to be sober, to work for something and see it come to fruition. Previously I had limited myself with what I thought I could achieve," Elyse said. "Doing the PSG made me feel like with hard work and support, I can accomplish anything I put my heart into. It's given me so much power."
Elyse's fellow competitors also made her feel like she belonged at the event. Kim Kulesa, a professional rider and trainer who, like Elyse, is sponsored by Halter Ego, acted as her fairy godmother. "When Kim heard that I was competing in the PSG with her and needed a shadbelly, she immediately offered one I could borrow. It was so cool to have someone in my class who wanted to help me out," Elyse said. "That amazing sportsmanship was so heartwarming to me."
Sanctuary to Surgery
Still floating on cloud nine after completing her bucket-list test, Elyse's world came crashing down barely two weeks later. "Everything was going so well: I had built my life, was getting affirming feelings from the universe that this was my path and we were climbing the levels," she said. "Then disaster struck." 
Bob got cast in his stall overnight and, once freed, went to the hospital for a week. Luckily, he didn't break anything; however, he had severe muscle trauma from being cast for hours. 
"The vet at the hospital said it was one of the worst bone scans she'd ever seen. He also had a necrotic wound on his pastern that needed to be treated by a vet every three days," Elyse said. "The prognosis they gave him was very guarded and very scary, saying he might have loss of motion and may never be the same."
The vets told Elyse it would be three to four months before Bob would be able to walk under saddle. "Bob is my safe place even when I'm scared, my partner, my best friend, my heart. He's helped heal me and brought me peace and confidence. To see him this way absolutely wrecked me," Elyse said.
Thankfully, Bob's co-owner, Heidi, is just as passionate about him and moved heaven and earth to ensure he had the best care possible to increase his probability of recovery. "Heidi provided him with the care he needed to create a miraculous recovery, and I will be forever grateful," Elyse said.
Just as Bob was starting to hand walk, six weeks after his injury, Elyse ended up in the hospital herself after a freak accident, when a young horse kicked her in the stomach. She had a partially collapsed lung, rib fracture, laceration of the splenic vein that caused internal bleeding, and her pancreas was in two pieces.
When Elyse first got to the hospital, she quickly told the staff she was a recovering heroin addict, and she didn't want to take any pain meds. However, after a CT scan it quickly became apparent she would need to have surgery to repair her injuries and stop the internal bleeding. "I called my sponsor and she told me to take the pain meds; this is what they're made for," Elyse said. "My life is imperfect, but to me it's perfect. I was terrified I'd get triggered by the pain meds, relapse and lose everything."
An angel in the form of a nurse helped Elyse trust the process. "The nurse who put in the IV for my meds said under his breath, 'I'm sober for 13 years, I'm so sorry you're going through this,'" she said. "I felt so comforted by his presence."
After having her spleen removed and her pancreas reconstructed, Elyse woke up and was ready to be reunited with her family. However, there was one issue—COVID-19—so her young son wasn't allowed to visit. Once Elyse made it home, she saw her family for about an hour, before learning Mike tested positive for COVID.
Jax's godmother took Elyse in, nursed her back to health and managed her medication until finding out Elyse herself caught COVID, likely during her own hospital stay. "I was probably the only person happy to test positive—it meant I was able to reunite with Mike and Jax," she said.
Miraculously, Elyse not only escaped a potentially life-ending injury, but she made it through with her sobriety intact. "I was on the meds long enough that I had to go through withdrawal. It was such a relief to my family when I no longer was on them," Elyse said.
Faith Over Fear
When Elyse made it out to the barn to visit Bob, who was still on stall rest himself, she immediately had conflicting thoughts. "I had PTSD realizing that the horses who had brought me so much healing had almost killed me. I felt selfish for putting myself in danger, but realized dangerous stuff can happen with or without horses and it's really walking a line of trust, prayer and faith. In my heart, I know this is my path and what I'm supposed to be doing," Elyse said. "I know it was hard for my moms and Mike to watch me go back to the barn, but they know what horses do for me." 
Trying to get over her PTSD, Elyse decided a change of scenery for her and Bob could do the trick. She remembered the kindness Kim had given her prior to her first PSG test and moved Bob to Spirit Equestrian four months after her accident.
By that point, Bob was back to work and Elyse was back in the saddle. With the help of Kim and assistant trainer Madeline Woodman, Elyse and Bob quickly got back into the groove and started making plans to return to the show ring. "Working with Madeline on a daily basis has given me and Bob so much confidence," Elyse said.
"When I found out they had freestyle competitions at all levels of dressage, I thought it was the coolest thing and put down a deposit to have Taryn Young choreographe one for me before Bob got hurt," Elyse said. "I chose music from one of Jax's favorite movies, 'Luca.' When Bob was hurt, I couldn't watch the movie as I was worried our story might be over."
Once Elyse knew their dreams to dance together would continue, she had her freestyle made and entered her first competition post-surgery. Elyse was ecstatic she could finally have her whole family, including Jax, ringside to watch. 
"Having Jax and my family come watch us in shows doing the freestyle is the coolest feeling. Being able to blow him kisses after my test and show him that if you want something in life, with hard work you can have it, means so much to me," Elyse said. 
Still Dreaming
After completing her freestyle twice, Kim suggested Elyse try to qualify for the California Dressage Society Championships. To do so, she needed to get one more score. "I immediately told her I couldn't afford it, but she said don't worry about it," Elyse said. "The heart my 'village' has inspires me to no end. I feel like I have people around me who think I can do this, and they push me and support me to do it."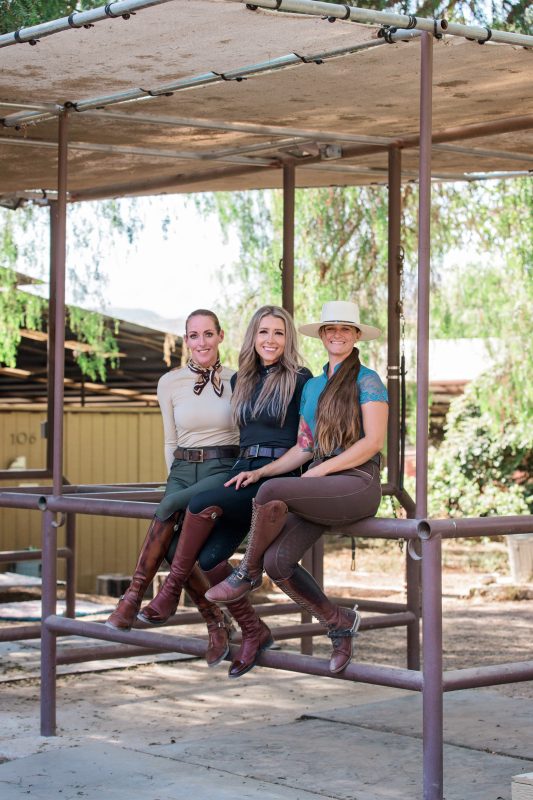 Nine months after Elyse thought she may never dance again with Bob, they entered the arena and competed at their first championships in September. "Even if we hadn't almost died this year, I would still be amazed I qualified for the championships. It means so much that Kim and Heidi made it possible for me to show there," she said.
Typically struck by nerves in competition, Elyse felt a sense of excitement when entering the arena at the championships. "Thanks to the support from Kim and Madeline, I felt the most confident I've ever felt in the show ring. There was no pressure for a particular result; I just enjoyed the experience and laid down my best freestyle yet," she said. "Even though we didn't get a top placing and we've both shown at higher levels, it was the highlight of my career to be at the championships."
Having marked off another bucket-list item via the championships, Elyse would love to revisit a previous item and compete at the PSG level again. "I'd love to complete a more harmonious test than I did the first time around. Kim and Madeline think we may have the ability to compete at Intermediaire 1, the level above PSG," Elyse said. "As cheesy as it may sound, I just want Bob and I to stay healthy and keep dancing along the way."
As Elyse enjoys the ride that's her life, she takes time to savor all its ups and downs. "I hope I never stop having an abundance of gratitude for what is seemingly mundane to most people; each day brings new gifts and challenges, and I'm honored to still be on this ride," she said. "My life has taught me that your wildest dreams are absolutely within your reach, and it's never too late to reach out and grab them." 
For more information, visit AllHart.blog
Photos by Lori Ovanessian, simpleefocused.com, unless noted otherwise
Outfits curated and styled by Michele Rozo of Huntsmen & Hounds, assisted by Marie Heron. Riding looks and bridles by Halter Ego. Boots by Romitelli.
Double D Trailers Info