By Lyssette Williams
It takes a special person to dedicate their life to a philanthropic cause, and few feel the call to such service. Carla Harbourt felt that call in her very bones, working her way from volunteer to therapeutic riding instructor and on to executive director at New Jersey-based therapeutic riding center, Riding With HEART.
Carla's love affair with horses started at home. Growing up, she was fortunate to live on a horse farm in Hunterdon County, New Jersey, and started riding at the age of 8.
"I owned a Quarter Horse mare named Snow Goose—Moose at home," Carla said. "Moose and I were a part of the Amwell Valley Hounds Pony Club. All my friends rode in Pony Club. It was a great way to grow up."
Carla took a break from horses to pursue a career in the fashion industry, pivoting later to IT before transitioning to full-time mom to raise her two children. After a successful recovery from cancer, Carla wanted to give back, and found her thoughts wandering back to the things she loved and cherished in the past—horses and their ability to help you form strong bonds with others.
"In 2011, my daughter and I decided that we wanted to volunteer, and we found Riding With HEART," Carla said. "It was a great opportunity to reconnect with horses and invest in the local community."
The Ties That Bind
Founded in 2001 as part of the Hunterdon County Educational Services Commission (HCESC), Riding With HEART's humble beginnings were on a small farm in Flemington, New Jersey. The program set out to provide therapeutic riding for individuals with physical and cognitive disabilities, as well as an at-risk youth program.
"For people with physical disabilities, the multidimensional movement of the horse can simulate walking, building strength and improving balance," Carla said. "Children and adults on the autism spectrum can gain a sense of connection. Horses are non-judgmental, steady and instinctive beings, providing a calm pillar for those who are easily sensory overloaded. There are children out there dealing with an incredible amount of stress and anxiety, and riding allows them to have a sense of control, while building confidence."
In 2006, HCESC had to drop the program due to budgetary reasons. A group of individuals familiar with the program recognized its immense value and picked up the reins under the name Dreams Come True Therapeutic Riding. In 2008, the program received funding through New Jersey's Green Acres Grant, designated to preserving New Jersey farmland. With this funding, the program purchased a 30-acre farm in Pittstown, New Jersey. The permanent home's large outdoor arena, pastures and a 28-stall barn allowed the program to expand. Employees felt a name change to Riding With HEART seemed fitting.
"Thanks to the expansion, we currently offer a variety of mounted and ground-based equine therapies to the community: therapeutic riding, programs for at-risk youth, summer children's learning programs and equine-assisted learning," Carla said. "In 2017 we created the BraveHEARTs Program, offering equine-assisted activities that serve the unique needs of our veterans, law enforcement and first responder community."
The true center of these programs is the horses, and Riding With HEART has nine of them. Each horse came from a different past, but has found themselves as a major force for good in their presence. "Our horses come to us after a variety of careers," Carla said. "Some were dressage horses, Western pleasure or hunter-jumpers. Any horse we accept into the program must be in good health, safe for program participants and volunteers to interact with, and free of dangerous vices."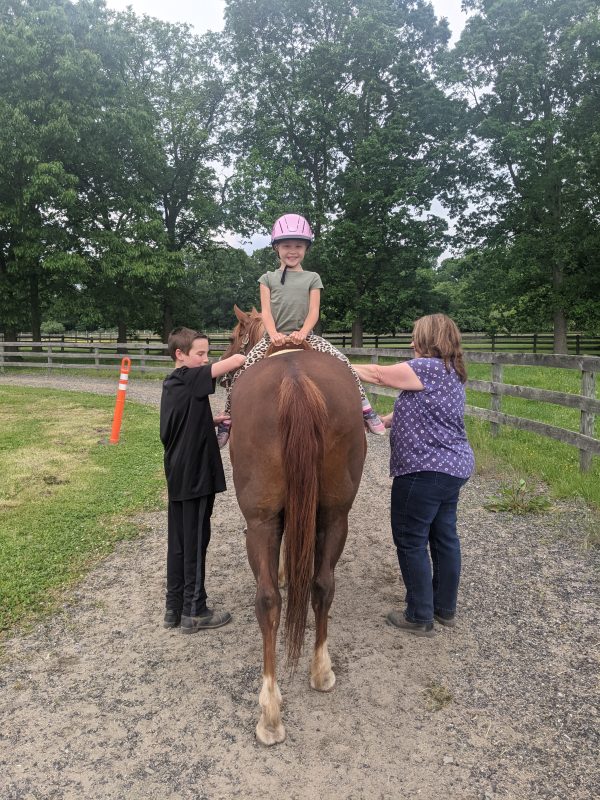 Each horse undergoes a trial period and special training to ensure they can handle the unique challenges of being a therapy horse. "Each horse has a personality that is suited to a particular activity and participant," Carla said. "Some riders need a challenge to build confidence, while others may need an extremely quiet horse for their session. Each horse knows what their job is, they know when to be still, slow and quiet. It's fascinating to see how each horse responds to the client working with them."
Fresno, a 21-year-old palomino Quarter Horse gelding, is one of the program's most popular horses. "Fresno has one brown eye and one blue eye, and that draws people in because it's so different," Carla said. "But his personality is what really wins them over. He's an absolute goofball who craves constant attention. He'd rather be with people than with other horses. He entertains the children with his antics, like switching the lights on and off and throwing his halter to get your attention."
Building With Care
Demand for therapeutic riding programs continues to grow, and Riding With HEART wants to keep up with the demand, but it can be tough as a non-profit organization to meet everyone's needs. Carla and her team had to get creative with no-contact fundraising during the pandemic to ensure the program could keep the lights on.
"We had an 'un-gala' in place of our usual Boots & Bling fundraiser," Carla said. "We mailed invitations with RSVP cards allowing donors to select options for monetary donations in lieu of purchasing a gown or renting a tuxedo."
Thankfully, their bi-annual tack sale, which funds most of the Riding With HEART operational costs, continues to be a community favorite. "It's the tack sale you can't miss," Carla said. "Brooks Durbin, along with the Tack Sale Volunteer Team, works tirelessly to host these successful sales. Around 200 people attend, and in 2021 we made $40,000 in sales, helping to cover our operating expenses for a good part of the year."
Caring for the horses and keeping the center running is no easy feat. All of Riding With HEART's Instructors are PATH (Professional Association of Therapeutic Horsemanship) certified as well as certified in CPR and first aid. Due to the sustained pandemic, the number of volunteers, who are just as important as the horses, dropped off by about one third.
"There are so many people within our community who could benefit greatly from our programs, but due to funding constraints we are limited in the number of individuals we can serve," Carla said. "There are local programs who cater to teenagers with special needs, at-risk youth, and those on the autism spectrum, just to name a few. We are always looking for a company or person to sponsor these individuals, for a day or even a week-long session."
For mother Maggie Matlosz, therapeutic riding programs at Riding With HEART have become an important positive part of her daughters' lives, helping them achieve goals and dreams they never thought imaginable.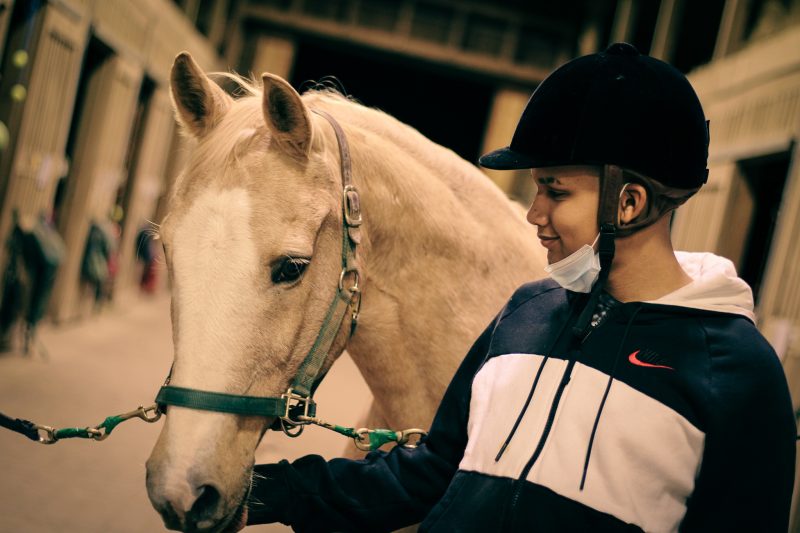 "Riding with HEART has been amazing for both girls for different reasons," Maggie said. "My youngest has hypotonia from a rare genetic disorder, as well as sensory issues. Riding has strengthened her core and gives her the proprioceptive input that she needs. When she started at Riding With HEART, she started with hippotherapy and had two side-walkers and a leader. She is now riding independently, and horses are her favorite thing in the entire world. My oldest had self-esteem issues due to bullying at school. When riding, she is focused on her horse what they're going to learn. Each goal that she accomplishes helps boost her confidence!"
Working alongside a loyal and dedicated staff, Carla has her plate full with program development, soliciting donors and connecting with those in her community with the most need—though she still finds time to help exercise the horses when she can. And every day she is reminded of why she started volunteering 11 years ago: to get back in touch with horses and to help others experience the calm and healing qualities they have.
"We fully embrace our participants and their families," Carla said. "We are extremely fortunate that they allow us the privilege of enriching their lives."
Like Carla, the staff and volunteers at Riding With HEART are there because they truly believe in bringing joy to others.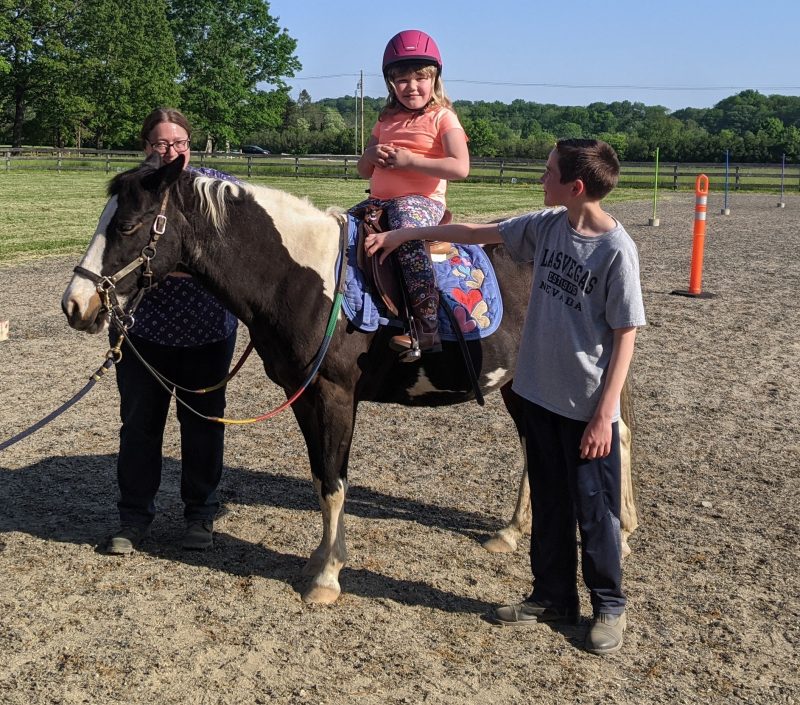 "Volunteering began as a high school requirement for me," said volunteer Cheyenne Blaine. "After achieving my school's requirement, I realized that I fell in love with the program and the people who run it. I continue to volunteer as I enter my junior year of college. I can tell the riders experience the same comfort that these animals have always given me, and it's moving to be part of sharing that gift. Although the skillsets, mindsets and attitudes of the riders vary, all the riders share something in common. They are all able to connect and channel the horses' energy to achieve healing that no human could give. As a volunteer at the barn, I am incredibly proud to be a part of the life-changing and inspiring magic that happens at Riding With HEART."
For more information, visit www.ridingwithheart.org
Photos courtesy of Riding With HEART
Double D Trailers Info