By Laura Scaletti
Portraits by Melissa Fuller
Heather Bender could fill a novel or two with the experiences she's had both in and out of the saddle. Barrel racer, trick rider, jumper, Grand Prix dressage rider, scuba diver and tortoise rescuer are just a few of the roles she's had over the years.
Based out of Palm City, Florida, Heather now shares her unique equestrian skill set with her clients at Treasure Coast Dressage. As you'd expect with her eclectic background, Heather is all about the journey rather than the destination. "Throughout all of my experiences, I've chosen to find the happiness, love and be grateful for the opportunities I've had along the way," she said. "When you set a goal, the journey is what you make of it."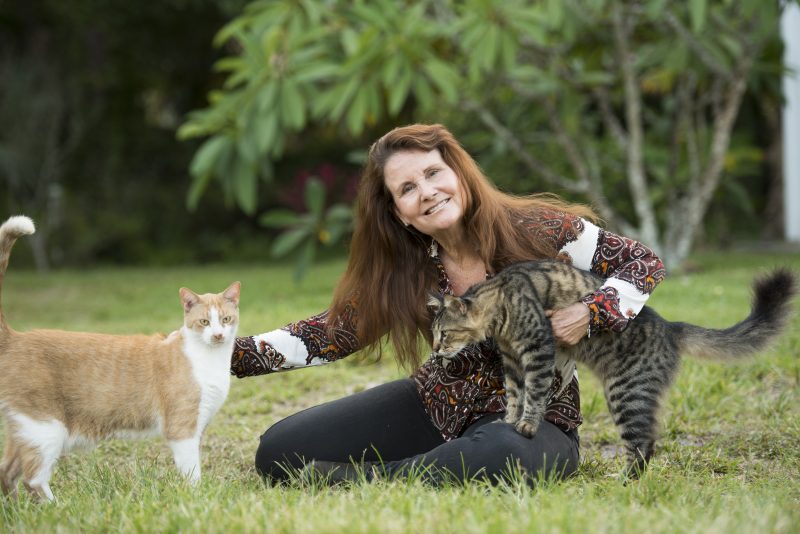 From an early age, Heather was blessed with the support of her parents, Jud and Kathy. Jud supplied Heather with plenty of saddle time, while Kathy was at all the rodeos and horse shows, camera in hand, to capture the memories Heather made while horsing around.
"My father got me in the saddle before I could walk, first in front of him then behind him, until I was big enough to be put on my own horse," Heather said. "I was completely addicted from the start and felt such a deep passion for horses; that continues today."
Moving to California as a young child, Heather watched her father work with and learn from famous trainer Glen Randall and his son, Corky. Together, the Randalls trained many famous movie, circus and rodeo act horses of the time including horses that did the Ben Hur chariot races, Roy Rogers' Trigger and those that were in the Black Stallion movies. Not only did Jud get an important education with the Randalls, but Heather also became inspired by what she observed on a daily basis.
Heather spent her childhood riding all day and dreaming about horses all night. "Growing up on a ranch in Camarillo, California, I would sneak out at night and go riding in the hills bareback or jump in our arena under the moonlight. I rode all summer and would log how many hours a day I rode, sometimes reaching 75 hours a week," Heather said.
When it came time for Heather to choose a discipline, she decided to pursue barrel racing and gymkhana. Jud used his technical brain to not only be a commercial pilot but also to figure out what horses are biomechanically capable of doing, which in turn helped Heather excel in barrel racing.
"He helped me realize barrel racing wasn't just running as fast as you can, but how you can balance your horse, how to place it at the barrel or pole so it could turn super-fast keeping its hind end engaged so you could get out of the hard turn immediately, not wasting a second," Heather said. "We worked on tons of gymnastic exercises to get better half halts and balance. It wasn't the typical way to train for barrel racing, but I built an important foundation I carry on today."
At 12 years old, Heather was the youngest Girls Rodeo Association member who was winning money and ending up in the year-end standings; however, she wanted more than 17 seconds of glory in the arena. "It was fun, but it left me annoyed that it was over so quickly. All that work and travel for 17 seconds, 16 if you had a good run," Heather said. "My dad was working on his trick horse and trick roping act, so I decided that's what I wanted to do, too!"
Trick Riding
Kathy tried to get Heather, an active child, to explore other activities like dance and gymnastics. "My Russian Ballet teacher told my mom I wasn't a ballerina prospect, no surprise there, but said I'd be perfect for gymnastics," Heather said. "She was right; I loved gymnastics and when it came time for me to decide to trick ride, dance and gymnastics were great skills to have under my belt."
As luck would have it, the Benders' farrier at the time, Jug Reynolds, was the son of Fess Reynolds, a very famous animal trainer. Jug had grown up in the heyday of trick riding and was a talented trick rider himself. Heather tried to convince Jug to teach her how to trick ride, but he told her it was too dangerous, and he wasn't going to teach her.
Undeterred, Heather decided she would learn to stand up on her horse at a gallop and show Jug she was serious. "My horse spooked as he was galloping down the arena rail and spun off; I went flying, landed laughing and Jug decided in the moment that if I was going to kill myself anyway, he better take me under his wing," Heather chuckled. 
Jug's rules were simple: No crying; no whining; no chickening out. "I took on the challenge and worked hard never to disappoint him," she said. "I'm so glad he taught me the old school way of trick riding. We had to sell the tricks to the audience with grace, perfection and beauty."
Heather trick roped and rode with her father's rodeo act until she was in her late teens. "What a great way to grow up, performing all over the West at events, rodeos, parades, fairs, hospitals. We traveled everywhere in a motor home and horse trailer working for Western Airlines, where my dad was a pilot, as a public relations act to get better exposure for the airlines," Heather said.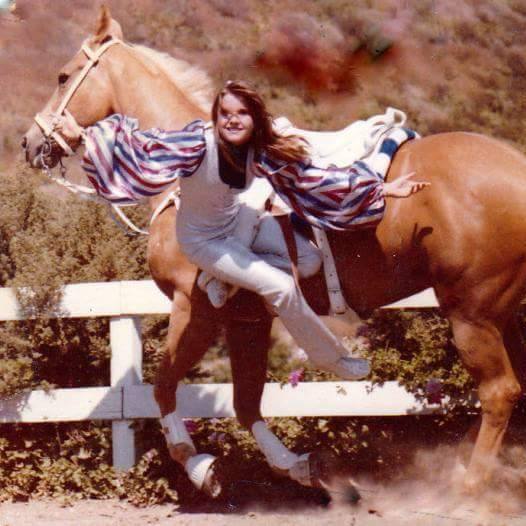 While Heather had the opportunity to meet incredible animal trainers during this time, she also saw what the future could hold for her if she stuck with trick riding as a career. "The '70s and '80s were the end of the era for trick riding. I knew if I stayed in it much longer, I'd just keep repeating the same tricks over and over. That's when I saw myself going in a different direction with horses," she said.
Traditional Pursuits  
At 13 years old, Heather decided in addition to trick riding, she wanted to start jumping. She went to Foxfield Riding School to add more traditional training to her riding resume. Having been doing trick riding for a few years, Heather may have been a beginner at jumping, but she was bold when she pointed her horse at a fence. Twin sisters Nancy Turrill and Joanne Postel, who founded and ran Foxfield, loved the enthusiasm and grit Heather exhibited from the start.
"Joann and Nancy were great to me and had me move up classes very quickly. They figured out I had a gift for riding the tough horse and gave me a lot of riding opportunities," Heather said. "I think they got a kick out of my trick riding."
Not only did trick riding give Heather confidence, but it also gave her an amazing set of skills she would use in jumping and dressage. "I learned the importance of center and balance, and how the slightest increment can make you go from a pirouette to falling over," she said. "It's also nice to know I can get off at a dead run and land on my feet."
As Heather kept moving up the ranks with Foxfield, she realized she was missing the mechanics of how to make a horse go better. It was dressage powerhouse Hilda Gurney who provided the missing block of Heather's riding, dressage. "I knew I needed some of that dressage thing to become a great jumper rider. I dreamed of representing our country riding, so I signed up for weekly lessons with Hilda when she taught at Foxfield," Heather said. 
From Foxfield, Heather went to work for Jimmy Williams and Susie Hutchinson. "Jimmy had seen me win the Junior Jumpers at the Flintridge Children's Show and eventually offered me a job working for him. He liked that I'd get on any horse and gave me the tools, exercises and plan to handle each one," she said. "Jimmy really helped me see the importance of dressage and flat work and encouraged me to pursue it."
Heather didn't just pursue dressage, she eventually ended up making a huge leap into the discipline. At the 1984 Olympics in Los Angeles, Hilda was on the team and George Theodorescu was the Team USA coach. Unbeknownst to Heather, Hilda had George watch one of Heather's lessons. 
"He said if I wanted to come to Germany, I could work for him and learn how to do it right before I got too many bad habits. I decided my goal was to ride internationally, so maybe I could do it as a dressage rider instead of a jumper rider," Heather said. "I could write a book about my European experience; it was great and changed everything I thought I knew about dressage and more!"
Treasure Coast Dressage
Nowadays, Heather shares all she knows about dressage at her Treasure Coast Dressage. "I'm blessed to lease a beautiful equestrian facility from Kate and Brian Blazie," she said. "I'm in Florida now because of Mike Poulin and owe him a big thank you for all his help over the years."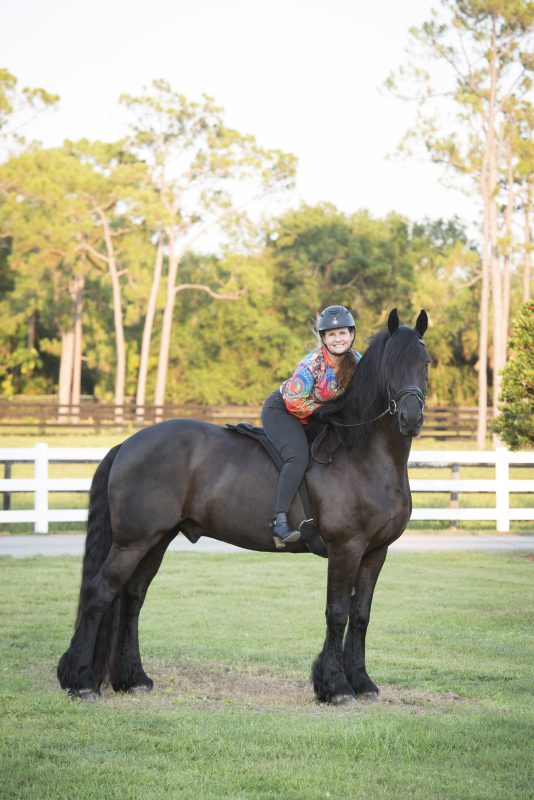 Heather has found her niche with riders in their late 30s up to those still riding in their 70s. "I have a group of powerful, fascinating women who have impressive life stories. They share a strong love for dressage and love for their horses," she said. "I'm the leader of the cats, you could say—thank God for all my animal training experience!"
Many of Heather's customers have spent their lives dreaming of riding and achieving their goals. Unfortunately, Heather says not everyone is looking to take on "older" customers. "A lot of people don't take them seriously; many of my clients only dreamed to have the opportunity I had and didn't get to start riding until later in life," she said. "I know their dreams are real, and I believe it's my job to give them the tools to reach their goals. I'm proud that one client started with me when I moved to Palm City—she had started riding jumpers later in life, and was transitioning to dressage. She's now riding her horse we trained successfully in FEI classes, and we've raised the bar to Grand Prix. She is in her early 70s, riding amazing for any age, and is an inspiration to all of us. It's so rewarding training these ladies and their horses up the levels and watching them keep upping their own bars and goals."
Heather herself has ridden hundreds of Grand Prix dressage tests on many different breed horses that she's trained and brought up the levels. She's competed for the USA in several international competitions, including the 5-Year-Old World Championships. She still has big plans for her own career, striving to improve her riding and training, and would like more opportunities to compete internationally again. Heather currently shows Dr. Debra Eddington's Alvarinho Interagro in the Grand Prix, and is excited to be starting Priscilla Baldwin's Diacono in his first year of Grand Prix. "I've brought these horses up the levels with the help of their amateur owners also riding and learning," Heather said.
Heather attributes the success of Treasure Coast to her terrific support team made up of people who've all been with her for years and speak the same language when it comes to working with the clients. "I'm so lucky to have had the same team working for me for many years: Bethany Buchanan, Sue Tierney, Barbara Masterson, Paige Caldwell, Hector Tzaj, Stephanie Monteith and Elaine Carpenter.  Without these amazing individuals who are so dedicated to me and my clients, Treasure Coast Dressage would not be what it is today," she said.
Out of the Saddle
If you're thinking Heather has had an amazing life in the saddle, that's just part of the story. When she's not riding, she's scuba diving. "My mom was a world class swimmer, who set several swimming records in her time. I'm so thankful she taught me to love the water," Heather said. "I love to spear fish, mostly lionfish that are hurting our native fish. I also dive for lobster and love diving with sharks and other amazing sea life."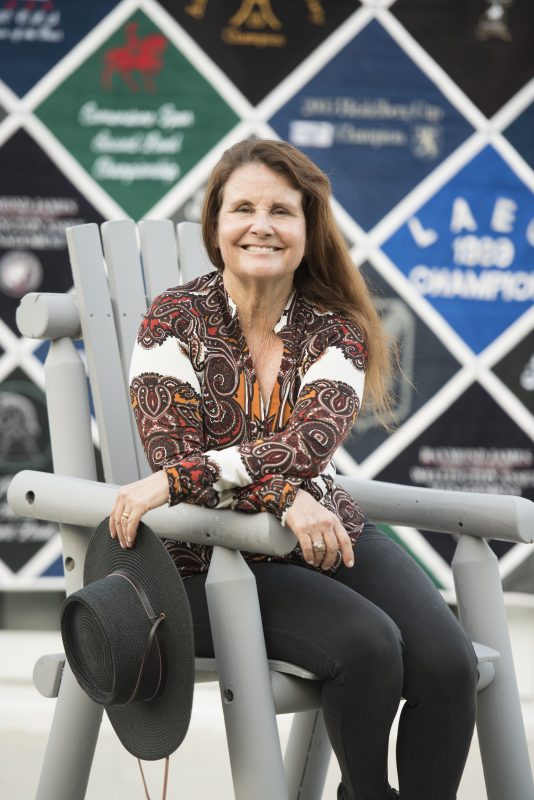 Diving helps Heather take a break from the hustle and bustle of the modern world and horse industry. "It keeps me in the moment and reminds me how amazing our world is," she said.
For over 40 years, Heather has been sharing the ocean with sharks regularly on her dives. "I love and respect sharks. Like a powerful, edgy horse, I stay in the moment when I'm around them. I drop my heart rate, stay calm and calculated; it's important not to retreat, but to face them," Heather said. "The good news is when sharks fly away from you, they don't double barrel you with their tail."
If that wasn't enough, Heather lives on her own 10-acre animal sanctuary five minutes down the road from Treasure Coast Dressage. Her husband of 20 years, Kaz, has a parrot breeding business. 
"Right now, we have 350 parrots, 17 tortoises, 4 dogs, some chickens and cats. Parrots are picky eaters and throw what they don't eat on the ground, so our chickens and tortoises help clean up their scraps," Heather said. "People have found out we have tortoises and will rehome them with us once they get too large to live at their homes."
In Kaz, Heather has found her life partner and fellow animal lover. "Caring for birds is a 24/7, 365-day-a-year task with Kaz doing most of the work himself. He never has said, 'You love your horses more than me,' he knows caring for animals is just part of the deal with our careers," Heather said.
After 50 years in the horse business, Heather has no plans of slowing down any time soon. She's grateful for Kaz, her family, horses, pets, barn family, diving friends and yoga family at Lotus Loft for keeping her life interesting. 
"All of them keep me in an amazing balance with a love for life, teaching, training and what my next adventure will be," she said. "I try to live life to its fullest and make the people around me happy and successful, too!"
For more information, visit Treasure Coast Equestrian Dressage and Arts on Facebook
Photos by Melissa Fuller, msfullerphotography.com, unless noted otherwise
Double D Trailers Info