By Britney Grover
Portraits by Shawna Simmons
Some people took up new hobbies like gardening or knitting during the global pandemic in 2020. Kat Fuqua took up dressage shows.
Even knowing how Kat excels in the hunter ring from ponies to USHJA International Derbies, breaking records and earning hundreds of division championships, her dressage debut is impressive. After a few months with her new dressage horse during quarantine, Kat rode down centerline as soon as shows opened in June.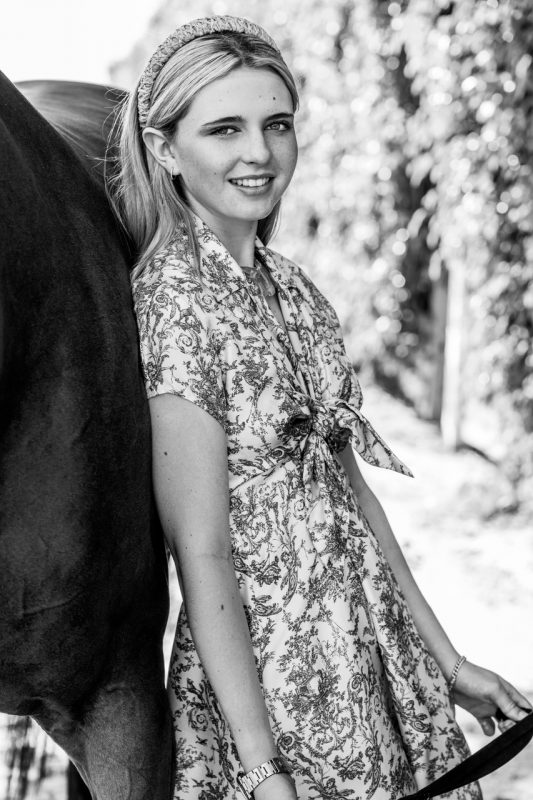 In their first two shows, Kat and DreamGirl posted scores in First, Second and Third Level to earn Kat her USDF Bronze medal. Their third dressage show was the U.S. Dressage Festival of Champions — where they came in third overall in the USEF Children Dressage National Championship.
Kat earned her USDF Silver medal this February showing up to FEI Prix St. Georges, and is currently first in the USEF Junior Dressage National Championship rankings. Having just turned 14 in July, Kat will be watching the Olympics not just with a dream to get there, but a plan. Dressage isn't the only Olympic sport she's competing in this year: Kat has been nominated for both the FEI Junior Dressage and FEI Children's Jumper teams for this year's North American Youth Championships. She's added 1.30m Junior jumpers to her show schedule — which is still full of hunter, equitation and derby classes.
Following a banner year, Kat's Grand Remo and Consent were each named USEF Horse of the Year for their respective divisions and Consent was named Overall Grand Junior Hunter, with Grand Remo taking reserve; Consent was also awarded the 2020 Trainer's Choice Award for Junior Hunter by the National Show Hunter Hall of Fame.
As she expands her competitive spirit, talent and drive into other rings, it's clear Kat is moving up but isn't moving on — from horses ever, or from the hunter world she started in for the foreseeable future. And it all started with the ponies.
Ponies to Horses
Kat was raised riding at her family's Collecting Gaits Farm in Atlanta, Georgia. A year after she began showing at age 5, Kat met with nationally renowned trainer Mindy Darst, who immediately saw Kat's potential and offered to train Kat in Wellington that coming winter. Kat's national career started out strong, and she was champion twice and reserve once during her first Winter Equestrian Festival.
As it turned out, it was Kat's only season with Mindy. Mindy was nearing the end of an eight-year battle with cancer and passed away that spring — but not before laying a solid foundation for Kat's riding that Kat still credits today. Mindy had always said Kat would be a champion someday; she may not have envisioned just how true that has turned out to be.
Kat attended her first Pony Finals that summer, in 2014. Despite growing success at shows around the country, ribbons at Pony Finals eluded her until 2017, the same year she started making the transition to horses. A month later, she won the Pony Derby for the second year in a row — and won her first USHJA National Hunter Derby the next day on her first horse.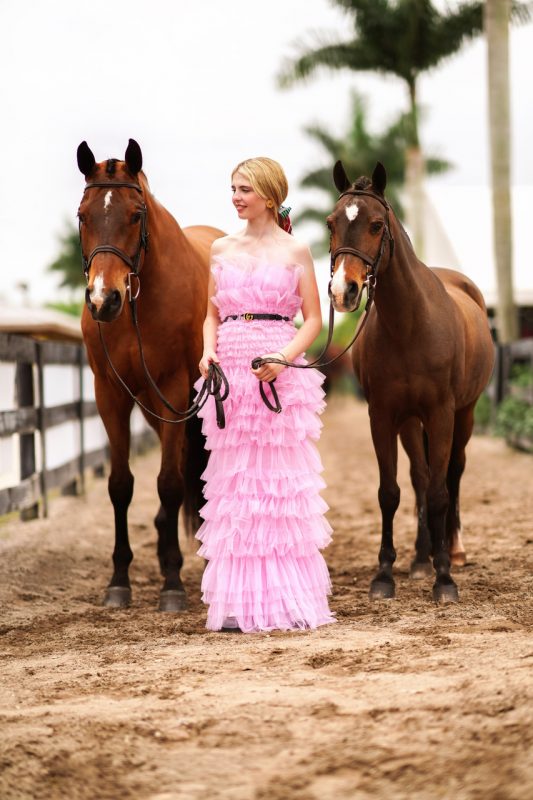 "Because the striding on the horses is so much bigger than the ponies, finding the jumps at first was a little difficult for me," Kat said. "When I started on horses, going back and forth between the ponies and the horses was a little challenging, but then I got the hang of it once I showed more and did more with the large ponies and the horses. When I started doing the Junior hunters and had multiple horses, it was getting easy to transition from ponies to the horses' strides."
Kat proved her mastery of switching between ponies and horses in 2018. When she returned to Pony Finals, she was Overall Grand Champion Pony Hunter with Brighton after being named Large Pony Hunter Champion — her first-ever win at a championship show, and the one that still stands out as most special as she won all three classes: model, under saddle and over fences. Having just turned 11, Kat was the show's youngest rider to win the overall title, and with the most points. That same summer, Kat competed in her first USHJA International Hunter Derby at HITS Saugerties in New York.
Juniors to Dressage
The following year, 2019, Kat began training with Jimmy Torano. She put in a repeat win at Pony Finals after following Jimmy's advice to "go for it" and moving her green pony Prestige into the regular division to win Large Pony Hunter Champion. The pair came in reserve overall — also winning the Marshall & Sterling/USEF Pony Medal Finals. But Kat didn't take long to celebrate: The next week, she rode her two qualified horses, Cornell 22 and CupidoZ, in the International Hunter Derby Championship, making the call-back for the second round.
Throughout her pony career, Kat received national recognition as the USEF Leading Pony Hunter Owner twice, with multiple ponies receiving Horse of the Year honors. In the Junior Hunters, Kat's success hasn't waned. Kat and her Grand Remo were given top honors as the Overall Junior Hunter Grand Champion at the National Horse Show in October and took fourth overall in the Hunter Classic, riding against professionals. Kat was champion in the Large Junior Hunters 15 & Under on Grand Remo and also champion in the Small Junior Hunter 15 & Under with Consent, adding to Kat's more than 200 division championships.
"It's really special to me to have such talented horses; it gives me a lot of confidence in the ring," Kat said. "Showing them, they're always good. I love them so much. I love being home with them, not only just showing, because they're so sweet and so fun to ride — I love riding bareback."
Consent was newer to Kat when the COVID-19 pandemic hit, and she valued the time off from her normal rigorous showing lifestyle to get to know him and just spend time at the barn. But Consent wasn't the only new horse in the barn during quarantine. DreamGirl arrived from the Netherlands in January 2020 — Kat's first dressage horse.
Kat has done flatwork with her mom, a Grand Prix dressage rider in her own right, as well as with her mom's trainer, Olympian Michelle Gibson. She had done dressage practice regularly at home, and her dressage trainer, Jason Canton, decided it was time to get a dressage horse. "DreamGirl is very kind; she's probably the calmest horse we have in the barn," Kat said. "She always tries her hardest for me, and she's just super sweet. I love riding her — she's very fun. She lets me ride her bareback all the time, and do the tempi changes bareback."
After earning her USDF Bronze last summer, Kat earned the necessary scores aboard DreamGirl at Fourth Level and FEI Prix St. Georges to earn her USDF Silver medal in February. They went on to qualify for the 2021 USEF Dressage National Championships in the Junior division, as well as for the FEI North American Youth Championships (NAYC) — where Kat won't just be competing in dressage.
Never Giving Up
This January, Kat began competing in the jumpers alongside hunters, equitation and dressage. "I like the jumpers because it teaches me to really go forward, and not always focus on everything being perfect — it teaches me to just go for it," she said. "The dressage is really good for the flat work, and helps me in the equitation flat phases. The hunters I've been doing the longest, so it's probably my favorite."
Other than the moment it takes her to adjust to the longer stirrup and different leg position of dressage, Kat is quick to recognize how much the different disciplines complement one another. At a dressage show earlier this year, Kat and DreamGirl were supposed to perform an extended trot and instead got a flying leap — as if there had been an invisible jump.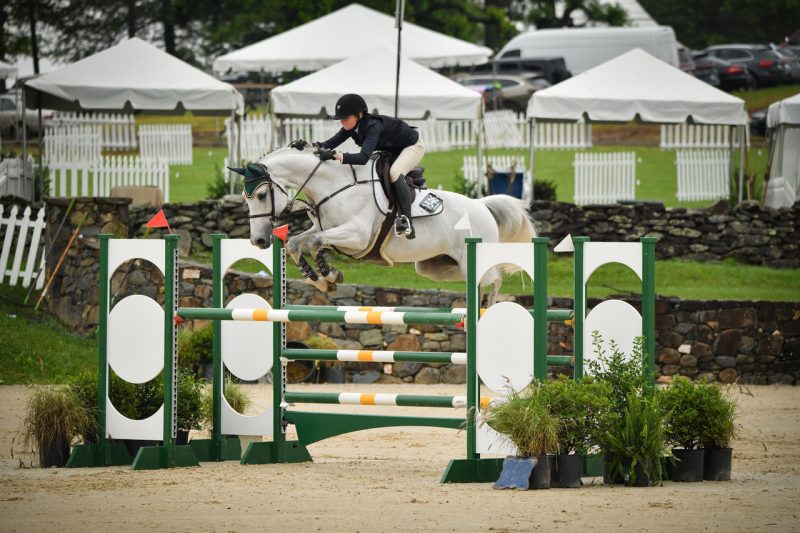 "They score each movement in dressage, so even if you make one mistake, you can make up for it from all the other movements," Kat explained. "So I got a 70 overall, I just got a bad score on that one extended trot because she leapt into the air. But it taught me to never give up just because one bad thing happened."
It's an important lesson, one that she struggled with in her early pony days. "I think I've gotten pretty good at letting things go and moving on," Kat said. "I used to get really, really, really upset when I made a mistake. Now, I'm just like, 'It's OK. You know, there's always another show.'"
Learning to move on from mistakes doesn't mean Kat takes any of her classes lightly. In fact, she approaches every in-gate like it's an Olympic round — so that when she does make it to the Olympics, it will be like "just another day at the office" and she can trust herself to perform exactly like she did to get there.
In the meantime, her demanding show schedule takes quite a bit of careful planning and sacrifice. The first priority is making sure none of the horses are over-shown — that they get a few weeks off to relax between shows. Because hunter shows and dressage shows often run at the same time, Kat often has to sacrifice one or the other. But as long as it's feasible, she intends to keep showing in both disciplines and following her big dreams — including competing in dressage at the 2028 Los Angeles Olympics.
Along the way, Kat shares her journey with followers on Instagram @katfuquaequestrian, usually with #followyourdreams and #believeinyourself. "I think it's important for people to see that and listen to it, because sometimes things can go wrong and be hard, with horses," she said when asked about the hashtags. "It's important to know that you should try hard, keep going and never give up. I struggled believing in myself a little bit with Pony Finals, because it took me four years to get a ribbon. I just focused on going back and trying even harder the next year. And then I finally got a ribbon in 2017." 
Following Her Dreams
Kat's more immediate goals include competing at the NAYC in dressage on DreamGirl and jumping on Gagarin. "I got my jumper in April — his name is Gagarin, after the first Russian to land on the moon," Kat said. "His barn name is Giggles."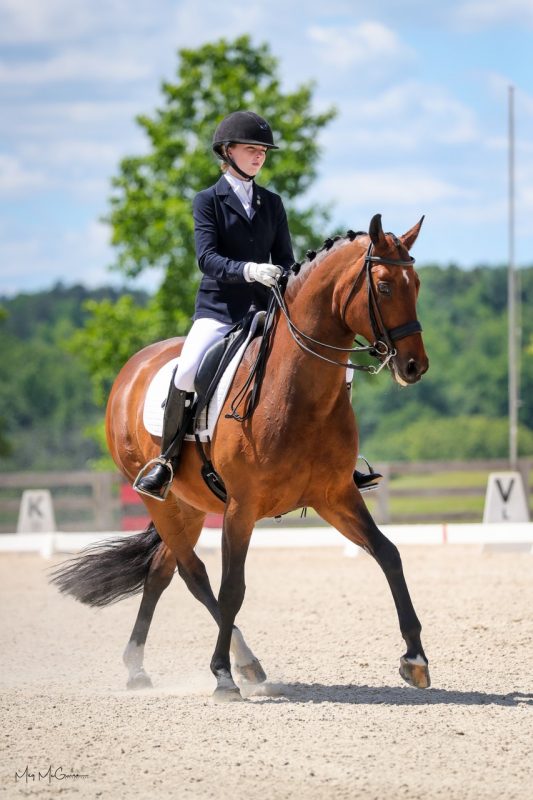 NAYC will take the usual place of Pony Finals in her schedule this year, and Kat is looking forward to her first time working with a team. Then will come the Festival of Champions for dressage and the International Hunter Derby Championship thrown in, and indoor finals and regional dressage finals in the fall.
Next year, Kat hopes to be back at Pony Finals with a very special pony in the large greens: 5-year-old Notably Chic. Called Ken because he's "very handsome and blonde," Notably Chic is the son of Kat's beloved pony Chic In Time, with whom Kat earned many awards including her first Pony Finals ribbons. "He looks just like Chic In Time, but he's a little bigger," Kat said. "It's very cool to be working with the son of my pony. They have a lot of similarities, like how they act and their demeanors, and their color, of course — they're both palominos."
Except for last year when her school had a remote option due to the pandemic, Kat goes to "regular school" and collects assignments from her teachers before leaving for shows. Kat spends most of her time riding, either preparing to compete or simply enjoying a bareback hack, but also enjoys other "normal" teenage activities including spending time with her rescue animals. "I like swimming a lot," she added. "In the winter, I like going ice skating. And I love watching Netflix — I like fantasy and supernatural stuff, like 'The Vampire Diaries' and 'Stranger Things.' But I also love 'The Office' for comedy."
The horses are clearly her passion, in or out of the saddle. There are 10 horses at Collecting Gaits Farm, including Kat's five show horses, a miniature horse and several retired horses. All of Kat's previous mounts go on to new owners rather than collecting in the barn — and saying goodbye is the hardest part of being involved in horses for Kat. She forms a relationship with each one. "I like spending time with the horses and taking care of them, putting them on the walker, turning them out," she said. "When I'm home, I get up at 5 a.m. and feed and do all the barn chores — but it's really relaxing and fun."
Kat knows that even with her talent and dedication, pursuing her big dreams wouldn't be possible without her horses, her trainers and her parents. "It's really amazing to have such supportive parents," she said. "They're always here for me. My mom comes to every single show; she's always at the in-gate. She even trains me at home, rides my horses, and warms up DreamGirl for me. She's a big part of it, and my dad too, he's also very supportive."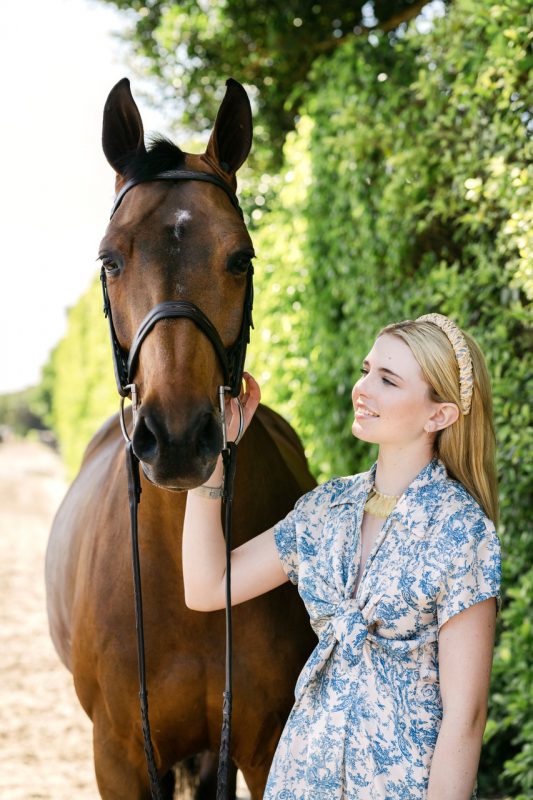 Though Kat's mother, Shereen, is very actively involved in the horse world, she's the first to point out that she's involved for Kat — not the other way around. "Horses were never my passion; I started riding as an adult. When Kat was growing up, I thought we would be done with horses and sell the farm," Shereen said. "The next thing I knew, Kat became very passionate about it. A lot of people think that kids live their parents' dreams; her horse dreams are not my horse dreams. These dreams are all her own."
Follow Kat on Instagram @katfuquaequestrian
Photos by Shawna Simmons, www.sasequinephotography.com, @sasequinephotography, unless noted otherwise
Blazer by Garden Label (@gardenlabel); patterned dress by Lindsey Thornburg; headband by Gigi Burris; necklace by Olwen, all available at Farm-Stand.com (@farm_stand). Pink tulle Swans Point Lily Dress by Ella-Rue, paired with Gucci belt and Twilly Scarf paired with vintage gold earrings by MDVII. Vintage Chanel bracelet from MDVII, Margo show shirt by Crinere (@crinere_life), handbag by Atelier Delphine and floral crown and styling by Shawna Simmons Whitty.
Double D Trailers Info