By Kimberly Gatto
Portraits by Melissa Fuller
In the fast-paced world of Grand Prix show jumping, Maria Costa is a rising star. At just 29 years of age, the Wellington-based pro already has a long list of accomplishments, including multiple Grand Prix victories and several Nations Cup appearances. This past winter, Maria and her longtime partner Valentino V Z dazzled the Wellington crowds when they topped 43 other pairs to win the $50,000 Palm Beach Equine Clinic Grand Prix. Maria credits much of her success to the unwavering support of her close-knit family. "Nobody else in my family rides horses," she said. "However, I feel like my parents and siblings have become horse people just by constantly supporting me."
The youngest child of Mary and Alfonso Costa, Maria was born and raised in Pittsburgh, Pennsylvania, along with her brothers, Joe and Alfonso, and sister, Christina. Maria's passion for horses developed early. "I was always an animal lover, and horses were my favorite," she said. "My dad and I had a special tradition where we would spend a day doing something together, just the two of us. It usually was something related to animals because of my love for them."
Sometimes the activity would involve visiting a zoo or animal farm. But one day, when Maria was 8, her father brought her to a local riding stable called BarGee Farms. "My dad told me that I could take a lesson and see if I liked it. He said I should give it a try since I loved horses so much. I honestly did not even know that riding was an option at the time!"
One lesson was all it took for Maria to become smitten with the sport. She began her riding career by taking a lesson every week, which quickly increased to multiple rides as her skill and interest grew. "Soon I was riding almost every day," she said. "Eventually we leased a pony. I became a complete barn rat. I wanted to be there all the time!"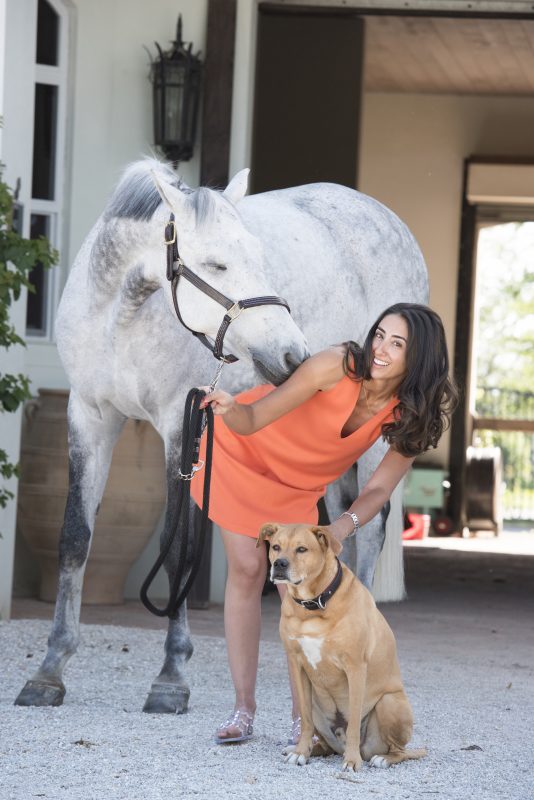 Maria Costa and her horse Iceman and dog Rocky show off their love for each other.
A Life Based on Horses
Maria's talent, work ethic, and ease in the saddle were apparent at any early age. Soon she became the proud owner of a 4-year-old horse called Almost Midnight, with whom she began showing in the Children's Hunters. The horse's willingness and quiet disposition gave young Maria a solid foundation and helped her to develop the poise and fearlessness that would later be required for success in the jumpers. "Midnight was a very sweet horse," Maria said. "I think having good, safe horses like that gives you confidence as a young rider."
Maria spent most of her Junior career riding hunters. At the age of 17, she made her foray into the jumper ring, spending a season in Florida competing in the Low Children's division. Maria was then given the opportunity to ride with Olympic gold medalist (and former equitation champion) Chris Kappler; she would ride under his tutelage for the next 3 ½ years. "I had never done the equitation classes, but riding with Chris gave me the 'equitation' experience while doing the jumpers," Maria said. "That becomes very helpful when navigating a course with tight turns. It was great because I was given the foundation I needed without the pressure of doing the Big Eq."
The Costa family relocated from Pittsburgh to New York City following Maria's graduation from high school. She enrolled at the University of Connecticut, where she would earn a bachelor of science degree. "I knew I wanted to be a horse pro," Maria said. "However, I felt it was important to get a college degree. I was originally planning to major in animal science, but it involved many on-site lab classes that I couldn't attend while I was in Wellington. I ended up studying agricultural science and natural resources, which didn't involve as much on-site work."
Maria was able to complete her degree while continuing to ride on the "A" circuit by meticulously balancing her schedule. "In my first semester at school, I drove 40 minutes to the barn every day to ride," she said. "I would fly back and forth to show on weekends. For the second semester, I rode full time in Florida while still taking my classes online. It was a busy schedule, but it worked out really well and enabled me to obtain my degree while still riding at the highest level. Since the day I started riding, all of my life choices have been based on horses."
During the years that followed, Maria honed her skills in the jumper ring under the guidance of trainers such as Jon and Chris McCrea, Eddie Macken, Paul O'Shea and Nick Skelton. "I have learned a lot from every trainer I've had," Maria said. "I try to absorb as much as possible. I've been fortunate to ride with so many incredible trainers. I'm so lucky that my path has led to their doorsteps."
Her current trainer is Olympic veteran Laura Kraut. "Laura is as incredible a coach as she is a rider," Maria said. "She is so positive and believes in me, while also being realistic—she's very good at balancing that out. And she is such a kind person. I learn more and more from Laura every day."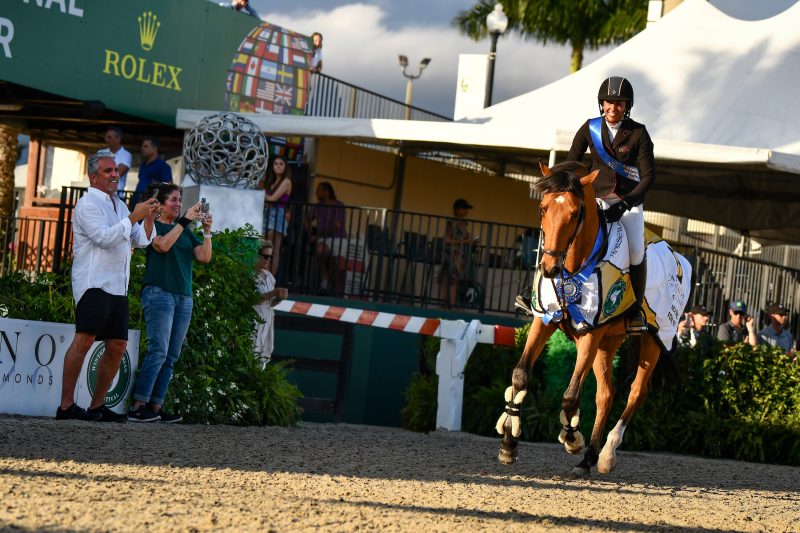 Maria's parents, Mary and Alfonso Costa, take photos of Maria and Valentino V Z in their victory gallop after winning the $50,000 Palm Beach Equine Clinic Grand Prix in Wellington, Florida.
Photo by Four Oaks Creative
Building Bonds
In addition to her trainers, Maria considers herself blessed to have a team of incredible horses, which currently include the bay warmbloods Valentino and Presence and the grey gelding Iceman.
"Valentino is my heart horse," she said. "I believe we were just meant for each other. Every time I ride him—whether in the ring or on the trail—I just can't help but stop and think I am the luckiest person in the world." Now 13, the gelding was purchased by Maria's family when he was 7. "We moved up to the Grand Prix together," she said. "Now, riding him is just like putting my socks on in the morning. Riding him is just very easy and natural."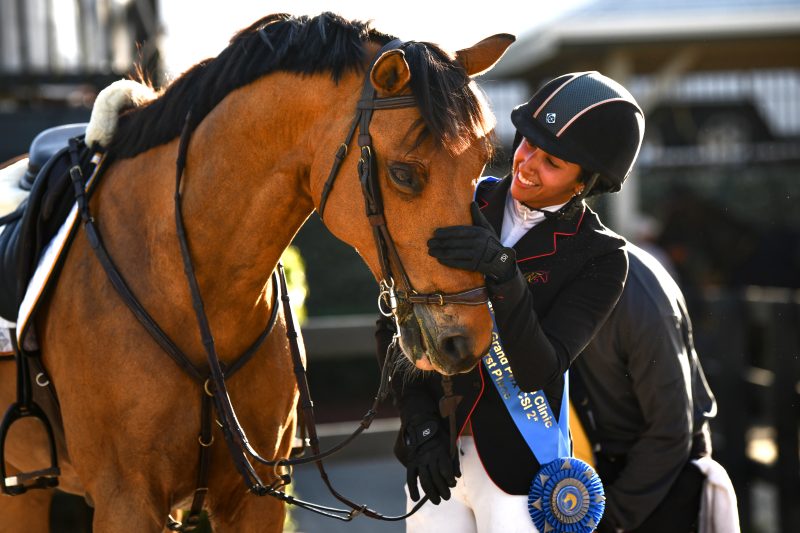 Maria has a long list of accomplishments, including multiple Grand Prix victories and several Nations Cup appearances.
Maria describes her other bay gelding, Presence, as a "real superstar." She purchased the horse, who was previously ridden by Paul O'Shea, 2 ½ years ago. "He was a bit of a quirky horse for everyone else," Maria said. "But we seemed to click immediately. I rode him one day and we just got along really well. It's one of those connections that just worked from the start. He makes me feel so comfortable." Aboard Presence, Maria competed in her first Nations Cup and her first five-star Grand Prix.
The 9-year-old Iceman is Maria's latest mount, as she was paired with the gelding last year. "Iceman is different from my usual 'hot' type of horse," she said. "He is so much more relaxed than my other horses, which is awesome. He has helped me to adjust my riding and is really helping me learn. He's just so sweet and really special. When we really get it together, it will be great."
Maria treasures the individual bond with each of her horses—which is essential when steering such a large animal around a tricky Grand Prix course. "My relationship with my horses is the foundation of my riding," she said. "We trust each other, they help me out when needed and we rely on each other in the ring. It changes the game completely." She added, "Horses deserve the world. If they feel you love and trust them, they will do anything for you."
That bond—and the incredible care she provides to her horses—has become obvious to those around her. Former trainer Paul O'Shea once told a reporter, "If you come back as a horse, you want to be in Maria's barn."
Maria's passion for horses has also extended to her entire family. "My parents are now really into the horses," she said. "They're in Wellington all season and they always travel to watch me show. They don't miss a beat!"
She also continues to maintain close ties with her siblings, as well as her young nieces and nephews. And her constant companion is Rocky, an adorable boxer mix, whom she adopted from a local rescue when he was a puppy. Maria affectionately describes Rocky— now 9 years old—as her faithful sidekick. "He and Valentino are best friends," she said. "When the three of us go on a trail ride together, I can't stop thinking about how lucky I am."
Maria says that her goal for the next year is to keep learning and growing. "I'm always learning and playing by ear," she said. "I always want to stay ready for any big opportunity that may come along. I have a vision and will keep going until I get there."
As always, Maria remains humble and grateful for the opportunities she has been given. "Riding at this level is really a dream come true. I have the most amazing situation and am just so thankful to everyone, and especially the horses," she said, adding, "Horses truly are the center of my world."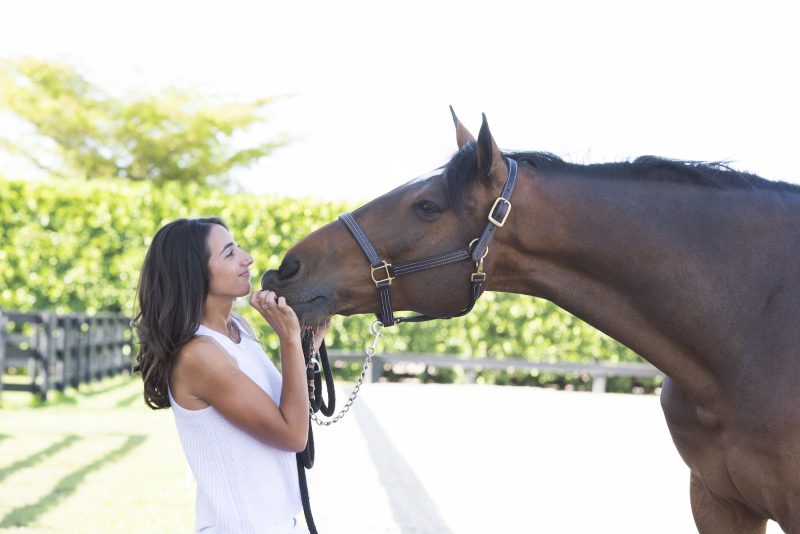 Maria with her faithful sidekick Rocky.
Follow Maria on Instagram @mariacosta_athlete
Photos by Melissa Fuller, msfullerphotography.com, unless noted otherwise
Double D Trailers Info