By Laura Scaletti
Portraits by Brenda Black
With the last name of Ingram, Martha Ingram was destined to have horses as a central part of her life. "Growing up in an equestrian family has been amazing. There really isn't anything quite like it. Horses are amazing creatures and I love that I get to share the love for them with my whole family," Martha said.
A prominent Amateur Owner hunter rider today, Martha first sat in the saddle at 3 years old alongside her father, John, on his polo pony. Not only did Martha's parents both show growing up, but her maternal grandparents, Agneta and Brownlee Currey, known affectionately as Mor Mor and Mor Far, were heavily involved in horses at the top level of the sport.
"They co-owned the Thoroughbred mare Touch Of Class, who, ridden by Joe Fargis, won both team and individual gold at the 1984 Olympics. Mor Far was also a long-time trustee and ambassador of the USET," Martha said. "Mor Mor and Mor Far were major supporters of the Hampton Classic Horse Show. That show was truly Mor Mor's baby."
With riding and a passion for equestrian sport deeply ingrained in the Ingram/Currey family heritage, Martha's siblings also have given horses and riding a go. However, today it's Martha and John you'll find representing the family in the show ring up and down the East Coast.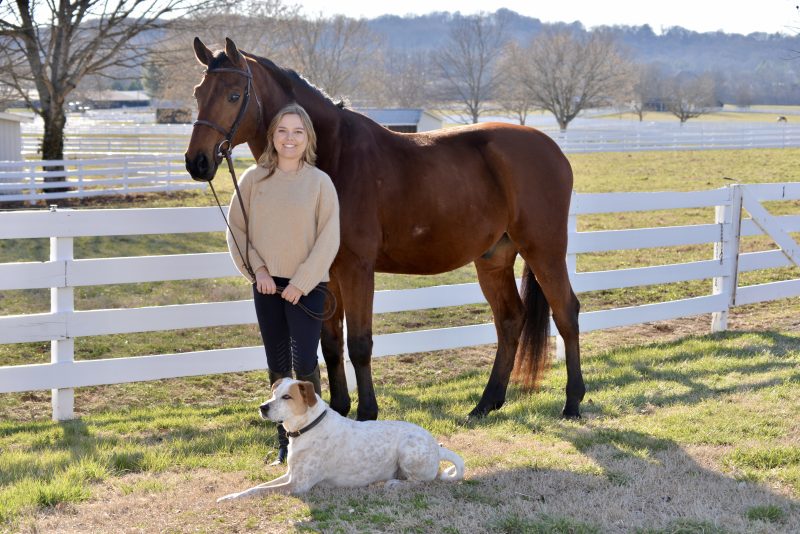 Martha Ingram with her horse Airport 48, who is now retired, and her dog Rhett in Franklin, Tennessee.
Family Pastime
From Martha's first ride at 3, John has been with his daughter every step of her equestrian journey. "Sharing the horse show experience with my dad is a blessing," Martha said. "There aren't a lot of people out there who get to share this experience with a parent, but particularly with their dad."
As travel and competition sidekicks, Martha and John each have someone to turn to at the end of the show day who understands the ups and downs of the sport. "My dad has a quote that perfectly sums up horse showing," Martha said. "He likes to say, 'Sometimes you're the bird and sometimes you're the statue.'"
In addition to sharing a passion for the sport, Martha and John have shared a few notable horses as they've risen to the top of their respective Amateur Owner hunter divisions. "Two of our horses, Fonteyn and Airport 48, were originally bought for me, but it turned out I wasn't sophisticated enough a rider for them at the time, so I handed them over to my father," Martha said.
As Martha's riding evolved, trainer Tom Wright had a gut feeling that Fonteyn might be better suited to Martha's ride. "I cannot even describe how grateful I am for that gut feeling and for my dad allowing me to take her back, because she's my everything. I've had the privilege of riding incredible horses in my life, but she's my favorite," Martha said.
One of Martha's favorite show memories is with Fonteyn at Capital Challenge in 2019. After nearly a two-year hiatus from the show ring, the mare came back like she didn't skip a beat ending up Grand Champion 3'3" Amateur Owner Hunter.
"After our first round, I started crying walking out of the ring when I heard the scores. I had been nervous going into the round because I hadn't ridden her, let alone showed her in basically two years," Martha said. "Those emotions were a combination of relief, happiness and just my love for her that all culminated in that moment. There really aren't words adequate to describe how much I love her."
Airport 48 was the other "family horse" who took Martha and John to numerous tricolors in the 3'3" and 3'6" Amateur Owner hunters. "Giving him to my dad turned out to be one of the best decisions we've made. My dad and Airport won everything, so when he started getting older, we decided he no longer needed to jump 3'6". My dad was gracious enough to hand him over to me to compete in the 3'3" Amateurs," Martha said.
The family support for the family pastime has been key to Martha's success. "I'm so thankful for my parents continually allowing me and supporting me to compete at the highest levels of this sport. Without them, none of this would be possible," she said.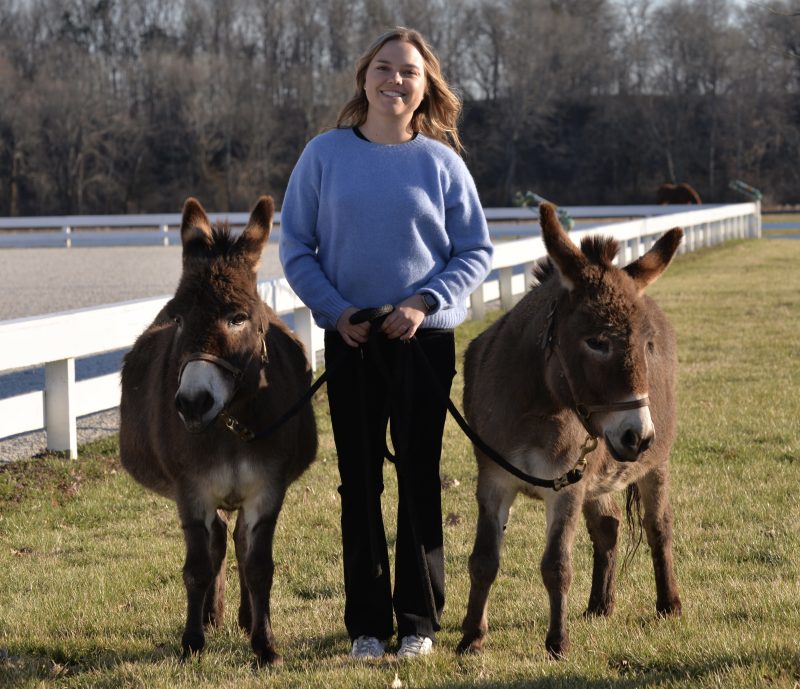 Martha with donkeys Petunia, left, and Lilly.
Family Business
After graduating from college in 2021, Martha went to work for the family's company, Ingram Industries, in the community relations department. Much like horses are part of the Ingram family's heritage, so is giving back to the community through volunteering and philanthropic work.
"As my dad says, 'Giving back to your local community is both a privilege and a responsibility.' When you strengthen and bring up your community, you also bring yourself up," Martha said. "There are a lot of big and challenging issues facing our country and the world. I believe that real change begins to happen when you start by supporting your local community."
As the community relations coordinator, Martha helps coordinate volunteer opportunities for Ingram associates to keep the employees engaged in the community. She also assists with various philanthropic efforts, such as handling grant applications from different nonprofits around middle Tennessee and facilitating relationships between Ingram and the nonprofits they support.
"Last year, I worked closely with Hands On Nashville, a nonprofit organization that helps connect volunteers to opportunities supporting 200-plus non-profits, to bring four virtual volunteer activities to Ingram associates. These projects included creating snuffle mats for dogs in animal shelters, creating snack packs for homeless youth, and creating winter care packages for veterans," Martha said.
Recently, Martha joined the family's other business, Nashville Soccer Club. Like her work with Ingram Industries, Martha will be working on the team's community fund and outreach efforts. "I want to continue to learn about my family business and all the facets of running a sports club," she said.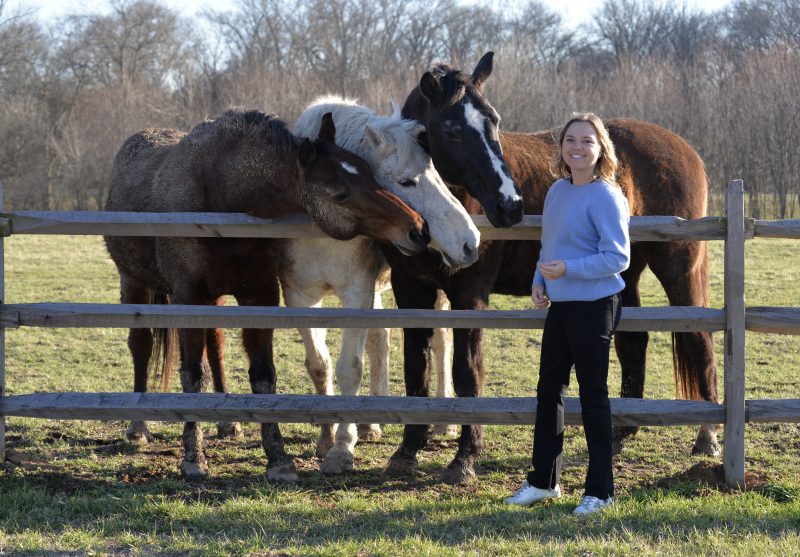 Martha enjoys a visit with retired horses, from the left, Lyons Creek Bellini, Absolut and Tenacious.
Extended Family
For the past 12 years, Martha has trained with Tom Wright. During this time, Tom has become a member of the extended Ingram family. "Tom is not only my trainer, but also like a big brother and I love to hear his stories of amazing horses he's worked with or watched back in the day," Martha said.
Tom has had the largest influence in Martha's growth as an equestrian both in the saddle and tackling the mental aspects of the sport. "Riding is as much a mental game as it is a technical and physical one. Tom has not only helped me improve my riding skills, he's been instrumental in helping me develop my mental strength," Martha said. "I wouldn't be the rider I am today without Tom."
During their downtime at the barn and shows, when Tom is sharing his stories of the good ol' days, the quality horses he talks about were mostly Thoroughbreds. "Tom and I have always talked about how cool it would be to bring Thoroughbreds back into the hunters," Martha said.
At the 2021 Keeneland September Sale, Martha and Tom got their opportunity to put their plan into action. "I was assisting Kim Valerio at the sale, where we had looked at around 3,000 yearlings. As soon as we saw hip 1557, we just knew that he was the perfect horse to try this experiment," Martha said.
"My Thoroughbred is a gorgeous, almost-17-hand, 2-year-old dark bay gelding, by Midnight Lute out of Louisiana Voodoo by Big Brown. We call him Luke," she said. "I'm really excited to see what the future may hold for me and Luke."
While Martha waits for Luke to mature and get trained, she will keep busy with her 3'6" Amateur Owner mounts, Prince and Quimby, and her 3'3" Amateur Owners, Private Practice and Dinner At 8. While the future for Luke is unknown, one thing is certain: Martha will have the support of her family, both Ingram and extended, wherever the future takes her.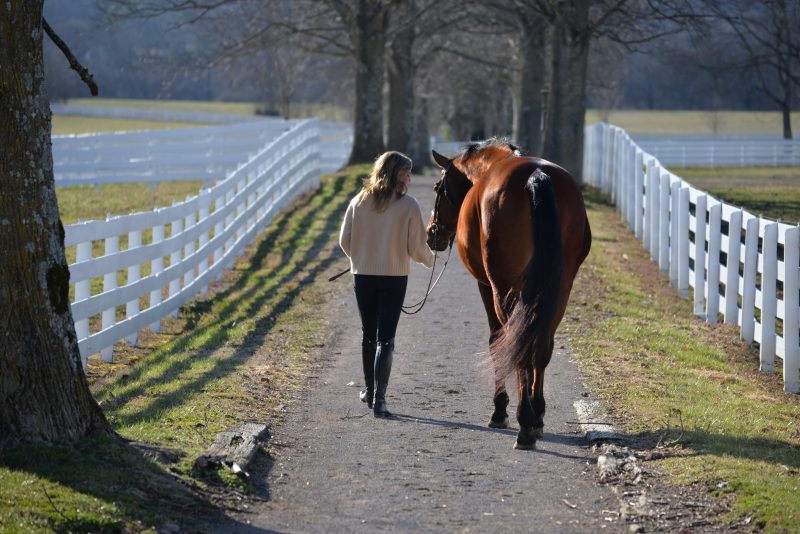 Martha and Airport 48 enjoy a walk.
Photos by Brenda Black
Double D Trailers Info