Jack LaTorre 
Jack LaTorre may have gotten what some would consider a "late" start to his riding career, but now 21, Jack has a head start on life with his own business as well as wisdom and meaning far beyond his years. He first mounted up in his home state of Texas at 10 years old when his mother began taking lessons at 43. "My mom and I started learning together, and it's something we've been able to share over the last 11 years," Jack said.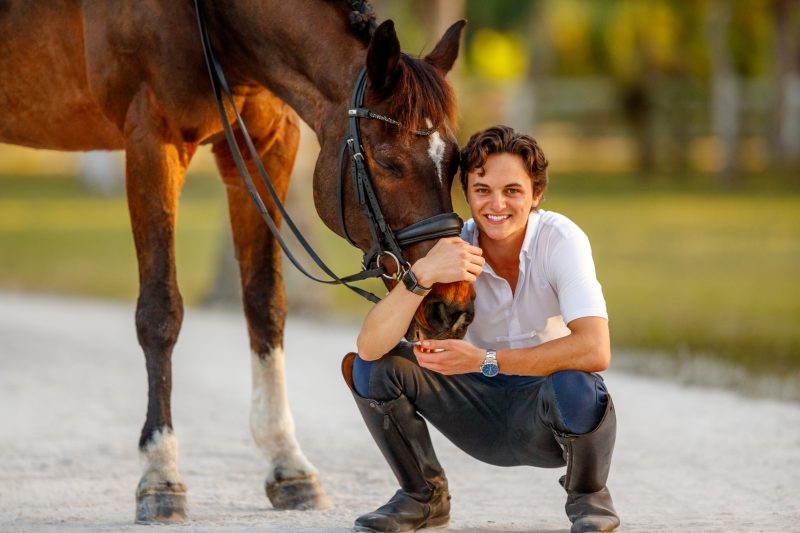 They both loved dressage, and found that Jack had a talent for it. After clinicing with Lendon Gray, Jack was given the opportunity to participate in the Winter Intensive Training Program in 2018, which took him from his home in North Carolina to Wellington, Florida, where he continues to split his time developing his riding career under JJ Tate. "I love dressage because it's like physical therapy for the horse. Everything is meant to help the horse move better, in a more comfortable way," he said. "When it's done well, the horse feels taken care of and gives everything to the rider and that makes a beautiful picture and partnership."
In addition to dressage, Jack is passionate about fitness—and developed his own fitness routine specifically to improve his riding. When it proved successful, he created Equibody Fitness. "I think I have a responsibility to share what I've learned with other riders, because so many riders have struggles that can be solved with corrective exercise. So much headache and frustration can be solved with a few simple workouts, and it would be wrong for me to not share that," he said. "I'm a Christian, and I believe that there is really nothing special about me—my job is to serve others with the skills and talents I've been given. I try to be an example of being a servant for the good of others, because that's what Jesus did. If that means I'm successful in this sport, great! If it means I'm not successful in this sport … also great! My heart is content either way."
Photo by Lily Forado
Mark Coley
After college, Mark Coley knew he wanted to work in the horse industry—he just didn't know in what capacity. He'd grown up riding hunter-jumpers and doing a little eventing through school and into college after begging his non-horsey parents for riding lessons at 7 years old. He didn't have many opportunities to compete, but scratched the horse itch by volunteering at local therapeutic riding centers in Buffalo, New York.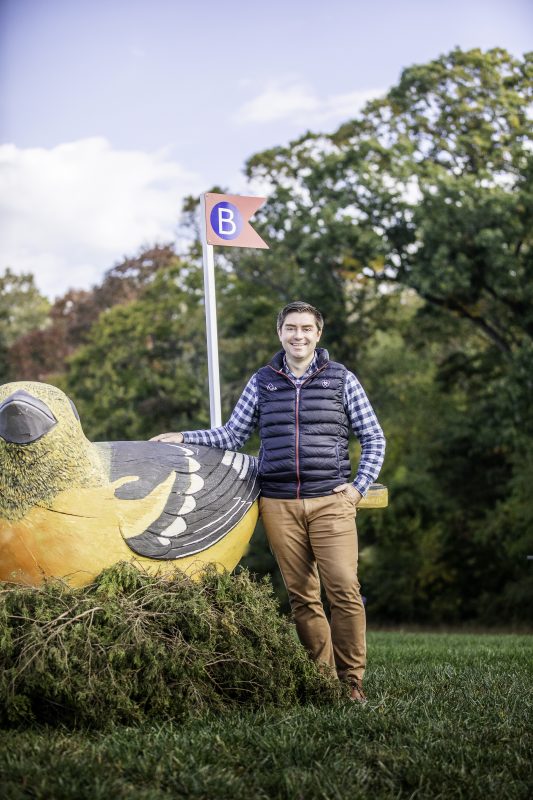 An internship introduced Mark to Lexington, Kentucky, where he fell in love with the area and has now lived for 11 years. His work for Equestrian Events, Inc., the non-profit that organizes the Land Rover Kentucky Three-Day Event, showed him his love for working behind the scenes on large events. Today, that passion serves him well as managing director of marketing and events at US Equestrian.
"I love having a career that allows me to experience so many different aspects of the horse industry," Mark said. "With my job, I've been fortunate to travel to national as well as some international championships for a variety of breeds and disciplines. It's always so fun being able to meet members and industry professionals who may be riding at very different levels or compete in different disciplines but share the same love of horses and dedication to the sport."
His role includes overseeing national championship shows as well as special events like the US Equestrian Annual Meeting and year-end award dinners—everything from managing ribbons and trophies presented at the events to branding and the Shop USEF merchandise line. He also works with a great team on initiatives such as the Community Outreach Program and USEF Equine Disaster Relief Fund.
If he's not hosting thousands of guests at a large event, Mark enjoys entertaining at home with his fiancé, Logan, and their Lab, Ellie—though their next event plans are for their wedding. And whether changing the world or changing someone's day, Mark is all in. "I try to show kindness and understanding with the work that I do," he said. "A smile and just listening are simple gestures that can make a big impact."
Photo by KTB Creative
Jeremiah Zimmer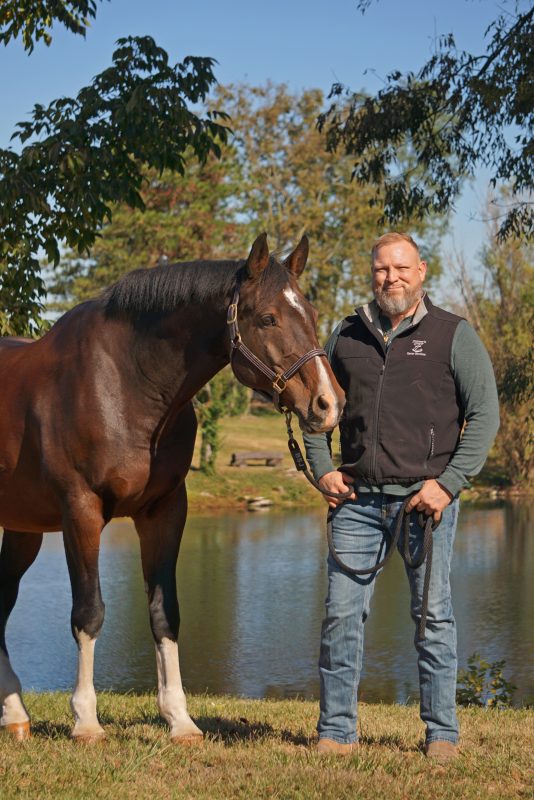 Jeremiah Zimmer's career is in horseshoeing, not horse showing—but that doesn't mean he's any less invested in the horses themselves. "They are like my kids," he said. "I lose sleep when they aren't going right, I get stoked when they crush it at a show and share the sadness when they move on."
Jeremiah, who was born in Oklahoma and raised for the most part in Georgia, has lived all over the U.S. After serving in the U.S. Marine Corps, he settled in Kentucky where most of his father's side of the family lives. That side has been involved in the horse industry in various capacities for many years, from grooming to managing and owning a horse hauling company. "I suppose it was inevitable I should gravitate to the equine industry," Jeremiah said. "I picked up horseshoeing and never looked back."
Horses have always been "just like big dogs" to Jeremiah, and he enjoys being around them. "Being a farrier is a rewarding career. Having a skill that has been passed and taught through the ages, that's pretty cool," he said. "I enjoy the freedom shoeing horses gives me. I get to travel around and see some gorgeous farms. I get to meet some awesome people. I also get the privilege to shoe some amazing equine athletes."
In his early years as a farrier, Jeremiah remembers having to shoe every horse he could get his hands on since nobody knew who he was. Now, he's got a solid foundation of clients and horses that have been under his care for many years, and is enjoying his well-established career. When he's not working, Jeremiah can be found at the ice rink—he's been coaching youth ice hockey in Lexington for 10 years, exemplifying his personal values: "Take care of your fellow man," he summarized. "In a world so consumed with labels and individualistic goals, don't forget to reach down and pull your people with you when you climb that ladder of success."
Photo by Ruby Tevis
Luke Olsen
Horses are in Luke Olsen's blood, but that doesn't mean it's been a straight road for Luke. He's taken several breaks through the years—voluntary and otherwise.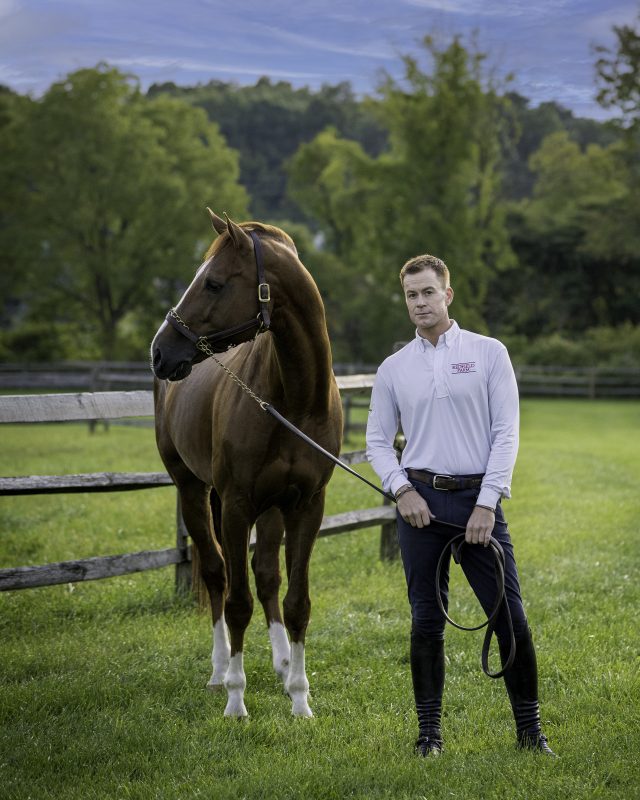 When he was 16, Luke was hit by a car. He broke two bones in his leg and five ribs, punctured a lung and garnered more than 100 stitches in his face. He didn't let that stop him: After over a year of recovery and rebuilding his strength, Luke got a working student position with Jennifer Alfano and Susie Schoellkopf. He qualified for the ASPCA Maclay Finals his final Junior year and won his first National Hunter Derby the next year, in his first show as a professional. "I really like the competition in the hunter-jumpers and equitation," Luke said. "And especially for myself, it gave me a lot of confidence and a place I knew I could thrive."
At 20, Luke took a six year hiatus from riding and worked at a winery in Napa Valley, California. The area was well-suited to him—when he's not working, his favorite thing to do is sit on the beach, and he loves finding good restaurants. But ultimately, he couldn't keep away from the horses. Luke now splits his time between New Jersey and Ocala, Florida, as a trainer under Emil Spadone at Redfield Farm. "I love the equitation—I think it's really important for our sport," Luke said. "I teach a lot of our equitation kids and take them to all the finals."
And whether it's a national final or a local show, his own students aren't the only ones you'll find Luke cheering for. Through all of his life experience, he's learned the importance of one thing. "Be kind—be nice to other people," he said. "I always try to go to the ring and support other trainers, help other kids and cheer for them when they have a good round, say hi to people and if I see somebody that had a good round, tell them they did a good job—even if I don't necessarily know who they are. Just be kind, that's my biggest thing."
Photo by Eric Yagoda Photography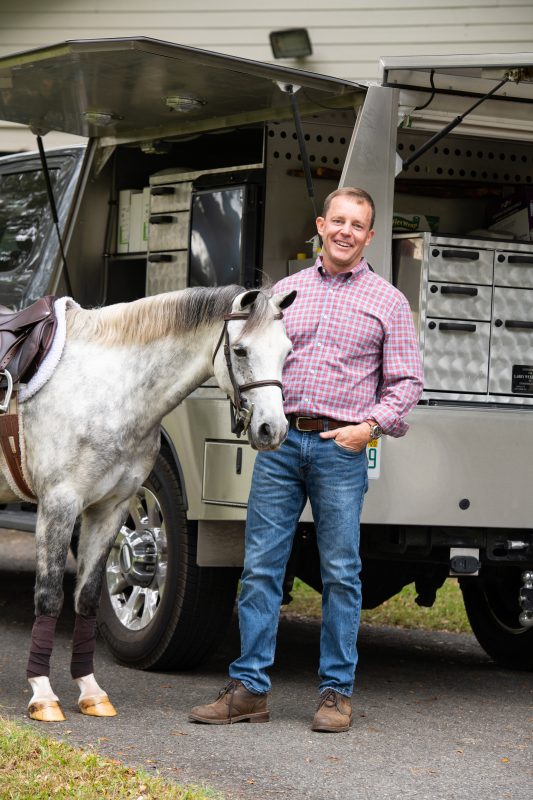 Larry Wexler
As the horse show veterinarian for the World Equestrian Center – Ocala, Dr. Larry Wexler stays incredibly busy year-round—but he doesn't really mind. His job allows him to live and enjoy the life he does in Ocala, Florida, where he's lived for 17 years after being born in and living around the state. His life is living proof of his own words. "No goals are too big," he said. "If you put your head down and work hard, anything is attainable. This goes for work, hobbies or relationships."
After attending from the University of Alabama, Larry spent years working off horseback on large cattle ranches. Then in 2000, he returned to academia for veterinary school at the University of Florida, and has been working as an equine veterinarian since earning his DVM. "All of my work is on sport horses, mostly jumpers," he said. "I really enjoy the sport and the people and friends I have made along the way."
When he's not working, Larry enjoys spending time with his wife and two children. "I like watching them all show their horses and ponies—and Alabama football," he shared. While he doesn't ride or show, Larry does compete—just with four wheels instead of four hooves. "I have a passion for racing my Porsche race car at different tracks across the country."
Photo by Melissa Fuller
Hank Duyn 
Sometimes it's a short step from "hot horseman" to "hero horseman," but Hank Duyn says he's "just a cowboy" from Venice, Florida, with a knack for starting horses and fixing problem horses, and he loves what he does. "What's not to like about getting up every day and watching the sun come up, riding a horse with my son, my dogs and good friends?" he said. "A lot of people I've run into think that when they send a horse to a cowboy, it's going to get treated roughly. That is not the case at our house—kindness and patience gets you much further with a horse."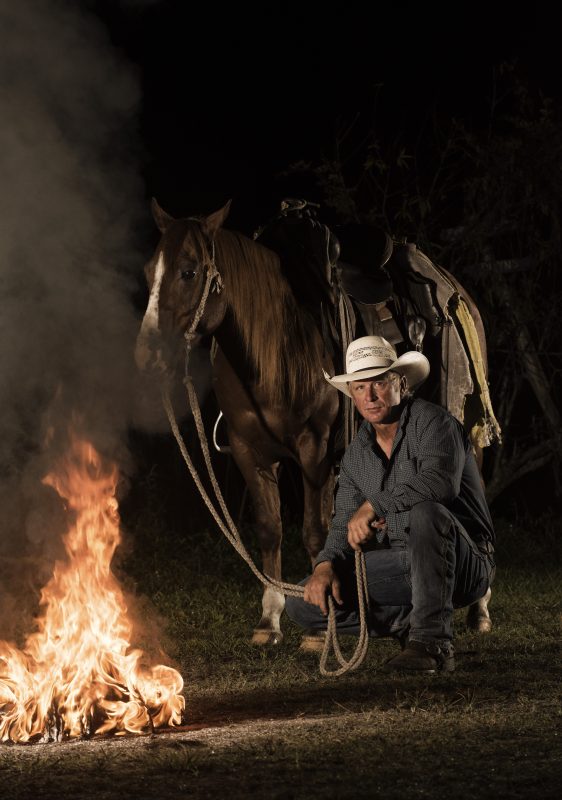 Hank exemplified both kindness and patience during Hurricane Ian. When he heard a levy broke, Hank went to check on a friend, Matt Connors, and his family—when they were found safe, he and Matt continued to check up on other friends. Along the way, they found some horses, a mule and some minis that had been stranded when the dike broke. Between them and the Sarasota Range Deputies, they were able to get all of the equines to safety.
"Some rode in the boat. Some had to be tied off and dragged, and we swam others out, but they all came out safely," Hank said. "After that, we heard of several other horses and some cattle that needed to be evacuated from the flood, and we were able to assist in getting them out. There were a lot of people that helped: The Sarasota Range Deputies; Marcus and Daila Lybarger; Matt Connors. Crystal Riczu is a vet in Ocala, Florida, and she cleared her schedule and took care of all of the horses for free. Fox Lea Farm let all of the horses stay there and set up a feed distribution point. There are a lot of names I haven't mentioned, but everyone really came together and helped out. I felt lucky to play a little part in it."
Hank's efforts saved lives, but it also put things in perspective—and it shouldn't take a hurricane for others to see that. "Don't take a moment for granted," Hank shared. "Spend as much time with your family as you can. Nothing is more important than that."
Photo by Billy D Photography
Walid Al Rashid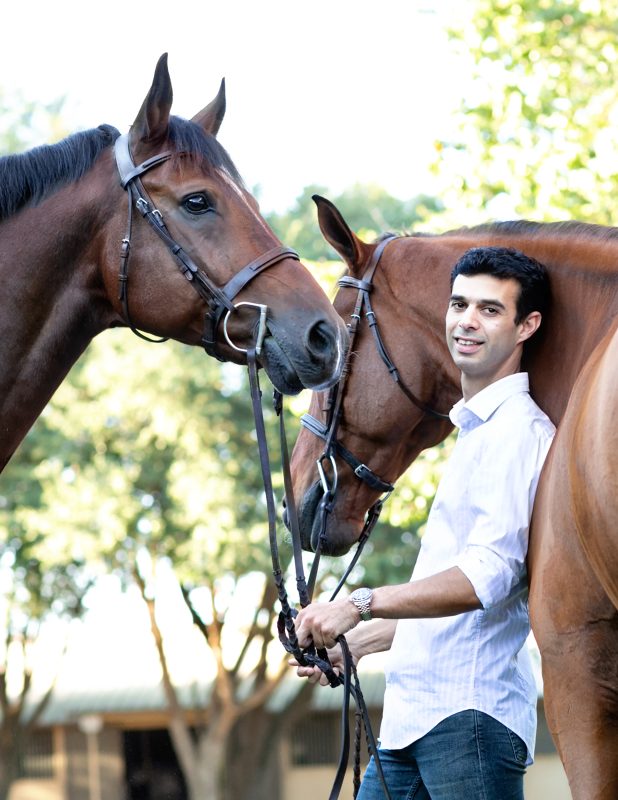 In 2019, Walid Al Rashid moved to Texas from his home country of Jordan and founded Royal Sport Horses 30 minutes outside of Houston. For Walid, "royal" wasn't just a nice name for his business. "My father was the general manager of His Royal Majesty the King's stables in Jordan," Walid shared. "He was constantly importing and training horses for all disciplines. My whole family rides, so my passion came from there."
At Royal Sport Horses, Walid focuses on training riders of all levels for the hunter, jumper and equitation rings, while also riding, showing, importing and selling horses himself. "What I like about jumpers is the challenge," he said. "The courses are always different, some are technical that ask more from horse and rider; others are more about planning the quickest route to finish the course with a clean round and fastest time."
Time is something Walid also enjoys keeping an eye on—with style. "I'm obsessed with watches and collect them; my favorite is Patek Philippe," he admitted. He enjoys spending time with family and friends when he's not working—which is rare, but ultimately, he doesn't mind. "I always strive to do the best I can to make everyone happy, successful and reach their goals!" he said. "For me, the best satisfaction is seeing my students come out of the show ring with a big smile on their faces; that in itself means everything to me. My message would be never give up: We have some good days and some bad days, but with belief and determination, we can reach and be the best we can be."
Photo by Kristie Nichols Scholten
Paulo Ferreria
Tradition means a lot to Paulo Ferreria—in fact, it's given him a career. Though he's now carried that tradition to Central Valley, California, Paulo grew up in a small, rural community outside of Lisbon, Portugal, called Azambuja. "Horse riding is a long-held tradition in the region where I grew up," Paulo said. "A family friend was a horseman and I started riding with him when I was a teenager."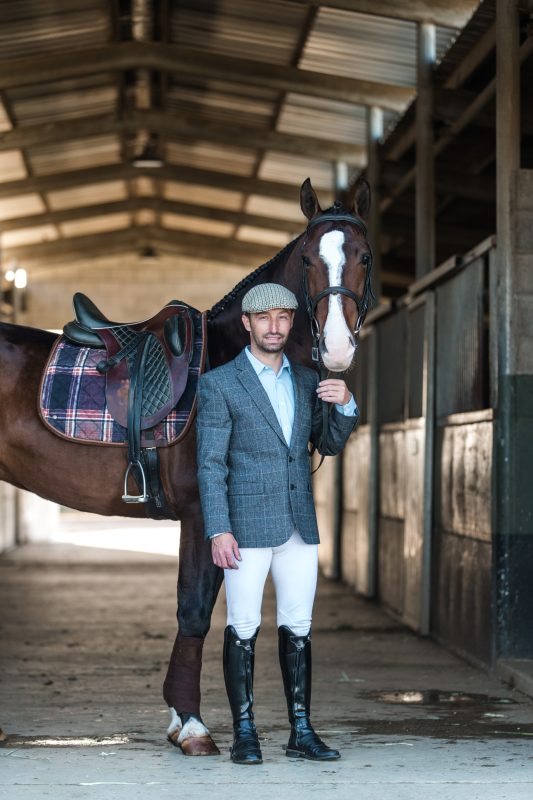 Paulo now manages the breeding program at Coudelaria Martins/Califórnia Lusitanos, where his horses have gone on to keep tradition alive. Not only have they been some of the most famous bullfighting horses in the world as well as successful sporthorses in dressage and other disciplines, they've also showcased tradition to new crowds in Californian Portugese bloodless bullfights. "I love working with these strong, incredible animals every day," Paulo said. "There is so much attention to detail and careful feel that goes into horseback riding—you are always on a journey of training and improvement. I enjoy that challenge."
Paulo enjoys challenges in other areas of his life, too—he's picked up Spanish, English and some French just by the people he's been surrounded by in life. "I'm always curious about the world and love to learn all the details of any new topic I encounter," he shared. "I can barely watch a movie or television show without Googling all the background information about the subject matter!"
That love of learning serves him well as he continues to develop his international business. "I think the most important thing is to work hard and consistently, and to be fair to everyone you meet," Paulo said. "Things like external success and approval are out of your control, but we owe it to ourselves to make the most of our talents and to strive for our best every day."
Photo by Lori Ovanessian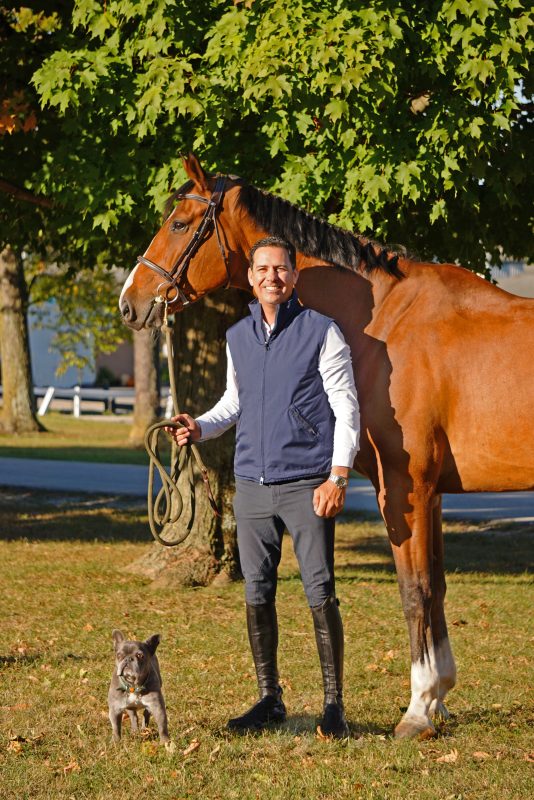 Santiago Lambre
Anyone following the World Equestrian Center horse shows has likely heard the name Santiago Lambre this season: He's been on a roll winning Grand Prix jumping classes in Wilmington and at home in Ocala, as well as impressive wins in Traverse City in September, securing his placing high in the FEI ranking lists. "This is the best time of my career," he said. "My team and I have been working hard to achieve these results. None of this could be possible without the top horses we have in our string right now."
Santiago enjoys the objectivity of jumpers: "The fastest rider that leaves all the poles up is the winner, clear and simple," he said. 
Originally from Porto Alegre, Brazil, Santiago inherited a love of horses. "My father used to ride and train jumpers. I was lucky to be born surrounded by horses and grow up with the best teacher: my dad."
Now, a new generation of horsemen may have that chance. "Spending the afternoon with my kids is my favorite thing to do," Santiago said. "They can play hide and seek for hours—I hope that also counts as a workout!"
Having had the opportunity to live in many countries, including Belgium, France, The Netherlands, Germany and Mexico, Santiago has learned many languages. But no matter where he's gone and what language he speaks, horsemanship is universal. "Work hard; get to know your horses and spend enough time to understand them," he said. "It's important to practice horsemanship across every discipline that we share with these animals."
Photo by Ruby Tevis
Rob Moyar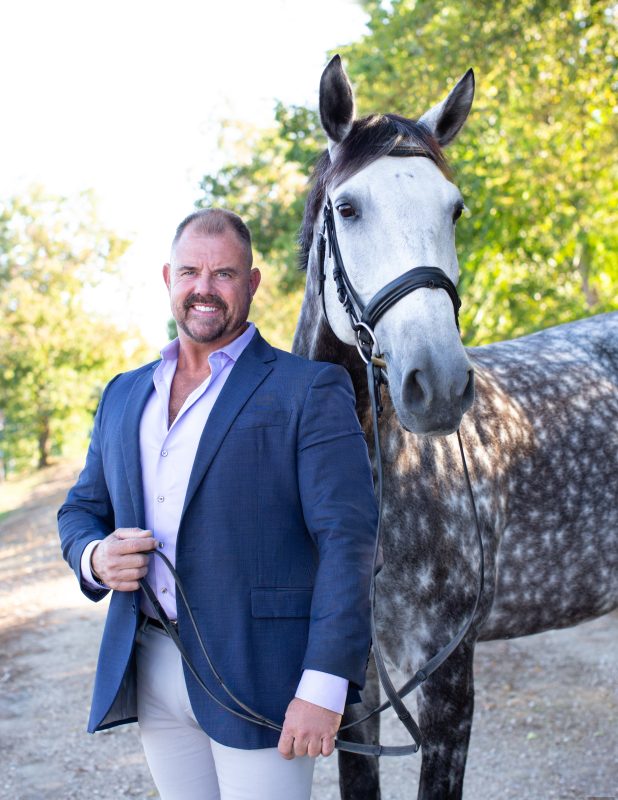 Rob Moyar grew up overseas until "landing" in Houston, Texas, in the late '70s, and now calls Magnolia, Texas, home—and Magnolia, Texas, is better for it, especially the equestrian community. Rob not only took over Lagniappe Farm from Kim Morgan and is an equestrian realtor in the area, but he's also the show manager at Haras Hacienda—a multi-purpose venue and hotel with accompanying equestrian center. 
Rob has been involved with horses and the industry since he first started riding, thanks to his equestrian mother, at 4 years old. Now, with over 30 years across various aspects of the the industry behind him, Rob is happy with his career. "Lagniappe Farm continues to be a successful venture and is hopefully doing its founder and clients proud," he said. "Haras Hacienda is coming back from the COVID-19 pandemic systematically, and our horse shows continuously bring together great groups of equestrians from varied disciplines!"
Watching horses—and those who ride them—grow and achieve is one of Rob's favorite things about what he does, he said, "as well as watching the horses in the hunter-jumper discipline put together amazing rounds and really well-planned and -ridden courses with super athletes."
Though he wears several hats in the equestrian world, his message to equestrians everywhere remains the same. "Be kind and good to your animals and those around you; stay humble and enjoy the ride," he said. "Hard work and good energy pay off. We are blessed to be in this sport and industry and we must continue to look out and protect the ability to keep it alive."
Photo by Kristie Nichols Scholten
Frederico Bernardino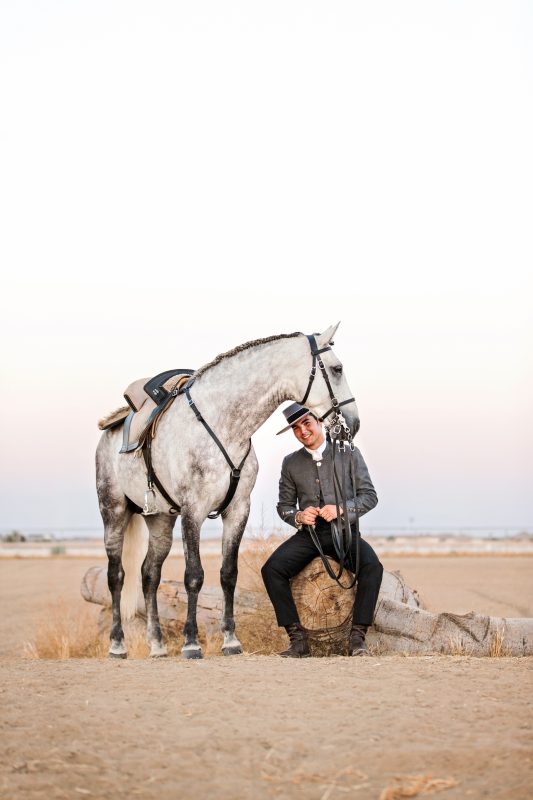 Having recently moved from Lisbon, Portugal, to South Bay, Los Angeles County, California, Frederico Bernardino may be new to the U.S., but he's not new to horses. Back home in Portugal, Frederico's entire family was involved, particularly his grandfather. "My grandfather was a big motivator in my life to get me riding," Frederico said.
When he and his wife, who is also a horse trainer, moved to California, they had to start from scratch—working to show their talent for bringing horses and clients along in dressage and working equitation. "Working equitation is a discipline that combines and requests skills from both the horse and rider that you probably wouldn't find in a dressage test," Frederico explained. "It consists of four different phases: dressage, ease of handling, speed and a cow phase—though not all shows have the last phase! It challenges us to constantly get out of our comfort zone, and helps us learn when, how and what we can do to help our horses be successful."
Frederico happens to be very superstitious. "Wearing the color yellow is bad luck, I don't pass salt directly from my hand to someone else's, I always put my right boot on first, and I am very particular about the way my hat is set down!" That said, he also believes in the natural result of hard work. "The people I have worked for in the past couple of years in Portugal have influenced me and taught me a lot. I put in daily work, and when I see results coming naturally, I know it's working," Frederico said. "I believe that if I play a small part in helping grow and raising the bar in working equitation here in the United States, I can grow up alongside the discipline, too. Working equitation is a sport that can help us a lot, so we just need to give it back and do our part to take care of this sport!"
Photo by Lori Ovanessian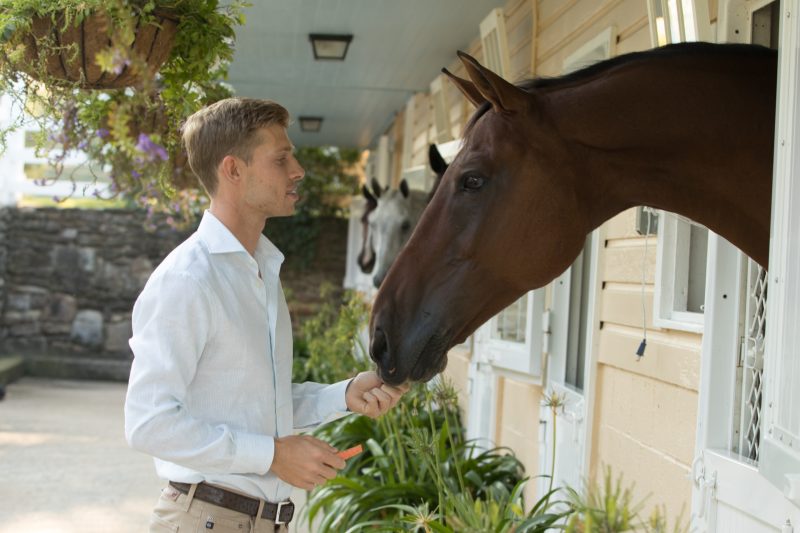 2022 Hot Horseman of the Year: Alex Matz
Read the feature-length cover story on Alex Matz: https://sidelinesmagazine.com/weekly-featured/alex-matz-winning-his-own-race.html
Double D Trailers Info