By Laura Scaletti
Mimi Gochman has been a fixture on the hunter-jumper circuit for as long as she can remember. As the daughter of Amateur Owner hunter rider extraordinaire Becky Gochman, Mimi and her sister, Sophie, quickly embraced their mother's passion for horses.
With a supportive family behind her, Mimi has risen through the ranks in the hunter, jumper and equitation rings, capturing numerous championships and creating an impressive riding resume. After doing her fair share of time in the hunter ring, from ponies to Juniors, and competing in the Big Eq classes, Mimi has shifted her focus to the jumper ring.
As 2022 marked the end of her Junior career, Mimi's ready to experience all 2023 has in store for her as she kicks off her Amateur years, graduates from high school and heads off to college.
Family Endeavor
A Gochman since her earliest memories, Mimi was adopted by her parents, Becky and David, from Tongling City, China, when she was about a year old. "My mom always wanted to adopt a child because she was adopted herself. They ended up adopting me from China as my dad had spent some time there and always felt a connection to China," Mimi said.
When Mimi arrived in America, she joined her parents and 18-month-old Sophie. "I'm grateful to have been adopted into such a wonderful family," Mimi said. "I'm insanely lucky to have been brought into this specific family, who has also brought me into the equestrian world."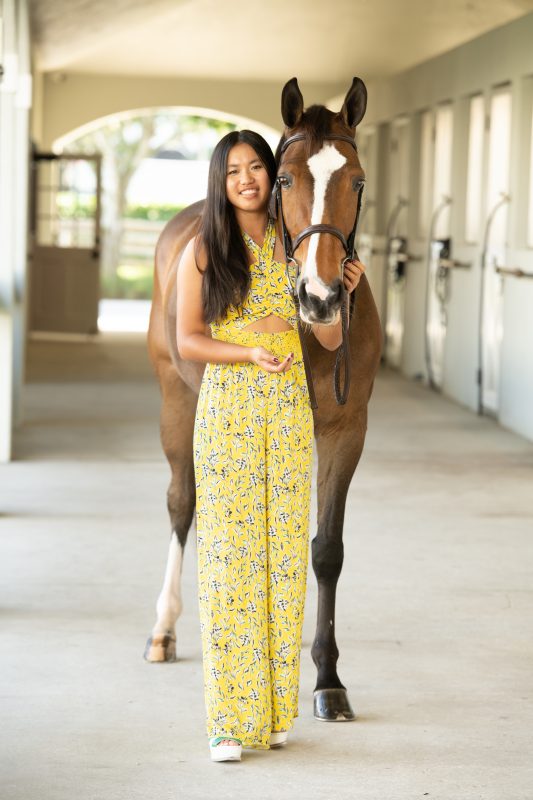 Growing up in a family where both her mother and sister competed alongside her on the show circuit gave Mimi a built-in support system. "It's really amazing to have a family that understands what the sport is about and knows when the sport is straining, why I love it so much and continue to do it," Mimi said. "The sport has definitely brought us closer as a family and we're able to help each other through hard times."
While the Gochman ladies are the ones picking up the accolades in the ring, David is an important part of the equation. "My dad doesn't ride, but he loves the sport as well. He's an amazing horse-show dad and always comes up with funny nicknames for the horses when he can't keep track of their show names and multitude of other names that we all give them," Mimi said.
Not only is David a great horse-show dad, but he's also Mimi's go-to guy when she needs support in any aspect of her life. "He's someone I can always go to when I need help of any kind, like when I need advice on how to present myself well to others. He has a wealth of knowledge about life in addition to being supportive of my endeavors," Mimi said.
Although Mimi's mom, Becky, is known for being a consistent presence at the top of her divisions, it's her humble beginnings that gave her a lifelong love for horses that she passed on to Mimi and Sophie. "My mom grew up riding in New Jersey and always went above and beyond to ensure she could stay in the sport. She went to 4-H fairs, braided her own horses and trailered them to local shows," Mimi said. "Mom had to work really hard to maintain a relationship with horses and climb to a super high level, which she succeeded at."
Becky always made sure Mimi and Sophie knew they could quit riding or pursue the sport at a lower level. However, neither daughter took her up on that offer.
"Riding was and still is the best part of my life growing up. Riding meant skipping school and traveling all over the world, so I was always game," Mimi said. "I also simply love horses and bonding with them. They're always the priority and continue to be the best part about the sport."
It's the horses that have helped cement the bond between Mimi and Sophie through the years as they traveled the circuit and rose through the division ranks together. As they often competed against each other, the sisters learned to deal with any sibling rivalry that arose.
"We learned very quickly to ride under pressure, win and support each other. While we did sometimes have sibling rivalry, we always just wanted to push each other to be better and that's what we did," Mimi said. "It was fun and exciting to grow up with that competitiveness, but we always remembered that we were on the same team."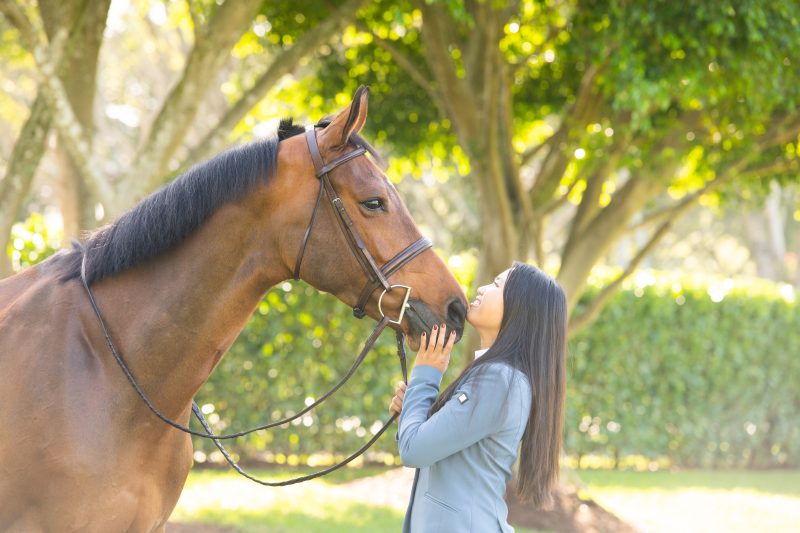 As the Gochmans traveled across the country to shows, they were able to really learn about each other's interests outside of the equestrian world. "While horses bring us together, we like to talk about what makes us different and try to cherish those parts, too. Sophie has a huge passion for fashion, which she's just beginning to explore, and my mom loves to help others and give back, as well as continuing her passion for art that started when she was a teacher years ago," Mimi said.
"I'm just starting to take this sport to the next level and try to compete at the highest level of Grand Prix. With that goal and growth in mind, my mom and sister both started allowing me to ride some of their horses," Mimi said. "It's a huge learning opportunity for me and I'm always lucky to get to ride any of their mounts."
One notable mount Mimi has been fortunate to take the reins on is her mom's quintessential Amateur Owner hunter Catch Me. "My mom won everything on him, and since I took a step back from the hunters, she thought it would be fun for me to get back into them by allowing me to ride Snoopy. I had some of my greatest moments with him during my Junior career and am so honored to have been a part of his career," Mimi said. "I will always cherish our times together as he's a one-of-a-kind horse who will never be replaced."
Jumping for Joy
Toward the end of Mimi's Junior years, she decided she wanted to make jumpers her discipline of choice. "I gravitated towards jumpers because I love it. While I will always consider myself a hunter rider as well, I grew tired of the equitation ring and felt I had learned everything I could from those extremely competitive classes," she said. "The jumper division is definitely where my heart is and I love the speed and precision it demands."
Since making the decision to concentrate on jumpers, Mimi has had numerous wins and moved up to the Grand Prix level thanks in part to her amazing equine partners. Some of the horses who have helped Mimi add to her jumper resume are Avoloma BH, Street Hassle BH, Gigi's Girl BH and Celina BH.
"Avoloma and Street Hassle taught me how to win confidently, go as fast as possible and have complete faith in your partner. Not only were they competitive and talented horses, but I was able to create a real bond with them that made them go above and beyond for me," Mimi said. "They brought me to my first international competitions and made me completely fall in love with the jumpers."
Mimi then partnered with Gigi's Girl BH and set her sights on the next level. Gigi came with a wealth of experience and showed Mimi the ropes jumping bigger tracks with more technical courses. Together the duo captured Mimi's first Grand Prix win in 2020.
"It's hard to explain, but once you start jumping three-star Grand Prix, the game completely changes and she really taught me the risks that you can and cannot take while moving up. Gigi's competitive, but also forgiving when I make mistakes on her," Mimi said.
Although Mimi and Gigi had a lot of success together, that's not what Mimi cherishes the most about their partnership. "Our relationship as human and horse has been so valuable to me. Our bond was the reason why we were able to win together," she said.
With an incredible list of ponies and horses Mimi has had the privilege to ride, Celina BH is the horse who has Mimi's whole heart and gratitude for all she has done for her. Mimi believes Celina has changed her life and jumper career. "Celina is smart, calculates what efforts she needs to make, but she's also forgiving and loving. She's the horse that has made me feel like I can jump big tracks like Aachen and Geneva," Mimi said. "I always know I can rely on her; she's the epitome of the perfect teammate."
It's astride Celina that Mimi has had some of her most memorable moments. The duo won individual gold at the 2021 FEI North American Youth Championships (NAYC) in the Young Rider division; finished third at the 2022 Sapphire Grand Prix at Devon; had a fourth-place finish in the five-star Grand Prix at the Hampton Classic; and Celina was Mimi's mount when she competed on her first official Team USA senior Nations Cup team.
Pivotal Partnerships
It's been said it takes a village to raise a child. It also takes a village to develop a successful equestrian. Throughout Mimi's time in the sport, she's been supported by an incredible team, starting with her mom.
"My mom has supported me through every up and down this sport has thrown at me and has always been there to advise me in the best direction possible. I definitely wouldn't be here if it wasn't for her, so I give the biggest amount of credit to her," Mimi said.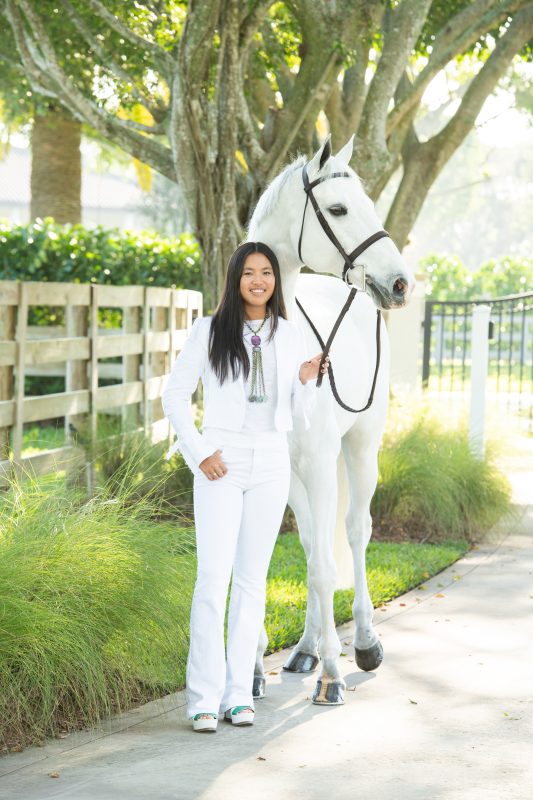 Mimi's trainers, Amanda Derbyshire and Ken Berkley, are also a key to both herself and her family's Baxter Hill Farm horses performing at the top of their games. While Ken has a reputation for being a "tough trainer," Mimi knows he's the sole reason she's as competitive as she is today.
"From teaching me to be stronger on a horse than meets the eye with countless no-stirrup lessons to walking five-star courses and jumping double clear, Ken has taught me so much of what I know about horses and working with horses when it didn't always go perfectly," Mimi said.
When it comes to Amanda, she's more than a trainer to Mimi; she's also been her confidante throughout her riding career. "Amanda's not only a strong, powerful and successful professional herself, but she's also a kind and encouraging voice for me when I'm not feeling my best or want to give up," Mimi said.
Mimi's home team has helped her achieve her dreams of representing Team USA in both youth and senior team events. Mimi is grateful for the opportunity to participate in the youth events, as they gave her a taste of being on a team before she progressed to the senior level. "Representing the USA is such a privilege," she said.
"Doing the Prix de States and NAYC prepared me to not be nervous when I was on the USA senior team for the first time. Of course, there is always a lot of pressure to do well, but the team is so supportive and kind that it never feels insurmountable," Mimi said. "I had a less-than-stellar round in my first official Nations Cup, but the team gave me great advice to make sure that I was in the correct mental state at the next event to fight for the win, which we succeeded in achieving."
Future Focus
"My goals with my horses are to compete on more teams; become a consistent Grand Prix rider; jump in the world's biggest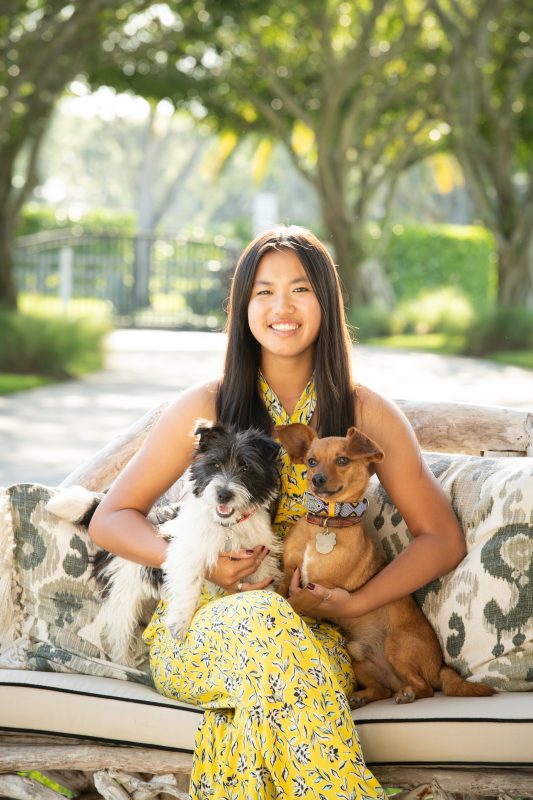 venues like Aachen, Dublin, Geneva and Spruce Meadows; compete in World Championships; and maybe start developing young horses," Mimi said, adding that she hopes to achieve all of this while working on her college degree. "I think it's really important to know what else is out in the world, other than just riding, and to learn about other people's perspectives."
Following in her family's footsteps, Mimi has already started to embrace the family's love of philanthropic work. In addition to working with her family's Gochman Grant that offers three young pony riders the opportunity to attend and compete at Pony Finals each year, Mimi has also worked with Detroit Horse Power and the Go Campaign.
"I love to give back and share passions with others. I hope to do more in the future and continue my family's legacy in philanthropy," she said.
With a supportive team and family behind her, the future looks bright for Mimi in all her endeavors. "I'm so excited for the future and thankful for all those who have helped me grow into the person I am today," she said.
For more information, visit baxterhill.com and follow Mimi on Instagram @mimi.gochman
Photos by Melissa Fuller, melissafullerphotography33.mypixieset.com
Double D Trailers Info