By Laura Scaletti
Portraits by Lori Ovanessian
From pony rides in the park to piaffing on Andalusians, Nick Alexander Phillips has spent his life loving all creatures great and small. Today, along with his partner, Brian, Nick lives his best equestrian life at home on his ranch in Los Angeles County, California.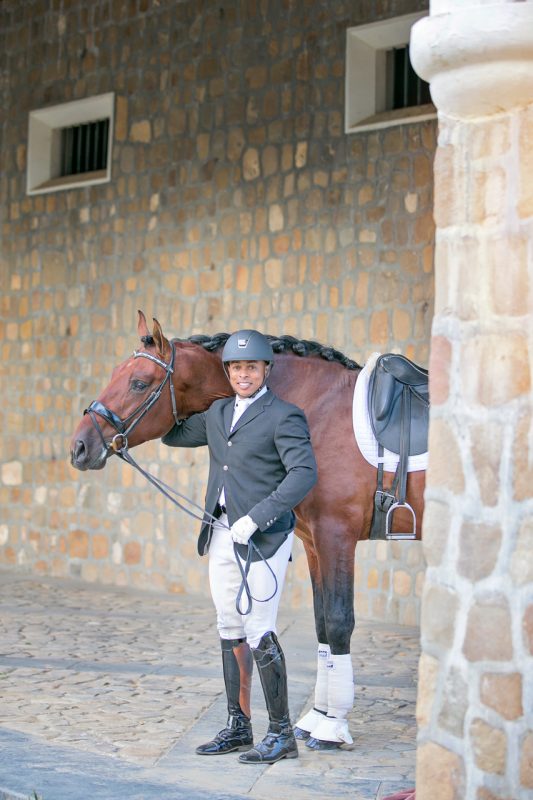 "We have a little over an acre, which is a rarity in this area. Our ranch is home to a lot of dogs, chickens, a couple of ducks and wouldn't be complete without the equines. We are truly grateful and lucky to get the best of both worlds here," Nick said. "The work that goes into it isn't for the faint of heart, but it's a small taste of ranch life in the city; that makes it worth it." 
Although Nick says his childhood wasn't the best, growing up in a single-parent household after his parents divorced when he was just 2 years old, he does appreciate the good times he had with his father. 
"Not having my mother around as a kid was tough. As an adult, I've realized that my father did the best he knew how, given the tools his father gave him, which weren't very many," Nick chuckled.
Growing up in Los Angeles, Nick found an unlikely love in the park. In 1988, at 7 years old, Nick discovered a passion that's been a cornerstone and support system throughout his life: horses. 
"On weekends, my father would take me to Griffith Park to ride the ponies and feed them carrots. Little did I know they would become such a powerful influence and therapy throughout my life," Nick said. "I still pass by from time to time and often reminisce as I see families introduce their children to their future infatuation."
After catching pony fever, Nick began renting horses to go on trail rides in the surrounding area.  However, renting horses for a few hours at a time didn't keep Nick content for long. In junior high school, while skimming the classified section of the newspaper, Nick saw a horse for sale for $500. 
"Danni was only 2 years old, but I convinced my dad to let me get her. We boarded her at one of the stables outside the L.A. Equestrian Center. With the help of two of the most amazing horse people I've ever met, Art Gaytan and his granddaughter, Jesse Gaytan, we started her under saddle and I got my first hands-on experience of starting a young horse," Nick said.
Andalusian Infatuation
Enthusiastic to finally be a horse owner, Nick spent a fair amount of time exploring the trails on Danni. It was on these trails that he found what would become one of the loves of his life, Andalusian horses. "When I'd go out to the barn, I'd always see this woman riding a very handsome, high-stepping 17-hand dapple grey stallion with a big presence on the trails. The beauty of the breed stuck with me and from that moment on, I've been captivated by Andalusians," Nick said.
Nick is quick to point out that while Andalusians are indeed striking, there are brains behind the beauty. "They're super-willing, intelligent and will die trying to please you. Compared to warmbloods, I believe the Andalusian is more like a Ferrari, highly tuned and intuitive. Most of the warmbloods I grew up around needed a ton of leg to get a response, which was akin to throttling a Mack truck up an incline," Nick said.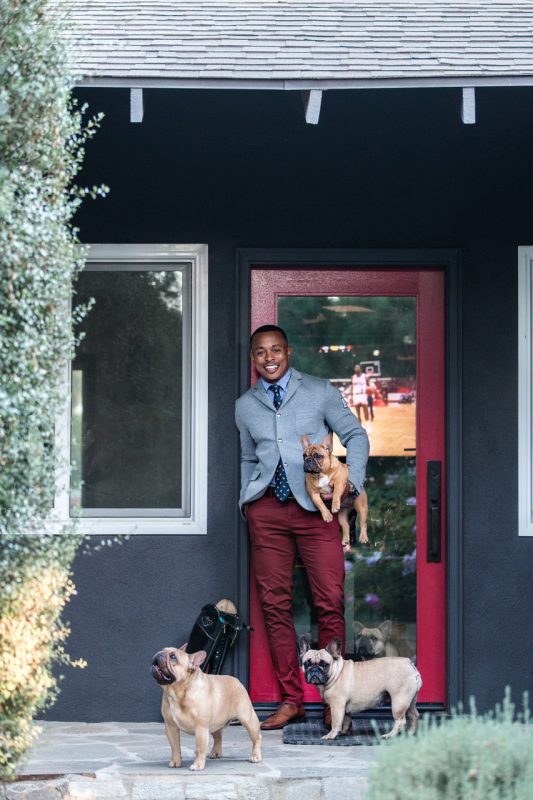 In 2000, Nick tried his hand at horse training by working for some of the top breeders in the country at the time including Raul Armendariz and Lory Costello.  
"Back then, training for the breed shows was what it was all about. I thought dressage was the most boring thing; however, as I got older and matured, I gravitated back towards dressage. I realized that dressage is the foundation to all horse training. I love how it's more cerebral and technical, where you and your horse actually are a team," Nick said.
Nick really appreciates that dressage is more challenging than the breed ring. "There are no quick fixes to be successful in dressage. Whereas, I've seen a lot of breed ring trainers who don't understand the importance of connection, getting a horse to truly engage their hind end. Instead, they just aim to create a pretty shape."
Over the years, Nick has competed off and on in the dressage ring. Lately, competing has taken a back seat to breeding his next competition mount. Nick's dream is to breed, develop and compete an upper-level dressage horse. Currently, his homebred stallion, Xerxes De Alexander, is in Madrid furthering his dressage education with Guillermo Garcia Ayala, well on his way to helping Nick achieve his dream.
Boutique Breeder
Nick's current focus is breeding quality Andalusian dressage prospects. Unlike many breeders, Nick tries to breed as if he would want to keep the offspring. "I don't over-breed, and consider myself a boutique breeder. To date I've bred four offspring from my own mares," Nick said. 
Although stallions often are the headliners in the breeding business, Nick believes mares are the foundation of a cornerstone breeding program. "Stallions are great, don't get me wrong, but 70% of the genetics come from your mare. If you find a solid mare line that's known for functionality and sport, then you're ahead of the game," Nick said.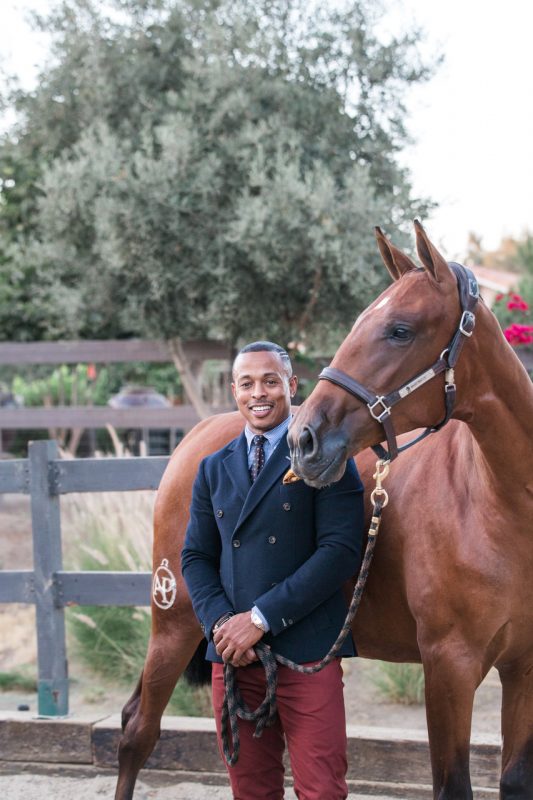 Nick doesn't just want to breed and compete any Andalusian stallion; the end goal is to compete his own chestnut stallion. "For years I've been trying for a chestnut stallion; however, that gene has been very elusive until this past year," Nick said.
In August, Nick found a special chestnut mare, Naranjera, known as Nani, that he hopes will finally help him achieve his chestnut offspring dream. Nani boasts some of the finest old-style bloodlines that Spain has to offer. "To top it off, Nani's a gorgeous liver chestnut, or as they say in Spain, 'Alanzana toastada,'" Nick said.
As fate would have it, Nick stumbled upon Nani. While looking at horses with a friend, he caught a glance of a beautiful liver chestnut amongst a herd of 30 broodmares and foals in a field. One look and Nick knew there was something special about the mare.
Nani is special to Nick, as she reminds him of two of the first Andalusian stallions he ever met. Animoso was the first chestnut stallion imported to the U.S. from Spain, owned by his friend Kim Reeves (who also owned the dappled grey stallion Nick first fell in love with on the trails) and Gonzo, who was another special stallion owned by Nick's good friend Marnie Hoffman.
"Since I was a child, I've been obsessed with this chocolatey, toasted, blood-red color because of Animoso. Then when I looked at her pedigree, I found out she was the great grandniece of Gonzo," Nick said.
If all goes according to plan, Nick will be blessed with a chestnut foal in the upcoming years. "Breeding can be very frustrating at times. It's often the luck of the draw, but I'm optimistic that with Nani we can produce some exceptional quality chestnut foals," Nick said.
Fitness for All
Nick lives all aspects of his life with discipline and dedication. In addition to being enthusiastic about his Andalusian breeding program, he's also a fitness fanatic. For the past 14 years, Nick has been working in the fitness industry.
In the midst of COVID-19, Nick is opening up two new F45 high-intensity-training bootcamp franchise studios in the Los Angeles market. There, Nick will facilitate small-group fitness classes with up to 36 students at a time.
Nick's philosophy is you only live once, so why not take care of yourself as best you can. "There's an epidemic in America today with obesity. People have no clue about how their health and nutrition correlates. My goal is to try and get that information out there about taking care of yourself," Nick said.
While Nick follows a simple, strict fitness and nutrition program for himself, he does the same with his horses. "It's not rocket science. It's really as simple as knowing what you can and can't put into your body," Nick said.
A man on a mission, Nick works out and/or rides five to six days a week prior to starting his workday. Likewise, he has his horses on a similar training regime to keep them in shape.
Diverse Endeavours
As if Nick didn't have enough on his plate, he also shows his Weimaraners and breeds and shows his French Bulldogs. "In a typical month, we go to two or three dog shows. I was drawn to Weimaraners as they're a sporting breed, so they are athletic and have a purpose," Nick said.
When describing Weimaraners, Nick seems to be describing himself. In everything he does, he does it with purpose and drive. 
As a Black equestrian, Nick is looking to share his passion for horses with other people of color. "Right now, when you go to the dressage shows, it's very white. I think we could do a better job getting both Black and Hispanic kids into the sport that has given me so much," Nick said.
"To be honest, I've always felt very comfortable as a Black man in the dressage and breed rings. It wasn't until I got into reining that I felt a small sense of unease. Over the years, it's definitely gotten better, but it needs to be our duty to break the stigma that horses are an elitist sport, whether financially or demographically," Nick said. "In the future, I hope I can reach out to urban youth and show them how horses can enrich their lives."
Nick believes reaching out to the children of the Latino horsemen who've immigrated to California is one way to get a more diverse group of equestrians interested in the sport. "Horses are such a big part of Latino culture; they're very proud of their horses. I think these kids could add a lot to our equestrian community," Nick said.
Given Nick's tenacity and discipline, he's sure to make a positive impact in both the local and equestrian communities. 
Photos by Lori Ovanessian, simpleefocused.com
Double D Trailers Info