By Britney Grover
Portraits by D. Harrison
For 28-year-old Jessica Thoma, pursuing her riding passion has always been about working hard to overcome limitations. When she first discovered jumping on YouTube, Jessica couldn't afford tack or a trailer for lessons — so she started teaching herself, bareback.
When she finally started taking lessons as an adult and needed a more advanced horse, she found one that was deemed dangerous by others, and put in the time, love and effort to bring out his potential.
So even when a rare disease nearly killed Jessica and took her legs and left arm, leaving horses behind didn't cross Jessica's mind. In fact, they became a lifeline — no matter how challenging to hold on to.
"Having horses so deeply ingrained into my blood, I wasn't going to stop," she said. "Just being around them and making sure they receive the best care possible really keeps me going. Even though a lot of me has changed, my love for them has not."
Horses Ingrained
It was Jessica's mother that ingrained horses into her. "From the time I was a baby, she got me horse everything — toys, stuffed animals, blankets, pictures, everything," Jessica said. When the Thoma family moved to a farm in Crossville, Tennessee, in 1999, both Jessica and her mother were ready to fulfill the lifelong dream of owning horses.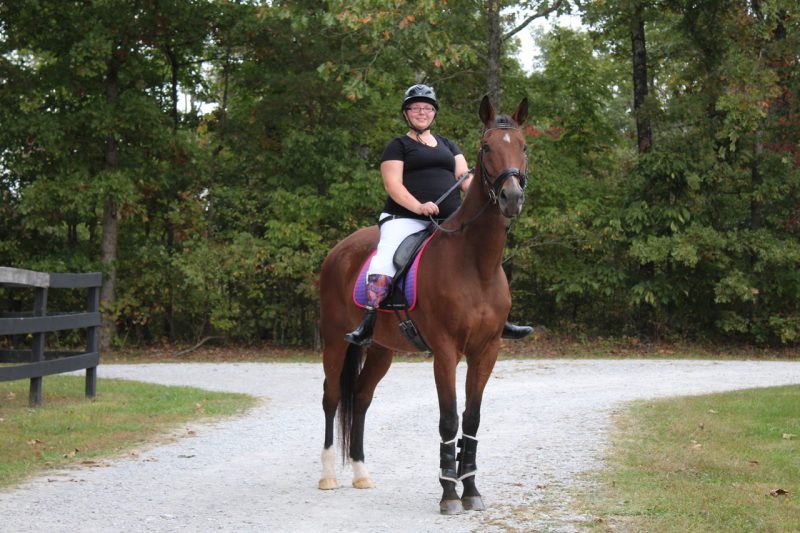 Jessica grew up riding on a very casual level on the family farm, without the means for luxuries like a trailer and lessons. The area was primarily Western riding, so that's what she did — until she fell in love with English and jumping through YouTube videos.
"There really wasn't much information about English riding in my area, so I watched a lot of videos and thought, Man, jumping is really cool!" Jessica said. "When you're a kid, you're fearless to try stuff. And you know what? Jumping in a Western saddle is not fun," she finished, with characteristic deadpan humor. 
After her ill-fated attempt at jumping in a Western saddle, Jessica began teaching herself how to jump bareback on her Spotted Saddle Horse, Sugar. Piece by piece, she acquired English tack, still entirely self- and YouTube-taught.
At 18, Jessica began taking lessons in eventing on Sugar. Sugar, now 25 and celebrating 11 years with Jessica, proved the perfect horse to learn on in Jessica's youth and early adult years. But as Jessica got more serious about eventing, the time came to add another horse to the family.
Jessica got Albert, a Thoroughbred cross raised at an eventing farm, in 2013. "Albert has taught me a lot. He was actually considered dangerous at the time, but I don't know … " Jessica shrugged it off, downplaying the commitment and effort she put into Albert's development. "I guess after years of building a relationship with him, he's pretty much a puppy dog now. He's a good boy for me, for sure."
By 24, Jessica was working at Tractor Supply Company to pay for her passion and ready to take her riding to the next level with Albert. "I'd gone to a few training shows and a few jumping shows," she said. "I was working my way up into the eventing world when I was struck down with my illness."
Near-Deadly Disease
In the fall of 2017, Jessica got a rash. The rash developed into muscle and joint pain, fatigue, nausea, and eventually a large skin lesion. Unable to eat or work, Jessica endured a slew of doctors' appointments as they tried to identify her condition. At one point, they even thought they had diagnosed the correct autoimmune disorder, and sent Jessica home.
Then, Jessica got a dangerously high fever and was rushed back to the hospital. She celebrated her 25th birthday from a hospital bed, intubated and on the verge of death. A rare form of vasculitis attacked her limbs and organs by constricting the blood vessels. By the time they got the disease under control, both her legs and her left arm were black and dead — and she was lucky to keep her damaged right hand.
Every step of the way, Jessica documented and shared her condition via social media. She was spreading awareness of what vasculitis can do, yes; but more importantly, she was inspiring others with her perseverance and positivity. After her limbs were removed in January 2018, Jessica was released from the hospital in April. "The first thing I wanted to do when I got out of the hospital was, obviously, to ride," she said. 
It had been five months — and three limbs — since Albert and Sugar had seen Jessica. "I didn't have any hair; I was completely bald. I smelled like hospital and chemicals, so it took them a bit to realize that it was me," Jessica said. "But once they did, they treated me the same — but also more cautiously."
Only bad weather made Jessica wait for her first ride on Sugar after leaving the hospital. With how much Jessica's body had changed, it was reasonable to assume a Western saddle would be a good fit so she could hold onto the horn. Her first ride, however, she rediscovered what she had as a teenager: She craved the close contact of an English saddle.
Initially using an ill-fitting dressage saddle, thigh straps and a rein bar, Jessica began working back towards the show ring right away. Four months after her discharge from the hospital, Jessica rode Sugar against able-bodied riders in a local dressage show — and took home the blue ribbon.
Persevering Positivity 
Since first getting back in the saddle, Jessica's riding has evolved. Caring friends gave her a well-fitted dressage saddle with a deep seat and large thigh blocks. She feels more balanced by attaching the reins to her left arm rather than using the rein bar. But Jessica's return to riding has been wrought with setbacks.
In her older age, Sugar was sound long enough to help Jessica get back to riding. Albert needed some retraining, so Jessica leased him to a friend — visiting him as often as possible. After an extensive search, Jessica found and worked with Pickles, a small Arab cross mare. 
At home, Jessica relies on her older brother to help take care of the horses because it isn't accessible to her in a wheelchair. The lack of an arena makes it difficult to do much productive training — but of course, that didn't stop her. Neither does having to mount from the bed of a pickup truck, or trying to find an affordable, used wheelchair powerful enough for outdoor and barn use. As hard as it is to accept help, Jessica takes on every challenge riding throws at her — just like she continues to take on the repercussions of vasculitis.
Jessica's left leg had been left with a jagged bone and scarring that prevented her from wearing prosthetics, and had to have revision surgery. Her right hand, damaged from the disease, stiffened and required surgery to loosen tendons and improve mobility. This year, prosthetic legs have given Jessica some independence — when she can wear them and isn't "playing with a bout of bursitis," as she quipped.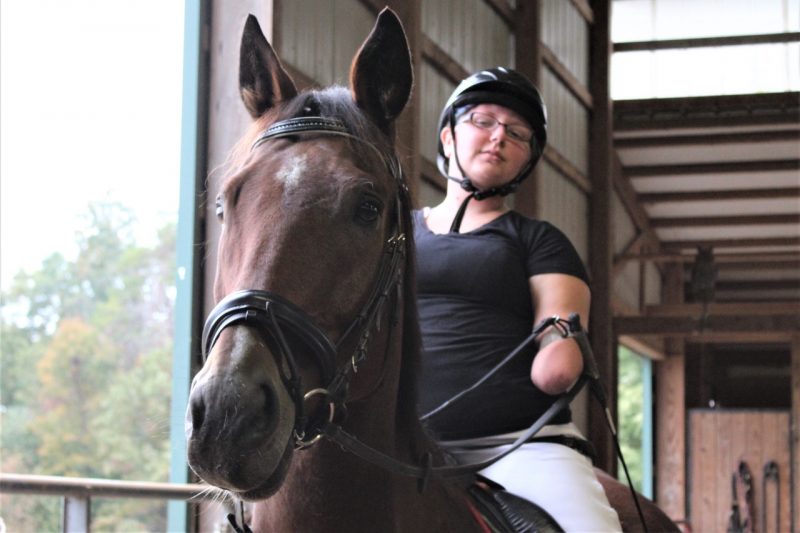 Though insurance covered quite a bit of her original medical expenses, Jessica couldn't afford what was left and had to declare bankruptcy. "It's kind of one thing after another," Jessica summarized, "and I just try to stay positive through it all."
Others have taken notice of her positivity, including at Tractor Supply Co. where she still works one to three days a week. After Jessica's story aired on the local news in June, executives at Tractor Supply teamed up with Purina, Saddle Up and Tucker's House to provide Jessica with $5,500 in Purina feed, a lifetime Tractor Supply discount and a large grant to make her barn more accessible — complete with arena and mounting ramp.
#tripleamputeeeventer
Jessica looks forward to having an accessible barn and arena by spring at her home, where she lives with her parents, her two older brothers and her dog, Sansa. In the meantime, she was able to take Albert back in June and keeps him at a nearby facility called Wintercrest.
"I became part of a program called Healing Hooves; they helped me pay Albert's board," Jessica said. Now Healing Hooves is in the process of relocating. She will continue to volunteer with them when they have a new facility, but the new owners of Wintercrest have also let Jessica stay board-free. "I get to keep Albert there and ride him and work with him. It's been really great, and he's been fantastic."
Jessica takes lessons when and from whom she can, and attends as many clinics as possible. In October, Jessica entered her second horse show since the amputations. This time she rode Albert, but the result was the same — first place riding against able-bodied riders. 
"I know I have a whole life ahead of me to decide what I want to do, but eventually I would love to get to Paralympic level for dressage," Jessica said. "I would love to do some jumping — I'm dying to jump a horse!"
True to her Instagram handle #tripleamputeeeventer, Jessica deems herself "still crazy enough" to return to eventing eventually. But her goal, like her Instagram account, is about far more than simply riding and showing horses. "You know, my goal is to just be the best me that I can be," she said. "Whether that's helping people get through their days or showing a horse, it varies day by day."
Horses give Jessica her reason for getting out of bed every day. Even on days when she struggles, she finds peace in grooming or watching horse videos. Through sharing her struggles — and her triumphs — Jessica hopes to give others a reason to keep trying.
Her audience?
"Anybody that thinks they can't," she replied. "You don't have to be disabled. Anybody that thinks they can't, I just want them to know that anything is possible. When you work hard, there are no limitations."
Follow Jessica on Instagram, @tripleamputeeeventer
Photos by D. Harrison, unless noted otherwise
Double D Trailers Info