By Britney Grover
Portraits by Melissa Fuller
Fifty years ago, Samuel and Janice Nicholson purchased a 200-acre farm in Montgomery County, Maryland. What started as simply a place to call home and house their own horses has grown into a thriving show barn since the Nicholsons' daughter, Patty Foster, founded Rolling Acres Show Stables on the property in 1972.
Now, Rolling Acres is home to 65 horses, and while Patty admits she's probably hit capacity, that hasn't stopped Rolling Acres from growing in other ways. "During the COVID-19 quarantine, we built a whole new side on the barn, where we have a treadmill room with four grooming rooms and a new tack room. We had nothing else to do but add on!" Patty said. "And business even grew leaps and bounds during COVID—it's been crazy, but it's been good. I'm sure my help would not like me to be such a big operation, but I've got good staff, we each have our people that we train and it works out really well. I like being big because it keeps you busy."
In addition to the horses, Rolling Acres is still home not only to three generations but many of those who work at Rolling Acres. In addition to Samuel and Janice, there are Patty and her husband, Kevin. Kevin and Patty originally met at a horse show, though Kevin was only there with his sister. After joining the family, Kevin learned to ride and has competed successfully all the way up to the national level. "He has a good time," Patty said. "He helps out with the farm; he's got his own business, he's a suit-and-tie person, but he's right here with us—and I think my parents would give me up and keep him!"
Then there's Patty's sister, Mary Lisa Leffler, who rides for Rolling Acres. "The younger generation don't get that Mary and I are sisters, and I do find that funny," Patty said. "Even though there's seven years' difference, she knows what I'm thinking and I know what she's thinking."
The third generation includes Patty's daughter, Ashley, and newlywed husband, Bill Worthington, who has built a career in the equestrian industry running timing and scoreboards for top horse shows like Washington, Devon, Maryland Pony Show and the Hampton Classic.
"We're unusual in that we all live on the farm except my older sister, Pam Saul, who just moved to Florida—but she still does all my books, and bookkeeping for a lot of major barns all over the country as Saul Bookkeeping, so she's still involved. Not many people can work together this long and be related and not kill each other!" Patty teased. "My parents still own the boarding part, and I still answer to them at 90 and 93 years old. They handle that part of the business, and it's pretty funny to have to keep answering to my parents!"
The Nicholsons proved their vigor in September at Ashley and Bill's wedding, when Samuel gave the grace in front of 180-plus people—a month after recovering from COVID. The occasion was held at the farm, and Patty describes it as amazing—and she was also impressed with who showed up. More specifically, she was impressed with what they gave up to be there.
"You know, you hope you're only getting married once, so it was interesting—I was impressed to see so many people give up a horse show to come to the wedding, including some who don't give up many horse shows," Patty said.
Those people might just be on to one key to keeping Rolling Acres—and the family—thriving: knowing when not to go to a horse show. 
Founding Rolling Acres
Getting their three girls into horses came naturally to the Nicholsons. Janice had always ridden and had horses; her father owned a major dairy farm, and she'd been raised showing cows the way equestrians show horses—she'd even been to England showing cattle and met the queen's mother. Samuel learned to ride and foxhunt.
Patty and her sisters, Pam and Mary Lisa, grew up on ponies and showed locally. "My older sister Pam and I foxhunted every Wednesday and Saturday with my parents; Mary Lisa was a weenie, she would only foxhunt a little bit and cried too much, so they said, 'No more for you,'" Patty joked of her seven-years-younger sister. "Which kills me that she does Grand Prix now and wouldn't foxhunt!"
In 1972, the Nicholsons purchased 200 acres in Montgomery County, Maryland—Rolling Acres—and the family became totally entrenched in horses. Patty and Pam also gained a work ethic that would set them up for life. "My older sister and I had to feed probably 100 head of cows every morning before going to high school. If my high school friends knew that, they would have died," Patty said. "Growing up, you didn't know any differently. We always had to work; it was just normal, and it came before anything else—like if we didn't get our chores done, we couldn't go to a horse show."
Patty began showing at more rated hunter shows with Richard Zimmerman, as well as becoming National Side Saddle Champion in 1976. In 1977, Patty walked so young Mary Lisa could ride in the inaugural parade for President Jimmy Carter.
The sisters started competing in Florida with Bobbi Stedding, and Patty got to experience Junior competition briefly before aging out. "I really pushed Mary Lisa to do the Junior Hunters and stuff because she was seven years younger and I didn't really get into the rated stuff until I was an Amateur," Patty said. "I went on to a two-year college, then had a really good job at IBM. I sat there while Mary was showing at Upperville and thought, This is not what I want to do. I want to be a professional."
Recently engaged, Patty told her fiancé, Kevin, and parents what she wanted to do: create her own show stables. Up until then, only their own horses had been kept at Rolling Acres. Despite the initial shock, everyone got on board and Patty opened Rolling Acres Show Stables in 1982.
"My best friend also kept her horses here, and she was my first customer when I said I was going to turn professional," Patty said. "We built a big ring outside, and ended up building an indoor arena and more stalls, and just kept going on and on."
Expanding the Family—and the Business
As Patty built the business, Mary Lisa remained an Amateur, claiming two major championships at Devon and Harrisburg three years running to retire the trophies. But as Rolling Acres grew, Patty needed a professional rider and finally recruited Mary Lisa in 1994.
She may have been reluctant to give up her amateur status, but Mary Lisa continued to thrive in the ring as a professional. In 2004, she was named to the U.S. Show Jumping Developing Rider list and headed to Europe under Chef D'equipe Katie Monahan-Prudent to represent the U.S.
"All my family went to Europe to watch Mary Lisa—it was something I never thought we'd get to do," Patty said. "Mary had Grand Prix horses to ride, but we weren't wealthy like the other riders on the team: One of my customers, Bruce Chovnick, owned Graf Rossini S, whom Mary rode, and my parents had bought a mare from McLain Ward that no one could ride but Mary won a lot with her. It was fun; my husband flew and we went to Gothenburg and Helsinki, things I never thought we'd do. I never imagined the horses would fly, and off we went—that's something I'll never forget."
While they continued to enjoy watching Mary Lisa compete and Rolling Acres thrive, Patty and Kevin were rearing the next generation in the Nicholson legacy: their daughter, Ashley. But it didn't always look like Ashley would follow in the family's footsteps. "My daughter, you cannot talk her into anything—when she was in the small ponies, she would throw herself off. She didn't want to ride; if they ran, if they even opened up a fast canter, she was off," Patty remembered. "Laura Pickett had moved in and trained with us, and she would help train Ashley. We never thought Ashley would get out of the small ponies. She got some really good ponies, and thank the Lord, she learned how to ride and enjoyed it."
After graduating from ponies, Ashley found horses easy and excelled in the jumpers. When it came time for college, she went to Auburn and rode on the NCAA team, but insisted she wasn't going into the family business—she intended to use her horticulture degree. "We'd given up on getting Ashley to join us. She went to England for a month with Auburn to do horticulture," Patty said. "She came home, was Champion and Reserve at Harrisburg as an Amateur-Owner jumper, and finally said, 'I'm going to be a professional.' That really made my day, because she and Mary ride opposite, but they are two peas in a pod."
Ashley officially joined the Rolling Acres team in 2019. "She's a really good trainer, and she trains some of my customers who held her as a baby," Patty said. "Yet my customers treat her with respect; I don't have one person that wouldn't let her take them to the ring."
Sharing the Secret to Success
Ashley isn't the only professional that Rolling Acres has produced: Patty's niece, Kimberly Saul, competed in the High Juniors with Rolling Acres, and went on to ride for Texas A&M before becoming their director of operations for five years. Anna Claire Smith now rides for Rolling Acres and is head manager of the on road show barn. Chad Keenum, Katie Francella, Alexandra Panetta, Melanie Wright, Sybil Green and Kori Pickett all went on to be trainers. Kori now works for Patty at Rolling Acres, following in her mother's footsteps as Laura Pickett used to work there as well. "I used to carry Kori around on my back and teach her mother when she would come, so that's been fun," Patty said. 
"It cracks me up, because sometimes they'll call—Chad calls all the time, or Katie, saying, 'Can I ask your opinion?' and I swear I'm not old enough to have them call me for advice!" Patty said. "I have to laugh at myself and remind myself how long I've been doing this."
Now celebrating 40 years as Rolling Acres Show Stables, Patty is proud of the influence she's able to have creating professionals that respect the horses and the customers. And after never missing one of Ashley's NCAA meets while she was at Auburn, Patty has also developed a passion for promoting the program. "I've been a big recruiter and helping kids get on teams now," she said. "I love being able to get kids on teams. There's nothing I think is better."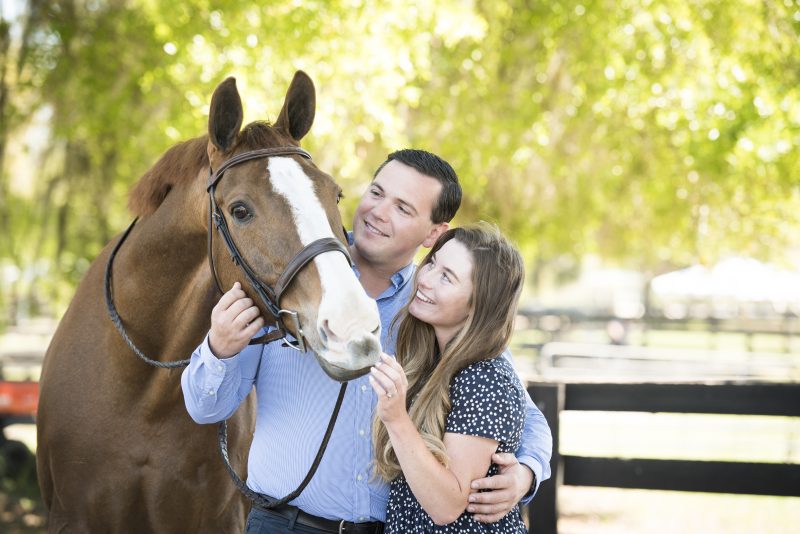 Of the 65 horses at Rolling Acres, most are jumpers and Junior hunters, with a few fancy project ponies, equitation and Amateurs in the mix—and to Patty, each one of them is special. With both her clients and horses, Patty tries to show that being successful doesn't mean going to every horse show—in fact, sometimes it means the opposite.
"Early on, I had a slap in the face where someone told me it was just about money and I had to keep going. But we almost got burned out, and we learned we can't do it—we can't burn the candle at both ends," Patty shared. "The young kids, they need to see it, and see why my husband's horse is 21 and going to Harrisburg—because we haven't run his feet off."
For Patty and her family, taking time off for vacations is part of a healthy, balanced life. To that end, once a week while the weather's good, the fire pit in front of Kevin and Patty's house becomes the focus rather than the barn. "Kevin cooks hamburgers, and everyone will just sit outside together—our family, all the girls that work for me, they come, and they call my parents Mom Mom and Pop Pop," Patty said. 
Even with a large, thriving business and the passion for horses that started it all, Patty has learned how to stay grounded—and the importance of it. "We try to keep somewhat of a normal life. I've tried to teach them all they've got to get away—horses are not everything," she said. "As much as I love them, sometimes you need to do something different."
For more information, visit rollingacresshowstables.com
Photos by Melissa Fuller, msfullerphotography.com
Double D Trailers Info