Rachel Geiger Barker
Malvern, Pennsylvania
Owner and Founder of Weather Or Not Equestrian (WON)
How did you become part of the horse world? 
I started riding when I was 4 years old at Country Lane Farm in Greenwich, Connecticut, when my mom and sister both started taking lessons. I never stopped. When I was in high school, I was lucky enough to start riding at Derbydown with Louise Serio. I rode with Louise for 15 years in both the hunters and jumpers. I also rode with Lisa Jacquin and Bob Kraut in the jumpers. I call myself a collector; I keep all my now-retired show horses at my farm in Malvern and take care of them as if they were still showing. They're my kids and I am devoted to giving them the retirement that they all deserve. I also married into an awesome horse family. My husband's dad and stepmom, Johnny and Kitty Barker, run their Eight Oaks Farm out of Middleburg, Virginia, and his mom and stepdad, Parker and Ed Minchin, do reining horses out of Southern Pines, North Carolina. Parker even let me ride her world-champion horse this spring when we visited. It was an amazing experience!
When did you start your company and what gave you the idea?
I had the idea for Weather Or Not Equestrian (WON) while showing in Saratoga in the pouring rain. That was years ago, when I was still showing my extraordinary horse, Dream Date. I thought there had to be a better solution to soaking-wet breeches than what was out on the market, especially with how technically advanced fabrics are nowadays. I had to take a few steps backward to turn my idea into a reality. I took time away from showing and attended Made Institute's Developing Designer Program in Philadelphia, where I learned and honed the skills needed to create an equestrian apparel brand. I developed designing, pattern making and garment construction skills and applied those skills to my first collection, a line of evening dresses. My first dress was selected for display as one of four dresses at the Philadelphia Flower Show in 2020. The collection in its entirety was set to walk at Philadelphia Fashion Week, but with the closures from the onset of the COVID-19 pandemic, the show was canceled. It was a great experience and a fun way to learn the ins and outs needed to create WON. We officially launched WON in August of this year.
What part does your company play in the horse world?
Weather Or Not Equestrian aims to keep riders comfortable and ready for anything by providing a top-quality breech with the added benefit of being made to wear in all weather conditions. Our fantastic fabric is water-resistant, mud and dirt repellent and breathable. Our breeches feel like any other top-of-the-line breech out on the market. While they excel in the rain, they are perfectly suited for everyday use, as our brand name suggests. Many of our customers have said that it feels like you're not wearing pants when you have them on because they are that comfortable. 
What's the best part of being a woman entrepreneur?
Women have not had the opportunity to achieve all they could for such a long time. I am exhilarated to oversee both my own business and my own destiny. I feel lucky to have had the opportunity to bring this idea and brand to life and to be the woman entrepreneur behind it all. I love immersing myself in the horse show world that used to be such a big part of my life, and providing my fellow equestrians with a truly amazing product. I am also very proud of the knowledge and skills I've acquired to get to this point. It means a lot to me to have the support of the equestrian community, and I genuinely appreciate each person who has given WON a try.
What challenges do you face?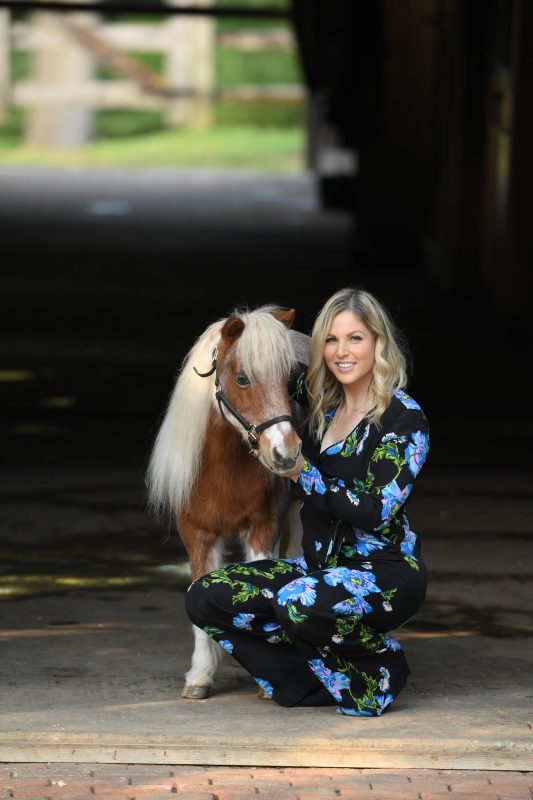 There are two primary challenges. First, being a small startup is challenging against all the more prominent and established companies. I want people to know that WON has a real face (and it's mine) and isn't a corporate conglomerate. I invested in this brand because I believe in it wholeheartedly and want to see it succeed. Second, I find it challenging to convey to people that while our breeches are unique because of the all-weather component, they're also remarkably comfortable and suitable for even the sunniest and hottest days.
What great things have happened because of your business?
While we are still brand spanking new, we're off to a great start. I hope to see many great things happen for the business and our customers because of our success. It's been great to reconnect with so many people in the equine industry. I'm also fortunate that my dad, who was in the retail business for many years, has become my right-hand man. He is so knowledgeable and has such a fantastic business mind; to learn from him along the way is so special for me. It makes all of it even more satisfying. 
What are your goals both for yourself and for your business?
My goal is to listen carefully to what my customers say and to exceed their expectations. I have exciting ideas for more products I look forward to bringing to market. I hope to broaden our breeches' size range and grow into both the kids' and men's markets. Personally, I would love to get back into the show ring while balancing the business, the horses and, most importantly, my son and family. 
What advice would you give to other women considering entrepreneurship?
Go for it! Anything you care enough about is worth pursuing. It's hard and the process is long, but seeing a dream come to fruition is a remarkably satisfying experience. Surround yourself with people you trust who support you and your goals, and don't let the inevitable setbacks along the way get you down. If you never dream, you never grow. It's a road with many ups and downs, but you must keep your heels down and kick on.
What's the best thing about your life?
Hands down, my son. He's almost a year old now and is just a light in my life. My husband is great, too. I am also so lucky to keep my horses for their whole lives. I can provide them with the best retirement life imaginable. It's as special for me as it is for them. I dedicate a lot of time and energy to them, and I wouldn't have it any other way!
What was your showing and riding life like?
When riding and showing consistently, I showed primarily in the younger Amateur/Owner hunters and did the Low A/O jumpers. Thanks to the incredible horses I had over the years, I saw a lot of success and was able to have some truly unforgettable experiences. In 2006 I won the WCHR National A/O title thanks to my A/O hunters Dream Date, Midnight Date and Aeropostale. I showed my mom's horse Bespoke in the Regular Conformation and qualified for Indoors, and was even second in one of the over-fences classes at Harrisburg. I was also able to show Midnight Date in the derbies and loved the challenges that those courses presented. I had some fantastic jumpers over the years: Sultana Z, Tavares, Radio Flyer and No Stranger, they were so game, so talented and just so much fun. It was fun to get to a place with my riding where I was comfortable showing a bunch of very different horses in a variety of classes. Regarding future riding goals, I would really like to have a quality A/O hunter or two. I would be happy just getting to do it consistently again!
Best-kept secret about what you do?
I would say the unbelievable fabric we found and use for our breeches. It's fun to see people touch them and realize they don't feel at all like any traditional rain gear.
For more information, visit wonequestrian.com
Photos by Kind Media
Double D Trailers Info