By Cheyenne Lord
Portraits by Pam Jensen
When Robert "Bobby" Costello was hired as the interim eventing chef d'equipe in April 2022, he didn't have a lot of time to get up to speed before leading the team's efforts at the FEI World Championships in September. Luckily, he was able to draw on over 30 years of experience in the horse world, including his own competitive career and volunteer positions on multiple USEF committees.
"It was undoubtedly a huge advantage that I had been part of the Eventing High Performance Program for over 25 years and had seen or been involved in just about every aspect of it," Bobby said. "I already knew the athletes, individual coaches, vets, farriers, staff and many others involved. I had a good idea how it was supposed to run, but of course, it remained to be seen if we could pull it off."
With a focus on building trust between the riders, Bobby led the team to a silver-medal finish in Pratoni, Italy, capturing the program's first team world championship medal since 2002 and qualifying the U.S. for the 2024 Olympic Games in Paris. Just two months later, US Equestrian  appointed Bobby as the eventing technical advisor/chef d'equipe, and he went right back to work.
"When I'm at home, I like to get started on team-related stuff early: emails, connecting with the athletes, communicating with the US Equestrian staff in Lexington and plotting and planning whatever is on the horizon," Bobby said. "Though I'm not teaching as much as before, I still have time to keep up with my private clients and their horses a couple of days a week, and can sneak away for a clinic day here and there."
Pianos and Ponies
As involved as Bobby is in the sport, riding was not his greatest passion for a very long time. His parents weren't horsey; when two of his older brothers got serious about it, Bobby just followed along. He started playing the piano before he joined the horse world and even received a Steinway grand piano from his parents instead of a pony.
"My parents weighed the wants and needs of all of us growing up," Bobby said. "I'm the youngest of five, and they really supported everything we did. I'd say we got the Steinway when I was 13, which was a big deal because we were not wealthy by any stretch!"
At age 6, Bobby started taking weekly riding lessons at the Myopia Hunt Club in his hometown of Hamilton, Massachusetts. Everything horse-related evolved from there: foxhunting with the club, showing on the local circuit, and, finally, eventing when he turned 12. Although his introduction to eventing came from watching his first Ledyard International Three-Day Event in the mid-1970s, his biggest influence toward an international career was from Jack LeGoff's USET squad having their headquarters right in town.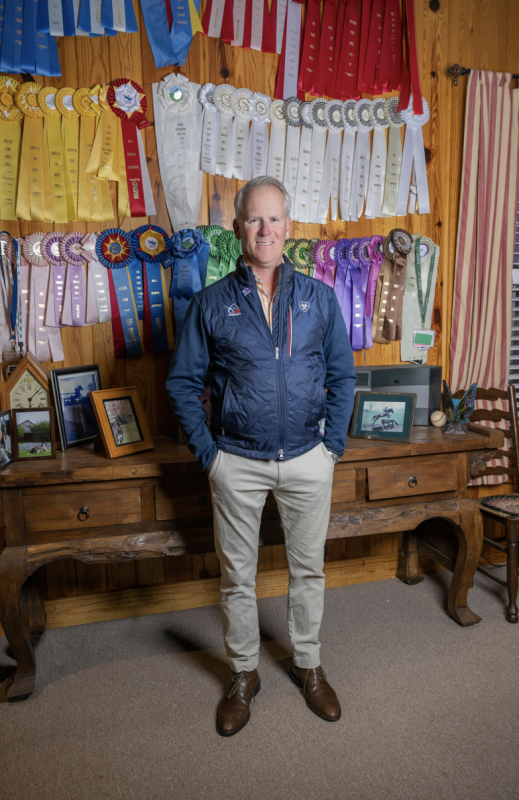 "The team had a very visible presence in Hamilton during the '70s and '80s," Bobby said. "You could tour the stables on certain days, watch training sessions—which I took advantage of—and more. I remember god-like coach Jack LeGoff inviting the whole town to those USET headquarters. He had set a show jumping track on the emerald-green front lawn of the old brick mansion on property, and all of the riders that were 'in residence' rode that day. Jack liked to put people under pressure situations, and I think this was just another example of that.
"I was taken with just how organized and seriously professional everything was, how beautifully the horses and riders were turned out," Bobby went on. "I didn't realize it then, but I think I started subconsciously plotting how I was going to be part of that from that day forward."
Still a serious pianist to this day, Bobby was eventually awarded a full scholarship to study piano performance at the University of Massachusetts–Amherst. Although he loved it, he was pretty certain by his junior year that he was talented but not good enough to make a living as a concert pianist, and he had no interest in teaching piano lessons for the rest of his life. He was already going home more and more to hunt and ride when an introductory course on mass media caught his attention.
"I ended up switching majors to mass communications, and I could retain my scholarship as long as I still minored in music," Bobby said. "I don't regret that decision at all. My favorite course was interpersonal communication, which is certainly useful when working with others. I think I've always been a good communicator, so I can confidently say I've put at least some of my education to good use!"
Representing the USA
Following his graduation, Bobby allowed himself a six-month "trial run" in the horse world that developed into the career it is today. He never lost sight of his goal to represent his country internationally, going on to place eighth individually at the 2000 Sydney Olympics aboard Chevalier and help earn team gold with Dalliance at the 2003 Pan American Games. His accomplishments at the sport's highest level included top placings at the Kentucky, Burghley and Fair Hill International three-day events.
Since the early 1990s, Bobby has been a resident of Southern Pines, North Carolina, and focused on creating a successful teaching, training and sales business based at Tanglewood Farm. He was a partner in C&C Sporthorse, Inc. before starting his own ROC Equestrian out of Winter Brook Farm in 2013, which has received his full attention since he stepped back from international competition in the mid-2010s.
Bobby has also worn many hats in the industry over the last two decades. He chaired both the USEF Active Athletes (2001-2008) and USEF Eventing High Performance (2009-2012) committees before becoming chairman of the USEF Eventing Selection Committee for Olympic, World, and Pan-American Games from 2013 to the 2020 Tokyo Olympics.
"Without a doubt, the most rewarding time working with our international competitors was during our training camp in France all the way through the World Championships in Italy last year," Bobby said. "During some of those final preparation events in the U.S., everyone was pretty intense and a bit on edge, and rightly so. But from the moment we arrived in Europe, a concentrated calmness combined with a real sense of optimism and respect just hovered around the whole team.
"It had been a long time since my last team experience as an athlete, and I had forgotten what an incredible feeling that can be," he added. "It doesn't just come automatically, though. It's a conscious decision every individual involved makes to respect and support one another, to do what's best for the team, stay in the moment and not be shy about having an unapologetically insatiable desire to win."
Although many of the competitions Bobby now attends are primarily related to his role as chef d'equipe, he still looks out for his students whenever possible and continues to foster this culture of trust, respect and staying in the moment wherever he goes.
"The first time a rider really 'gets' something that has previously proved to be elusive, I get so excited," he said. "I'll often make them stop whatever they're doing and tell them to really let everything they just did sink into every ounce of their being. It's such an important feeling to have as a rider. To think about every detail that goes into your successful moments means accessing that feeling gets easier and easier from then on."
For more information, visit www.rocequestrian.com
Photos by Pam Jensen, www.pamjensenphotography.com
Double D Trailers Info