By Kimberly Gatto
"Who hasn't seen a horse and felt its tug on their heart?" Those words, spoken by writer and lifelong equestrian Sarah Maslin Nir, sum up concisely the love affair that humans have long shared with horses. Sarah should know; her passion for equines has virtually shaped her life.
Sarah has felt firsthand how horses can teach us, heal us and bring us to places we never thought possible. She also has personally experienced how equines connect us with other horse-loving people. Sarah chronicled these experiences and more in her highly successful book, "Horse Crazy: The Story of a Woman and a World in Love with an Animal," which was released by Simon and Schuster in 2020.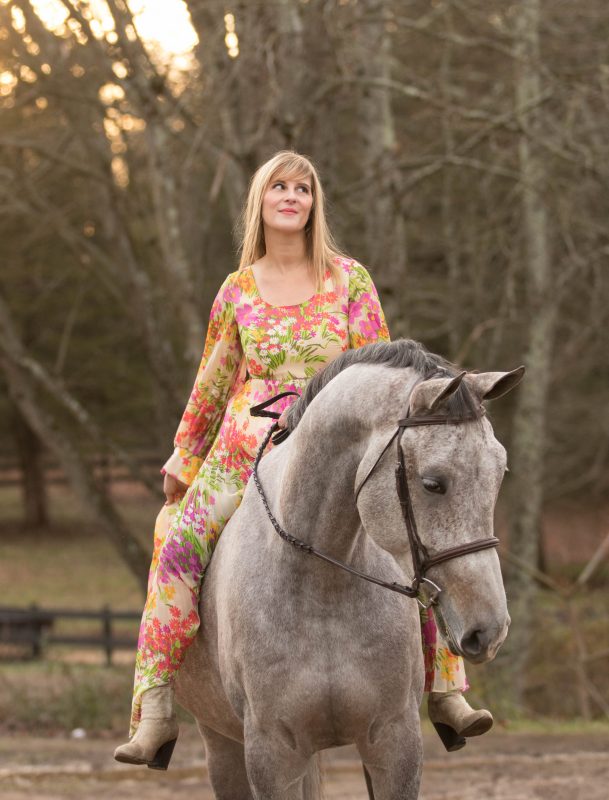 An acclaimed New York Times journalist and a finalist for the 2016 Pulitzer Prize, Sarah has a new series of equestrian children's books, "Once Upon a Horse." The first title in the series, "The Flying Horse," lands on book shelves this month. She has also parlayed her love of all things equine into a newfound business as an importer, developer and breeder of show hunters.
A Love Like No Other
Beginning with her first ride atop a trusty gelding while still a toddler, Sarah's experiences with equines have been numerous and varied. As a young teen, she worked at a tack shop in the Hamptons, where she used all of her earnings to buy Breyer figurines. As a high school senior, she served as an auxiliary mounted patrol officer in New York's famed Central Park.
While traveling the globe as a journalist, Sarah brought her equine passion to new levels. She rode Marwari horses in India, brought attention to the erased history of Black cowboys in Texas and rode in the cargo hold of a 747 with several Dutch Warmbloods as they crossed the Atlantic. She posed backstage at the Viennese Opera Ball at the Waldorf Astoria Hotel with two white Standardbreds during a stint as the Times' nightlife columnist. Some of these experiences were surreal; all were profound and meaningful.
"I never publicly revealed that I was a horse person until 2020, when 'Horse Crazy' came out," Sarah said. "My work as a journalist was focused on social justice—righting the wrongs in the world. I had covered some of the darkest stories for the New York Times and thought I'd be considered a 'lightweight' if I revealed that horses were my true passion."
Instead, Sarah found that her love of equines resonated with most people—and inspired them. Following the book's release, Sarah received countless letters, emails and social media messages from horse lovers of all ages and walks of life. "It was tremendous," she said. "Many people reached out and said they felt a connection with me because of horses. Some were lifelong horse people, but many were newcomers or those who had loved horses from afar. One letter that really warmed my heart was from a little girl who has cerebral palsy. She told me that she had always loved horses, but worried that she wouldn't fit into the equestrian world because of her disability. She finally got the courage to begin riding because of the book."
Another fan letter came in the form of an Instagram direct message from Beth Behrs, an actress who starred in "Two Broke Girls" and "The Neighborhood." Beth had become smitten with horses after working with them on a television show. She and Sarah became instant friends through their mutual interest in horses. "It was really incredible," Sarah said. "The book's message resonated with all different types of people. There is such a universality to horses. They have a way of making us feel that we each belong in their world."
Fitting In
That sense of belonging was something that Sarah herself had grappled with as a young girl. Raised in a New York City high-rise as the only daughter in a Jewish family, young Sarah often felt lonely and isolated. Her parents, while loving, had busy careers. Sarah's father, Dr. Yehuda Nir, was a Holocaust survivor who had escaped Nazi-occupied Poland as a child; he went on to become a prominent child psychiatrist specializing in post-traumatic stress. Her mother, Bonnie Maslin, was a noted psychologist who appeared on TV shows such as "Oprah."
Sarah began riding in Amagansett, near where the family maintained a summer residence, as her parents were hoping to channel some of their lively toddler's excess energy. "They were hoping to calm me down," she said. But being around horses did much more than that. With her tiny body perched aboard a large but gentle gelding called Guernsey, Sarah discovered an all-consuming passion. Those early memories would later form the first chapter of "Horse Crazy" and set the stage for a lifetime of devotion to equines. "Through any difficulty in life, horses were my rock," Sarah said. "And they still are, to this day."
Sarah's connection with horses served as a balm for the feelings of shame and inadequacy she experienced at school, where—though exceptionally bright—she struggled. "I always had a problem with spelling," Sarah said. "I would read something five times and think I had read it correctly, but it was still wrong." Like many kids, she hid her struggles from family members and teachers for as long as she could, often facing ridicule. "I was put into remedial reading classes and was told that I was 'lazy,'" she said. "I was being graded on my ability to conform to standards rather than as an individual." The fact that Sarah was able to overcome such difficulties and thrive in her chosen career as a writer—an occupation based on putting words together—is a testament to her character. She also earned an undergraduate degree from Columbia University, where she was captain of the equestrian team, and a master's degree from the Columbia Graduate School of Journalism.
A New Series
Sarah's childhood experiences formed the inspiration for "The Flying Horse," the first of three titles in her upcoming "Once Upon a Horse" series. "This series came to fruition because of 'Horse Crazy,'" she said. "I received a message from Amy Novesky, the children's book editor at Cameron Kids. She had read 'Horse Crazy' and wanted to know if I had interest in writing some children's books. We bonded through a shared love of horses, as Amy had found horses again as an adult and it opened something up in her. It all just came together perfectly—and out came three books."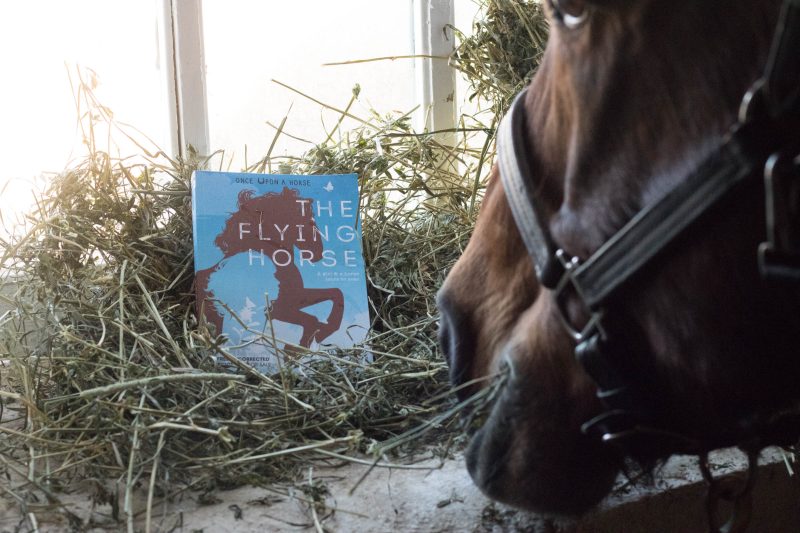 The idea for "The Flying Horse" stemmed in part from Sarah's own learning difficulties. The plot revolves around the parallel lives of a young girl who has trouble with spelling and a highly-bred Dutch gelding with a crooked hoof. "The story is fictional, but is largely based on real situations from my life and that of my now retired 23-year-old Dutch Warmblood, Trendsetter, but with some fantasy blended in," Sarah said. "It was cathartic to be able to tell the story the way I wished it had been. Yet all of the places, settings and people were based in reality. It was also wonderful to put Trendy's story out there and make him famous. He is such a special horse; I got him shortly after my father passed away. He has enriched not only my life, but those of several people who leased him from me when he stepped down from showing as he got older. I call him 'the gift that keeps on giving.'"
Sarah is hoping that "The Flying Horse" will inspire readers to believe in themselves—to believe that they, in a sense, can "fly." "I still struggle with spelling to this day, despite being a professional writer," she said. "But the fact that I was able to succeed proves that we can overcome our challenges. You don't have to be the greatest at something to be great at being you. I think we all need to remember that."
The second title in the series, "The Jockey and Her Horse," is based on the life of the late Cheryl White, the first Black female jockey in racing history. Sarah wrote the book in collaboration with Cheryl's real-life brother, Raymond White, Jr. "Part of the story is fictionalized, but it is based on Cheryl's own experiences and the struggles and oppression she faced during her lifetime," Sarah said. "Most people don't realize what went on back then—that people used to go to West Africa and buy jockeys. My father was a Holocaust survivor, so I feel a deep connection and painful parallel in the persecution Black people have faced. Cheryl dealt with so much oppression in her lifetime, and I feel strongly that her story should be shared."
Interest in "The Jockey and Her Horse" is high, with The Breyer Company set to release a figurine commemorating Cheryl and her horse, Jetolara, within the next year. Additionally, a documentary version of Cheryl's story is currently underway and a full-length film version is under consideration with several movie studios. "Of all the horse movies and stories out there, there has never been one with a Black girl as the equestrian heroine," Sarah said. "We are going to change that."
The third book in the "Once Upon a Horse" series, "The Star Horse," will focus on the adventures of a Norwegian Fjord named Billy who performs in the Metropolitan Opera. "All three books in the series are based upon real-life horses," Sarah said. "And they each have a message to share."
Jumping to Success
When she's not writing, Sarah can be found riding her own horses and competing on the 'A' circuit in the Amateur Hunter divisions. She is excited to be moving up to the 3'3" Amateur Owner Hunters this season with one of her five horses, At Last, a 7-year-old, rose gray, 17.3-hand Dutch Warmblood. "I have always been a hunter queen," she said. "I love the fact that riding hunters is an art in itself. To me it's just as challenging as jumping the big jumps." Sarah has recently expanded her love of hunters into a business of producing exceptional show horses and ponies.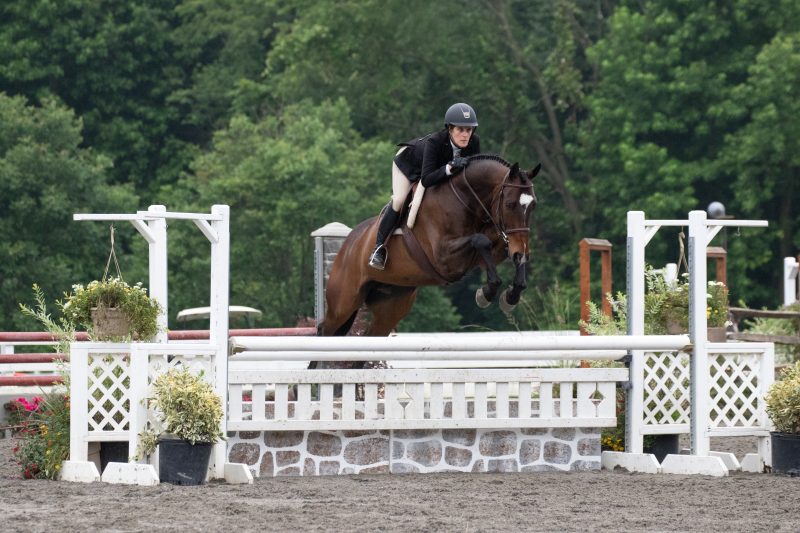 The idea for producing hunter ponies evolved through conversations between Sarah and a close friend, Jessica Lochrie. "I have met so many wonderful friends through our mutual love of horses." Sarah said. "And Jessie was one of those. Years ago, I was getting ready for a horse show and realized that I had forgotten to pick up my boots at the cobbler's shop. They were closed, of course, and the show was the following day, so I ran over to Manhattan Saddlery at the last minute to buy a new pair of boots. Jessie was the store manager at that time. The store was about to shut, but Jessie picked up the phone and agreed to keep it open for me because she understood it was an equestrian emergency! We clicked immediately. She ended up later riding with my trainer, Leah Epstein, and me at Ithilien Stables in White House, New Jersey. We have been great friends ever since.
"Jessie has since relocated to Los Angeles, but we stayed in touch," Sarah continued. "One night, we were texting back and forth and started looking at hunter ponies online. By the next morning, we had bought our first pony together: a small Welsh palomino that we gave a perfect name, Cheerful! Jessie is very petite and weighs about 90 pounds, so she's able to ride the small ones. She is the rider and trainer for the ponies, and I am the investor. We named our business Once Upon a Pony."
When Sarah flew to Los Angeles to see Cheerful, she met up with actress friend Beth Behrs, whom she had gotten to know through social media but had not yet met in person. "By the end of our first meeting," Sarah said, "Beth had joined us in Once Upon a Pony."
The venture has begun on a high note, with Cheerful competing successfully at the World Equestrian Center in Florida after being sold to a young rider in Georgia. "We bought another pony, a top-of-the-line medium Welsh-cross mare we named Starlet, because she lives in Hollywood. And we are currently looking for our next prospect," Sarah said. "It's great fun."
With Jessie and Beth each based on the West Coast, Sarah has been developing her own string of show hunters back home in New York. "I am too tall for the ponies," she said, "so I am producing horses. I've have had some great success with my first couple of projects. One of the biggest compliments I recently received was when a hunter judge asked me where I got my horses. It made me feel that I am finally stepping from amateur status to becoming a true horsewoman. That feels good, because I always struggled with my sense of belonging in the horse scene. But again, horses have a way of making us feel that we belong."
Attitude Is Everything
Attitude is the most important attribute that draws Sarah to a potential sales horse. "I like to import horses with great dispositions," she said. "I'll choose a jaw-dropping brain over a jaw-dropping jump any time. I want horses that will enrich people's lives on different levels—horses who are still fancy, but also can be ridden when you're not feeling your best. I sold one of my horses, Halcyon, aka Lion, a 7-year-old chestnut Belgian Warmblood, to Christine Quinn, the former New York City Council Speaker and mayoral candidate, whom, coincidentally, I had actually written about for the New York Times years before! Chris recently beat cancer, Lion has helped her in the healing process—and taken her to ribbons at WEF. It's really incredible and so fulfilling."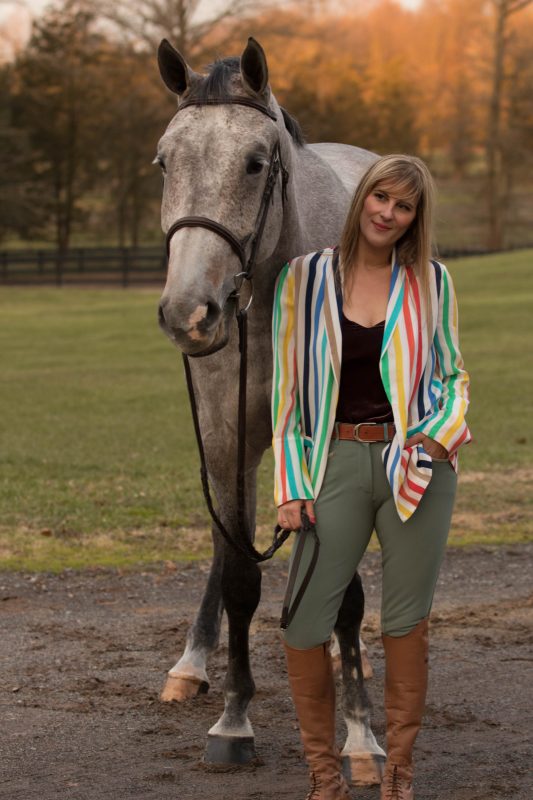 Sarah is enjoying the venture so much that she is expanding into the breeding end of the business as well. She's now the proud owner of Brightside, a 6-year-old palomino Zangersheide, whom she describes as a "real-life Barbie dream horse." She purchased the horse in Europe through Elena Pitoulis and Dario Santos of Equinox Sporthorses and plans to show him this season in the Baby Green division.
"He is so gorgeous and so kind; I sometimes cannot believe that I own him," she says. "I had truly been looking for a horse like him for over 10 years." She recently purchased Sommerdai, a 14-year-old palomino Scottish Sport Horse broodmare, who will be bred to Brightside this year. "I am starting a journey of raising yellow horses," Sarah said. "Brightside is now gelded, but I collected and froze his semen when he was still a stallion so that I can breed mares to him—hey, the book is called 'Horse Crazy' for a reason!"
Through it all, Sarah feels blessed to have horses in her life. In an effort to give back, she serves on the advisory board of Gallop NYC, a New York-based therapeutic riding facility that provides nearly 500 lessons per week to children and adults with disabilities. "Access to equestrian sports should be available to everyone," Sarah said. "Horses enrich the soul."
As her planned book tour for "Horse Crazy" in 2020 was canceled due to the COVID-19 pandemic, Sarah will be embarking on a 30-visit "barn tour" during the upcoming months, where she will visit barns and share stories with other horse lovers. "I am really looking forward to meeting different horse people and sharing our stories," she said. "Some of my greatest friendships have developed because of horses.
"If anyone had asked me years ago if I could have made a career of horses, I would have said, 'no way,' because in truth, I have more passion for the sport than natural talent," Sarah said. "But telling horse stories has enabled me to enter parts of the horse world that I never expected to be in. I have found that there is no one way to be a horse person, and no one way that is better than others. What's important is that you feel it in your soul."
Sarah's experiences with horses thus far have been magical, and she looks forward to many more in the years to follow—whether that be through writing, riding and showing, developing horses, cultivating new friendships, or simply by sharing stories. Through it all, her primary goal is to enrich the lives of those around her. "My favorite experiences," she said, "are the ones that are yet to come."
For more information, visit abramsbooks.com and on Instagram @onceuponahorse
Photos by Adrienne Morella, www.adriennemorellaphotography.com, unless noted otherwise
Double D Trailers Info