By Britney Grover
Portraits by Alex Banks
Shelby Brost knows what it's like to win big. She also knows devastating loss—and not just the kind that means placing out of the ribbons. She knows the rush of laying down a clear round, and she knows the pain of bone-breaking falls.
In other words, Shelby Brost is pursuing the sport of eventing at the highest level. "Riding on a team in the future is something I am driven by every day. The Pan American Games next year is my goal right now, and I hope it continues to go up from there and that one day I'll get to represent Canada at the Olympics," she said, and she has no illusions about what that entails. "This sport isn't for the faint of heart. I know I will always have much to learn and the ups and downs of this sport are inevitable—unfortunately, so are injuries."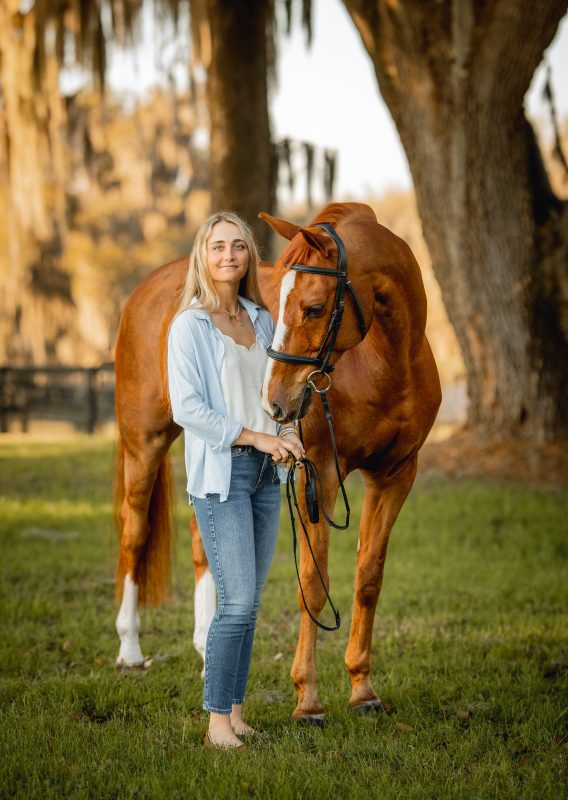 Shelby has made hard sacrifices, overcome loss and injury, and put in the work to prove she has what it takes. At just 24 years old, she already has eight years of experience representing her home country of Canada in the U.S., including winning medals and riding on Canada's High Performance Equestrian Squad, all in pursuit of becoming an Olympic athlete. It's a dream she's had for longer than she can remember, even longer than she's known she wanted to ride.   
"When I was 10, I went to watch my best friend at her riding lesson and just knew that was what I wanted to do," Shelby said. "After a couple of months of lessons, I was able to lease a horse and within a year, I had my first horse. He was a black Morgan named Rider, and he's the one I started cross-country on."
Pursuing the Dream
Growing up in Red Deer, Alberta, Shelby was always infatuated with the horses on her grandma's farm—and that infatuation grew into a passion as she started riding and learning eventing under the tutelage of her first coach, Brenda Thompson. "I credit Brenda with teaching me a solid foundation for not only my riding, but proper horse care and a true love for the animals and this sport," Shelby said. "Brenda's daughter, Laura, had competed at the North American Junior and Young Rider Championships (NAJYRC, now NAYC) and opened my eyes to the idea of representing Canada on an international stage. They encouraged me and set me on the path of my dreams to compete there one day."
The first piece of the puzzle of Shelby's dreams was—and is—her family support system, starting with her parents, Teresa and Wayne. "My mom has been my first phone call after good days and bad days, my mental support system, and my dad has always encouraged me to be the best version of myself," she said. "He taught me the value of hard work and seeing something through by never giving up."
The second piece was the right partner. Shelby purchased Crimson, a 2003 Thoroughbred originally named Across The Coals, in 2014, when Shelby was 16 years old. Crimson had already competed up to the CCI3*-S level; she ended up taking Shelby even further, but started with helping to fulfill Shelby's dream of competing at NAJYRC in their very first year together—and bringing home a bronze medal.
In order to qualify for the competition, Shelby and Crimson had moved to Florida to train. That decision proved to be a turning point in Shelby's life. "After competing there for the first time in 2015 and being fully immersed in the heightened level of competition in Florida, I couldn't imagine myself doing anything else," she said. "I strived toward moving up the levels, and knew I had to be able to train year-round to achieve that. With the support of my parents, I was able to make the move permanent and finished high school online. At the time, I was young and had enormous goals for the future. I didn't know how I was going to do this full time, but I knew it was the only thing I wanted to do."
By 17, Shelby had decided on her career path and was living a country away from her family to pursue it—sacrificing precious time with her family. "Choosing a nonconventional career is not something my family or I ever expected," she said. "Nonetheless, they've supported me throughout my whole life in whatever I set my mind to. I have my family back home in Canada, but I have also been lucky to meet people in the equestrian world I also consider family, and that's what has gotten me through being so far from home for so long."
Big Win & Devastating Loss
In Florida, Shelby not only had her human support network but her four-legged friends as well—Crimson and Rufus, a "miniature" 40-lb goldendoodle. "I don't know how I got so lucky with such an amazing dog. If you know me, you know Rufus—I don't go anywhere without him," Shelby said. "He flies home with me to Canada and actually went on a family vacation to Mexico last year. My parents allowed me to get a dog after moving across the country and he's been my rock throughout this crazy life adventure. He's truly the best thing that's ever happened to me."
The year after her first trip to NAJYRC, Shelby and Crimson returned—and Shelby's entire family got to be there. "That was extra special since my sister, who was extremely sick with cancer and undergoing chemotherapy at the time, made the trip to Colorado with her daughter, who was a year old, and my brother was recovering from extensive knee surgery so he was in a wheelchair and on crutches," Shelby remembered fondly.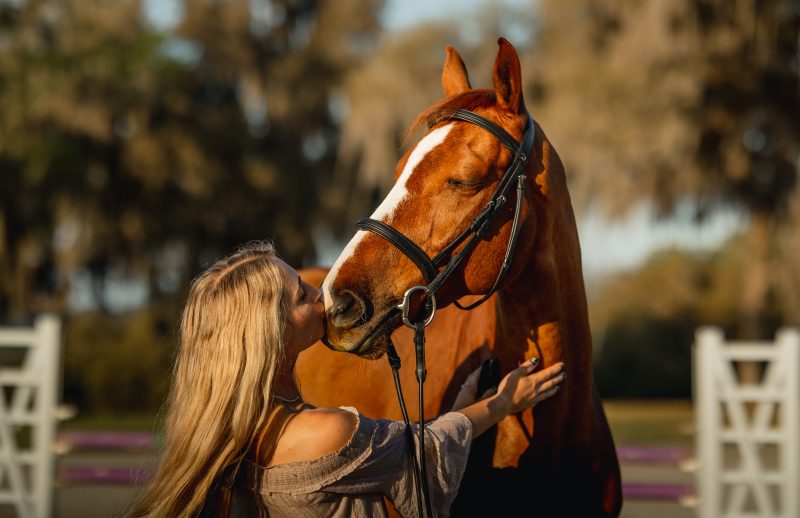 Shelby was in second place going into show jumping. She and Crimson jumped clear, but the girl sitting in first rode after her and put in what appeared to be a clear round. "My coach at the time and Area 3 NAJYRC coach Kyle Carter came up to me and said, 'How does it feel to have just won Young Riders?'" Shelby said. "None of us had seen the very first rail go down and didn't realize I had won. You can see from the pictures how shocked my family and I were—it was pretty surreal."
The hard work and dedication paid off: Shelby took home the individual gold medal and helped her team to silver. But being so far from home to pursue her lifelong dream turned out to be a sacrifice even more enormous than anyone anticipated. Shelby's older sister, Shannon, lost her life to cancer less than 6 months after Shelby's big win. "I regret immensely not being at home during that time in my life," Shelby shared. "I could write pages about how she was the most courageous, selfless, inspiring, beautiful-inside-and-out person I have ever met. I was lucky to call her my big sister. She taught me the meaning of resilience, and will always be my biggest role model."
With that resilience, Shelby made bigger goals and continued pursuing even bigger dreams. She and Crimson completed their first four-star course, and were named to their first Nations Cup team the following year, in 2018. By 2019, Shelby started being named to Equestrian Canada's High Performance Equestrian Squad. As Crimson started to back off of international competition, Shelby added a new partner to her barn—but Crimson will always be special to her. "Having Crim alongside me through the biggest ups and downs of my life and career in the last eight years, she will always hold the biggest place in my heart," Shelby said.
Overcoming Injury
Always aiming for the next goal, Shelby knows she can't do it alone. "There are countless people in my corner who support me and have helped me get to where I am," she said. "In turn, I am eternally grateful for every one of them. It takes a village to make it in this sport, and a reliable support system is crucial."
Those people include her farrier, Randy Pawlak; the vet that has been with her ever since Shelby started eventing in the U.S., Dr. Jill Copenhagen; and Tim Bourke, who found Shelby's most recent horse and helps with her other horses. "Special mention to David O'Connor for all his support over the past few years," Shelby said. "Learning from someone who understands horses like David is truly invaluable."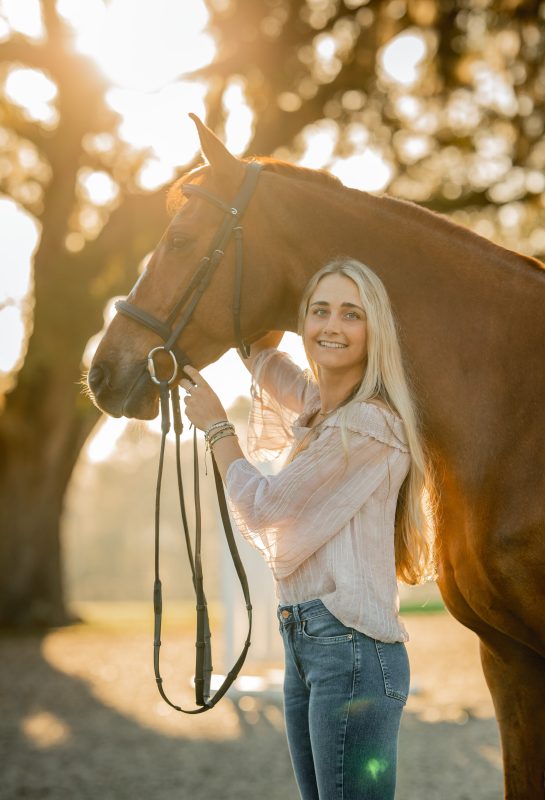 All of those people and more—as well as her family—became even more crucial for Shelby and her career last year. While competing at an event in Florida in March 2021, Shelby fell and broke her hand, her nose and her back. "Karen O'Connor took care of me the first few days I was out of the hospital," she said. "The day she picked me up, she looked at me and walked right past my hospital room because she didn't recognize me, my face was so swollen and bruised. My mom was trying to get a flight from Canada to Ocala in the midst of COVID, and couldn't be here for the first few days after the accident. I am forever grateful to Karen for caring for me through all hours of the night and allowing me a place in her and David's home while my Mom was still in Canada."
Even with so much support, Shelby still had a hard road to navigate. "Physically, it was a lot to overcome, with many weeks in a back brace and physical therapy visits. Mentally, it was a hurdle all on its own," she said. "It taught me how powerful your mind is—but mind over matter can only take you so far. I came back to riding and working much too soon, thinking I was tough enough to push through the pain and mental block. It doesn't come down to how tough you think you are—it comes down to the fact that you have to be as physically ready as you are mentally ready to get back in the saddle.
"Everything with horses seems to come down to patience, and once I took a step back and let my body and mind get back to how they used to be, that's when I started to feel like myself again and I was ready to gallop out of the start box without any fear, just like I had before," Shelby continued. "The accident taught me how much my life with horses means to me. I wanted nothing more than to be back riding and competing while I was sidelined, and I'm grateful to still be able to do this every day."
Now, Shelby is back to competing—and to pursuing her big goals—out of her home bases in The Plains, Virginia, in the summer and Ocala, Florida, in the winter. When she's not riding, Shelby has a passion for teaching clients—and has recently taken up drawing, and says she can get lost for hours perfecting a drawing or a homemade card. She and Rufus still go everywhere together, and though Crimson has retired from competition, Shelby still rides her every day. "She will be the best part of my day for years to come," she said.
In short, Shelby's life still revolves around pursuing the highest levels of sport, and she still hopes to compete at the Olympics someday. "Leaving the nest and starting to go off on my own has been scary, but I'm excited to continue to grow my business and can't wait to see what opportunities arrive in the future," she said. "Representing my country is an honor—something I will always be proud to do, and I hope I can continue to represent Canada for years to come."
For more information, visit shelbybrostequestrian.com
Photos by Alex Banks
Double D Trailers Info