By Laura Scaletti
Portraits by Shawna Simmons
With blue eyes that twinkle when he smiles and a smile for all he encounters, Snowden Clarke is the epitome of old-school Virginia charm and horsemanship. Being a third-generation Virginia horseman, Snowden's love for horses and the land he calls home is in his blood. It's this background that keeps him busy as the trainer at Orange Hill Farm in Middleburg, Virginia, as a board member of the Warrenton Horse Show and as a realtor with Thomas & Talbot Real Estate.
Snowden credits his maternal grandfather with igniting the spark that interested him in equine and estate ventures. "My grandfather was a commercial Thoroughbred breeder who raised the horses for sales and was involved in real estate," Snowden said. "He bought us a pony named Scuttle and kept it at his farm in Middleburg." Every summer, Snowden and the rest of the grandkids would spend their days in Middleburg running wild through the countryside on foot and four legs.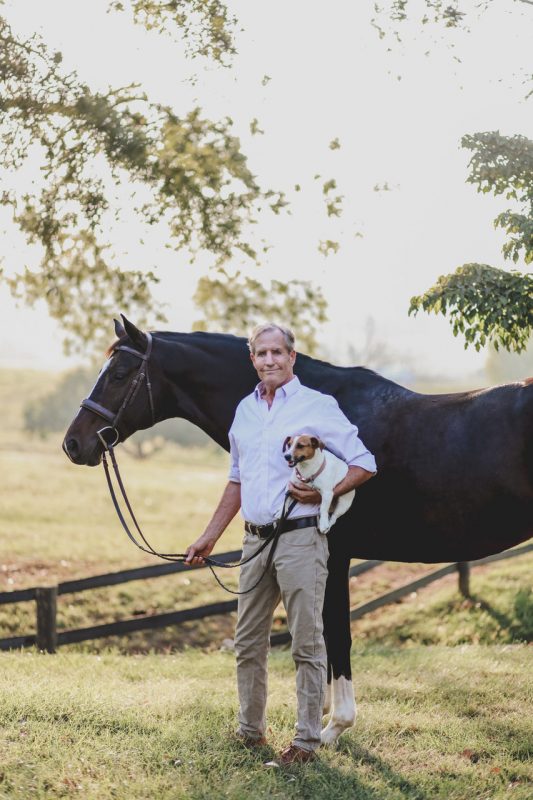 During the school year, Snowden and his family lived in McLean, Virginia. While he was growing up in the Washington D.C. suburbs in the '60s, the landscape of McLean was vastly different than the hustle and bustle associated with Northern Virginia today. "It was very rural during that time; Tysons Corner was a crossroads. There was no mall, corporate buildings or apartments," Snowden said.
In fact, Snowden's mom built a stall for Scuttle in the garage. "It wasn't an uncommon sight to see us double or triple up on the pony and head out to Georgetown or to where the mall is today," Snowden said. "Brothers, cousins, friends, really everyone would hop on the pony and we would head out for a ride."
Country Roads 
It was these rural roads that led Snowden to some of his first horse shows. "When I was a kid, we would hack to the horse shows. We'd leave the barn before dawn, hack to the show, show all day and then hack back home," Snowden said. "We were limited in where we showed based on whether or not we could get there and back in a day."
In order to get home, Snowden occasionally had to get creative. "Sometimes we hitchhiked. I was often the only one who would get a ride home because my pony would jump in and out of pickup truck beds," Snowden said. A skill Snowden learned about his pony out of necessity, he never thought twice about arranging transportation to and from shows.  
Back then, Thoroughbreds were king and horses and horse shows flourished in Virginia. "When I was a kid and I decided horses were what I wanted to do, there were hundreds of horses available to choose from, and a lot were Thoroughbreds," Snowden said. With a constant supply of horses in the area, Snowden was able to make mistakes in selecting horses and learn from those mistakes quickly. "If I realized a horse had too short of a neck to be a good jumper, I could sell it to someone who didn't need a jumping horse. Then when I went to buy my next prospect, I looked for better conformation."
Without the "luxury" of being connected via social media, finding horses relied on who you knew. "Word of mouth was our Facebook back then," Snowden said. "Someone in one part of the state would tell another what horses you had. Then they would come up and check them out. Middleburg was a yearly shopping destination for horse professionals."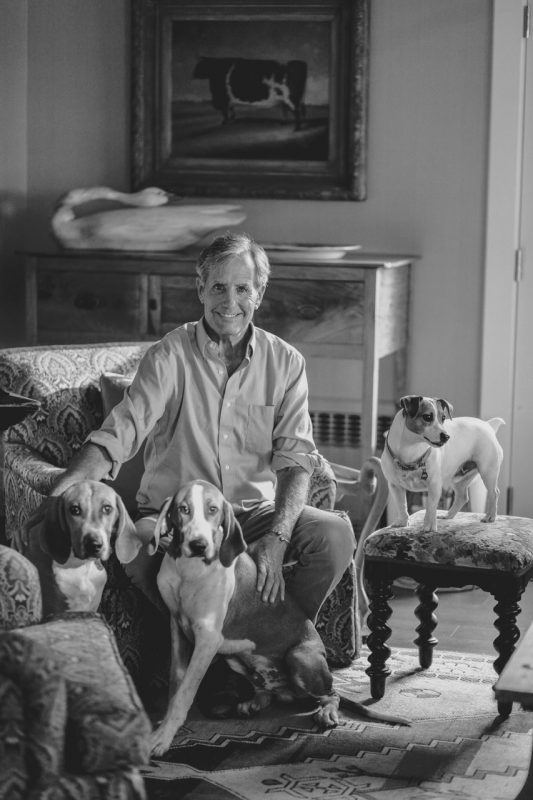 One-Way Ticket
While Snowden was becoming more and more passionate that horses were going to be his life's work, his parents were less enthusiastic about his chosen career path. "My family is very academic: My father and brothers are all lawyers. Not having an education wasn't an option in the Clarke family," Snowden said. "When my parents saw I was going the agricultural route, rather than academic, they bought me a one-way ticket to England."
At 17, Snowden packed his bags and traveled across the pond to be a working student. "It was the most wonderful thing that happened," Snowden said. Much like the United States at the time, Europe had a defined show season, giving Snowden three months each year to try his hand at something other than horses. "I was a model two or three years," he said. "Then I tried to be a ski instructor, failed miserably and had to become a waiter. I was also a hunting groom in Ireland; I loved adding that little bit of variety to my year."
Snowden once again purchased a one-way ticket after nine years in Europe, but this time it took him back home. Once home, he set up his business, Rock Ridge, in The Plains, Virginia. As warmbloods had not yet flooded the market, Snowden continued to find Thoroughbreds from the racetracks to meet his needs. "I learned a lot from each horse that walked through my barn," he said.
After a little more than two decades running Rock Ridge in Virginia, Snowden embarked on another new adventure, this time taking him to California to work for a private family. While there, he connected with several other aspiring equestrians, so once his time with the family was over, he stayed on the West Coast. "I had promised a couple of people to help them get to a certain level in their riding, so I just kept extending my time in California," Snowden said.
Old Dominion Calls 
Although Snowden has left his home state numerous times, the Old Dominion always calls him home. In 2014, Snowden's business partner, Bryce Lingo, was at the other end of the phone line trying to entice him back to the East Coast. "Bryce called and said he had found a farm in Middleburg," Snowden said. "He asked, 'If I buy the farm, will you come back?' I said, 'Yes! This is what I've been waiting for.'"
Bryce held up his end of the deal and bought Orange Hill Farm. A noted equestrian landmark since the 1800s, it sits on 200 acres of land featuring a manor house, multiple barns and indoor and outdoor arenas. Located in the heart of Orange County Hunt territory, the venue is perfectly suited for Bryce and Snowden's love of foxhunting.
"My whole life, I've been surrounded by land and horses, people talking about land and horses. Orange Hill combines all of that," Snowden said. "Our facility really has an advantage because the ring is only part of the training. We have so much land to ride on to get our horses and riders out of the ring."
A private operation, Orange Hill is dedicated to the process of fully developing riders and horses from the ground up, both in and out of the ring. "When I took over the responsibility of a horseman and trainer, it never occurred to me to skip steps and rush right into the show ring," Snowden said. "My job is done when all the boxes are checked and my students know the basics on the ground and on the back of the horse."
"For me, the best riders are those who can clean a stall, wrap a horse's legs, and know if something is wrong with their horse when they get on," he continued. "It can be frustrating at times to see other trainers' kids in the show ring winning while mine are still learning horsemanship, but I believe in my process." 
Snowden's clients also believe in his process and entrust him to select quality prospects and bring them along. "I'm lucky to have fabulous clients who truly support me," he said. "Lysa Burke Hutton has been a great support. We found her a fabulous American-bred horse she's had great success with."
Lysa isn't the only client who believes in Snowden. He has customers who have put together an investment fund to develop their own horses. Like with his human clients, Snowden doesn't rush the process with the young horses. "I don't show or advertise them for sale when they're really green because they aren't up to my specifications. I like to take my time," he said.
After being in the horse business for decades, Snowden has perfected his process. "At my ripe old age, it's great to know what works and doesn't work for me. Having investors that agree with my approach means I'm doing the right thing with my time and effort in developing the horses, and making the right decisions for my program," Snowden said.
While Snowden's horses and riders have had more than their fair share of success in the show ring, his agenda isn't focused on year-end awards. "Every day at Orange Hill, we have a silent reward with people or horses," he said. Regardless of how many ribbons are won in the show ring, Snowden knows his students will be well-rounded horsemen when they grow up, just as he was taught.
Keeping Traditions Alive
Just as Snowden is keeping the basics of horsemanship alive at Orange Hill Farm, he also dedicates his time and energy to the Warrenton Horse Show. Snowden has served on the board of directors for years and is as enthusiastic as ever about the yearly event. "It's a real treat to be part of the board," he said. A fixture at the show, Snowden is often the first person to congratulate the winners and can be found walking the grounds chatting with friends old and new.
Warrenton is like taking a step back in time in Virginia horse show history. "In an ever-changing equestrian landscape in Virginia, this is one thing we can count on and hold onto year after year," Snowden said. For those who haven't attended, the show is one ring with local support both via sponsorship and locals coming out to watch and volunteer. "I can't imagine anything as locally supported year after year as Warrenton Horse Show," he remarked.
Snowden is committed to keeping the land in Virginia open so these time-honored traditions, like Warrenton Horse Show and foxhunting, can continue for decades to come. For the past two years, he's been a realtor with Thomas & Talbot Real Estate. "I went to work for Thomas & Talbot because they're real stewards of land. Like myself, they strive to keep big parcels of land intact," Snowden said.
Growing up foxhunting in the area has given Snowden extraordinary knowledge about both horses and the land. In fact, that's how Snowden "stumbled" upon becoming a realtor. "I sold so many farms before I officially became a realtor. Friends would tell me they were looking for a farm and I would know exactly where to send them," Snowden said. "I didn't even have my license, so I thought, Well, I really should become a realtor and help more people."
In an interesting spin to his equestrian expertise, when it comes to knowing the land, Snowden has been known to use horsepower to scope out the land with clients. "I recently sold a house and the buyers weren't sure how they wanted to lay out the property. So, I put them on a horse for the first time, we went out and rode the land to make decisions from a different point of view," Snowden explained. "By riding the land, we were able to best lay out the property."
Being able to see the best in horses, customers and land is what makes Snowden a success in all of his ventures. "Every day at Orange Hill is a good day," Snowden said.  "Some days are better than others, but every day is a good day."
For more information, visit www.orangehillva.com
Photos by Shawna Simmons, www.sasequinephotography.com
Double D Trailers Info