By Cheyenne Lord
Portraits by Kristie Scholten
Sharing a love of horses with her whole family is something irreplaceable for Grand Prix show jumper Taylor Land. Born to dynamic duo Kim and Jay Land, Taylor has always had horses in her blood. She spent most of her childhood running around their barn in Alpharetta, Georgia, with her brother Alex and sister Frances, sharing ponies and exchanging Halloween candy with each other for more riding time.
Without ever pushing their children into the sport, Kim and Jay made it clear that they had to put in the work if they wanted to compete. Competitive by nature, even during her childhood, Taylor rode in her first leadline class at 3 years old and always chose horses over her other sports, including gymnastics and softball. She and Frances showed together through their early 20s, and even though Alex never wanted to compete and Frances has taken a break to focus on her real estate career, the whole family still spends time together at the barn.
"I am so lucky to share a passion for horses with my family!" Taylor said. "It was amazing to always have someone there cheering who also understood the ups and downs of the sport. Working with our parents was a huge blessing for me and my siblings but also very difficult at times, so it was really nice to have each other to lean on."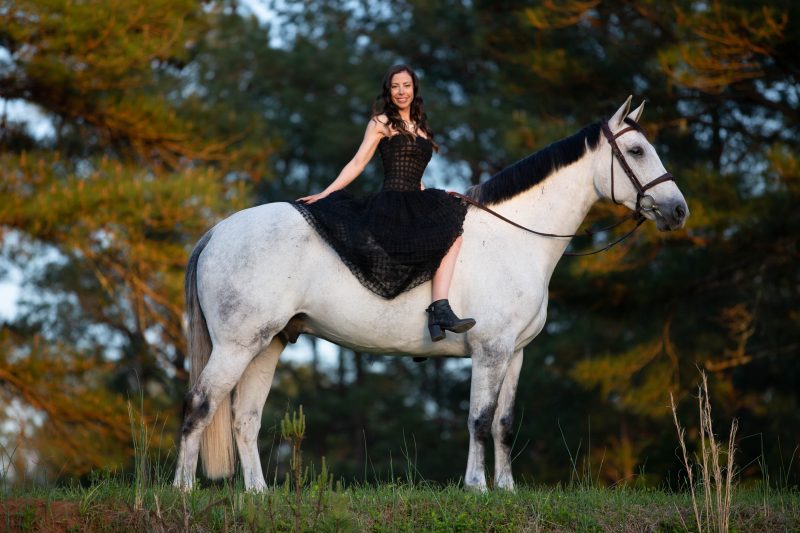 Taylor Land and Kenai, owned by Pinetree Farms.
Falling in Love With Show Jumping
Taylor started her Junior career in the hunters and equitation under the watchful eye of her parents, with training help from Peter Leone, Patti Harnois, Missy Clark and Terry Brown. Although she loved those rings before her parents let her try the jumpers at age 15, there was no going back once she made the switch. She quickly climbed the ranks, earning a team silver medal at the USEF Prix Des States Junior Jumper National Championship in 2007, double gold medals at the Prix Des States in 2008, and individual gold at the Australian Youth Olympic Festival in 2009.
"The hunters and equitation are wonderful building blocks for upper-level jumpers," Taylor said. "Training and showing hunters teaches the importance of rhythm and timing, and the equitation ring helps riders learn to develop and execute plans over difficult jumping courses. After I started riding jumpers, I couldn't imagine doing anything else, but I know that foundation has helped me so much in my training and development of young jumpers."
Part of Taylor's excitement for show jumping is the process of making a plan for each individual horse to execute their perfect course. Competitions become less about being better than the other entries and more about what she and her horse can do against the course design. She also loves the speed and thrill of a good jump-off.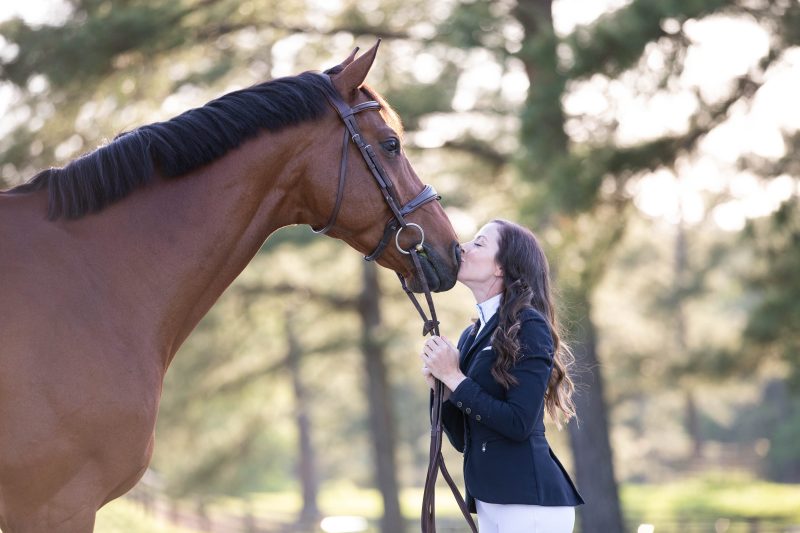 Taylor gives Get Go a kiss.
Knowing that her parents weren't going to send horses to New York when she decided to attend New York University (NYU), Taylor took a gap year after high school to focus on horses. She spent her time riding with Jessie Drea in England and Alois Pollman-Schweckhorst in Germany before showing at Spruce Meadows with her family for the summer. When she moved to NYU intending to major in journalism, she could only ride when she was home for the holidays or on the weekends she could meet her family at shows.
"It was the first time in my life I had gone more than two weeks without riding, and it definitely gave me a different perspective on the sport," she said. "It helped me appreciate how wonderful it is to spend time with horses, even if I'm not competing or striving to achieve certain goals. It also gave me an appreciation for how difficult it is to be a weekend warrior showing horses and made me more grateful for all the time I get to spend with horses now!"
During her college years, Taylor knew her response times on the horse were slower because she wasn't getting enough practice; she now uses that experience to better understand what Juniors and Amateurs go through when they don't ride all the time. After the journalism classes she took early on didn't pique her interest but the cultural foundations classes, including philosophy, did, she switched to Gallatin (NYU's School of Individualized Study) and created her own major: The Philosophy of Positive Psychology.
"It was a combination of positive psychology and the philosophical theories that are relevant to the science throughout ancient cultures," Taylor explained. "It helped shape the way I think and assess problems, so I find it impactful in my teaching of both horses and riders. Positive psychology is all about building up one's strengths rather than focusing on one's weaknesses, and I believe consistency and positive reinforcement are the best tools for getting where you want to go with a horse."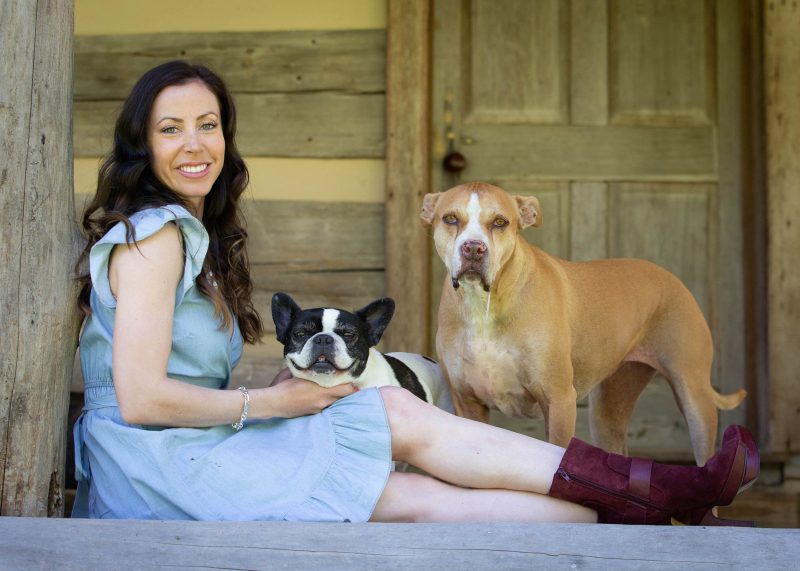 Taylor and Pippa, left and smiling, with Lemons.
Returning to Team Land
Taking the time to experience college life and other jobs outside of horses was an integral part of Taylor's decision to become a professional rider. She returned to the show-jumping world with a renewed love of horses and a goal to establish herself as an independent trainer. With a focus on bringing along young horses, she tailors her program to each horse's individual needs while her parents provide guidance: Kim with general horse care and routines best suited to each horse's performance, and Jay with big-picture strategy and jump-off practice.
"I am so grateful for all my parents' help," Taylor said. "I want to keep developing my business in Atlanta and I would love to have more clients with high-level jumpers in the future. I would really enjoy helping other riders reach their jumper goals, and I also want to continue to grow my own string of Grand Prix horses. It takes a lot of firepower to be competitive on the FEI circuit, and in the long term, I want to compete on the international stage at the FEI five-star level."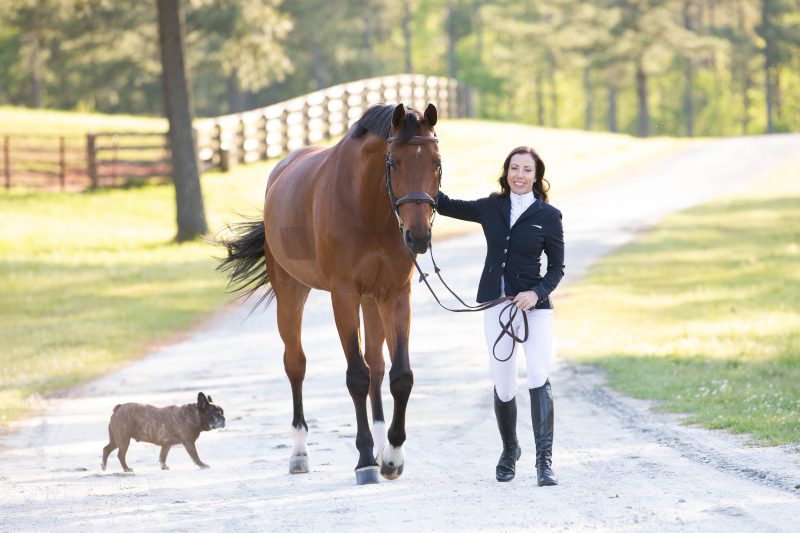 Taylor and Get Go, owned by Pinetree Farms.
Even with these ambitions, Taylor makes sure to listen to what each horse needs, allowing them to grow and learn in a positive, confidence-building environment. She values their performance and longevity overall, so maintaining a high physical and mental fitness level is essential to everyone's development plan. No matter what level a horse is, she likes to work them on hills and uneven footing, taking them for trail rides and trotting and cantering on rolling fields. She also likes to practice pole patterns with each horse and divide their arena jumping work between gymnastics and course days.
Her program at Team Land speaks for itself. Taylor has earned top honors in competitions like the 2018 $50,000 Lindsay Maxwell Charitable Fund Cleveland Grand Prix and 2021 World Equestrian Center $50,000 Fall Finale Grand Prix; took the entire podium at the 2019 $30,000 Tryon Resort Grand Prix; and finished first and second at the 2022 Texas Winter Series $50,000 Antarès Sellier USA Grand Prix. Taylor also focuses on her own physical and mental health leading into a competition, going for a run, doing yoga or simply listening to music that morning.
"Even if I only run for a few minutes or do a few stretches each day, I notice a difference in how I feel," she said. "And at some point after I've walked the course for a class, I always close my eyes and go over the track in my head, rehearsing the way I want every jump and line to feel and what I'm going to see as I'm riding around the course. I love this routine! It helps me feel more confident in my course plan, and everything is more effortless when I enter the ring."
A self-proclaimed "workout junkie" outside of riding, Taylor loves running, yoga, pilates, barre and weight training. She always looks for ways to help her body and mind feel their best for her career and life in general, with reading being another major passion.
Taylor believes that while there is some natural-born talent for riding, every athlete needs to keep practicing to communicate properly with their horse. Even watching other riders' rounds can be a learning experience. "You can do it if you keep trying and putting in the work!" she said. "Horses are hard work, but don't ever give up if you love riding."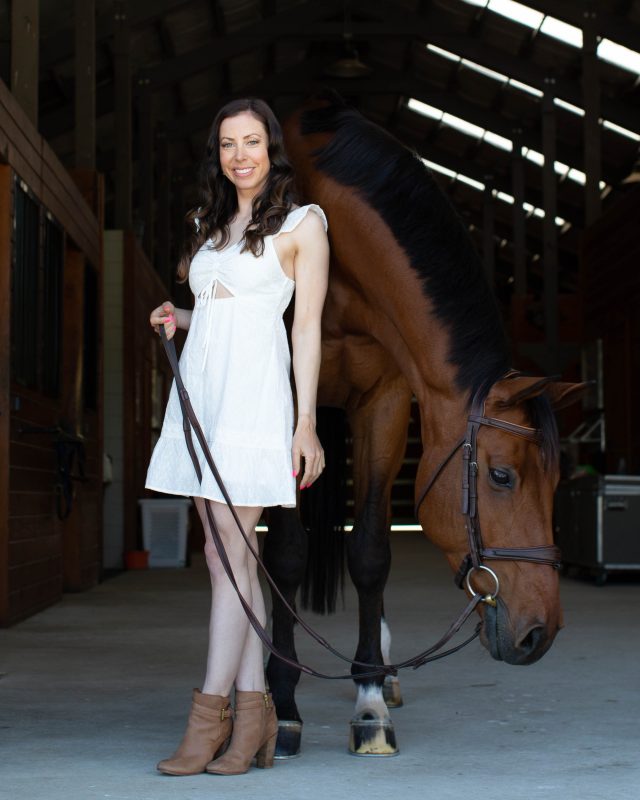 Taylor believes in focusing on strengths of both horses and people.
For more information, visit www.teamlandptf.com and follow her on Instagram @tay_land
Photos by Kristie Scholten, www.moonfyrephotography.com
Double D Trailers Info