All proceeds to benefit Saddle Up!
FRANKLIN, Tenn. (May 11, 2022) – The Music Country Grand Prix, a premier Olympic-style equestrian jumping competition benefiting Saddle Up!, is set to take place Saturday, June 4, at Brownland Farm in Franklin. The Grand Prix gives spectators and patrons the opportunity to witness nationally ranked show jumpers and Olympic hopefuls from across the country competing for the $50,000 purse.
Since 1990, the Grand Prix has raised over $1.7 million in support of Saddle Up!, the only 
PATH International
 Premier Accredited Center in Middle Tennessee, changing the lives of children and young adults with disabilities through the power of equine-based programs.
Demonstrating their generous support of the community, Tractor Supply Company has been the "Grand Champion" sponsor of the Grand Prix for 16 consecutive years.
"The Music Country Grand Prix helps Saddle Up! continue a year-round program that will serve nearly 180 children and young adults this year," said Trina Hayes, who serves as the current board president for Saddle Up! and director of Merchandise Planning at Tractor Supply. "And Tractor Supply is so honored to reaffirm our commitment to the only equine-assisted therapy program in the region exclusively serving children and young adults with disabilities."
As the volunteer leader of the Grand Prix since 2005, Sarah Ingram, honorary chair, added her thoughts on the importance of help from the community in supporting Saddle Up!'s programs: "Tractor Supply Company is a loyal sponsor of the Grand Prix, donating over $300,000 since 2006. We can't thank them enough for their continued support and commitment to the Saddle Up! community. Their generosity, as well as the generosity of our other sponsors, is what helps make this event possible."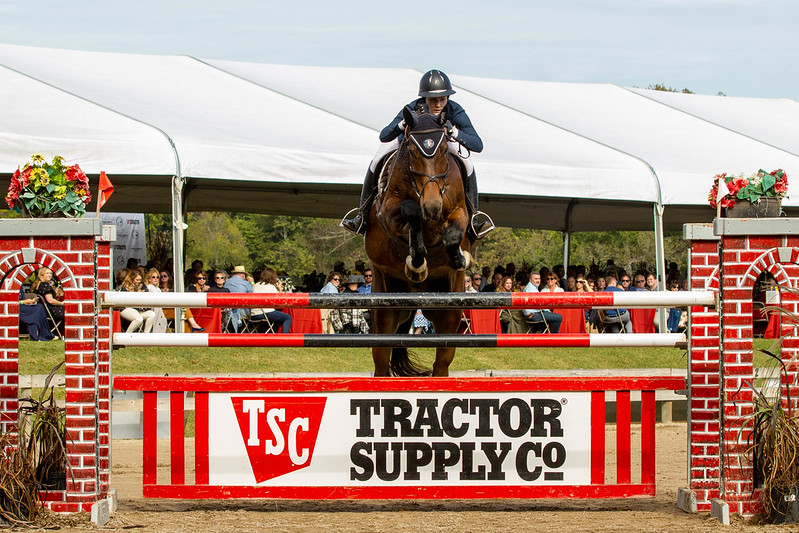 Photo courtesy of Ted Kidd.
The public is invited to attend this event. More information on tickets can be found 
here
.
Event Timeline: 
2:30 p.m.             Gates open | People Prix opens | Silent Auction opens
4:00 p.m.            Leadline and Opening Ceremony
4:30 p.m.             Music Country Grand Prix begins
Additional sponsors include Giarratana LLC, Jackson National Life Insurance Company, Pinnacle Financial Partners, Lipman Brothers ~ R.S. Lipman Company, Brasfield & Gorrie, Hastings Architecture Associates, HCA Healthcare/TriStar Health, Kay and Richard Francis, Nutrena, Panattoni Development, Puckett's Gro. & Restaurant, Southern Land Company, Tennessee Titans, Wells Fargo, Crowe LLP, Diversified Trust, Franklin Horse Supply, Beth and Sam Harwell, HUB International, MarketStreet Enterprises, FirstBank, Gensler, Bank of America Private Bank, Ingram Entertainment, Inc., Lithographics, MP&F Strategic Communications, and Brownland Farm.
Contact Knox Brewer at Saddle Up! at 615-794-1150, ext. 320, or
kbrewer@saddleupnashville.org
 with any questions about the event or for more information about becoming a sponsor.
About Saddle Up!
At Saddle Up!, our programs make a profound, lifelong impact on the physical, cognitive, social, emotional and mental abilities of our participants. For over 30 years, Saddle Up! has used the power of the horse to transform the lives of children and young adults with over 50 different documented disabilities. At our 34-acre farm in Franklin, Tenn., riders ages 2–26 are transformed by participating in our six year-round programs. To learn more, visit
www.saddleupnashville.org
.
Double D Trailers Info