Click here to be sure you're viewing the Sidelines Magazine current classifieds issue.
AIRPORT TRANSPORTATION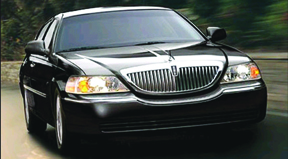 WELLINGTON TOWNCAR & CAB
561-333-0181
Family owned and operated for 19 years.
Safe transportation for you and your family.
Local or long distance.
www.wellingtontowncar.com
ON TIME—EVERYTIME!!
BARN RENTALS
NOW FOR 2016-2017 SEASON
3 STALL w/apt RISO ring reg DRESSAGE w/mirror – Saddle Trail
6 STALL W/APT Sand ring – Saddle Trail
12 STALL W/GUEST HOUSE – Palm Beach Point East
24 STALLS W/2 separate 2 bedroom houses – Palm Beach Point East
6  STALLS W/GGT ring 15 min. to WEF Palm Beach Point
4 STALL BARN in Paddock Park Available seasonally or annually
Holly Chaney KELLER WILLIAMS  Housing also available.
561-719-0828
HollyChaneyGroup@gmail.com
www.HollyChaneyGroup.com
WELLINGTON, PALM BEACH POINT  12 stall w/grooms quarters;  250×110 ring 11 grassy paddock 2 feed and tack rooms .  Hacking distance to show. House can be rented with barn
561-762-5741 tamara411@mac.com
LOXAHATCHEE, FL. BARN FOR LEASE FOR 2017 SEASON OR YEAR ROUND: 24 stall barn or single stalls, sand ring, paddocks & accommodations.  Call Bocoy Stables
 561-654-1252 or 954-274-8148
WELLINGTON: 6 stalls + grooms apt  $42,000 or 8  stalls + groom's apt.  $54,000 Hack to WEF Very large sand arena 3 month rental Appaloosa Trail.  6 stalls Paddock Park II  large sand arena beautiful property $34,000 3 month rental 
Joan Marino Bowen Realty 561-307-4878
BARN FOR RENT WELLINGTON, PALM BEACH POINT  Private 7 acres, brand new barn with 13 stalls, 1 large ring & 1large covered ring, 4 covered wash racks, paddocks, air-conditioned tackroom, utility room w/large washer/dryer  + 1 grooms quarters & option for 10-12 horse tent. Seasonal.  Short hack to Wef. 561-797-9460
LOXAHATCHEE GROVES, FLORIDA:  12 seasonal dry stalls on 10 acres, sand arena, grassy paddocks, camper hook-ups. minutes from global and white fences. reasonable rates. 
dracenedella@aol.com or 207-227-1611
BARN AND HOUSE RENTALS
24 STALL BARN WITH LIVING QUARTERS, WELLINGTON:  2 Tack Rooms/Office (12' x 24' each), Grass Field, 250' x 300', 8 paddocks, Sand Ring, 150 ' x 240', , Wash rack, Laundry room, 1100 SQ. FT. HOUSE  Short hack to WEF grounds.  Call 954-448-1044
WELLINGTON, PALM BEACH POINT  12 stall w/grooms quarters;  250×110 ring 11 grassy paddock 2 feed and tack rooms .  Hacking distance to show. House can be rented with barn 561-762-5741  tamara411@mac.com
AMAZING  RENTALS FOR 2016-2017 SEASON, CLOSER THAN YOU THINK!  6 to 16 Stalls, some with Living quarters – Saddle Trail Park and Loxahatchee Housing, barns, condos & townhomes – all available for the season or all year!  Mary Ellen Sencer  Broker / Owner Saddle Trails Realty, Inc.  561-512-4340 saddletrailsrealty@gmail.com  www.saddletrailsrealty.com
DESIGN / DECORATIONS
FINE DESIGN

When having the best is the only option
Beresford and Castella Designers, equestrians, ASID licensed
561-307-4173
EUROPEAN SHOW & WORKING SHEPERDS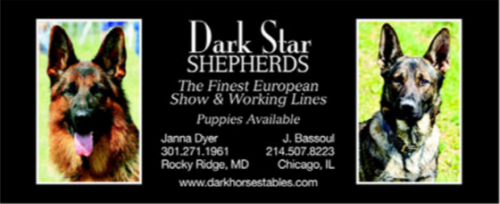 DARK STAR SHEPHERDS: THE FINEST EUROPEAN SHOW & WORKING LINES: Puppies Available. Janna Dyer  301-271-1961  Rocky Ridge, MD
J .Bassoul  214-507-8223 Chicago, IL
www.darkhorsestables.com
HORSES FOR SALE
DAVID HOPPERINC: Amenia, New York 12501. Outstanding selection of sport horses-from unbroken to competition ready. Hunters, Jumpers, Dressage, Equitation. All prices, ranges. David Hopper.
Cell: 914-474-7175. Barn: 845-373-8897.
www.davidhopperinc.com
QUALITY YOUNG SPORT HORSES CAREFULLY RAISED IN THE MIDWEST:  Midnight Express, 5-yr-old bay Warmblood gelding by Malachi, the best temperament, bloodlines and movement, going well under saddle, $20,000; Herbststurm, 6-yr-old black Warmblood gelding by Malachi, amazing brain and nice gaits in a small package – great junior or ladies mount, started under saddle, $12,000; Miss M, 6-yr-old red bay Warmblood filly by Malachi, started under saddle, very pretty, lovely gaits and conformation, $12,000; At stud: Zulu MV, black Warmblood stallion by German Elite stallion Herzzauber, shown on the A hunter circuit under name "Basic Black", 16.1 hands, classic jumping style, awesome mover and very quiet to handle, 2015 Stud fee $1,500. High caliber broodmares for breeding lease.
Contact Kim at 260-468-2392, kim@looncreekenterprises.com .
PHOTOGRAPHY & MEDIA SERVICES
MACMILLAN PHOTOGRAPHY & MEDIA SERVICES:  Experienced photography and public relations team available for farm/stallion/sales horse/equestrian products promotion. Also available for farm/equestrian product photo or video sessions, $550 whole day – $300 half day plus mileage. Also available to do news releases and feature articles. Large selection of equestrian stock photos available for purchase from most disciplines and breeds and many international shows/events. Professional photo editing services. Call or e-mail for rates
260-468-2392, kim@looncreekenterprises.com
REAL ESTATE
CINDY POLK & DAVID O'FLAHERTY, REALTORS; 703-966-9480  Specializing in horse farms and country homes. "Land * Huntboxes * Hobby Farms * Polo Clubs * Fine Estates * Professional Equestrian Facilities * WASHINGTON FINE PROPERTIES.  204 East Washington St., Middleburg, VA 20117
www.horsefarmsandcountryhomes.com
STALL RENTALS
WHITE FENCES, 1-15 matted stalls @ 15 acre farm, mirrored dress.arena, 5 acre exercise field, screened barn, turn outs, $ 700 p.m. per dry stall…part time help available…
www.happydayfarm.com  Tel.561 793 5192
TRANSPORTATION
SHIP WITH CONFIDENCE- CUSTOM AIR-RIDE VANS – ICC, AND DOT licensed. Transportation Dependable coast-to-coast service since 1959!  NATION-WIDE HORSE TRANSPORTATION, INC.  Colorado Springs, CO 80931 719-392-1888 Fax: 719-392-1891
www.nwht.net   1-800-451-7696 
AGENT/DRIVER FOR WELLINGTON, FL . Based Horse Transportation  Operation CDL Required Call: (954) 448-1044
SHIP YOUR HORSE BY AIR WITH CONFIDENCE:  ALEX NICHOLAS AGENCY.  "OLDEST. FULLY LICENSED & INSURED SHIPPING COMPANY IN THE USA."   I.A.T.A. member and in-house custom house brokerage.  Call our competitor first, then call us.  You will not regret it. Daily   international flights… 516-678-9100, 
info@anaht.com www.anaht.com 
FARMINGTON GREEN HORSE TRANSPORTATION – (561) 791-9686; Cell No. (954) 448-1044 D. O. T. Authorized and Fully Insured Air Ride Equipped, Local and Long Distance.
VANS & TRAILERS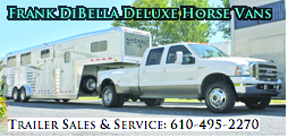 FRANK DIBELLA DELUXE HORSE VANS – We offer a wide selection of new/used horse vans and trailers.  Dealership for 4-Star and Hawk horse trailers.(PA). 
610-495-2270 www.frankdibella.com

TOURBILLION TRAILER SALES
SALES AND SERVICE CENTER

We Custom build Trailers / also
4-STAR, EXISS, SUNDOWNER & HAWK
Call Jay   888-934-2221
401 Snake Hill Rd
Glocester, Rhode Island  02857
jay@tourbilliontrailer.com
We deliver anywhere
SIDELINES MEMORABLE PAST ISSUSES
SIDELINES MEMORABLE PAST ISSUES: Excellent condition.
For the years 2011, 2012, 2013, 2014. Sold in yearly series.  $25.00
561-798-4828
Missed the deadline?

You can advertise on the website

Email: Classifieds@sidelinesnews.com

Next issue 9/13/2016 – Deadline 8/26/2016

List your ad on the Barn Book

Free classifieds
Double D Trailers Info