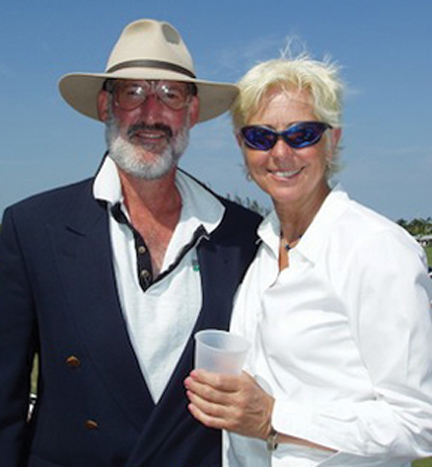 In Memory of H. Ben Taub
H. Ben Taub, better remembered in his worn cowboy boots and well-worn cowboy hat, in a rare dressed up moment with Sidelines Magazine publisher, Samantha Charles, on the fields of Palm Beach Polo and Country Club. By Ed Scanlon
There is a kind of immortality that comes to us all in memory and the reflective affection of our family, friends and loved ones. H. Ben Taub passed into immortality in the early morning hours of May 20, 2014.
I met H. Ben on a polo field in San Antonio, Texas, over 35 years ago. He was playing back for a Houston team and I was playing 1 on a team from Willow Bend out of Plano (Dallas). We spent six periods trying to kill each other. The "ride-offs" were barely controlled crashes, the hooks were full on shots against each others' mallets. At the end, sitting on the fender of my trailer very sore, slightly bloody, in trouble with my groom for the trial I had subjected my horses to, I thought I might be a little angry. Up walked my opponent with a six-pack of Bud in his left hand and an outstretched right. "Hi, I'm H. Ben Taub from Houston. Glad to know you." We were best friends from then on.
"H" was a polo player's polo player; it was all about the horses. He bought the best and kept them at home where he could supervise their care. When he went to Florida to play in the Gold Coast League (remember that) at the new and spectacular Palm Beach Polo and Country Club, he went to stay for the duration to be with the horses and work on his game. His "work" work was done on the phone from there. And, contrary to the impression he liked to give, he did work. I know, I was one of his brokers and I never knew a more diligent investor or business owner.
Over the years we played against each other as much as together. It was always a good-natured battle. In 1987, he decided we should make an all-amateur 12-goal team and enter the Intra-Circuit 12-goal. H. Ben, Tom Gose, David King and I added up to 12 goals, entered in San Antonio and won. We took the team to Lexington for the National 12 Goal, and lost in the semi-finals. Had a helluva time and scared some people. H. was, most of the time, a happy warrior, but a warrior nevertheless.
In recent years, H. Ben played ranch polo at his home, Paradise Lost Ranch, and so it was on March 2nd, playing ranch polo with his friends that H. Ben had a fall. His horse caught a toe, stumbled and went to the ground. H. Ben was slammed face first into the turf. He broke his nose, a rib, some teeth, and had three contusions on his spinal cord. All together, he was paralyzed from the chin down. He regained feeling over most of his body, but unfortunately passed away. Friends from all over the country gathered in Houston to wish him on his way. Those who knew him know they will not see his like again and we will miss him.
The San Diego Polo Club (SDPC) kicks off its 28th season in Rancho Santa Fe on Sunday, June 1st with Opening Day presented by Land Rover of San Diego. Gates open at 12:30 p.m. for two action-packed matches at 1 and 3 pm where local and international polo players will compete in front of an estimated 2,500 spectators. At 2:30pm, guests will enjoy a fashion show presented by stylist, Raina Leon, featuring fashion from local Del Mar boutique, Van de Vort. Join Riviera Magazine and DJ Here after the matches for the anticipated 7th Chukker After Party until 7pm. Polo is presented to the public every Sunday from June 1 to September 28 with the exception of July 27, August 3 and August 10. Each Sunday, the SD Polo Club features two competitive matches, intermission entertainment, and a divot stomp – which is a chance to stretch your legs and walk on to the polo field with a glass of champagne and stomp the divots that have been kicked up by the polo ponies. Each Sunday, the San Diego Polo Club partners with various groups, brands and charities, making each Sunday event unique.
Virginia International Polo Club has planned a packed summer season from June to September with polo for everyone. They have polo school four times a week, where seasoned veterans and beginners enjoy relaxed and social grass scrimmages on the many Club ponies. There are two 4-goal leagues every Saturday. A Sunday Challenge League (6-10 goals), and an 8-10 goal weekday league. There will also be a National Youth Tournament series on July 8. And Women's Championship Tournament qualifier games the week of July 23 – 27. There will be Junior games every Tuesday and two weeks of Kids Polo Camp: June 24-27 and July 15-18.  With a friendly staff and a stunning historic estate, VIPolo truly offers something for everyone! For more information/reservations please call Kirsten at: 561 203 0400 or kirsten@poloconcierge.com. Visit our website at: www.vipoloclub.com . Photo by Maureen Brennan
For all the gossip and photos subscribe!
Double D Trailers Info