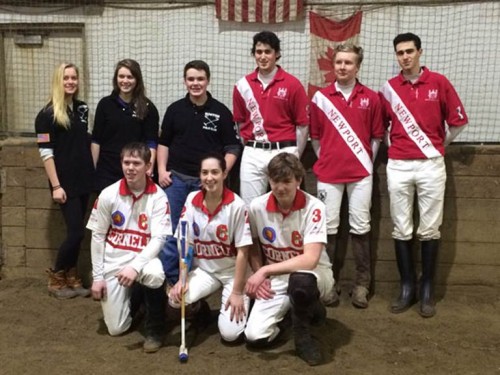 1: Newport Polo is proud to announce that the Newport Interscholastic Polo Team has brought home the Sportsmanship Award and an All Star recognition from the United States Polo Association's Northeast Preliminary Tournament. As the only team from Rhode Island and competing in their first season, brothers Alden Schuman and Miles Schuman, with classmate Liam Griscom placed 3rd. Host team, Cornell took 1st place in the weekend-long tournament, and Liam Griscom was named the Sportsmanship Award recipient and Miles Schuman was named to the All Star Team. The Newport Interscholastic Polo program includes boys and girls in grades 7-12, and welcomes interested new students. For more information, visit www.nptpolo.com.
Pictured: from top left: the Boston Interscholastic Polo Team, Newport Interscholastic Polo Team (Alden Schuman, Liam Griscom, Miles Schuman) and the winning Cornell Interscholastic Polo Team, front row.
2: A new level of polo came to the polo pitches of the VR Sports Club in Bangkok at the beginning of 2015 with the start of the biannual Thailand Polo King's Cup Tournament. Six international teams met for the highest handicapped tournament in Asia, for an international tournament full of action and polo history in the making as 10-goalers Gonzalo Pieres and Pablo Mac Donough did battle on the VR Field, Bangkok, playing for the first time in Thailand. After four days of exciting play it was the home side from Thailand – King Power – Apichet Srivaddhanaprabha (0) and Aiyawatt (Top) Srivaddhanaprabha (1), Gonzalo Pieres (10) and Marcos Di Paola (8) who beat Ahmibah Brunei – HH Prince Qawi (-1), HRH Prince Jefri Bolkiah (0), Francesco Bensadon (8) and Ale Agote (8) by a lucky 13 goals to 12 on the VR Field.
For all the gossip and photos subscribe!
Double D Trailers Info