Wellington, FL -March 13, 2013- Thursday morning March 14th begins the Adequan Global Dressage Festival WEF Dressage Classic CPEDI3* presented by Today's Equestrian and Fellows. Scheduled March 14-17, this will be the first opportunity of the 2013 season for Para-Equestrian Dressage riders to begin the qualifying process for the 2014 Alltech FEI World Equestrian Games in Normandy, France. The Adequan Global Dressage Festival CPEDI3* will take place in Wellington, Florida at the beautifully designed Adequan Global Dressage Festival Show Grounds. The weekend's CPEDI3* will include equestrians from the United States and Canada including multiple 2012 London Paralympic riders.
Schedule:
March 14, 2013- FEI Horse Inspection
March 15, 2013-Team Test Grade Ia, Ib, II, III, IV
March 16, 2013-Individual Test Ia, Ib, II, III, IV
March 17, 2013-Freestyle Championship Tests Grade Ia, Ib, II, III, IV
Untied States Para-Equestrian Dressage riders include:
Frederick Win-Grade IV
Mary Jordan-Grade IV
Laurietta Oakleaf-Grade Ib
Sydney Collier -Grade II
Eleanor Brimmer-Grade III
Equine Canada Para-Equestrian Dressage riders include:
Robyn Andrews-Grade Ia
Lynne Pool- Grade IV
Jody Schloss-Grade Ia
Madison Lawson-Grade IV
Lauren Barwick-Grade II
Ashley Gowanlock- Grade Ib
For questions about the 2013-2014 Para-Equestrian Dressage season please contact the USEF High Performance Director of the Para-Equestrian Discipline Laureen K. Johnson at (908) 326 – 1155 or e-mail lkjohnson@usef.org
For more questions about Para-Equestrian Dressage please contact Hope Hand at Hope@uspea.org or (610) 356-6481.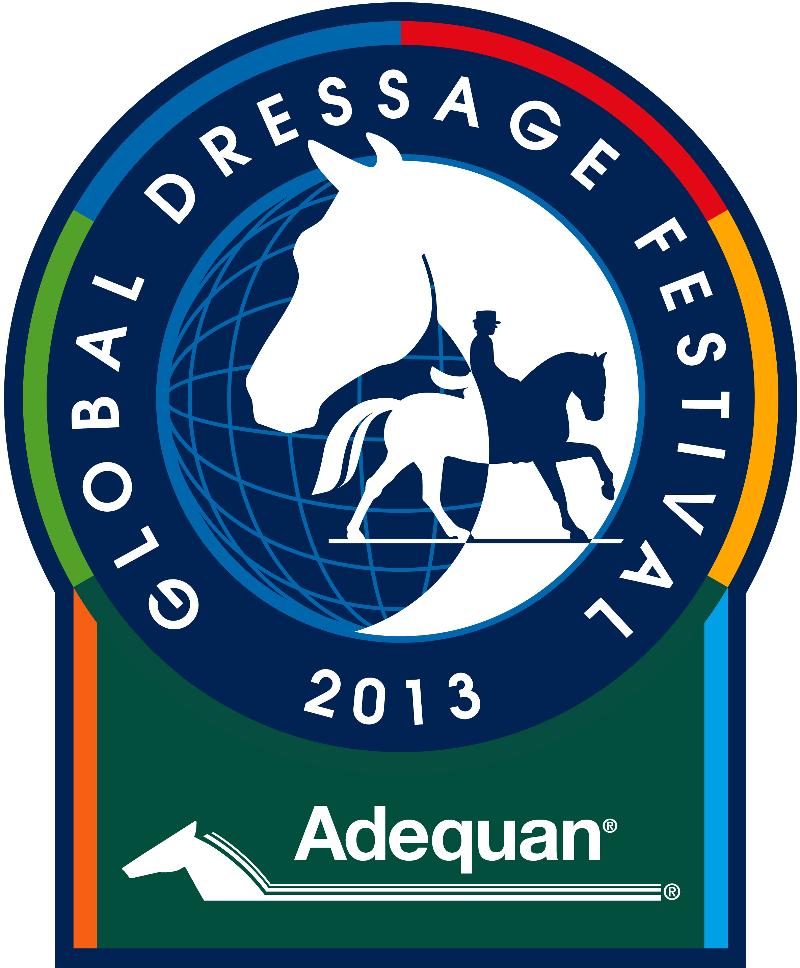 2013 Adequan Global Dressage Festival Show Managers:
Manager/Entry Secretary: Lloyd Landkamer phone: 612-290-8523 Fax: 866-832-8610 Secretary: Angela Goodwin-Volpert / Peggy Warren
Co-Secretary: Becky Johnston
Co- Manager/Secretary: John Hoppman 612-799-6381
E-mail: DressageFestival@aol.com
Website: GlobalDressageFestival.com
Ground Jury:
Carlos Lopes (POR/4*), Bo Ahman (SWE/4*), and Hanneke Gerritsen(NED)
Please check out the new FEI Tests Here (LINK)
http://www.fei.org/disciplines/officials-organisers/organisers/para-equestrian-dressage/dressage-tests
ALLTECH FEI WORLD EQUESTRIAN GAMES 2014 Qualification Criteria
Qualification Period:
Start: January 1, 2013
End: XXXX 2014 (TBD)
Qualifying Events:
Any CPEDI3* or CPEDI4* event during the qualification period in addition to the Paralympics Games 2012 London
Qualification Score:
All athlete/horse combinations must have attained (as a combination) a minimum 60% score attributed by the Ground Jury in a Team test or Individual Championship test one time.
Judges:
Minimum of 3 FEI PE5* or 4* judges of different nationalities
About the Adequan Global Dressage Festival (Excerpt From http://www.globaldressagefestival.com)
The Adequan Global Dressage Festival (Adequan GDF) was created as one of the finest show grounds in the world with a calendar of events and prize money in its first year that places it in the top tier of competitions.
Five CDIs staged by a single organization are more than at any other show grounds in the world. Prize money of more than $275,000 that is the richest single circuit except for the World Equestrian Festival in Aachen, Germany, what is to horse sports what Wimbledon is to tennis.
The show grounds consists of four arenas that are equal in quality to those at the 2012 and 2008 Olympic Games, several hundred stadium seats around the main ring and the first 200 of what will be 300 permanent horse stalls and a raised courtyard at the center of the show grounds providing a panoramic view of the entire facility. One of the world's largest covered arenas at 360 by 210 feet (110 x 64 meters), and a VIP club overlooking the main competition arena.
Dressage has replaced the billiard-table smooth grass polo fields that were the Palm Beach Polo and Country Club stadium where Prince Charles played to kick start Wellington as THE winter lifestyle destination for the world.
The dressage grounds adjoin a beautiful grass jumping derby field all part of the sprawling Palm Beach International Equestrian Center that attracts thousands of horses from about three dozen countries for jumper and hunter competitions in an calendar that has expanded from a few weeks in winter to shows from Fall through Spring, centered around the Winter Equestrian Festival and its $6 million in prize money.
To learn more about the Global Dressage Festival please visit: http://www.globaldressagefestival.com
About United States Para-Equestrian Association:
The USPEA is a network of riders, judges, national federation board members, and equestrian enthusiasts. The association gives athletes the ability to get involved and expand their knowledge and experience in the Para-Equestrian sport. The USPEA encourages para-athletes to participate in all disciplines under the para-equestrian umbrella.
The USPEA is a recognized affiliate of the United States Equestrian Federation (USEF) which serves as the National Governing Body for the equestrian sport. This relationship between the USPEA and USEF is to encourage para-equestrian competitors, leisure riders, coaches, fans and enthusiasts to network and get involved with the entire equestrian sport.
Ultimately the goal of the USPEA is to foster growth in the para-equestrian discipline. From growth in the number of participants to growth as a team, and growth in the experience and knowledge of all involved. From local horse shows to international Olympic Games, the USPEA will provide para-equestrians the knowledge of what they need to succeed. The USPEA connects with the International Olympic Committee (IOC), the Federation Equestre Internationale (FEI), the United States Dressage Federation (USDF), and USEF which provides Para-Equestrians the top equestrian resources.
In June 2010, the USPEA earned its 501 (c)(3) status which has encouraged supporters to help supply funding to the Para-Equestrian Team as a recognized affiliate of the United States Equestrian Federation(USEF).
For more information about the USPEA please visit www.USPEA.org or contact USPEA President: Hope Hand by e-mail: Wheeler966@aol.com or by phone: (610)356-6481.
To view an online version of this press release please visit: http://uspea.org/category/recent-uspea-press-news/