Traverse City, Michigan – July 16, 2012 – As Shane Sweetnam walked into the ring aboard Spy Coast Farm LLC's Little Emir for the jump-off of the $30,000 Grand Traverse Bay Grand Prix, he was weighing his options.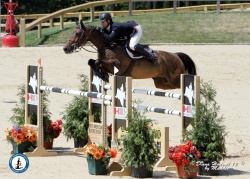 With just two riders to follow him in the 17-horse jump-off, Sweetnam was figuring out his odds. At the moment, he held the lead aboard his other mount, Rolette, and he was currently sitting on one of his most experienced grand prix partners, the 14-year-old German-bred Little Emir.
After considering all of these factors, Sweetnam picked up a gallop and made his choice. Instead of turning left from fences 3 to 4 as the rest of the competitors had done, Sweetnam chose a much more difficult right cut that shaved valuable time but was also riskier.
"This horse has a lot of experience, and I knew I could test him," said Sweetnam of the bay he's ridden for six years. "I was leading at the time with Rolette, so I thought it was a good time to risk it."
Indeed, Sweetnam's jump-off performance with Little Emir proved unbeatable, although second-placed Hayley Barnhill gave it a great shot aboard Janet L. McCarroll's Ultaire. Barnhill went after Sweetnam but didn't attempt the tight right-hand turn. Her quick gallop and tight turns with the 11-year-old Dutch Warmblood (by Voltaire) was good for the runner-up position for the second consecutive week.
Eirin Bruheim, who has also enjoyed a banner week at the Horse Shows by the Bay with multiple victories in the Junior/Amateur-Owner sections, jumped to third place with Nordic Light Farm's Cicero 75. The pair also tackled the jump-off track after Sweetnam and Little Emir, and although they couldn't quite match the winning performance they came admirably close.
A strong field of 27 tackled the first-round course designed by Guilherme Jorge (Sao Paulo, Brazil). Set in the Flintfields Horse Park's stunning Grand Prix Arena, the course allowed riders several options but also tested them on scope and rideablity.
Sweetnam, 31, of Wellington, Florida, was well prepared for such a test, however. The Irish rider traveled to the Horse Shows by the Bay Equestrian Festival on his way south after a successful run at the Spruce Meadows Tournaments in Calgary, Alberta.
"I sent most of my horses home but saved these two [Little Emir and Rolette] for Traverse City. They are older horses, both 14, and did their jobs well," said Sweetnam. "It was a great day, with a big crowd and it seemed everyone was enjoying themselves and getting into it. I know I did."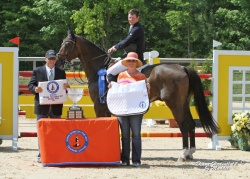 Sweetnam, who also won Friday morning's $10,000 Positive Step Farm Open Welcome with Little Emir, is an experienced international rider and has represented his country four times this year alone. Last year was one of his most successful to date, and his accomplishments included victory in the Spruce Meadows Derby, being a member of the winning Irish Nations Cup team in La Baule, (France), a double-clear performance in the Dublin, Ireland, Nations Cup, and an impressive clear in the Nations Cup in Aachen, Germany.
The Sweetnam family's success didn't stop at the grand prix, however. Shane's wife Allison trained Mahogany and Lindsey Tomeu to the Adult Jumper Championship after the pair earned first- and second-placed ribbons this weekend.
Patricia Hennessy and Little Tom, two long-time partners, took control in the $2,500 NAL/WIHS Adult Jumper Classic. The duo return to Horse Shows by the Bay as the reigning champions of the 2011 $10,000 Children's/Adult Jumper Prix, and it's obvious that they're still on their game after seven years together.
"I had originally gotten him to resell as a project, but I started riding him and it clicked after a while," said Hennessy who trains with Chris Kappler. "He's just been so much fun to ride."
Up-and-coming jumper riders also took centerstage during today's action at the Horse Shows by the Bay Festival. In the $2,500 NAL/WIHS Children's Jumper Classic, a familiar name but perhaps new face posed for the winning photo.
Lucy Matz, of Unionville, Pennsylvania, daughter of legendary show jumper and top racehorse trainer Michael Matz, guided her Umberto Ter Linden to the blue ribbon over Lyla and Emily Sheveland. Dream Boy and Nicole Dennis placed third.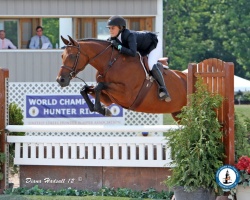 Junior hunter riders had valuable USHJA/WCHR points as an additional incentive today in the R.L. Polk Family Main Hunter Ring. And Victoria Press made the most of the opportunity with a clean sweep of the Small Junior, 15 and under, over fences classes aboard her 7-year-old warmblood mare Akinda. Their third-placed under saddle ribbon was icing on the cake on the way to the Grand Junior Hunter Championship, and the pair went on to win the WCHR Small Junior Hunter Classic.
In addition, Press, from New York, New York, and Akinda, trained by Andre Dignelli and Heritage Farm, earned the Hillside Farm/USHJA WCHR Junior Hunter High-Score Award for their score of 90 in the handy class.
Martha Ingram on Cayero also collected her fair share of WCHR points after winning the WCHR Large Junior Hunter Classic and earning the Championship in the Large Junior Hunter, 15 and under, section.
"I was so nervous going in because I wanted to do so well, and I knew the first jump on the rail by the tent would make the lead in the first turn a little difficult," said Ingram. "I was also worried about the bending line, but once I started I settled down and it turned out great. I just love this horse."
Martha followed in her father John's footsteps this week, as he had earlier earned the 3'6" Amateur-Owner Hunter, 36 and over, Championship. Trainer Tom Wright was pleased with the Ingram family's performances this week. "There's just not a nicer person at the show than Martha, and I have really enjoyed watching Martha's riding catch up to her personality," he said with a smile.
"Some of the best hunters in the country are here, and I believe that the beautifully constructed jumps really allow good horses to bloom here," added Wright.
In the Large Junior Hunter, 16-17 section, Reid Patton and the veteran Foreign Encounter, also trained by Wright, topped the standings after earning three out of the five blue ribbons in the division. In the Small Junior Hunter, 16-17 section, RMW Ferrari and Taylor Schmidt earned the championship tricolor for owner Mary M. Shirley.
Maggie Ridenour also made an impressive sweep of the big equitation classes today, earning top calls in the Pessoa/USEF Medal as well as the ASPCA Maclay. She rode Show Boat to the blue in both classes, under the watchful eye of trainer Kim Carey.
In Rings 3 & 4 and in the VanKampen Ring the Adult, Children's Hunter, and Pony Divisions and Classics concluded boasting large numbers and high scores. Championships, Overall Grand Championship, and High Score honors can be found by visiting www.horseshowing.com. For more information on the Horse Shows by the Bay Series, please visit www.horseshowsbythebay.com.
Festival competition resumes this Wednesday. Feature events include the $20,000 International Hunter Derby, $5000 National Hunter Derby and the $30,000 Grand Prix of the Great Lakes.