Canada Sweeps FEI Grand Prix CDI 3* presented by Peacock Ridge
For Immediate Release
Laura Cardon for Jennifer Wood Media, Inc.
Wellington, FL – February 21, 2014 – Individual medals for the Stillpoint Farm CDIO Nations Cup were presented following the FEI I-1 Freestyle and FEI Grand Prix Freestyle competition, part of the week's featured "Friday Night Stars" event. Both freestyles were judged as one class to crown the individual champions of the Stillpoint Farm CDIO Nations Cup at the Adequan® Global Dressage Festival (AGDF). Earlier in the day, riders from Canada took the top three places in the FEI Grand Prix CDI 3* presented by Peacock Ridge.
The top three in the CDIO competition all scored within one percent of each other, with Adrienne Lyle and Wizard taking the top podium position for their score of 75.800%. Matute Jr. wasn't far behind with Don Diego Ymas; the pair scored a 75.325%. Tina Konyot and Calecto V finished with a 75.200%.
Watch Adrienne Lyle and Wizard perform their winning freestyle test! Video courtesy of Campfield Videos.
Tuny Page of Stillpoint Farm was extremely pleased with how the class played out, using the format tested for next year's Pan American Games for both the team and individual competition. The format may have been unusual, but Page believed it brought out the best in the sport. "It is an unusual situation to have I-1 and grand prix compete against each other, but in this instance I honestly think the cream rose to the top. My sense of it is that the judges are really satisfied with the results that they got," Page commented.
Page was also very happy with the turn out of the crowd and their enthusiasm for the sport.
"It's a really great synergy between the riders and the audience. These three riders elicited a huge response from the audience, and that speaks to the truth of what they had – tremendous harmony and huge risk. Risk that they pulled off, so I say bravo!" Page remarked.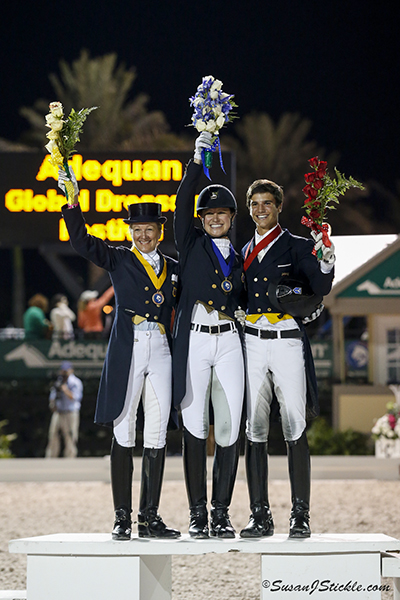 Tina Konyot, Adrienne Lyle, and Juan Matute, Jr.
While sponsoring the entire circuit has been incredibly rewarding for Allyn Mann of Adequan®, the Stillpoint Farm CDIO Nations Cup competition was in a league of its own.
"The element of the Nations Cup just takes it to another level. I think of Robert Dover and his vision for us going down the road. The excitement of the competition for the individuals and for the teams. We are just thrilled to be a part of it, and I am just so overwhelmed by the gratitude that people have shown us for being just a little piece of the puzzle. I think it takes a community of people to make this work, and I'm just so humbled to be a part of it," Mann commented.
Having two American riders medal individually on the heels of a USA victory during team competition was the perfect ending for United States Dressage Chef d'Equipe Robert Dover.
"I have been unbelievably proud of all of our riders throughout the Nations Cup," Dover remarked. "Debbie MacDonald is the best person and the best coach a group of people can have and she and I together make a really strong team, with all the coaches and all the staff, everyone that has come here from the USEF. Debbie and I and the other coaches are determined, along with our federation, to move this country not just to a medal podium, but to the highest one."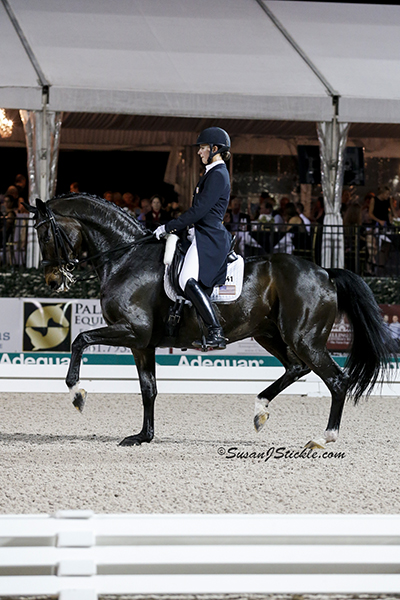 Adrienne Lyle and Wizard
It's been some time since Lyle and Wizard have attempted the FEI Grand Prix Freestyle, but it was plain to see during their performance that both rider and horse were more than happy to be riding their test.
"I was thrilled with my freestyle," Lyle beamed. "[Wizard] is very spicy. He is very hot-headed, especially in the freestyle, so we've actually been making a plan on how to build up to this. We got him out, walked him around, put him back, got him out again, trying to ease him into it. He actually felt super rideable, probably the most rideable he's felt in a freestyle. I'm so thrilled with him. He felt powerful and expressive, but he still stayed with me."
She continued, "I love my music. It's fun, it's exciting, it gets the crowd going. He's got a lot of personality when he gets out there, and the crowd's always into it, they're whooping and hollering, and he builds on that and I do too, and I just think it's fun to ride to!"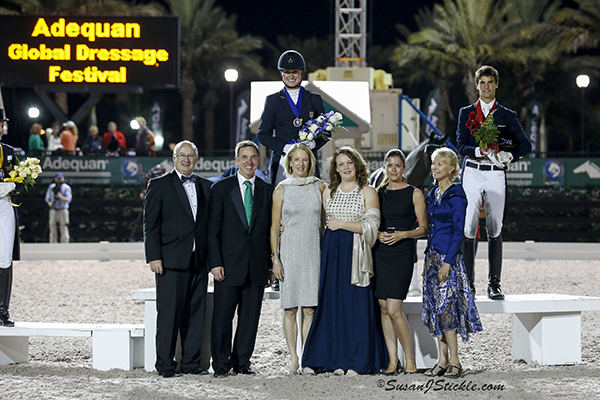 Adrienne Lyle in her winning podium presentation with Equestrian Sport Productions' Michael Stone, Allyn Mann of Adequan, Tuny and Charlotte Page of Stillpoint Farm, Cora Causemann of ESP, and President of the Ground Jury Anne Gribbons
Lyle also expressed her gratitude to the Thomas family, her long-time supporters and owners of Wizard.
"Thank you to the Thomas family. They've been my sponsors for nine years, eight years with Wizard. If it wasn't for them, I wouldn't have any of the chances that I have had in my career. They have been incredible," Lyle expressed.
Matute Jr., who competed at the FEI Intermediaire-1 level, did not dwell on the fact that he was going up against riders capable of more complicated movements, instead focusing on the great feeling he got out of Don Diego Ymas.
See Juan Matute, Jr. and Don Diego Ymas perform their freestyle! Video courtesy of Campfield Videos.
"Grand prix has a lot of harder movements, a little more risk. Overall harder to ride, a harder tour. I was super pleased with my score. The ride was phenomenal. I think I got pretty much all out of Don Diego. It was fantastic. I couldn't ask for anything more. No complaints!" Matute Jr. grinned.
Friday evening's class was only the third freestyle Don Diego Ymas and Matute Jr. have performed and the first time either had ever competed under the lights. Despite some initial nerves, Matute Jr. agreed that the increased atmosphere was a lot of fun for both of them.
"He actually likes it. I think he likes the people watching him and the pressure of everyone watching. I think we both like it actually," Matute Jr. explained.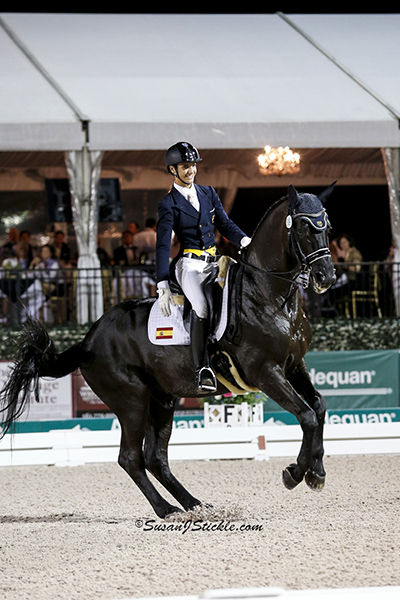 Juan Matute, Jr. and Don Diego Ymas
He continued, "This was our third freestyle. Our cleanest, our most pushed to the limit. I think it was our best freestyle so far, and I think the pirouettes with one hand was the highlight of the test today."
Konyot admitted that she and Calecto V can have trouble accepting anything but first place, but she was very pleased to see her younger counterparts on the podium on Friday.
"I think it's the first that I am so thrilled to be third actually," Konyot laughed. "I mean I always want to win, but I am so excited and so happy. First of all, the young man, I am overwhelmed just watching him ride, the family, the overall feeling of it was so happy."
The evening's atmosphere was electric thanks to packed stands and a black tie dress code for the Global Pavilion. A South Florida native, Konyot was especially excited to see the surrounding community flocking to The Stadium.
Tina Konyot and Calecto V
"When we drove in here this evening to see all the people and excitement, all revolving around dressage, here in South Florida where I was born and raised. It's just an amazing feeling," Konyot remarked.
Matute Jr. concluded the evening by honoring his father, Juan Matute Sr., whom he credited with his success. After a touching speech expressing his gratitude, he removed his silver medal to place it around his father's neck.
Addressing his father, Matute Jr. said, "I want to thank my dad. This medal, I know it was me in the ring, but he is the reason I am here. He is my number one coach. Everything I know and everything I have learned is because of him. So this medal is for you. It's yours!"
Karin Pavicic and Don Daiquiri Are Best in FEI Grand Prix CDI 3* presented by Peacock Ridge
Earlier on Friday, Canadian riders swept the FEI Grand Prix CDI 3* presented by Peacock Ridge, with Karin Pavicic winning the class aboard Don Daiquiri. Don Daiquiri, a 12-year-old Oldenburg gelding owned by Jayne Essig, and Pavicic earned a top score of 69.440%. Second place finishers Tom Dvorak and Viviva's Salieri W finished on a score of 68.620%. The top three was rounded out by Jacqueline Brooks and D Niro; the pair finished in third place with a 67.120%.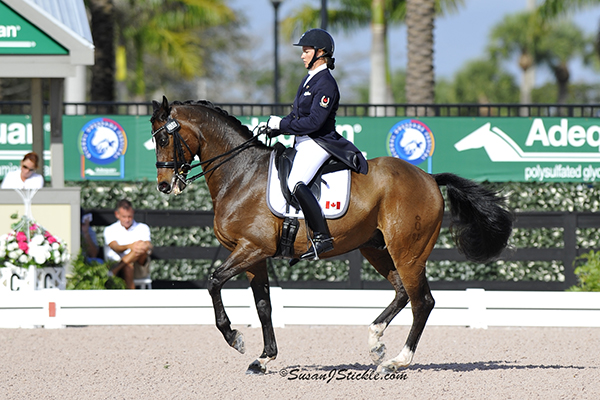 Karen Pavicic and Don Daiquiri
For her win, Pavicic was also awarded the Champion Equine Insurance Dressage Style Award, presented by Laura Fetterman.
Pavicic has ridden Don Daiquiri for owner Essig for the last six years. Essig bought him as a five-year-old and handed him over to Pavicic upon realizing he needed the touch of a professional.
"It's been a fantastic journey with him. He was a little bit challenging to start with, which is why I got the horse. It was a bit too much horse [for the owner] and we really hit off in the very beginning, and it's just been getting better and better throughout the years," Pavicic explained. "I think that's the really great thing about this sport. As the partnership grows and develops, your results I think speak for themselves."
Despite being a little bit tired going into the test, Pavicic thought Don Daiquiri still performed beautifully in the ring. "I was really happy with my horse today. He was a little bit tired when I brought him out, but overall super rideable and relaxed. My goal was to be mistake-free, and I accomplished that for the most part. I'm really happy about that," Pavicic detailed.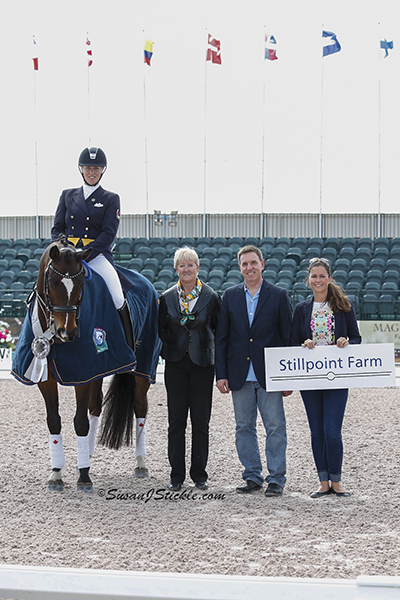 Second place finisher Dvorak, of Ontario, was also thrilled with his horse, describing Friday's test as a "breakthrough day" for Viva's Salieri W.
"Today was a breakthrough day because up until now, he always had a lot of tension in the ring and that tension always went a little bit against me and not for me. Today, he had so much energy and he was so rideable and so true. There was so much there for the taking, I didn't even know what to do with it when I was in there," Dvorak smiled.
Viva's Salieri W has only seriously campaigned the grand prix level since last fall, after taking Dvorak to team silver for Canada in the 2012 Pan American Games. An injury early on in his grand prix transition sidelined the gelding, but now that he's healthy and back in the grand prix ring, Dvorak says he hasn't looked back.
Dvorak and Pavicic were exceptionally pleased to have Canada take the top three spots in the class. Both riders have their sights set on the Alltech FEI World Equestrian Games in Normandy. Following the AGDF, Dvorak and Pavicic will continue to contest various CDIs on the way to qualifying for Team Canada.
The FEI Intermediaire B 16-25, sponsored by Diamante Farms, wrapped up after the FEI Grand Prix CDI 3*. Melanie Montagano (USA) and Ga Deva topped the class with a score of 57.548%.
Full Results for FEI Intermediare-1/Grand Prix Freestyle CDIO 3* presented by Stillpoint Farm
Rider, Country, Horse, Age, Breeding: Judge E%, Judge H%, Judge C%, Judge M%, Judge B% Total%
1 Adrienne Lyle, USA, Wizard, 15-year-ol Oldenburg gelding owned by Peggy Thomas, Pica x Weltmeyer: 74.375%, 76.250%, 75.125%, 77.375%, 75.875%, 75.800%
2 Juan Matute Jr., ESP, Don Diego Ymas: 11-year-old Hanoverian owned by Juan Matute, Sr., St. Pr. Hauptstutbuch x Don Frederico: 75.875%, 74.625%, 76.000%, 75.250%, 74.875%, 75.325%
3 Tina Konyot, USA, Calecto V, 16-year-old Danish Warmblood stallion owned by rider, Bahera x Come Back II: 74.375%, 74.000%, 77.000%, 76.375%, 74.250%, 75.200%
4 Shelly Francis, USA, Doktor, 11-year-old Oldenburg gelding owned by Patricia Stempel, Gurena x Diamond Hit:74.625%, 71.500%, 71.500%, 76.375%, 73.000% 73.400%
5 Belinda Trussell, CAN, Anton, 14-year-old Sachsen gelding owned by Robyn Eames, Shirley x Anteaus: 71.875%, 71.750%, 73.875%, 73.000%, 72.000%, 72.500%,
6 Leida Collins-Strijk, NED, West Side, 11-year-old KWPN gelding owned by rider, Marina x Florett As: 71.750%, 71.500%, 70.625%, 74.875%, 69.625%, 71.675%
7 Brittany Fraser, CAN, All In, nine-year-old Dutch Warmblood gelding, Leontine x Tango: 73.375%, 68.750%, 72.500%, 72.500%, 70.000%, 71.225%
8 Catherine Haddad-Stalle, USA, Mane Stream Hotmail, 12-year-old Oldenburg gelding owned by rider, Rederna x Michellino: 69.375%, 69.750%, 70.000%, 69.625%, 70.250%, 69.800%
Full Results for FEI Grand Prix CDI 3*, presented by Peacock Ridge
Rider, Country, Horse, Age, Breeding: Judge E%, Judge H%, Judge C%, Judge M%, Judge B% Total%
1 Karin Pavicic, CAN, Don Daiquiri, 12-year-old Oldenburg gelding owned by Jayne Essig, Nedstatte III x Don Cardinale: 69.700%, 69.900%, 71.800%, 69.500%, 66.300%, 69.440%
2 Tom Dvorak, CAN, Viva's Salieri W, 13-year-old Hanoverian stallion owned by Augustin Walse, Salinja x Viva Voltaire: 65.600%, 67.500%, 71.300%, 70.100%, 68.600%, 68.620%
3 Jacqueline M. Brooks, CAN, D Niro, 15-year-old Swedish Warmblood gelding owned by Brookhaven Dressage Inc., Alitalia x D Day: 65.200%, 67.000%, 67.500%, 66.000%, 69.900%, 67.120%
4 Susan Dutta, USA, Currency DC, 14-year-old Oldenburg gelding owned by rider, Cinderella x Clintino: 68.900%, 65.400%, 65.000%, 67.600%, 68.400%, 67.060%
5 Jill Irving, CAN, Degas 12, 12-year-old Hanoverian gelding owned by rider, Rosana M x De Niro: 63.500%, 65.300%, 67.000%, 64.900%, 68.500%, 65.840%
6 Devon Kane, USA, Destiny, 11-year-old Danish Warmblood gelding owned by Diamante Farms, Rubenstein I x Diamond Hit: 66.700%, 65.800%, 65.500%, 64.700%, 63.200%, 65.180%
7 Laura Graves, USA, Verdades, 12-year-old Dutch Warmblood gelding owned by rider, Liwilarda x Florrett As: 61.700%, 64.500%, 67.200%, 66.000%, 65.300%, 64.940%
8 Franziska Seidl, SUI, Sigalia , 15-year-old KWP gelding owned by rider, Foske x Kigali: 62.800%, 62.600%, 66.100%, 63.500%, 64.100%, 63.820%
Photo Credit: Photos © 
SusanJStickle.com
. These photos may be used only in relation to this press release and must include photo credit.
About the Adequan Global Dressage Festival:
The Adequan Global Dressage Festival (AGDF) is one of the world's largest international and national dressage circuits featuring 8 FEI Dressage events, including a 5* and the only FEI Nations' Cup Series CDIO in the Western Hemisphere. The AGDF offers more than $400,000 in prize money for the six international competitions, making it one of the richest circuits in the world. The Stadium at Palm Beach International Equestrian Center facility includes the Van Kampen covered arena (made possible by Kimberly and Frederic Boyer and family) and four outdoor arenas with world-class footing, 200 permanent stalls, and a VIP seating area for the International Arena fully catered for relaxing and having an enjoyable experience.
Please visit
or call 561-793-5867 for more information.
Adequan Global Dressage Festival is located at
The Stadium at Palm Beach International Equestrian Center
13500 South Shore Blvd, Wellington, Florida 33414