Rescued horses, dogs, cats and more made available for new owners.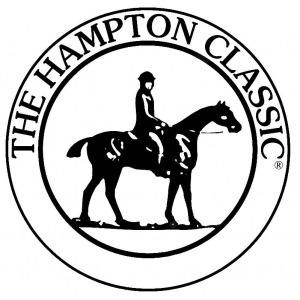 Bridgehampton, NY-Aug. 26, 2013-Two donkeys named Rose and Violet and a former racehorse named Nate were the most popular animals during ASPCA Adoption Day at the 38th Annual Hampton Classic Horse Show. All three equines were adopted by the Project Sage Horse Rescue, which brought them to the Hampton Classic to be part of the day's activities.
The Project Sage Horse Rescue, based in Northport, N.Y., was founded I 2010 by Brittany Rostron and her cousin Steven Katz.
Hayley Barnhill, who on Sunday won a Local Professional Hunter Rider championship ribbon, rode Nate around the Anne Aspinall Hunter Ring for about 10 minutes, at all three gaits, to demonstrate his demeanor and his training. Barnhill had never ridden Nate, a 9-year-old Thoroughbred gelding, before.
"He was great and easy to ride. I had a lot of fun on him," Barnhill said.
The Project Sage team also brought a yearling hinni (a cross between a donkey and a miniature horse) and a gray draft horse-cross for adoption.
Grand prix rider Georgina Bloomberg, who is an ASPCA ambassador, implored the more than 100 people in attendance, "This is you're chance to learn some of the issues facing animals and to make a difference. It's your chance to be a voice for animals."
Bloomberg has rescued five dogs, two donkeys and a pig.
Jill Rappaport, NBC-TV's animal advocate, hosted the ASPCA Adoption Day activities. Looking at the horses available for adoption, Rappaport said, "They have the same heart and soul as the horses competing here at the Hampton Classic. And I believe that they know when they've been saved-and they'll thank you every day for it."
The 38th annual Hampton Classic Horse Show runs through Sunday, September 1 and features world-class show jumping competition, as well as magnificent shopping and a variety of entertainment attractions.  The Classic features six show rings with more than 100 classes of competition for horses and riders of all ages.  A wide range of jumper, hunter, equitation, short stirrup and leadline classes are all part of the Classic's schedule, as well as competitions for riders with disabilities.
The Classic features an FEI-recognized Grand Prix on three consecutive days – the $50,000 Spy Coast Farm/Young Horse Show Series Grand Prix Qualifier Presented by Longines on Friday, the $40,000 Longines Cup on Saturday, and the $250,000 FTI Grand Prix and FEI World Cup™ Qualifier on Sunday.  The world-class field of riders will also be looking to win the new Longines Rider Challenge that awards $30,000 to the rider who accumulates the most points in the horse show's Open Jumper division.
The FTI Grand Prix is part of the Taylor Harris Triple Crown Challenge which awards a $200,000 bonus should the same horse-and-rider combination win the $100,000 Wells Fargo Grand Prix of Devon, $250,000 FTI Grand Prix at the Hampton Classic, and $250,000 Alltech Grand Prix at the Alltech National Horse Show.  McLain Ward won the Wells Fargo Grand Prix of Devon on Rothchild in May and now stands to win the $200,000 bonus should he ride Rothchild to wins in the remaining two events in the Taylor Harris Triple Crown Challenge.
For those who can't make it to the show grounds, WVVH-TV, the official Long Island television station of the Hampton Classic, broadcasts up to five hours of competition and highlights each day during the Classic. These telecasts can also be seen online at www.WVVH.com.
Free live webcasts of all  Grand Prix Ring competition will be available, courtesy  of ShowNet, at www.HamptonClassic.com. Competition in other rings will be available on a pay-per-view basis at www.shownet.biz.
Further information on the Hampton Classic Horse Show, please visit the Hampton Classic website at www.hamptonclassic.com or call (631) 537-3177.  Hampton Classic Horse Show, Inc. is a 501(c)(3) charitable corporation.