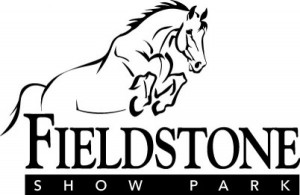 Halifax, MA – August 17, 2013 – The luck of the Irish was with Paul O'Shea this afternoon at the Fieldstone Show Park as he piloted Instant Karma to the victory in the $50,000 Fieldstone Grand Prix, presented by Gallo Dark Horse Wine, Ocean Spray and Samuel Adams, narrowly beating Boston Bruins owner, Charlie Jacobs. Not only did O'Shea claim the win, but because of his back to back victories, he nailed down the inaugural $25,000 Boston Strong Rider Bonus check. Hometown girl Kristen Bumpus rode Cupid to the third place finish, making today a day to remember for Boston at the Fieldstone Summer Showcase I. Spectators looked upon the all-grass Grand Prix Field for the fourth day of the event, filling the sidelines as they felt the building anticipation as 26 entrants attempted the challenging course.
The first round course was one for the books, with only three riders navigating the 16 efforts to find their spot in the jump-off. Philip J De Vita of Apopka, FL, designed the course for the $50,000 Fieldstone Grand Prix, promising an eventful track for the horse and rider combinations. The course featured an opening triple bar, several double combinations, and bending lines. De Vita asked many questions of the riders, setting obstacles set atop the bank and table on the side of the field, as well as placing a tall vertical inside the grob. One of the challenges on the course was to complete a series of three elements representing the pride of Boston, their prestigious sports teams. An entire combination was made of a Boston Bruins vertical, A Boston Celtics vertical to a Boston Red Sox oxer. Although there was no true bogey fence, 12 riders found fault at the final oxer-liverpool obstacle.
"For $50,000 the class had to have some integrity," De Vita explained. " The time allowed was a little snug, the course was spot on for a big field. It had a lot of 1.50m spreads, but I think it was difficult enough. It was a good class, I was very happy. Nothing was really a big bogey jump, there were plenty of big jumps, the triple bar was a run up and get it-it really got you going, and that was my intention. I love starting on a triple bar. I think that it was a good class. I was tickled to death at the outcome. It was my style of a lot of triples, serpentines, a lot of good approaches but straight to the jumps."
Kristen Bumpus and Cupid, the seventh to take on the first round course, became first to master the tough track. She was the initial rider to return to the ring out of the three qualified contenders to take on the short course.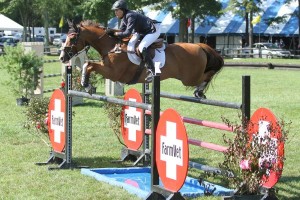 Kristen Bumpus and Cupid rode to the third place finish 
The shortened track opened over the large oxer set near the in-gate, and rider then had to take the Unbridled Passion vertical after a sharp left turn and bend to the large Fieldstone oxer below the bank. Upon landing they then made a right turn to the vertical-vertical double combination set on the diagonal, made a left turn over the triple bar set between brick walls and made a left turn through the final vertical-oxer line to break the beam and seal their fate.
Bumpus unfortunately had a refusal at the second obstacle of the jump-off, but they completed the course sans faults upon clearing it. They incurred four faults for their drive-by, as well as two time faults for their final time of 56.681 seconds.
"He's been a little but of a project, he's very quirky and has a lot of rules that I need to follow in order for him to be good," Bumpus smiled. "I just recently worked with Margie Engle to try to break some bad habits that I have with him trying to overprotect him; he's a quirky horse. Honestly, I would have been happy just completing the course and not looking like I didn't belong there, I'm so thrilled for my horse and myself to be in company like that."
Bumpus continued, "My heart rate rose a bit down the vertical-vertical combination, we had a hard rub, but he tends to rub a lot of jumps, that's how he jumps. He's not a super, he doesn't have a huge jump all the time, but he's perfected the skim. Most of the time when he's rubbing them they don't fall down."
Paul O'Shea had nearly qualified for the jump-off with three of his mounts, including the winner of the $75,000 Equestrian Estates Planning Group Grand Prix at Silver Oak last week, Primo De Revel. Unfortunately, four faults kept Primo De Revel and Wizz out of the jump-off. He did ride to a clean first round aboard Instant Karma, owned by himself and Michael Hayden, and when he entered the Grand Prix Field, he was riding to win, leaving absolutely nothing to chance on the turf today. Instant Karma won the $20,000 Welcome Stake for O'Shea last week at Silver Oak.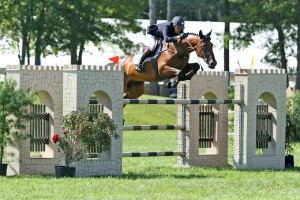 Paul O'Shea rode Instant Karma to the $50,000 Fieldstone Grand Prix victory at the Fieldstone Summer Showcase I, also claiming the $25,000 Boston Strong Rider Bonus.
"Instant Karma needs a good canter and I have to keep her focused and forward at the base of the jump," O'Shea explained. "I had her here last year, and she was a little nervous. She has really come along a lot, and she has really matured. She is relaxed all the time now, and she has really grown up. I think the best is ahead for her. I had a good feeling with her, I thought she could do it. We were unlucky with Primo De Revel with the four faults, but he jumped great, too. I have all the faith in the world in my horses, and she was all there for me today."
The Irish could be proud of their rider this afternoon as he took the inside options, and answered the many questions that we asked of him along the course. He made a speedy inside turn to the double combination, as well as excluding a stride from the final vertical-oxer line. He broke the beam in 43.875 seconds, setting the pace for Charlie Jacobs and Flaming Star.
O'Shea explained, "Charlie's horse is very fast, so I knew had to give it a good go. I had to take all of the options, turn inside, give it a good go, and leave out a stride in the last line. She really tried for me out there."
All of the pressure fell on Jacobs as he entered the ring aboard his hot-blooded 13-year-old Irish Sport Horse, Flaming Star. If he could take on the track without any rails falling to the ground, and surpass O'Shea with a speedy jump-off, the lion's share of the prize money would be his, and O'Shea would lose the $25,000 Boston Strong Rider Bonus. Jacobs was hot on O'Shea's heels, erupting from the in-gate with a quick speed and taking all of the fences with ease. Although he wanted to catch the Irish rider, he focused on accuracy, not daring to test the fates with a possible fault. He tripped the timers in 46.295 seconds for the second place finish.
"What a remarkable two weeks to him," Jacobs expressed of O'Shea's win. "Obviously I was hoping to be riding for the rider bonus having jumped clean last week. I'm using this horse show as a set up to go to Spruce Meadows in two weeks, and I didn't necessarily want to send my horse off his feet until we get to the 1.60m.  I wasn't prepared to go belly to the ground."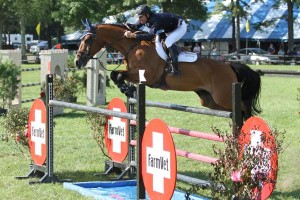 Charlie Jacobs and Flaming Star finished in the second place position during the $50,000 Fieldstone Grand Prix at the Fieldstone Summer Showcase I.
"Flaming Star is spoiled, as he deserves to be spoiled. He gives it his all, and he's also a stoic horse, he's tough as nails, he's a great friend and has been a great partner for a number of years," Jacobs said. "This is like the last chapter of our summer travels so we spend the most time here at the show grounds just having fun, I get to jump in a class next week with my kids, so its just a lot of fun. It's a great show, and it only keeps getting better."
Irishman O'Shea came to the United States three years ago in October, and he has had nothing short of a phenomenal two weeks. Although it was Primo De Revel who won him the $75,000 Equestrian Estates Panning Group Grand Prix at Silver Oak Jumper Tournament, he knew that today was Instant Karma's time to shine. The young mare had a multitude of fans to pat her and offer her celebratory compliments, but it was co-owner Michael Hayden who received her affections. The dedicated owner took a plane from Ireland the night before to watch her go in the Grand Prix today, and he could not have been happier as he stood next to the brilliant bay with her blue ribbon waving in the brisk Massachusetts breeze.
"She was bought by Paul as a yearling with a friend of ours, and I stepped in to buy 50 percent of the mare when she was a 3-year-old, and she didn't seem very promising so she was thrown out into the field," Hayden laughed. "Our mistake, when we brought her back as a 5-year-old it turned out she was a bit of a super star. I kept her in Ireland for a bit, and I brought her back to Paul about two years ago. I decided to travel from Ireland to here at 9 a.m. yesterday morning to see her take the win today, and I fly back tomorrow at this time. Luckily her win will pay for it all."
Not only did O'Shea win the majority of the $50,000 purse, but he also pocketed the $25,000 Boston Strong Rider Bonus. The rider bonus is the brainchild of Silver Oak Jumper Tournament Chairman Jeff Papows and Fieldstone Show Park CEO Scott Clawson. McLain Ward had mentioned the idea to Papows, and the two show directors jumped at the opportunity to expand their horizons and offer a rider bonus.
"It feels incredible to win that bonus," O'Shea concluded. "It is fantastic that Jeff and Scott put that up. It was a great idea, and they deserve a lot of credit for running two fantastic shows. I will absolutely be back next year. I think a lot of people will come to these shows next year, and they should, because they are great shows and they are going to grow and grow. These shows have the true makings of a Summer Circuit in New England."
The Fieldstone Summer Showcase I will conclude tomorrow with the $10,000 GGT Footing 3'3″ Hunter Derby on Sunday, Aug. 18. The hunter riders will take to the grass field for Derby Day, where spectators can watch the exciting action at 1 p.m. For more information on Stadium Jumping and the Fieldstone Summer Showcase, please visit www.showfieldstone.com. You can also follow the Fieldstone Horse Shows on Facebook athttps://www.facebook.com/fieldstone.equestrian.
$50,000 FIELDSTONE GRAND PRIX RESULTS
award     entry     horse     owner     rider     prize_money
1     299     INSTANT KARMA     HAYDEN, MICHAEL O'SHEA, PAUL     PAUL O' SHEA
2     26     FLAMING STAR     CMJ SPORTHORSE, LLC     CHARLES JACOBS
3     309     CUPID     KRISTEN BUMPUS     KRISTEN BUMPUS
4     329     BILLY THE KID     CORY OLSON     DAVID JENNINGS
5     327     HOT WHEELS     DARRAGH KERINS     DARRAGH KERINS
6     267     JAPAN     PENNY BRENNAN     PENNY BRENNAN
7     328     FOR ME DUBRA     DARRAGH KERINS     DARRAGH KERINS
8     165     ZIDANE Z     DAVID TROMP SHOW STABLES, INC.     DAVID TROMP
9     199     CASEY     BEYAERT FARM INC     MATTIAS TROMP
10     307     WIZZ     WALSH, DANIEL O' SHEA, PAUL.     PAUL O'SHEA
11     308     PRIMO DE REVEL     MICHAEL HAYDEN     PAUL O'SHEA
12     332     QUEEN OF CALLA     ICON SPORTHORSES, LLC     DAVID JENNINGS
All Photos By: Kendall Bierer/Phelps Media Group. Photographs may be used only in relation to this PMG press release.