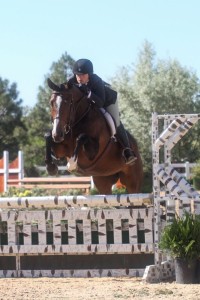 Caitlin Burns and On the Money during
Summer in the Rockies
Photo by Mary Adelaide Brakenridge
Parker, CO – October 10, 2014 – The Colorado Horse Park hosted the USEF "A"-rated Colorado Fall Finals Horse Show September 25-28, 2014, at the picturesque facility in Parker. The final hunter /jumper competition of the 2014 season featured a full range of hunter, jumper, equitation and pony classes and divisions, including hunter and jumper classics.

In the amateur hunters, Caitlin Burns from Longmont, Colorado, and her mare, On the Money, won both their over fences classes on Saturday and were fourth in one of the over fences classes on Sunday to clinch the championship of the Junior/Amateur Owner Hunters.

Burns trains with Mark Mead of Sleepy Hollow Farm in Longmont, Colorado.

"On The Money always comes out trying," Burns said about the bay Thoroughbred. "This weekend we probably had our best handy course to date. I've ridden with Mark for a long time. He has a way of always seeing the positive in situations – a great quality."

With her own Blue Dutch, a grey Dutch Warmblood gelding, Burns also prevailed in the Adult Amateurs 18 and Over division, earning the tricolor. Burns and Blue Dutch won an over fences class on Saturday and were third in the other. They also won Saturday's $500 Marshall and Sterling Adult Hunter Classic. On Sunday, the pair won an over fences class, were fourth in another and fifth under saddle. In the $500 NAL Adult Hunter Classic, the pair earned second place honors.

"It's always nice to have some good rounds, and to put it together with both horses is an extra treat," said Burns. "Both of these horses are just great. Blue Dutch has been on a steady uphill gain this year. He came back from a long lay-off this spring. We started back slow doing the 2'6″ and returned to the Adults at the Horse Park in June. It was a little rocky to start, but there were always glimmers of hope. And slowly but surely, it has just gotten better and better."

"I had a great year at Colorado Horse Park and always enjoy showing there," she continued. "This winter I'm taking my horses to Texas to ride and show a few different places, but I look forward to returning to the Horse Park next summer!"

Fall Finals at the Colorado Horse Park also featured jumper competition in the Kathy and Brad Coors Family Grand Prix Arena, and Navona Gallegos won the $2,500 Welcome Stake.

"I went ninth in the class and I didn't get to see anyone else jump off before me, so I just tried to go efficiently," said Gallegos. "There were some long gallops and there was a nice inside turn to the last vertical in the jump-off."

Gallegos trained with Mike Elmore while she was still showing her last pony and transitioning to the junior hunters and the equitation. Then, she worked with Karen Healey on the West Coast and rode with Laura Kraut on the East Coast through her college years. Last year, she concentrated on finishing at University of Virginia and sent her horses back to Elmore in Abiquiú, New Mexico. After graduation, she moved back to the Santa Fe area.

"Mike is absolutely fantastic," she said. "This summer I came back and have been working with him, which has been absolutely delightful."

Gallegos purchased Vatricia, a chestnut Dutch Warmblood mare, from Kraut and showed her in the 8-Year-Old Young Jumpers. The horse and rider team progressed together to grand prix. According to Gallegos, they matured not only as a team, but also individually as a horse and as a rider. Then, Vatricia had two unrelated back-to-back injuries and was sidelined for over a year.

Whitney Stahl Presents the award to Navona Gallegos and Vatricia.

Photo By: Courtesy of Whitney Stahl

"We weren't sure if she would come back and be able to jump, but we let her come back slowly and kept our fingers crossed," Gallegos said. "Mike has done a wonderful job of getting her fit and keeping her sound. Now she's going great, which is really exciting."

"The mare was jumping so well that the people in the audience couldn't stop saying, 'Wow,'" Elmore commented. "She's a remarkable mare. At home she's sleepy and lazy but when she gets to a horse show it's like she's on stage and she's ready to go."

Elmore credits his client's talent for their fantastic results at Colorado Horse Park.

"All I did was get the mare in good shape," he said. "Then, I got out of the way so the two of them could shine. It was fun watching that happen. They make a good pair."

Check out the Colorado Horse Park website for postings of educational events for the 2014/2015 season. Hunter/jumper competition resumes on

March 14-15, 2015

, for the CHP Marches on CHJS show, followed by CHP Spring Warm-Up I, which runs

April 23-26

.

Click

here

for complete results from Colorado Fall Finals.

About the Colorado Horse Park

Celebrating its 21st Anniversary, the Colorado Horse Park was founded by visionary Helen Krieble who acknowledged the need for a high-volume horse show and horse boarding facility to serve Colorado. The Colorado Horse Park welcomes more than 35,000 visitors per year and hosts over 40 competitions annually. CHP features a derby arena designed by Olympic-designer Linda Allen and a cross-country course designed by Olympic Gold Medalist David O'Connor and eventing super-star James Atkinson. There are 300 permanent stalls with capacity for more than 1,000 stalls.

The picturesque property, located only minutes from the town of Parker, hosts international equestrian events in multiple disciplines. Visitors enjoy the beautiful Colorado Rocky Mountain surroundings and access to miles of trails and open space. The Colorado Horse Park is committed to supporting equestrian education and amateur athletics, preserving open space, fundraising for local charities and supporting the community.