Amatuers Have Their Time to Shine
By Veronica J. Finkelstein
This weekend at Devon, it was finally time for the adult hunters to take over the Dixon Oval and Gold Ring. Unlike professional riders, many adult amateurs work for a living at desk jobs and balance their riding time with not only a day job but family and other commitments. The Amateur Owner division is divided by age and also by height.
The under saddle class for the younger high amateur owners was won by Kelsey Thatcher's chestnut Belgian Warmblood Fredrick. Blue ribbon in the first jumping class went to Maria Paglieri's Holsteiner Snap Decision. The winner of the second over fences class was Sienna ridden by Lexi Maounis. The third blue jumping ribbon also went to Sienna. The hunter stakes class was won by Pure Abundance ridden by Wesley Newlands.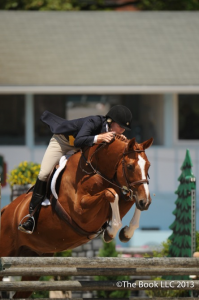 In the olders, the undersaddle was won by Royal Oak ridden by Dawn Fogel. The first over fences blue ribbon also went to Royal Oak. Katie Robinson's Rock Steady won the second over fences class, making the trip from home-base Wellington, Florida well worthwhile. The third over fences class was won by Castlewalk ridden by Nancy Hooker. The final over fences class was won by Royal Oak on the way to overall champion 3'6 Amateur Owner Hunter division.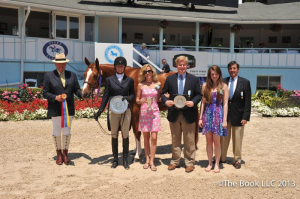 Fogel accepted her own award as the leading rider in the division. She recently paired with Royal Oak after purchasing the attractive chestnut from Sandy Ferrell. Fogel can savor these awards on the trip back to her home in Kentucky. Based on the cheering section accompanying Fogel and the other amateur owners, there are a lot of supportive families thrilled to see these riders balance their commitments with the sport they love.
Box Holder Competition Adds Flair to the Grandstands
By Caroline Goldstein
Devon box holders have long been decorating their grandstand boxes throughout Devon Week, and this year, for the first time ever, their decorations gave them a chance to win an 11 day VIP parking pass for next year's show. The Grandest Box in the Grandstands contest awarded 1st through 8th place ribbons in two categories- Best Food and Best Theme.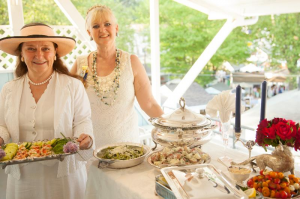 The first place winner for Best Food was Trish Hueber, Tracey Freeman and Marlou Gregory in Sky Box 1 for their "Devonton Abbey" themed box. Earning the top spot for Best Theme was The Decker Family and Anna Kreuzberger, who combined their boxes Main 118 and 119 to create a "Picnic in the Barn" themed entry.
There were seven judges for the competition, including chairman Missy Schwartz; Laura Muzzi Brennan, food editor for County Lines Magazine; Delaney Massaro, a senior studying culinary arts, food service management and event management at Johnson Wales University; Christopher Amman, Managing Partner of the Capital Grille of King of Prussia; Patrick Byrne, Proprietor of the General Warren Inne; Jean Walkup, a longtime Devon volunteer and Maggie Henry Corcoran, reporter for Main Line Times.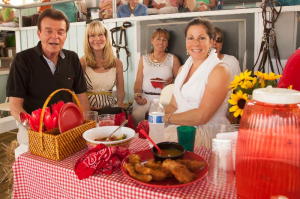 The judges had specific criteria in mind when considering each box. "I love energy… I'm looking for the vibe coming off of it," said Christopher Amman of Capital Grille. For Massaro, a culinary student and judge, the presentation was equally as important as the taste of the food. "Everyone eats with their eyes," she said.
The rules for the contest were relatively simple. Any box in any grandstand could compete as long as they did not obstruct the view of the ring, did not attempt to bribe the judges, and, most importantly, were creative. Many box holders did just that. The Devonton Abbey box featured items such as lobster salad and a "Devontini" cocktail. Another did a Mardi Gras theme with authentic New Orleans food such as gumbo and beignets. There was a Phantom of the Opera themed box complete with candelabras, roses and printed menus for the judges. A Devon Classic themed group served Devon fudge, lemon sticks and the Devon special. A group of Philadelphia Eagles fans turned their box into a detailed version of Lincoln Financial Field with autographed helmets, Eagles tickets and even a turf with yard lines covering the floor of the box.
"My favorite thing was that we started a new Devon tradition," said chairman Missy Schwartz. She is looking forward to watching the competition become even bigger next year. "All the people who said 'we're winning next year,' riders up!" Schwartz said.
Rolling the Dice
By Veronica J. Finkelstein
This evening's open jumper class was the Idle Dice Open Jumper Stakes class. The class was named after famed jumper horse Idle Dice. Idle Dice was originally bred as a thoroughbred race horse, but he was discovered and retrained by Bernie Traurig who showed him as a hunter. He was later purchased by Harry Gill and shown as a jumper by Rodney Jenkins. Idle Dice won over $400,000 in his career (an amount that would triple if adjusted to the value of today's prize money).
Although there will never be another horse like Idle Dice, some of his legacy lives on in the entries in today's class. The fences were high and airy. A particularly difficult triple combination built of blue and white poles angled slightly against the blue grandstands, tricking the eye. The class began with a spate of four-fault rides. On the handsome gray Uraguay, Todd Minikus broke the trend finishing clear. The crowd thought a second rider had gone clear until the scoreboard delivered the bad news that Callie Smith on Captain Krutzman had a single time fault. And then there were two clear when Beezie Madden added Vanilla to the list of clear rounds. Kevin Babington made it three clears with Shorapur, Shorapur's tail flagging with excitement over each jump. Margie Engel made her round on Royce count, going clear with seven left to ride. Laura Chapot joined the list of clears on Quointreau un Prince. Kaitlin Campbell and Rocky W joined the list with a clear, fast ride. Next to go clear was Angel Karolyi on Amigo. The final rider of the first round was Thaisa Erwin on Matilda but last was not least and she too went clear rounding the field of jump off horses to 8.
W
Pathfinder for the jumpoff was Minikus who lowered one rail for four faults in 39.55 seconds. Madden was in next. Her tight rollback to the Wells Fargo shaved time but she had the final fence down in 43.162 seconds. Next in was Babington who also had four faults with a slower time of 44.209. Engel then showed how it could be done, going clear in 41.989 seconds. She then watched to see if that time would stand. Next to ride was Chapot who also went clear, stopping the clock on 42.511-just short of Engel's time. Campbell was the next to challenge Engel's time. She took an inside turn that no one else had attempted and was the new leader by a hair with a time of 41.274 seconds. Karolyi was up next but an early rail made it clear Amigo would not finish on top. The clock stopped on 40.476 seconds. Then there was one to go, and it was all up to Erwin and Matilda-but another early rail and a second rail on top meant Campbell had held on and it was Rocky W who lead the victory gallop. In second was Royce and in third was Quointreau un Prince.