High Performance Hunters Take On the Rain
By Devon Walder
As expected, this Tuesday at Devon the High Performance Hunters competed under low-lying clouds and light rain. Fortunately, the footing in the Dixon Oval stayed just dry enough for the riders to show their talent in the ring. Neither horse nor rider seemed to mind as the rain spotted hunt jackets and saddles–their eyes were set on bringing home the blue.
The high performance hunter class did not disappoint, despite less-than-desirable weather. Each rider worked in perfect tandem with their horse in a beautiful balance that demonstrated what hunter classes are all about. Teamwork proved key for competitors and their horses, keeping a smooth, even pace, and floating easily across obstacles. Kelley Farmer, riding Taken, was the picture of perfection scoring a 92.00 in her course and placing first. Scott Stewart took home second, and Kelley Farmer followed up on Mythical in third. In the handy class riders showed off their skill for seamless communication, riding bending lines and a trot fence.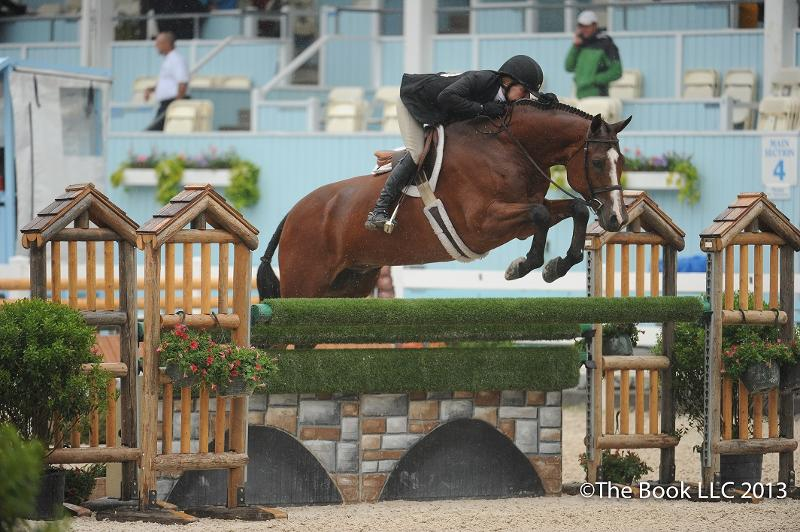 Amanda Steege, on her handsome bay Majestic, earned the blue with a score of 87.00. Greg Crolick, who unfortunately went off-course in his first round hunter class, came back with second on Carson, and Hope Glynn took home third. The sky began to lighten as the riders trotted into the ring for the under saddle course, but the rain continued. Out of the nine riders in the under saddle and confirmation class, Scott Stewart riding Showman took home the blue with Kelley Farmer, on Backstory, and Matthew Jenkins on Brooklyn finishing second and third.
The High Performance Hunters put on a beautiful show this damp afternoon at Devon. The rain certainly did not bother horse or rider, and the time and patience put into practicing and training paid off for the competitors.
More Than a Jump
By Devon Walder
The jump courses at Devon are all uniquely planned by various course designers around the world. Each course brings new challenges and obstacles for horses and riders, testing competitors' skills with every turn. Course design is more than just jump placement. Designers must understand how different obstacles will look to horses and riders, how distances between fences will change the pace, and how turns will effect the angle of the jump. Of course, the fences at Devon are always beautiful and interesting, but they all pose different problems.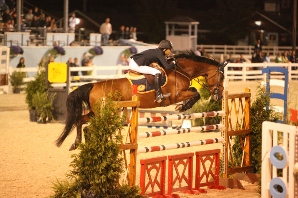 There are different types of jumps, from oxers, to single fences. The oxer, for example, is a two (or three) standard fence with a spread; whereas a typical fence has only one set of standards. Lines, or a combination of more than one fence with a desired number of strides in between, come in different forms as well. There are simple lines, bounces, and triples. Riders must know their horses' individual movements so that lines can be completed safely and accurately. Bounces, with only a landing in between two fences, have different challenges and require horses and riders to be extremely athletic. The approach to fences is also important. Coming into a single fence or line at the right angle can make all the different between a smooth, safe ride, and disaster. Turns can help riders cut down on time, decrease speed, and find the right spot to a fence.
Designing courses is no easy task, nor is riding a course. There are many different ways to take on a course, and riders' must know their horses well to make the best, safest decisions. In the end, those winning the blue have learned how to adapt to different courses and have come out riding with confidence and strength.
Back Barn Tours Bring Spectators Behind the Scenes
By Caroline Goldstein
Devon visitors who have always wondered what takes place behind the scenes in the barns were treated to a guided tour of the back barns this Tuesday afternoon. A little rain could not stop these tour guides from giving visitors a peak into the riders' preparation for each appearance at Devon.
The tours, which ran from 3 p.m. until 6 p.m., began at the Pavilion and showed off the entire grounds. "It's an opportunity to give visitors a behind the scenes guided tour," said chairman Lisa Estabrook. The tour guides gave each group a bit of Devon history, walking them past the grandstands and the Dixon Oval. Then it was back to the stables, where the groups were able to meet a coachman for the Brewster Private Road Coach. Next was a stop at the equine ambulance and a walk past the Farriers. The tour concluded with a stop at the Rodney Hicks Stable, where Janet Crawford Hicks showed the visitors the different types of Hackneys in the stable and answered questions about the care and preparation required to show the ponies and horses at Devon.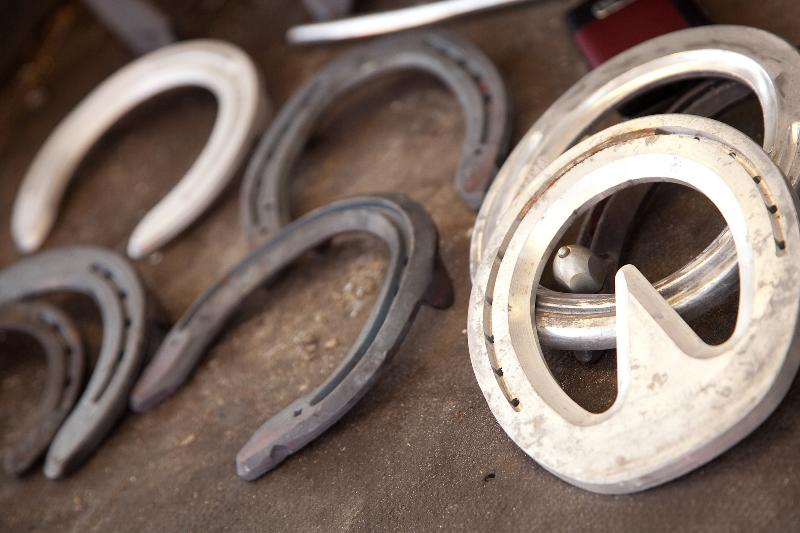 The contributions from the stables are a large part of the Back Barn Tours. "I've been very fortunate to have individuals who are excited about the opportunity to educate guests," Estabrook said. The Back Barn Tours originally began as tours for special groups, and then expanded to an annual event open to all visitors. "I think it adds a personal touch to it," Maddie Small, one of the tour guides and an Event Management intern for Devon from Conestoga High School, said of the opportunity for visitors to see what it takes for the riders to compete at Devon. Estabrook also hopes that this will give visitors a way to learn more about the show and to hopefully get involved by volunteering in the future.
Classic Carriages in Open Unicorn
By Devon Walder
In the Open Unicorn class drivers brought in their teams of horses and polished carriages in a beautiful display of classic elegance. The teams consisted of three horses, one lead and two behind, all moving in step together. As they moved around the ring, the soft jingle of harnesses drowned out the rain, bringing spectators back to the days when carriage was the only form of transport. Amazingly, these graceful teams worked in unison to maneuver turns, stops, and starts, all while maintaining a calm, collected demeanor. Taking first was Werry Brewster Park Drive, driven by Glenn Werry Jr, with their team of three beautiful bays. Second was John White, and third was William Vendettia.