What a Pleasure
By Veronica J. Finkelstein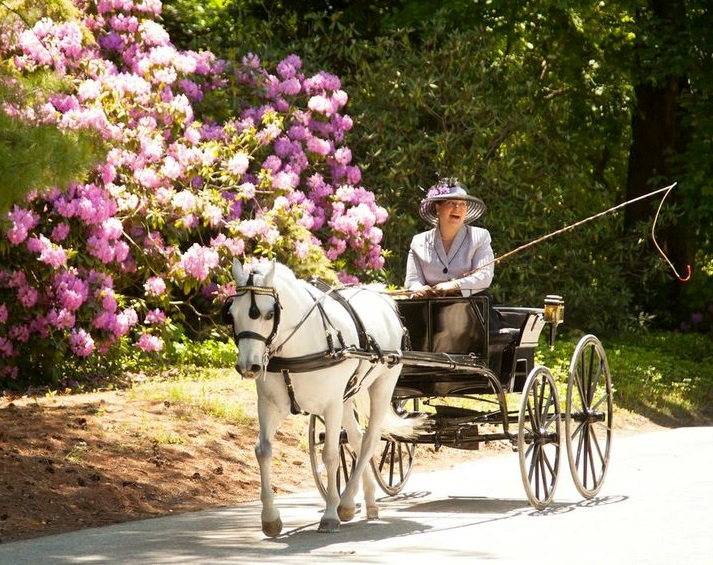 This year's slogan could have been "keep calm, and drive on."  This year, unfortunately, the weather was not entirely conducive to a traditional Devon pleasure drive. Typically the carriage drive begins in the fields at St. David's church before traversing a four and a half mile path through the residential neighborhoods with judging in the Dixon Oval concluding the event.  Due to unusual inclement weather, including significant rain, this year's pleasure drive began at 11:30am in the Dixon Oval.  The carriages then took a modified route before returning for awards in the Dixon Oval around 2:00pm.
If the weather dampened anyone's spirits, you wouldn't have known it from the glorious turnout and performances from the competitors.  This event has always been one of the highlights of the show.  No wonder, back when the show first began in 1896, carriages were how most spectators traveled to the show.  They have been a fundamental part of what makes Devon so special throughout the evolution of the show.
Competitors on the pleasure drive are judged in various ways.  Along the way, they are judged by a series of road judges who watch the horses as they perform.  Drivers who fail to obey road signs and horses that show a lack of obedience are penalized.  Once the carriages enter the Dixon Oval, they are judged on turnout and appearance.  The judges check each carriage to see if it has all the proper "appointments," or accessories.  The horses are judged on whether they are an appropriate breed and type for the specific carriage to which they are hitched.  The attire of those on the carriage is judged.  Finally, overall cleanliness and attention-to-detail are considered.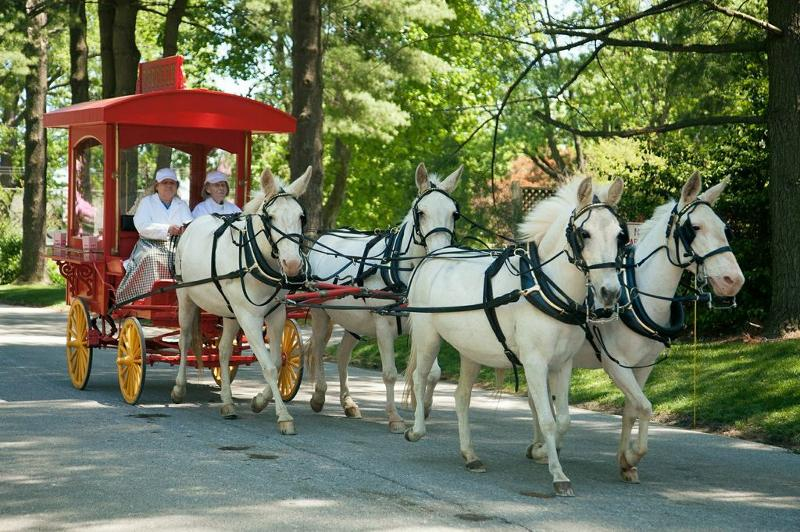 This year's Pleasure Carriage Drive was won by John White's Road Coach, also winning the Four-In-Hand.  It may have been an atypical drive, but this team was more than up to the task.  It was all smiles during the awards ceremony, with not a hint of any of the earlier rain.
Other Pleasure Drive winners:
Horse, Single Harness, Two Wheel: Gail Aumiller
Horse, Single Harness, Four Wheel: Bernard and Lore Homer
Horse, Double Harness, Pairs/Tandems: Mr. & Mrs. Richard O'Donnell
Pony, Single Harness, Two Wheel: Lisa Koehler
Pony, Single Harness, Four Wheel: Tara Miliziano-Crowley
Pony, Double Harness, Pairs/Tandems: Mary Stokes Waller
Light Commercial and Farmer: Roberta Odell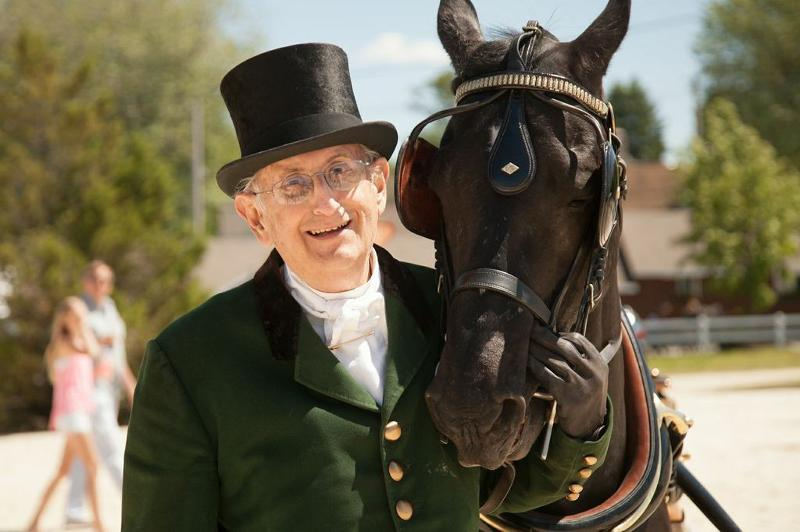 What's in a Name?
By Veronica J. Finkelstein
For some Devon Horse Show spectators and competitors, Devon is a family tradition.  Take, for example, Shelly Leber who stopped to chat as she and her daughter Aerayelle strolled the Country Fair.  Shelly explained that her grandmother, Doris Mae Taubel, had been a champion at Devon with Doris' saddlebred "Jeff."  Doris went on to name her son Jeff, after her winning horse.  In return, Jeff named Shelly's brother "Devon" in honor of Doris' favorite horse show.  Although Shelly didn't get the Devon name, she certainly got the Devon bug.  Not only did she show at Devon but Aerayelle continued the tradition in the leadline classes when she was younger.
 The family trend in leadline classes continues today.  Many children who show in Devon's leadline class have relatives who have taken a turn around the Dixon Oval themselves.  Louise Serio, frequent recipient of the Leading Lady Rider award at Devon led her granddaughter Mary Jo to leadline champion in 2012.  This year one of two leadline classes was won by Riley Hendricks, the son of professional trainer Troy Hendricks.  Troy has shown across the country but recently returned to his ChesterCounty roots.
Another beneficiary of the Devon tradition is Devon Walder.  She was named after the show by her mother, Cindy, who always loved horses and hoped her daughter would share that love.  At the time, Devon was an uncommon name and Cindy thought it was pretty.  Cindy's wish came true.  Devon not only grew up horse-crazy but eventually found her own niche at the Devon Horse Show.  This recent graduate of RowanUniversity is serving as one of the writers of the Devon newsletter.  She's introducing all her favorite Devon traditions, like tea sandwiches, to her boyfriend Lyle Zanca.
Behind the Lemon Stick
By Caroline Goldstein
A visit to the Candy Booth has been a longtime Devon tradition for both young and old, and the Candy Booth chairmen prepare accordingly.  This year, they ordered 425 pounds of candy, 1500 pounds of fresh made Devon fudge and 7300 lemon sticks.
These numbers seem large, but the chairmen know there are ofte n sellouts – especially of the fresh made Devon fudge.  The 1500 pounds of Devon fudge generally sells out after Grand Prix on Thursday, and those who cannot go without their Devon fudge should come early, said chairman Sherri Gartner.
The fudge making starts in April, and most of the fudge is made by the chairmen, using the traditional Devon recipe, right here on the Devon grounds.  The preparation of the bulk and novelty candy also starts in April.  The chairmen make a trip up to Meyerstown, PA to Smith's Candies to select the candy for the booth.
"We're all like kids in a candy store," Gartner said.  "It's a fun day."
In addition to the bulk candy, they also choose 75 novelty items, including Rock Candy, Nik-L-Nips and Candy Buttons.  Many Devon visitors come each year to stock up on the candies they grew up with, which can be hard to find in some stores.
The chairmen then need three cars to transport all the candy back to Devon.  Once they are back, they begin separating the 425 pounds of bulk candy into 4-ounce bags, creating 1700 bags of candy to sell during Devon Week.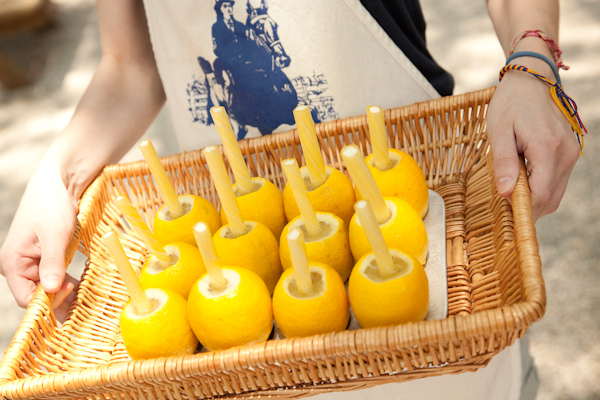 The booth is staffed by volunteers of all ages, including those as young as 12-years-old, who can volunteer along with a parent.  This contributes to the "family atmosphere" at the Candy Booth, Gartner said.  Many of the volunteers return year after year.
Be sure to stop by the Candy Booth to get all of the Devon specialties before they're gone!