Aiken, SC – Two phases are complete at the 2023 $50,000 Grand-Prix Eventing Festival at Bruce's Field, presented by Taylor Harris Insurance Services, and North Carolina-based Olympian Doug Payne will hold the overnight lead aboard Laurie McRee, Catherine Winter, and his own Starr Witness (Chello III VDL – Carmen).
The pair earned an astonishing 19.9 from the Ground Jury panel of president Bea di Grazia (USA) and Andrew Benne (NZL), which included one mark of 10 given for one of the flying change movements. This gave Payne and the 12-year-old Dutch-bred mare some breathing room ahead of what would prove to be an influential Michel Vallencourt-designed show jumping track in the afternoon. They lowered one pole at fence 8, a vertical over a liverpool, increasing their penalty mark to 23.9.
"[Starr Witness is] just getting a lot more comfortable, I think, at the level, and clearly stronger every day through what would have been more difficult aspects of the course in the past," Payne, who also frequents the show jumping arena with a different string of horses. "She was very, very good through the whole triple bar to the triple line. I got a little unlucky, I think, with my rail, but it's all good.
"There's a lot there that needs to be ridden and paid attention to," Payne described of Michel Vallencourt's course. "He does a lot of obviously bigger tracks as well, Grand Prix and such. He always keeps the riders on their toes and requires you to really make adjustments where they're needed, and for that, I think it's a super course."
Despite the rail, Payne and Starr Witness had enough to retain their lead on a 23.9, despite some pressure from Liz Halliday-Sharp and Miks Master C (Mighty Magic – Qui Luma CBF), owned by Deborah Palmer and Ocala Horse Properties. Halliday-Sharp and Miks Master C did pick up two seconds of time, which prevented them from stealing the lead from Payne. "I added too much into fence two, when I could have just gone one to two, and that would have taken care of my time faults," Halliday-Sharp said after her round. "He's actually wonderfully polite, and he's much more adjustable than he used to be. But I'm thrilled with him."
Moving from sixth following dressage onto a podium position in third are 2022 Grand-Prix Eventing winners Boyd Martin and the Annie Goodwin Syndicate's Fedarman B (Eurocommerce Washington – Paulien B). Martin secured a clear round inside the time allowed of 77 seconds to slot into a competitive position with a clear view of a potential win tomorrow.
"He's a legend," Martin commented. "I want to touch some wood, but he's never had a pole down in a show yet – he's a phenomenal jumper. I'm thrilled to be back here in Aiken in front of all of Annie's family and friends and the syndicate."
Immediately following show jumping, the Richard Picken Style Award was given to Canadian rider Colleen Loach, who turned in two stylish rounds aboard FE Golden Eye and Vermont.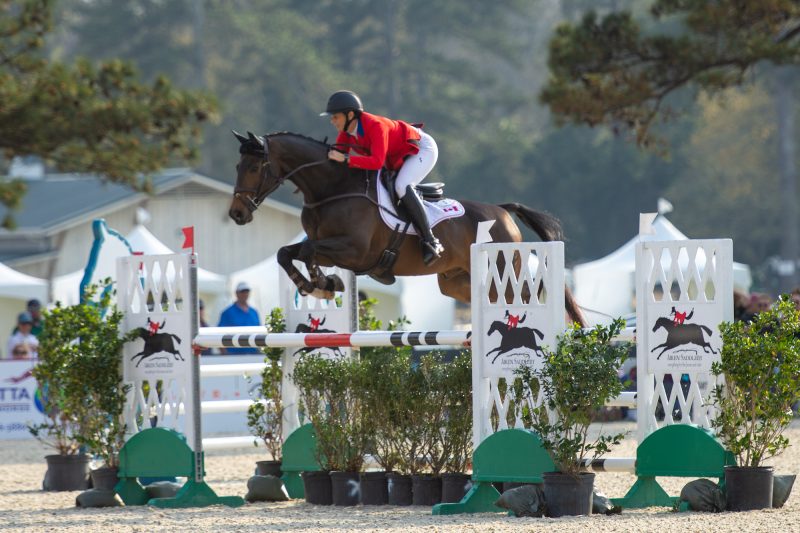 An avid supporter of all the activities at Bruce's Field, Richard Picken spent every Tuesday each winter at the facility coaching and warming up his students. He was fiercely dedicated to those that he coached and was very committed to utilizing the training and showing opportunities at Bruce's Field. He coached Olympians and kids with equal interest and dedication, and nothing made him happier than a long, successful day in the warm-up arena – no matter the weather. Highlights of his coaching career included Phillip Dutton's individual bronze medal at the 2016 Olympic Games on Mighty Nice and Alexandra Baugh's individual gold at the North American Young Rider Championships. But he enjoyed the day to day as much as he enjoyed major championships and continued to teach until the last weeks of his life. He lost a stubborn battle with cancer in the summer of 2022, but the education that he instilled in hundreds of horses and riders can be seen in show jumping arenas at events across the country. The Richard Picken Style Award is given in his memory, as determined by course designer Michel Vailliancourt.
Also following show jumping was the commencement of a fundraising dinner and raffle to benefit the Annie Goodwin Rising Star Fund. In the spirit of Annie's vision and legacy, the Aiken Horse Park Foundation established the Annie Goodwin Rising Star Fund, to foster, support and develop Aiken's young equestrians who embody Annie's character and dedication in their respective sports.
A total of 23 combinations will move forward to tomorrow's cross country, designed by Captain Mark Phillips. Seven pairs opted to withdraw following show jumping, and three pairs were given Compulsory Retirements for having five or more rails down.
Cross country begins at 12:30 p.m. EST on Saturday, and will be run in reverse order of standing to lead to an exciting event finish.
In the 2023 Ride for Charity challenge, the leaderboard also shuffled. Following dressage, Team Purple, consisting of Boyd Martin with Fedarman B and Tsetserleg, Sarah Kuhn and Mr. Cash van de Start, and Ryan Wood and Cooley Flight, took hold of the lead. Team Yellow is riding to represent Brothers and Sisters of Aiken County. The team would lose that lead during show jumping, however, giving way to new leaders Team Orange, made up of Liz Halliday-Sharp and Miks Master C, Woods Baughman and C'est la Vie 135, Shannon Lilley and Ideal HX, and Sydney Elliott and QC Diamantaire. Team Orange is currently on a total score of 86.9 and is riding for Aiken County Pony Club. Full Ride for Charity team standings can be found here. Fans can support their team and the organizations they represent via this link.
Information Links
Grand-Prix Eventing Website Live Scoring
XC Order of Go
XC Course Map
Cross Country Preview H&C+ Live Stream
Tickets
Volunteer Opportunities Ride for Charity Fan Vote Ride for Charity Team Scores
Media Contacts:
Sally Spickard – sally@eventingnation.com Shelby Allen – shelby@eventingnation.com
AHPF Contact:
Kate Boggan – kate@aikenhorsepark.org