Madison Myro and Orion CWF Take the Winning Gamble in the Nevada Jump Cup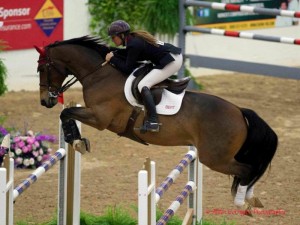 Photo By Alden Corrigan
November 13, 2014 – Las Vegas, NV
– The Las Vegas National kicked off the show jumping highlights at the South Point Hotel & Casino's Equestrian Arena with
Thursday's
Markel Insurance Grand Prix Series Final. After competing in qualifying grand prix events throughout the year, the top twenty-five point earners were invited to compete in the inaugural finals.  With add back from each horse's entry during the qualifying season, the purse for tonight's class had grown to $53,400.
Set at 1.40m with 14 efforts in a time allowed of 74 seconds, the course featured a double and triple combination as well as several tricky bending lines; in particular, a blind left turn to a skinny wall on the far end of the short side of the arena.
Course designer Olaf Peterson, Jr. of Germany elaborated on his plan. "It can be difficult to make a 1.40m class challenging, especially since we have very good horses and riders in this class-for example, Enrique Gonzalez, rode at the WEG this year," he explained. "It's set very light; you need a careful horse to keep the fences up, since everything is set a solid 1.40m."
Trouble spots included fence 3, an airy striped vertical, as well as fence 7a of the triple combination and 10a of the double combination. The tight time also caused additional faults for nearly a third of the class.
Nine entries returned for the jump-off, which was a series of rollbacks and lines before a hand gallop down to the last oxer. First to return, Jeffrey Fields on Bybalia SMH (Stall Minion, owner) was quick and clear in 41.39 seconds. Ann Knight Karrasch on Coral Reef Carmel Z (Coral Reef Mgmt., LLC) flew around the course, leaving all the rails up in a time of 37.99, which stood as the leading time until Kristin Hardin and her spunky partner Bert (Emily Cohodes, owner) zipped through the timers in 36.36.
Rich Fellers on Harry & Mollie Chapman's Lux Lady were close behind Hardin, clean and fast in 37.95. In a heartbreaking turn of events, both Susie Hutchinson on SIG Excel (SIG International, owner) and Michelle Parker on Cross Creek Farm, Inc.'s Socrates de Midos both had quicker times in 34.71 and 35.63, respectively, but had a rail at the final oxer. Their four-fault rounds resulted in a victory gallop for Hardin, with Fellers in second and Karrasch taking home third.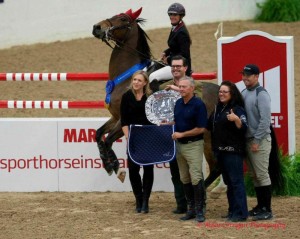 Kristin Hardin and Bert with (l-r) Melissa Brandes, Markel's Brandon Seger,

Will Simpson,

A. J. Schlatter Flynn

and Dakoda Mower.

Photo By Alden Corrigan
Hardin was full of praise for her beloved horse. "After the first big class we did together I thought, 'Wow, he's the real thing.' There's that point where you start to believe. Last year we did well and now I trust him completely," Hardin continued. "He's super hot and doesn't look easy to ride, but I just grab his mane three strides out and hang on."
She elaborated on his habits. "He'll be super wild and try to buck me off, and as soon as I untack him, he knows that is his time to roll. He always rolls on both sides and rubs his head in the dirt. It relaxes his back and makes him happy."
As for what's next for this wonder horse, Hardin explained. "I take it one day at a time. He's my horse. Everyone wants him to do more, but I want him to last for a long time and for my kids to go to Young Riders on," she said. "I want him to go forever-he doesn't have to prove anything to me. He's been perfect and is the horse of my dreams."
The Gamble Pays Off for Myro and Orion CWF
Congratulations to Madison Myro and her own Orion CWF for their win in the Nevada Jump Cup – Gambler's Choice. Myro set an exciting tone on Wednesday night for the week of events to come, earning 1250 points to take home the title. Second place went to Kenzie Sullivan and TKS Enterprises, LLC's Maximus with 1220 points and third to Dinnia Digennaro aboard her own Lukamigo with 1210 points. The Nevada Jump Cup was the first of many highlight classes to be featured in Blenheim Equisports' final show of the season.
RESULTS
Markel Insurance Grand Prix Series Final
Place – Entry – Horse – Rider – Owner – Faults/Time
1. 365 – Bert – Kristin Hardin – Emily Cohodes – 0/0/36.362
2. 857 – Lux Lady – Rich Fellers – Harry & Mollie Chapman – 0/0/37.958
3. 872 – Coral Reef Carmel Z – Ann Knight Karrasch – Coral Reef Mgmt., LLC – 0/0/37.996
4. 149 – Bybalia SMH – Jeffrey Fields – Stall Minion – 0/0/41.393
5. 180 – SIG Excel – Susan Hutchison – SIG International – 0/4/34.718
6. 879 – Socrates de Midos – Michelle Parker – Cross Creek Farms, Inc. – 0/4/35.638
7. 685 – Lasse – Jamie Barge – Kylieco – 0/4/39.045
8. 691 – Zanzibar – Tanya Levorchick – Megan Camaisa – 0/4/40.851
9. 927 – Quilebo du Tillard – Enrique Gonzalez – Enrique Gonzalez – 0/4/44.859
10. 287 – Mucho Gusto – Melissa Doddridge – Melissa Doddridge – 1/74.522.
Photos by Alden Corrigan.  See Official Show photos at McCool Photography.
About the Las Vegas National
Produced by the Blenheim EquiSports Management Team, this one-of-a-kind competition is unique to Las Vegas. Offering a schedule with several highlight classes, including an FEI World Cup Qualifying Grand Prix, it is an important stop on the fall indoor show schedule. Several hundred horses come to spend the week in the tremendous indoor facility at the South Point Equestrian Arena.
One of the only events where accommodations, dining, entertainment, spa services, show arenas and stabling are all essentially under the same roof, the Las Vegas National stands alone and is recognized as a Top 25 Horse Show by the North American Riders Group.