Liz Halliday will make her first FEI Nations Cup appearance for the United States Equestrian squad this weekend (October 10-13) when the professional dual sportswoman takes part in the CCI*** Team competition in Boekelo.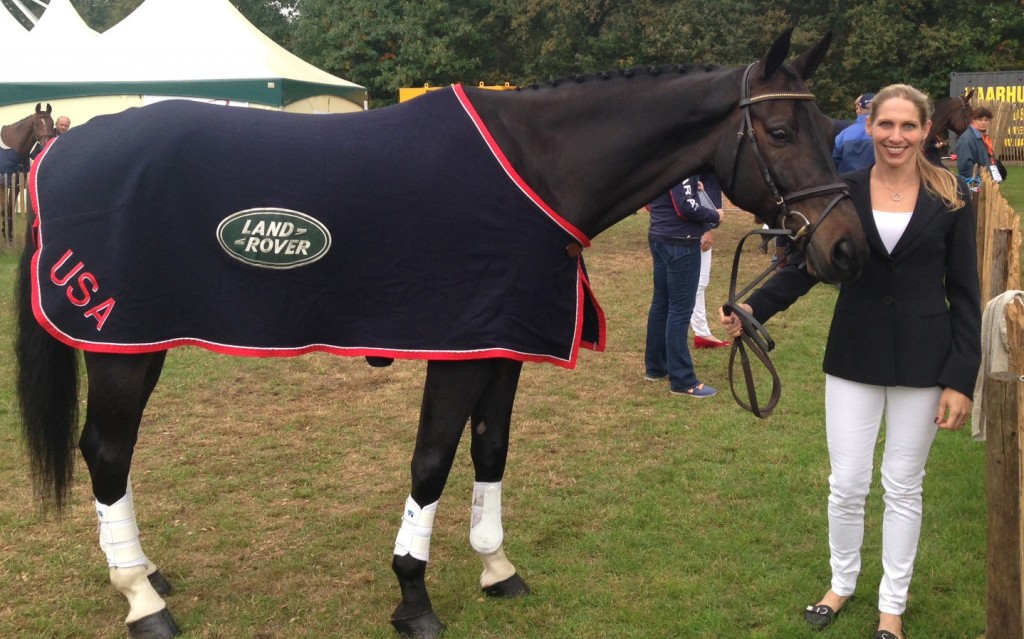 Liz, along with one of her Chailey Stud stable's brightest prospects – Blackie (Fernhill by Night) – travels to the Netherlands as part of the three-rider American team for the final round of this year's championship. Not only will this be the British-based Californian's Nations Cup debut but it will also be her first team opportunity for the USA.
Fortunately there are few places where Halliday would rather be making her first Team outing for the US than Boekelo; this will be Liz's fourth appearance there since making her international three-star debut at the same venue 10 years ago.
Blackie's place in the team comes off the back of a breakthrough season in which Liz and Chailey Stud have worked tirelessly to unlock his undoubted potential. But while Halliday's previous Boekelo experience should stand the pair in good stead, she remains realistic about the step up in opposition facing the 10-year-old this weekend.
"There's no doubt this will be a big test for Blackie and it will really show us what he's made of," confirmed Liz. "I am absolutely delighted at how far he's come this year. Pre-season our aim was to have him competing at three-star level by the end of 2013, but to be representing the US never really entered the equation and is a major bonus. I'm under no illusion as to what he's going to face this weekend. It's the biggest event of his life and I'm sure he won't let me down. I will certainly be riding strong and giving it my best shot! This is a good opportunity for the selectors to hopefully see his and my potential for the future, and I really hope it will be the first of many team opportunities to come.
"As for Boekelo, I truly love going to the event and it really is right up there on my list of favourites! The organisation is fantastic and the people are always very friendly and supportive. For me there aren't many places better to be making my Nations Cup debut with the US team."
Halliday certainly won't be rusty coming into Boekelo after competing with another of Chailey Stud's rising stars, Cooley (HHS Cooley), at Little Downham Horse Trials on Monday. The long trip to the event proved worthwhile after a strong 10th place finish in the Advanced section saw him also qualify for CCI*** level competition.
Although that qualification came too late for another entry at Boekelo, Liz also remains thrilled with his progress.
"Having two horses come so far in less than 12 months is fantastic, and both Cooley and Blackie have really grown in confidence and experience this year. The fact Cooley has also now qualified for CCI*** competition opens up a lot of options next year, and I'm really excited with the horse power that I have for the 2014 season."
Liz is supporting pioneering medical charity Spinal Research throughout the 2013 season. For more information please visit www.spinal-research.org or contact Isabel Long on 01483 898786 /isabel@spinal-research.org.
Liz Halliday media enquiries to Tom Hornsby:

Chailey Stud enquiries to Sam Kelly:

sam@equineevents.com

+44 (0)7734 900 327

 

Spinal Research: Isabel Long

isabel@spinal-research.org

ArcEquine: Steve Jenkinson

Andrews Bowen Ltd: Lynn Jones

lynn.jones@andrewsbowen.co.uk

Cyclo-ssage: Sean Hamilton

sean.hamilton@tiscali.co.uk

Jacksons Fencing: Carla Wessel

carlaw@blueberrycommunications.co.uk

info@mirrorsfortraining.co.uk

Voltaire Design: Géraldine Gilmas

geraldine@voltaire-design.com