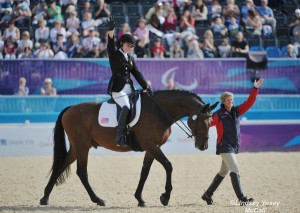 Rebecca Hart and Missy Ransehousen.
Photo by Lindsay McCall.
Unionville, PA – November 18, 2014 – Competing at an international level requires much more than just being a good rider; it takes a village. For para-dressage rider Becca Hart, three of the prominent members of that 'village' are Jessica and Missy Ransehousen and Todd Flettrich.
The support and tutelage of the three trainers has helped propel Hart to where she is today: riding down centerline at the highest levels of para-dressage competition, including two Paralymipcs and two World Equestrian Games (WEG).
Rewind back before her successful Paralympic and WEG rides in Hong Kong, London, Normandy and Kentucky, and Hart was just gearing up for the 2008 Paralympics, her first Paralympics event.
It was at that time that the Ransehousens, of Blue Hill Farm, decided to host the 2008 para-dressage riders and offer them all, including Hart, free training and board leading up to the Paralympic Games.
At that time, the training relationship that had begun to develop in 2006 between Hart and the Ransehousens continued to flourish into one that would truly help springboard Hart's career. In Missy, Hart has a trainer well versed in teaching para-riders and in helping them compete at the highest level of the sport.
"My involvement with the para-riders started back in 1999 when Hope Hand, who lives locally in the Malvern [Pennsylvania] area, asked me to teach a clinic," Missy said. "I had to very quickly adjust my training technique because many of the riders weren't able to use a strong leg so they compensated in other ways. Hope was very patient with me, and she helped me gain a better understanding into coaching para-riders. While I was teaching her, she was also teaching me."
Working with Hand further fueled Missy's interest in the sport of para-dressage, and in 2000, she traveled to the Paralympic Games in Sydney, Australia as a coach. Since that summer in 2000, Missy has traveled to the Paralympic Games in Athens, Hong Kong, and London as, not only a trainer, but also as the Chef d'Equipe of the United States Paralympic Dressage teams.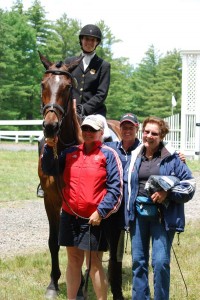 Photo by Lisa Thomas, Mid-Atlantic Equestrian Services
That background and knowledge that Missy brought to the table has proved invaluable to Hart, who continued on with Blue Hill Farm after her positive 2008 Paralympics experience and following her graduation from school. There the Ransehousens provided, and continue to provide, Hart with free board and lessons, allowing her to more easily continue to pursue her goals.
The combination of Missy and Jessica's generosity and coaching and Hart's talent was becoming a force to be reckoned with in the para-dressage ring, but as the 2010 World Equestrian Games approached, Missy too was competing and with conflicts in coaching Hart in Florida, she felt it was time to bring in an added reinforcement. Missy knew that longtime friend and professional international dressage rider Todd Flettrich would be just the man for the job.
"When Missy asked me, I was skeptical because I had not taught a para-rider before," Flettrich admitted, but he was not one to say no to the Ransehousens, with whom he had been like family for some time.
"Going back to the 1980s, I met Todd, and he was my scribe when I judged a show in New Orleans," said Jessica, a three time Olympic dressage rider herself. "It was very cute because he kept breaking in while scribing and saying that he really wanted to get to Young Riders. He pressed that he wanted to get somewhere where he could have the chance to compete on an international level."
Jessica saw the passion that Flettrich had for the sport and offered to have him train with her at Blue Hill Farm, much like the current day situation between Hart and the Ranshousens.
"I said to him, if you get permission from your parents and have a horse to ride you can come and live with us. I can take you there. So he came to live with us, and I took him to the North American Young Rider Championship in 1989 and then again in 1990. He was the gold medal winner in 1990."
With the unyielding generosity of Jessica and through their mutual respect, the two grew to have a wonderful relationship, and Flettrich came to be like a son to Jessica, often joking that Jessica is his other mom. The dynamic duo considers themselves to be family, as Jessica stays with Flettrich when she attends the shows in Florida.
And so, Flettrich was brought into the picture as a vital part of Hart's growing team.
"As an FEI level rider and trainer, his is another opinion that I really respect, " Missy said. "That is one of the reasons I thought he would do well with Hart. She needed some guidance, but she didn't need to be talked through every second of her ride. He says a lot of encouraging words, and he is there to back you up."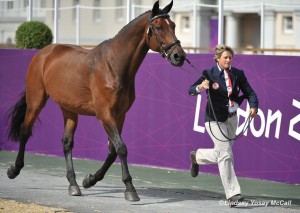 Missy Ransehousen jogs Lord Ludgar at the London Olympic Games.
Photo by Lindsay McCall.
Then, with Flettrich on board and leading up to the 2012 London Paralympics, Jessica offered Hart another exciting addition to the team: Missy's talented PSG dressage mount, Lord Ludgar.
Hart had retired Norteassa, who had been quite competitive and helped her reach her goal of going to the Paralympics, but Jessica knew that Lord Ludgar would be the perfect next step in helping Hart be competitive in the top tier of the sport.
By the time the 2012 London Paralympics actually arrived, Hart had an outstanding selection trial at Gladstone in 2012 and had been named the national champion aboard Lord Ludgar. At the Games, with the assistance of Missy who rode Lord Ludgar every morning, Hart delivered two beautiful tests for the team, placing fourth in the first team test and fifth in the freestyle.
The time came for Lord Ludgar to retire, and a top-level horse of her own was just what Hart needed, and that is just what another vital member of Hart's growing team, Margaret Duprey of Cherry Knoll Farm, was able to offer her.
Duprey currently backs and supports Flettrich, and she presented the opportunity to Missy to do the same for Hart.
"Margaret came to me and told me that she was interested in helping Becca [Hart] buy a horse, and that was great," Missy said. "She definitely has done a lot for the para-dressage program, and I hope that she stays with it and continues to sponsor Becca. Margaret is upbeat and supportive, and It is really great to have her as part of the team."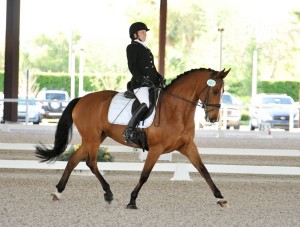 Rebecca Hart and Schroeters Romani.
Photo by Lindsay McCall
Duprey, with additional sponsors, purchased Schroeters Romani, a Danish Warmblood mare, for Hart, and it was on Schroeters Romani that Hart competed this summer at the 2014 WEG in Normandy, France. From there, their relationship has only continued to grow and improve with every ride.
"I recently went with [Hart] to a nice schooling show at Dunmovin where she rode really well and got a nice 67 percent in her third level test," Jessica said.
With the support of the powerhouse team behind her, the future looks bright for Hart as she continues to climb the ranks as a top international competitor.
For more information about the Ransehousen family and their Blue Hill Farm click here.
To learn more about Becca Hart visit  http://www.teamusa.org/para-equestrian/athletes/Rebecca-Hart.