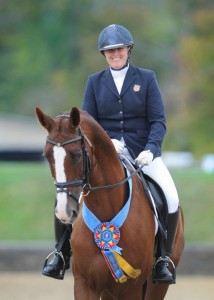 Mary Jordan and Rubicon 75 at the Great American Insurance Group/ United States Dressage Federation Region 8 Championships
presented by New England Dressage Association (NEDA) September 18-21, 2014
Photo By ©Amy E. Riley/STUDIO EQUUS
Lexington, KY – October 30, 2014 – 2010 Alltech FEI World Equestrian Games™ (WEG) athlete Mary Jordan of Wells, Maine is headed to the 2014 U.S. Dressage Finals presented by Adequan® scheduled for November 6-9, in Lexington, KY. Jordan qualified with Rubicon 75 (Royal-Hit x Edelkarin/Absinthe) at the Great American Insurance Group/ United States Dressage Federation Region 8 Championships presented by New England Dressage Association (NEDA) September 18-21, 2014. Unprecedented, this horse and rider combination is the only Para-Equestrian Dressage duo to win an able-bodied Regional Championship to go to the Finals.  Jordan earned her invitation when the pair won the 3rd Level Championship out of a field of 23 competitors. Rubicon also placed 5th in the 2nd Level Region 8 Championship. Rubicon 75, is owned by Vinceremos Therapeutic Riding Center of Loxahatchee, Florida, and was formally owned and ridden by Catherine Haddad Staller of International Dressage.
This partnership of Jordan and Rubicon 75 began in April 2014. Jordan had already qualified with Deeice Denison's Sebastian for the 2014 WEG Selection Trials so she headed to Europe in the Spring of 2014 for the opportunity to gain some international miles aboard Rubicon 75. The pair hit it off and completed a successful European show tour. In June 2014 Jordan competed at the selection trials with Sebastian earning a short-list ranking for the U.S. The 2014 show season was the final international Para-Dressage season for Jordan and Sebastian. Jordan and Sebastian have garnered multiple accolades to their name including being U.S. team alternates for both the 2012 Paralympics in London and the 2014 WEG in Normandy. Sebastian retires internationally holding a back to back Grade IV USEF Para-Equestrian Dressage National Champion 2011-2012 (no finals in 2013) and a Grade IV reserve championship in 2014. Sebastian was undefeated in competition in 2014 prior to the WEG Selection Trials and was the top Grade IV horse on the USEF ranking list 2011-2014. Immediately prior to WEG 2014 Sebastian and Jordan were the third highest ranked Para-Dressage horse/rider combination from the USA according to the FEI. Jordan will be taking her experience aboard her past mounts aiming for the 2016 Rio Paralympics with Rubicon 75 beginning with the U.S. Dressage Finals. This will be Jordan's second time back to The Kentucky Horse Park where she rode horse Paxton Abbey as an individual at the 2010 World Equestrian Games.
In its second year, the U.S. Dressage Finals presented by Adequan® is a unique head-to-head national championship competition for Adult Amateur and Open Dressage riders at all levels of competition from Training to Grand Prix. It is unique to have a Para-Dressage horse and rider combination competing in this able-bodied championship.
Jordan explained, "Rubicon qualified for NEDA Fall and Regionals at one show in August 2014, our first stateside competition. I rode four tests at 2nd and 3rd level over two days and got my qualifying scores at Vermont Dressage Days in Essex Junction, VT. There, Rubicon earned high score of the show and won the Blue Seal Amateur Cup on a score of 69+%. His scores in Saugerties went up to 72.9%. Rubicon is our hopeful for Rio 2016. I successfully competed him at the CPEDI3* in Moorsele, Belgium, just missing the qualifying score for the U.S. Selection Trials for Normandy by 3/100s of a point. I only had him two weeks at that point. He also won and was 2nd place at a national horse show in London with me with scores in the low 70s."
She acknowledged, "I am so incredibly excited to compete in Kentucky with this extremely wonderful horse along with the nation's best riders and horses from around the country. A sincere thanks to my family, friends, Coach James Koford, Vinceremos Therapeutic Riding Center, Catherine Haddad Staller, and sponsors for their support and encouragement with our new partnership."
About the United States Para-Equestrian Association:
The USPEA is a network of riders, judges, national federation members, and equestrian enthusiasts.  The association gives athletes the ability to get involved and expand their knowledge and experience in the Para-Equestrian sport. The USPEA encourages Para-athletes to participate in all disciplines under the Para-Equestrian umbrella.
The USPEA is a recognized affiliate of the United States Equestrian Federation (USEF) which serves as the National Governing Body for the equestrian sport.  This relationship between the USPEA and USEF is to encourage Para-Equestrian competitors, leisure riders, coaches, fans and enthusiasts to network and get involved with the entire equestrian sport.
Ultimately the goal of the USPEA is to foster growth in the Para-Equestrian discipline.  From growth in the number of participants to growth as a team, and growth in the experience and knowledge of all involved.  From local horse shows to international Paralympic Games, the USPEA provides Para-Equestrians the knowledge and resources needed to succeed.  The USPEA connects with the International Olympic Committee (IOC), the Federation Equestre Internationale (FEI), the United States Dressage Federation (USDF), USA Reining, and USEF which provide Para-Equestrians the top equestrian resources.
In June 2010, the USPEA earned its 501 (c)(3) status which has encouraged supporters to help supply funding to the Para-Equestrian Team as a recognized affiliate of the United States Equestrian Federation(USEF).