Harrisburg, PA – October 12, 2013 – The sun finally decided to peek through the clouds on the third day of competition at the Pennsylvania National Horse Show, and the atmosphere in general seemed brighter as the air warmed up and the puddles receded and started to dry out.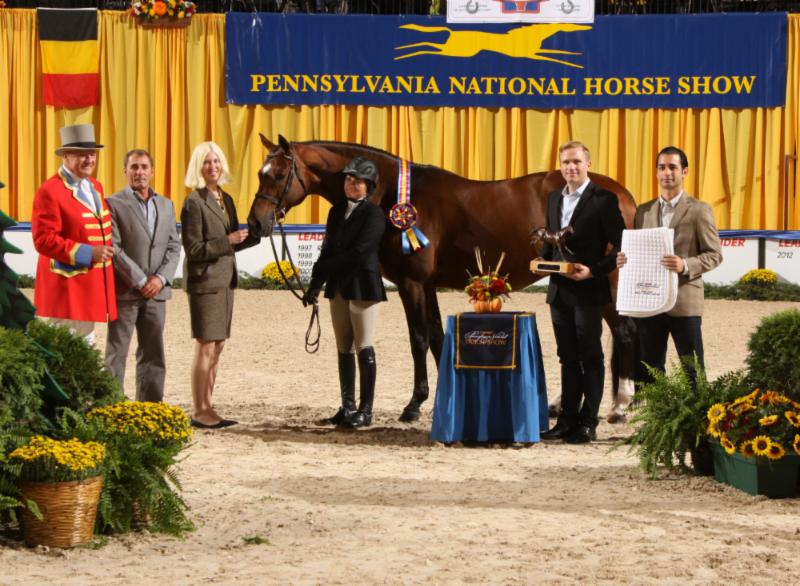 Dr. Betsee Parker's OVATION awarded Junior Hunter Grand Champion for a record third consecutive year
Madeline "Maddie" Schaefer, clinched both top ribbons in the Small Pony Hunter Championship, taking the Champion title with her own pony ARMANI, and the Reserve Champion with Further Lane Farm's ROLLING STONE.
"He's really fun and likes to perform", said Maddie about ARMANI, a little dappled palomino gelding that she has had for a year. "He was a green when I got him so I have been showing a lot this season to give him experience." The now 9 year-old ARMANI was imported from Wales as a young horse, but was only gelded a couple of years ago, and still remains a little cheeky. "I can't put bows in my hair or he'll try to pull them out when I'm trotting him in hand for the conformation part", said Maddie with a laugh.
In the Medium Pony Hunter Championship, Emma Kurtz and the 15 year-old bay gelding GRAND ALL OVER, owned by David Gochman, took the Championship title, while Reserve Champion was awarded to Daisy Farish and SASSAFRASS CREEK, a 14 year-old bay mare owned by Redfield Farm. "The courses were really fun", said Emma, "but I really like the Handy class because I like how you can jump the trot jump either way and it's more challenging – my pony is good at that".
Daisy Farish, who turned 13 today, then went on to win Champion of the Large Pony Hunter Championship with BEAU RIVAGE, a pony she has been riding for 2 years. Reserve Champion went to Aleece Jarman and VALENTINO. "He's really fun because he has a really great rhythm and he just flies over the jumps", said Daisy. The pair also won a Championship together recently at the Capital Challenge Horse Show.
The $5,000 Pony Hunter Winners Stake was open to first and second place winners in the small, medium, and large pony classes today, and it was Daisy Farish and SASSAFR
AS CREEK who got the blue ribbon, beating 17 other riders. Emma Kurtz took second place with GRAND ALL OVER, while Daisy also took 3rd place with BEAU RIVAGE. What a memorable birthday for Daisy!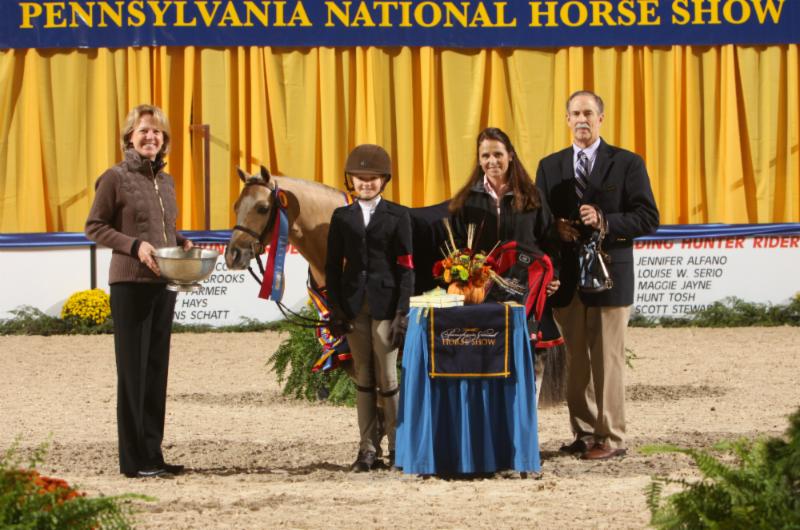 ARMANI and Madeline Schaefer receive the Grand Champion Pony Hunter Award from PNHS President Liz Shorb
There were several prestigious awards that were given to riders and horses that exemplified talent at the Pennsylvania National Horse Show. To add to their growing collection, Maddie Schaef er and ARMANI won the prestigious Grand Champion Pony Hunter, and received the Francis E. Armstrong Memorial Challenge Trophy. Maddie was also awarded Best Junior Rider, Pony, and received the Sunnyside Up Challenge Trophy.
Lilli Keenan received the William C. Steinkraus Style Award, was presented and sponsored by Karen Healey Stables. This is awarded to the Prix des States Junior Jumper Rider who best exemplified the American style of equitation, and the respectful, dignified, courteous and workmanlike manner of a true sportsman. "Going in to this weekend this was the one thing I desperately wanted. It is my favorite award and I really wanted to win it", said Lilli. "Obviously everyone wants to win all the jumper classes, but I was really hoping for that [award]. That's what I'm striving for – to truly represent the American style. To get that award was very satisfying and extremely exciting!"
WALK THE LINE, owned by Don Stewart, received the High Point Large Junior Hunter Award and the Lake Erie College Challenge Trophy for the most points acquired in the Large Jr. Hunter Championship classes.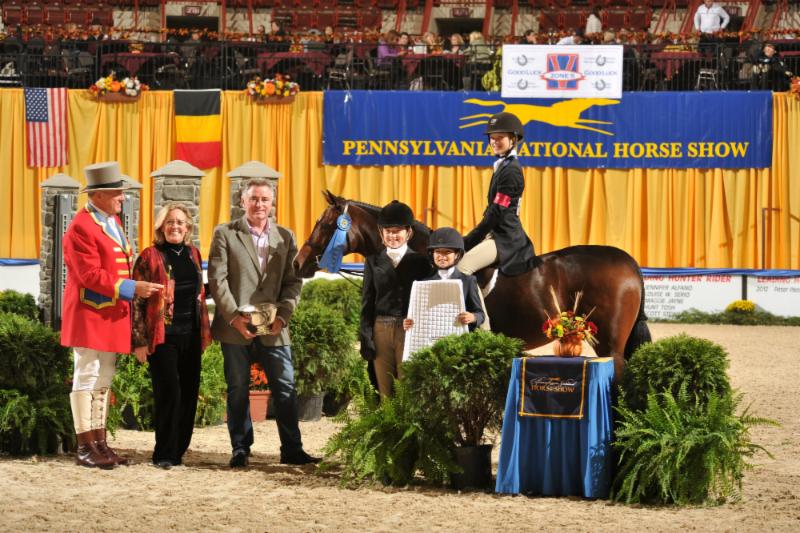 Daisy Farrish and SASSAFRAS CREEK win the Pony Hunters Winners Stake
Dr. Betsee Parker's horse OVATION received the High Point Small Junior Hunter Award and the Magic Word Trophy. The 13 year-old bay gelding also won the Junior Working Hunter Grand Championship for the third consecutive year, and received the Beauford Hunt Challenge Trophy. He is the only horse to have ever won this prestigious award three times.
OVATION's trainer, Scott Steward, received the Junior Hunter Grand Champion Trainer's Award, and his rider Victoria Colvin received the Junior Hunter Rider Sportsmanship Award for exhibiting the highest degree of exemplary personal conduct with respect to good sportsmanship, in the opinion of the secret panel of judges.
Victoria Colvin also received the Best Junior Rider, Horse Award for the third consecutive year – equaling Marley Goodman who held that accolade from 1996-1998. Three additional riders were recognized: Lilly Keenan took second, Hunter Holloway came third, and Lily Hymowitz was fourth.
Kalli Meagher of Virginai Beach, VA, won the PNHS Junior Hunter Rider Sportsmanship Award
Tomorrow's competition will be fierce as over 200 hundred of the country's best equitation riders will compete in the Final for the highly desired Pessoa / US Hunter Seat Equitation Medal.
The Pennsylvania National Horse Show, the 2011 National Show Hunter Hall of Fame Horse Show of the Year and the sixth ranked horse show in North America in the 2012 North American Riders Group (NARG) annual rankings, is one of the largest indoor horse shows in the U.S.  It hosts horses and competitors from across the country with 10,000 spectators attending from the Mid-Atlantic region.
With over 1,400 qualified horses competing for $450,000 in prize money, the show features Hunter and Jumper competition and is the site of the Pessoa/US National Hunter Seat Medal Final Presented by Randolph College, the Randolph College/USEF National Junior Jumper Championships, North American League (NAL) National Finals and the $85,000 Grand Prix de Penn National.
In addition to world-class equestrian competition, the horse show offers a unique shopping environment with boutique vendors that offer everything from fine art to custom jewelry, clothing, accessories and horse show memorabilia.
Proceeds from the event benefit community equine and youth programs. Since its inception in 1945, the Pennsylvania National Horse Show Foundation has donated over $1.5 million to charitable entities.
Horse show competition can be viewed live free of charge at www.usefnetwork.com and live scoring and results are available at www.Ryegate.com.
For more details on show events, competitors and vendors, please visit the show's website,www.PAnational.org or contact the Pennsylvania National Horse Show at 717-236-1600 or by email,eventinfo@PAnational.org.