Lexington, KY – October 30, 2013 – The Alltech National Horse Show is a horse show steeped in tradition and responsible for countless treasured memories. That holds particularly true for the Wheeler family, and today everything came full circle as Douglas and Kenneth Wheeler's horse, Queen Lattifa, ridden by Hunt Tosh, was named the Grand Hunter Champion.
After earning 36 points in the Second Year Green Hunter division, Queen Lattifa was presented with the Isgilde Challenge Trophy, donated by Ken Wheeler Sr. and the late Sally Wheeler in memory of their esteemed hunter, Isgilde. With both Ken Wheeler Sr. and Sally Wheeler, Isgilde earned countless accolades in the hunter ring, but more than that she was a beloved part of the Wheeler family.
"She was a big winner for our parents when they first started out together," Ken Wheeler Jr. said. He fought back the tears as he continued. "Not only was she a big winner, she was like the family pet. When she was old and blind, mom could walk out in the field and say 'precious,' and she'd shake hands. So she was the family pet. She wasn't just a show horse; she was more than that."
Hunt Tosh and Queen Latifah
In addition to the connection with the Isgilde Challenge Trophy at the Alltech National Horse Show, Sally Wheeler was responsible for bringing the National Horse Show back to Madison Square Gardens in the 1990s. She served as the horse show chairman during much of that time.
"This horse show is super special to us because of our family history with the National Horse Show," Douglas Wheeler said. "To do this together, the next generation with Hunt and Kenny, is just so special. For me, it really has not sunk in yet. I can't wait to get back to the barn and give these guys a big hug and a big thank you and share some laughs and some stories. That's what it's all about at the end of the day."
Douglas Wheeler continued, "The mare (Queen Lattifa) herself – all the credit in the world goes to Hunt. Kenny found her at Devon, and Hunt has done an amazing job just like he always does. She has exceeded every expectation that we could have ever had for her."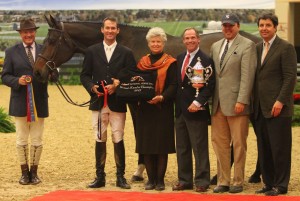 Hunt Tosh and Douglas and Kenneth Wheeler accept the Isgilde Challenge Trophy for the Grand Hunter Championship
Coming off the Second Year Green Hunter championship title at the Pennsylvania National Horse Show, Tosh and Queen Lattifa again earned the championship tricolor in the division after sweeping the victories in all three of the over fences classes.
"All through Indoors she was great, but to come here and be able to be Grand and finish like that – to be able to put us all together and pull that off is fabulous," Tosh concluded.
Things also came full circle today for Elisabeth McFadden. McFadden's Serafino earned the First Year Green Hunter division championship with Melissa Feller at the reins, and for McFadden, the Alltech National Horse Show also holds a special place in her heart.
"The last time I rode in the National Horse Show it was at Madison Square Garden, and I now work for Madison Square Garden," McFadden said. "It's come full circle to come out here for my first time back at the National Horse Show and to have this happen. It is really pretty cool."
Ridden by Melissa Feller and trained by Robert Beck, Serafino, out of dressage stallion Sir Donnerhall, was originally purchased by Emil Spadone from a dressage farm in Europe.
"I looked him up on the dressage website that Emil bought him from, and I translated it from German. The description of him was 'a horse of good character,'" McFadden said. "That's really held true. He's just never had a bad day."
Going forward, the well-mannered 7-year-old will be aimed toward hunter derbies with Feller and may eventually become a junior hunter for Feller's daughter.
The First Year Green Hunter division reserve championship came down to a tie between Kelley Farmer and Skorekeeper and Scott Stewart and Starmont. The reserve championship title will be determined in a ride-off to be held tomorrow.
In addition to her successful showing in the First Year Green Hunters with Skorekeeper, Farmer has seen remarkable success with Quotable, owned by Dr. Kenneth and Selma Garber. Quotable was named Grand Hunter Champion at the Pennsylvania National Horse Show and again at the Washington International Horse Show, and today he claimed the grand championship title in both the Green Conformation Hunters and the Regular Conformation Hunters.
"I would not have ever anticipated or expected or even asked a horse to do this type of winning four weeks in a row. I was nervous about even showing four weeks in row. It's asking so much," Selma Garber said. "To be this consistent and to bring home so many championships is just flat out amazing."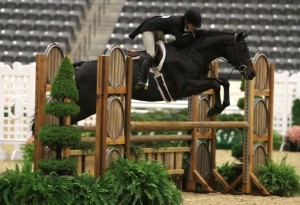 Kelley Farmer and Quotable
Garber continued, "Now he gets lots of oatmeal cookies and naps. Yesterday he got grated carrots. He had his own equine Waldorf salad. I think he deserves it."
The reserve championships in the Green Conformation Hunters was awarded to Peter Lombardo and Academy Award, while the reserve championship in the Regular Conformation Hunters was presented to Scott Stewart and Everly, owned by Dr. Betsee Parker.
Stewart and Parker initially saw Everly go in the jumper ring, and they immediately knew she would make a good fit as a hunter. The mare has very quickly proven them correct.
"It's tremendously exciting," Parker said. "For this mare to do well so quickly after switching between the jumper division and the hunter division is really pleasing to me. This is her fifth show as a hunter, and she has had a tricolor at all five shows now."
Stewart and Everly were also successful in the High Performance Hunter division, where Stewart earned the eventual reserve championship aboard Dedication, also owned by Parker. Peter Lombardo returned to the winners' circle during the High Performance Hunters, this time to claim the championship with Ante Up.
In the Performance 3'3″ Hunters, the championship went to Typecast and Sybil Rose, while the reserve championship went to Liza Boyd and Fenway. In the Performance 3'6″ Hunters John French and Small Affair rode away with the championship tricolor and Scott Stewart and Dedication claimed the reserve. French also had a successful day, earning the Second Year Green Hunter division reserve championship with Small Celebration.
The professional hunter divisions have come to a close, but hunter competition continues tomorrow with the Amateur-Owner hunters, starting with the Amateur-Owner 35 and Over Hunters at 8 a.m.
For more information or to view the competition live please visitwww.alltechnationalhorseshow.com. Coverage is provided by Shownet.biz, iHigh, HRTV, and USEF Network.
2013 Alltech National Horse Show Fast Facts
What:
The Alltech National Horse Show is a weeklong championship event featuring "AA"-rated hunters, open jumpers, junior/amateur jumpers, and the ASPCA Alfred B. Maclay Finals. The event will run October 29 – November 3, 2013,indoors in the Alltech Arena at the Kentucky Horse Park in Lexington, KY, site of the 2010 Alltech FEI World Equestrian Games™.
Tickets:
20% off on tickets as compared to night of event purchase! Available now at Ticketleap.comhttp://alltechnationalhorseshow.ticketleap.com/anhs2013/
Parking:
The Kentucky Horse Park has waived the normal parking fee during the Alltech National Horse Show. Parking is free. While dogs are permitted at the Kentucky Horse Park on a leash, no dogs are allowed in the Alltech Arena during the ANHS
Directions:
The Kentucky Horse Park is located at 4089 Iron Works Parkway, Lexington, KY 40511. The KHP is 8 miles northeast of Lexington at Exit 120 on Interstate 75.
Information:
Carolyn Vincent
National Horse Show
PO Box 386
Greenvale, NY 11548
Telephone:
Phone: (516) 484-1865
Fax: (516) 484-1982
Email:  
Website: 
www.AlltechNationalHorseShow.com
Shopping:
Vendors offering equestrian equipment, apparel, jewelry and home furnishings are located in the Alltech Arena.
Additional Contacts:
Vendors  – Matt Morrissey at Mmorri4398@aol.com or call 941 915-3457
VIP Table Sales – Karen Lucca at kll@phelpsmediagroup.com or call 561-753-3389
Corporate Sponsorships – Christian Palmer at christian@phelpsmediagroup.com or call 612-618-8216
Sponsorship – Mason Phelps at mpjr@phelpsmediagroup.com or 561-753-3389 or
Individual Sponsorships – Susie Webb at webb_susie@yahoo.com or 301-520-6162
Program Advertising – Deborah Darwin at dd@phelpsmediagroup.com or 561-313-0384
Hotels:
HILTON – DOWNTOWN – 859-231-9000 – Approximately 6 miles
CLARION HOTEL (formerly Holiday Inn North) – 859 – 233-0512 – Approximately 4 miles
FAIRFIELD INN & SUITES BY MARRIOTT – 859 -977-5870 – Approximately 4 miles
FOUR POINTS SHERATON – 859-259-1311 – Approximately 4 miles
LA QUINTA – 859-231-7551 – Approximately 4 miles
KNIGHTS INN – 859-231-0232 – Approximately 4 miles
EMBASSY SUITES – 859-455-5000 – Approximately 4 miles
MARRIOT GRIFFIN GATE – 859-231-5100 – Approximately 4 miles
RESIDENCE INN – 859-231-6191 – Approximately 5 miles
COURTYARD BY MARRIOT – 859-253-4646 – Approximately 5 miles
HOLIDAY INN GEORGETOWN – 502-570-0220 – Approximately 6 miles
RAMADA INN – 859-299-1261 – Approximately 6 miles
RED ROOF INN – 859-293-2626 – Approximately 6 miles
HAMPTON INN – 502-867-4888 – Approximately 6 miles
SUPER EIGHT – 502-863-4888 – Approximately 6 miles
MICROTEL INN & SUITES – 502-868-8000 – Approximately 6 miles
For further information on housing in the Lexington area, we invite you to visit:
www.visitlex.com and www.georgetownky.com
Management:
Kentucky Horse Shows, LLC
P. O. Box 11428
Lexington, KY 40575-1428
859-233-0492 (phone)
859-233-0495 (fax)
email: hakshows@earthlink.net
website: www.kentuckyhorseshows.com 
Horse Show Secretary:
Cindy Bozan
859-233-0492
Email: secretary.nhs@aol.com
ALLTECH MEDIA CONTACT:
Elizabeth Adams
North America PR, Alltech
Alltech Corporate Headquarters
3031 Catnip Hill Pike
Nicholasville, Kentucky 40356
(859) 401-2964
ALLTECH NATIONAL HORSE SHOW MEDIA CONTACT:
Re: News and Information:
Phelps Media Group, Inc.
12012 South Shore Blvd.
Suite 105
Wellington, FL 33414
561-753-3389 (phone)
561-753-3386 (fax)
Re: Media Credentialing:
Classic Communications
38 Mechanic Street – Suite 101
Foxboro, MA 02035
508-698-6810 (phone)
508-698-6811 (fax)
info@classic-communications.com