THERMAL, CA (March 4, 2013) – Grady Lyman of Rancho Santa Fe, California won Sunday's $5,000 Devoucoux Hunter Prix riding Penelope Murray's Flirt, rising to the top of a class of 52 contenders. The youngster created something of a sensation when she placed second, behind Sonoma Valley Stables' Hope Glynn, in the first $5,000 Devoucoux Hunter Prix of the 2013 HITS Desert Circuit on January 27.
This time, the roles were reversed – Lyman scored 87.5 in both rounds of the class, for a total of 175, while the Petaluma, California-based Glynn placed second on Helen McEvoy's Rio Ultimo, with a combined score of 174.5, and third on Georgy Maskrey-Segesman's Winter Rose with a combined score of 173.
Bridgeport Farms' John Bragg came in fourth, putting Lyman in the enviable position of beating her trainer. "It was kind of funny because after the first round, I lead him by .25," said Lyman. "My friend and I had been joking about how he always beats us and hopefully one day we can beat him, and I thought, today might be the day!" And it was.
Bragg was riding his own Cansas, a six-year-old horse he bought in November in Germany for Lyman to ride next year in the Junior Hunters. "I'm very proud of her," said Bragg. "She and Flirt were the Week V Champions in the Small Junior Hunters 15-and-under, so it's been a great week."
Karrie Rufer was fifth riding Morning Star's My Way to a combined 171.
$1,500 HITS 3' Hunter Prix
Earlier in the day, it was Julia Jaschke of Greenwood Village, Colorado, who earned the blue ribbon in the $1,500 HITS 3' Hunter Prix riding her own Finn. The 13-year-old Jaschke topped a field of 27 riders in the class.
"This was our first Hunter Prix, and it was really fun," said Jaschke, who trains with Michael Dennehy of Bridlewood Farms. "This is my second year showing at the HITS Desert Circuit, and it's been great. The atmosphere is really fun and there are so many beautiful horses to look at." One of them is Finn, who was Week IV Reserve Champion in the Children's Hunter 14-17.
Polly Sweeney of Pasadena, California, placed second on Duet; Emily Winkler of Long Beach, California, placed third on Landmark and Chloe Green of Bend, Oregon, placed fourth on Carlos. All were riding their own horses. Sandra Bierman of Beverly Hills, California, was fifth riding Kashmere Farms' Insignia.
About Devoucoux
Devoucoux, makers of fine French saddles, is proud to be the title sponsor of each and every qualifying Hunter Prix leading up to the phenomenal Diamond Mills $500,000 Hunter Prix Final. The Devoucoux Hunter Prix will be a featured event at all HITS horse shows this season as riders from around the country set out to qualify for the third-annual Diamond Mills Hunter Prix Final, which will take place September 7-8 at HITS-on-the-Hudson in Saugerties, New York.
About Diamond Mills Hotel & Tavern
Just 100 miles outside of New York City, nestled in the Village of Saugerties, Diamond Mills is a 30-room luxury hotel featuring stellar accommodations, fine-dining at The Tavern and full-service events at a state-of-the art Special Events Center. Diamond Mills is a proud member of the Small Luxury Hotels of the WorldTM, an unsurpassed collection of over 520 luxury hotels around the world. Saugerties' newest luxury hotel is also the proud sponsor of the Diamond Mills $500,000 Hunter Prix Final, which will take place at HITS-on-the-Hudson as part of the HITS Championship Weekend. For more information about Diamond Mills or the special VIP packages available to HITS-on-the-Hudson exhibitors, please visit DiamondMillsHotel.com or call 845.247.0700.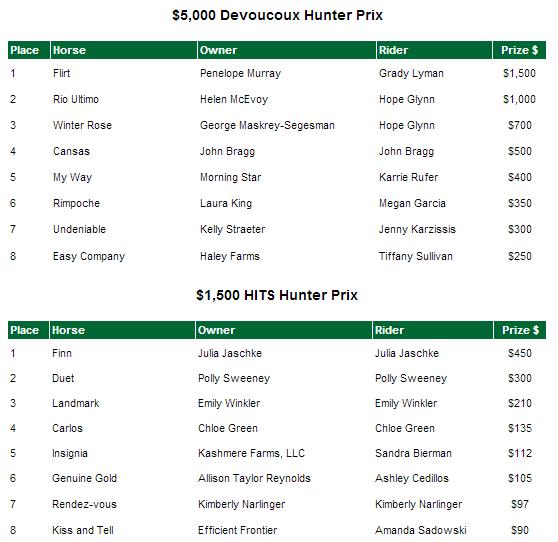 About HITS, Inc.
HITS, Inc. produces high-quality, international-level hunter/jumper horse shows. Based in upstate New York in the village of Saugerties, HITS has been producing shows since 1982 and is now a nationwide company with world-class circuits in California, Florida, Arizona, New York and Virginia. In 2010, HITS took the industry to new heights when it hosted the first-ever Pfizer $1 Million Grand Prix – now the Zoetis $1 Million Grand Prix. In 2011, HITS hosted the richest weekend in show jumping with the return of the Pfizer Million and the introduction of the Diamond Mills $500,000 Hunter Prix Final. In 2012, the historic weekend got even sweeter with the addition of the HITS $250,000 HITS Hunter Prix Final. This year, HITS will host a second $1 million class with the AIG Thermal $1 Million Grand Prix at HITS Thermal.
For more information and a complete schedule of classes and events, visit www.HitsShows.com. Stay connected with HITS, join us on Facebook or follow us on Twitter!
Media should contact the HITS Media Team at 845.246.8833 or e-mail Media_Info@HitsShows.com.