Wellington, FL – March 16, 2013 – The WEF Dressage Classic, CDI 3* presented by Today's Equestrian & Fellows at the Adequan Global Dressage Festival (AGDF) continued today with classes for the Large Tour and Small Tour. Susan Dutta and Currency DC won the FEI Grand Prix Special, while Kim Herslow and Rosmarin won their second class in a row in the FEI Intermediaire-1. The CDI 3* and National competition wrap up with tomorrow's classes. The next show for the AGDF is the Wellington CDI 5* presented by Diamante Farms on April 4-7, 2013.
The judges for today's FEI Grand Prix Special were: Carlos Lopes at E, Janet Foy at H, Sandy Phillips at C, Ulrike Nivelle at M, and Bo Ahman at B.
Dutta and Currency DC won the class with a score of 69.396%. Coming in second place was Susan Jaccoma (USA) on Wadamur with a score of 66.063%. Jill Irving (CAN) and Degas 12 were third after they received a score of 65.083%.
Dutta has ridden Currency DC, a 13-year-old Oldenburg gelding by Clintino x Classiker, since she bought him as a two and a half year old. The long journey has also been one of learning.
Dutta explained, "It's getting much better. It's not without effort; I'm always trying to ride better. I have fabulous trainers and we know we have a good horse. It's just a matter of trying to ride it well. First we had to get him going well, this takes time, and then get us together in the ring, and me confident. I have to really believe. This horse has only been ridden by me. Now I'm starting to believe in myself. I think he really likes me now and likes the way I'm riding him. There's more in there. This is a super horse. I just have not ridden him to his potential, but I'm getting there. That feels really good. To me, this is a huge step in the right direction."
Dutta trains with Juergen and Christoph Koschel when she travels to Europe in the summer and when they can come to the U.S. She noted, "I knew I needed a grounds person in America. I'm working with Nicholas Fyffe. I owe him a big thank you."
The pair started at the grand prix level three years ago, but there were a few bumps in the road with injuries since then. "This is the first season that he's starting to look like a real grand prix horse," Dutta said. "He doesn't look green anymore. It takes time."
Of her test today, Dutta described, "The beginning is so amazing with the passage, extended, passage, extended. I knew I got some points there. I knew I was going to need them. That's my history is to get way ahead there. It's a numbers game, so that if my walk wasn't good or if I made a little canter mistake, I still was higher in the score. I knew in the beginning when he was so easy and on my aids that it was good. I knew he felt good. He was good out here (in the warm-up). I wasn't nervous. I'm feeling more confident. I think that's transferring to him."
Speaking of her victory, she said, "For me, winning is great. More than anything though, just riding him well and getting the points was important to me. Confidence builds on confidence and I'm hoping I can layer myself with more confidence and ride really well."
Two In a Row for Herslow and Rosmarin
At only eight years old, Rosmarin is proving that his talent is here to stay. The Hanoverian gelding by Rosentanz x Weltmeyer, ridden by Kim Herslow of Stockton, NJ, won the FEI Intermediaire-1 class with a score of 71.026%. Second place went to Christilot Boylen (CAN) and Dio Mio with a score of 70.974%, while Caroline Roffman (USA) and Her Highness O placed third on a score of 69.421%.
Herslow explained that from yesterday to today, her horse felt even better. "I felt like he was even more there for me today. Not that he wasn't yesterday, but the through-ness was more solid today with him. He's letting me really ride him in the ring and staying completely with me, which is a really nice feeling. I can push and he never worries about what I'm asking for. Even if it's not the right thing. He still does it and then comes back and fixes it for me. This is his third I-1 ever, so I'm just thrilled that he's coming out and that we can still make his canter so much better. We're just starting and it's really awesome," she remarked.
Of her test, she said, "His trot tour is always pretty incredible. He's so rideable in his trot and his fluidity is so nice to ride. His half passes are always a strong point. His walk felt really good to me today. We still have to get our canter stronger. He's a really long horse so we have some strength to work on, and getting more jump in the canter, which will help the pirouettes and the changes. It'll help the whole canter tour. There's still a lot of room to improve, so it's exciting to know that. He's still just at the very beginning of his career here."
Despite just starting to earn accolades, Herslow felt that Rosmarin had talent to start with. "He definitely had talent. It's just been a very slow build-up from a young horse, in a sense that I didn't do a lot of fancy work with him. I did a lot of basic gymnastic, body-building work with him. I take a lot of time to develop a relationship with him and get his trust. I think that's what makes us so harmonious," she explained. "It's an investment in my time, but it's so worth it because you see the difference in the ring. He comes out the same every day and he's a super amazing horse. I'm lucky to own him and feel extremely grateful."
Herslow is excited that they still have another class in which to compete tomorrow. It will be the pair's second time ever in the I-1 Freestyle. "I need to get a little sharper in my preparations for certain things, so we still had a few little mistakes, but he was listening. He did exactly what I asked him for. I'm hoping to clean that up for the freestyle tomorrow, which is a really fun freestyle. I'm excited to ride that tomorrow," she said.
The top United States Para-Equestrian today was Mary Jordan, who rode Sebastian to a score of 66.071% in the FEI Para-Equestrian Individual Champion Test Grade IV. The awards presentations for all of the grades' team and individual winners will be held tomorrow.
Winning both yesterday's and today's FEI Junior classes was Paula Matute (ESP) on Escritor de Ymas II. They received a score of 64.595% in yesterday's team class and a 64.026% in today's Individual class.
The WEF Dressage Classic CDI 3* presented by Today's Equestrian & Fellows concludes tomorrow with the FEI Intermediaire-1 Freestyle along in the CDI competition. The Para-Equestrians will also perform their freestyles, while the Florida Youth Championships presented by Dressage4kids and sponsored by PanaCavallo have their final rounds in the main International Arena.
For full results and more information, please visit www.globaldressagefestival.com.
Final Results: FEI Grand Prix Special
Rider, Country, Horse: Judge E%, Judge H%, Judge C%, Judge M%, Judge B%, Total%
1 Susan Dutta (USA) Currency DC: 69.167, 71.250, 69.167, 69.792, 67.604, 69.396
2 Susan Jaccoma (USA), Wadamur: 66.250, 67.708, 66.667, 65.000, 64.688, 66.063
3 Jill Irving (CAN), Degas 12: 66.146, 64.479, 64.167, 67.396, 63.229, 65.083
4 Cesar Parra (USA), Van the Man: 67.188, 66.146, 63.021, 64.063, 64.896, 65.063
5 Evi Strasser (CAN), Action Tyme: 65.208, 65.104, 63.021, 65.521, 65.000, 64.771
6 Diana Mukpo (USA), Pascal: 63.958, 62.188, 65.104, 64.792, 65.000, 64.208
Final Results: FEI Intermediaire-1
Rider, Country, Horse: Judge E%, Judge H%, Judge C%, Judge M%, Judge B%, Total%
1Kimberly Herslow (USA), Rosmarin: 68.421, 72.237, 70.132, 72.632, 71.711, 71.026
2 Christilot Boylen (CAN), Dio Mio: 73.684, 67.763, 72.105, 71.711, 69.605, 70.974
3 Caroline Roffman (USA), Her Highness O: 70.658, 70.789, 68.553, 68.158, 68.947, 69.421
4 Silva Martin (USA), Rosa Cha W: 70.789, 66.974, 65.526, 65.526, 67.237, 67.211
5 Susan Dutta (USA), Lumberjack 12: 65.658, 70.658, 65.395, 66.579, 67.368, 67.132
6 Maya Markowski (CAN), Lumiere: 64.868, 66.053, 66.316, 69.079, 67.632, 66.789
Photo Credit: Photos © SusanJStickle.com and Lindsay McCall. These photos may be used only in relation to this press release and must include photo credit.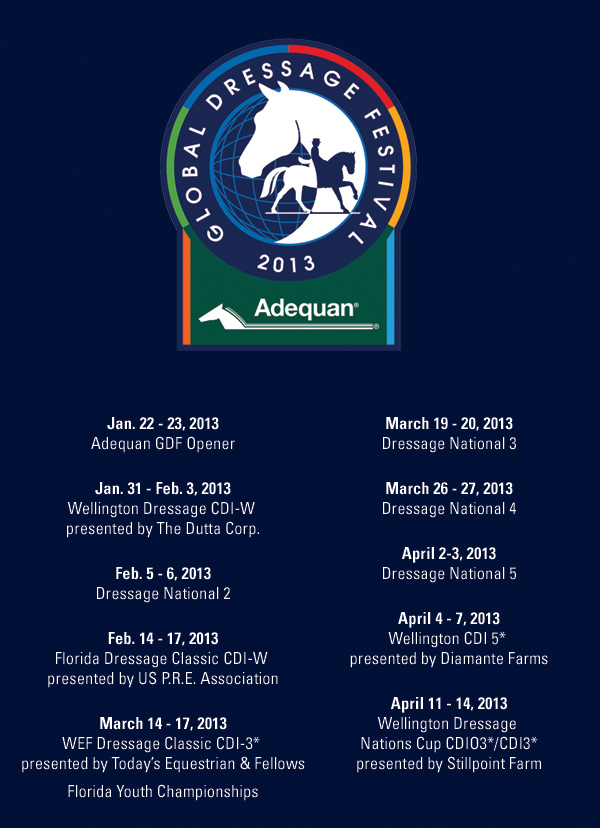 About the Adequan Global Dressage Festival:
The Adequan Global Dressage Festival (GDF) is one of the world's largest international and national dressage circuits featuring five CDIs, including a 5*, the first non-championship CDIO Nations' Cup in the Western Hemisphere, and nine U.S. national events.The Adequan GDF is offering more than $275,000 in prize money for the five international competitions making it one of the richest circuits in the world. In addition to the CDIs with national competitions, the Adequan GDF will feature six separate national shows to be held at the Stadium section of the Palm Beach International Equestrian Center (PBIEC) show grounds. The Adequan GDF encompasses almost 60 acres of the former Palm Beach Polo Grounds. The facility includes the Van Kampen covered arena (made possible by Kimberly and Frederic Boyer and family) and four outdoor arenas with world class footing, 200 permanent stalls, and a VIP seating area for the International Arena fully catered for relaxing and having an enjoyable experience.
First Founding Sponsors: Matt Varney, Chris and Rob Desino, Wellington Equestrian Realty; William Pearson and Janet Richardson-Pearson, Chesapeake Dressage Institute of Annapolis, MD; Devon and Terri Kane, Diamante Farm; Joe and Gaye Scarpa, Magnolia Farm; Tuny Page and Family, Stillpoint Farm; and Kimberly and Frederic Boyer, United States P.R.E. Association
Founding Sponsors: Ashley Holzer and Diane Fellows, Today's Equestrian; Bethany Peslar, Everglades Dressage; Betsy Juliano, Havensafe Farm; Carol and Rebecca Cohen, Two Swans Farm LLC; Janne Rumbough, MTICA Farm; Mike & Roz Collins; Suhail and PJ Rizvi, Peacock Ridge; and Tim and Susie Dutta, The Dutta Corp.
Corporate Sponsors
Brown Distributing, Champion Equine Insurance, Charles Owen, Chronicle of the Horse, Custom Saddlery, Der Dau, Dever Golf Carts, Equestrian Services International (ESI), Elite Equestrian Magazine, European Dressage Connection, Everglades Farm Equipment, Gold Coast Feed & Supply, Horse Of Course, Horseware Ireland, Interagro Lusitanos, Moet Hennessy USA, Nespresso USA, Paddock Cakes, Palm Beach Equine Clinic, Pennfield, Piaffe Performance, Premier Equestrian, Ritz-Carlton, Palm Beach, Rolex, Sanctuary at PBIEC, Show Chic, Sidelines Magazine, World Equestrian Brands
Please visit
www.globaldressagefestival.com
www.equestriansport.com
or call 561-793-5867 for more information.
Adequan Global Dressage Festival is located at
13500 South Shore Blvd, Wellington, Florida 33414