Alexander Zetterman and Canora Fly to Victory in
$10,000 G&C Farm Speed Stake; Ali Tritschler Tops Platinum Performance USEF Show Jumping Talent Search
For Immediate Release
Lauren Fisher and Laura Cardon for Jennifer Wood Media, Inc.
Wellington, FL – February 28, 2014 – The Canadian team of Yann Candele, Tiffany Foster, Eric Lamaze, and Ian Millar earned victory in Friday night's $75,000 Furusiyya FEI Nations Cup™ presented by G&C Farm, at the 2014 FTI Consulting Winter Equestrian Festival (FTI WEF) in Wellington, FL. Teams representing 12 different countries participated in the evening's competition with a win for Team Canada over Great Britain in second and USA in third.
FTI WEF week eight, sponsored by G&C Farm, runs through March 2, 2014, featuring CSIO 4* show jumping and a full schedule of 'AA' hunter and equitation events. Saturday's competition will feature the Hollow Creek Farm Children's, Junior and Young Riders FEI Nations' Cup team events as well as a $34,000 G&C Farm 1.45m and a $25,000 Nutrena Jumper Classic. The week will conclude on Sunday with a $25,000 Suncast® 1.50m Championship Jumper Classic and the $150,000 CSIO 4* Grand Prix, presented by Wellington Equestrian Realty.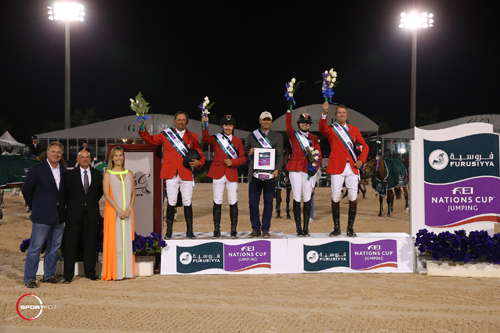 Team Canada's winning presentation with Equestrian Sport Productions' CEO Mark Bellissimo, and Gustavo and Carolina Mirabal of G&C Farm
Friday night's Nations Cup competition consisted of two rounds shown over a demanding course set by USA's Steve Stephens. Teams of four represented the nations of Brazil, Canada, Colombia, Germany, Great Britain, Ireland, Mexico, USA, and Venezuela. Chile, Israel, and New Zealand were also represented with three riders each.
In the second round, the top eight teams returned in order of highest to lowest total faults. The winner was determined by the lowest total of each team's top three riders from each round.
The winning Canadian team consisted of Yann Candele and the Watermark Group's Showgirl, Tiffany Foster and Artisan Farms LLC and Torrey Pines' Victor, Ian Millar aboard Ariel and Susan Grange's Dixson, and Eric Lamaze riding Artisan Farms LLC's Powerplay, led by Chef d'Equipe Mark Laskin.
In round one, Candele, Millar and Lamaze all jumped clear rounds, dropping Foster's score of four to head into round two on zero. In the second round, Candele jumped another clear round and Millar and Foster each had four faults. The team had secured the victory, finishing on eight faults total, and Lamaze did not have to return for a second round.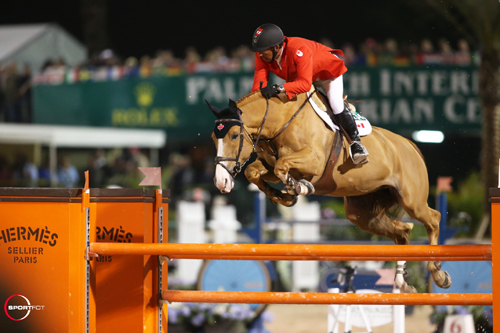 Yann Candele and Showgirl
Following their victory, Canadian Chef d'Equipe Mark Laskin was very happy with the evening's result and praised his horses and riders.
"In Canada, it's always a good team feeling!" Laskin stated. "We have a great group; we always have. Somehow they always come together to get the job done. Canada has been on a bit of a roll. First it was curling, and then women's bobsled, then it was hockey, and now it's show jumping!"
"I want to welcome Yann Candele back to our team. I am really happy to have him, especially tonight," Laskin added. "I think that's a key for Canada right now. We have four fantastic riders with four fantastic horses, and they did an incredible job tonight."
Showgirl, a 14-year-old Selle Francais mare by Gold De Becourt x Elf III, is a new mount for Candele and he spoke about how teammate Eric Lamaze helped him get the ride.
"For me, it's just a new group that Eric put together. We were in Barcelona for the final last year, and Eric was thinking already about WEG (World Equestrian Games). He looked at that mare and approached the owner to be able to acquire it for me because Eric is not selfish and he's all about the team," Candele noted. "He put a group together of Canadian and American owners to be able to have that mare compete for Canada under me. I think all the success of today is all about Eric and his team spirit as well as Captain (Millar) and Tiffany. We are solid as it can be. That is the end result we had today, and we are going to try to keep going for bigger and bigger events."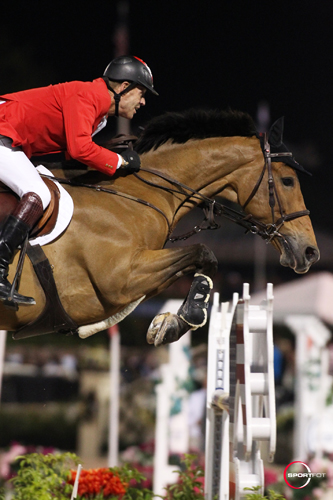 Ian Millar and Dixson
"Captain Canada" Ian Millar is forming a great partnership with his mount Dixson, an eleven-year-old Belgian Warmblood gelding by Vigo d'Arsouilles x Olisco, and was happy with his horse's performance.
"I've had him for a year, and he is coming along extremely well," Millar stated. "I am looking to include him in the next cycle for the World Equestrian Games, Pan American Games and Olympics, so it is a very long term plan for him."
"I was very pleased with him today," Millar continued. "His progress is great. He just gets better and better. He is the right age; he's a young horse and he has his whole life and his whole future ahead of him, and I'm very proud to have him."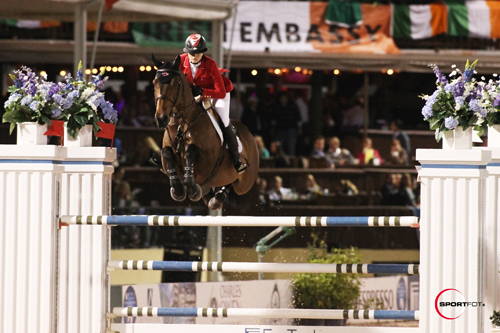 Tiffany Foster and Victor
Foster commented on the evening with Victor, a 12-year-old KWPN gelding by Elmshorn x Grandeur, and that she has had great success with this year. "I'm really excited about winning this tonight," Foster said. "I thought my horse jumped really well. The first round he was a little bit unsettled. He got a little bit rushed in a few places, but the second round he came back really well and I was very happy with him."
Powerplay, a ten-year-old Holsteiner gelding by Casall x Limbus, jumped a great first round with Lamaze and was rewarded with the team's success by not having to return for a second trip. Lamaze spoke about his night as well.
"For us it is a fantastic evening," Lamaze expressed. "My horse jumped very well, and I had the pleasure to ride with many great riders on the Canadian team. No one but this young man next to me (Millar) has ridden so much for our nation. We take it very seriously, and we pull together with results like tonight."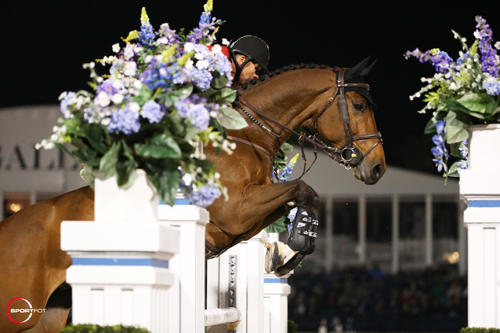 Eric Lamaze and Powerplay
The team from Great Britain finished second on Friday with rides from Ben Maher and Tatiana Korsakova's Diva II, Tim Gredley and Unex Competition Yard's Unex Chamberlain Z, Gemma Paternoster and her own and Julia Harrison Lee's Osiris, and Scott Brash aboard Lord and Lady Harris/Lord and Lady Kirkham's Hello Annie, headed by Chef d'Equipe Rob Hoekstra.
Maher and Diva II had four faults in each round, Gredley and Unex Chamberlain Z jumped double clear rounds, Gemma Paternoster and Osiris had one time fault in round one and nine faults in round two, and Scott Brash and Hello Annie finished with nine faults in round one and jumped clear in the second round. The team finished on nine faults total.
Team USA finished third with 12 faults overall with their team made up of McLain Ward and Sagamore Farms' Rothchild, Brianne Goutal and Remarkable Farms LP's Nice de Prissey, Laura Kraut and Cherry Knoll Farm Inc.'s Cedric, and Beezie Madden riding Abigail Wexner's Simon, all under the guidance of Chef d'Equipe Robert Ridland.
Ward and Kraut both jumped clear in round one while Goutal and Madden each had four faults. In round two, Ward finished on eight, Goutal and Kraut each incurred four faults, and Madden returned with a clear round.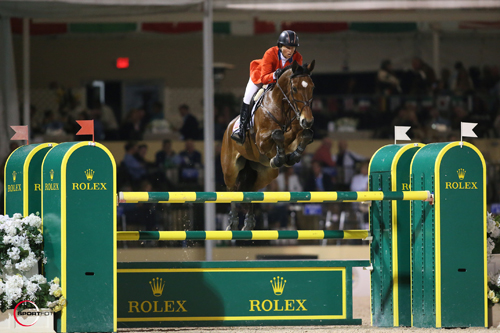 Beezie Madden and Simon
Ridland spoke to the result of his team Friday night, stating, "For us, last year was probably more fun, but it is a long-standing, competitive relationship between our two countries (U.S. and Canada). I seem to remember a jump-off for a gold and silver in a pretty recent Olympics. For tonight, we had some of those Olympians with us, all of whom jumped clean rounds. We felt that we were in it until the very end. It was just a rail here and a rub there. Brianne of course was our young rider. She got a tremendous amount of experience tonight under big pressure."
"This to me is now maturing into a real Nations Cup," Ridland acknowledged. "You are seeing real pressure out here. This is a Nations Cup we can be very proud of in this country, and it is only going to get better. That was a tough competition, 12 countries, and it has matured."
Beezie Madden also spoke about the evening and her rounds with Simon, stating, "I was happy with my horse today. I wish I had been clear the first round because he went beautifully, but he came back and went even better in the second round. Hats off to the Canadians. They did a great job. It was fantastic sport today, and thank you to G&C Farm, Furusiyya, and Equestrian Sport Productions. You all did a great job today."
The other top teams included Brazil and Ireland tied for fourth, Venezuela in sixth, Colombia in seventh, and Germany in eighth. The teams from Mexico, New Zealand, Chile and Israel did not return for the second round. Mexico finished ninth, New Zealand tenth, Chile eleventh, and Israel twelfth.
In addition to Yann Candele and Showgirl for Canada, the competition saw double clear rounds from Brazil's Alvaro de Miranda and AD Uutje as well as Great Britain's Tim Gredley and Unex Chamberlain Z.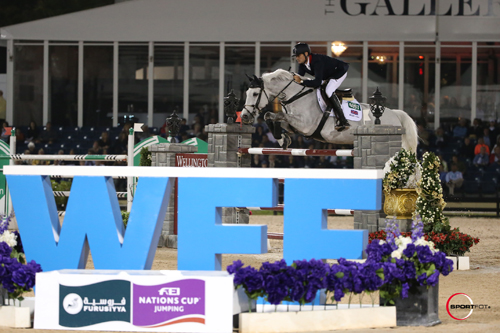 Tim Gredley and Unex Chamberlain Z
The 2013 season brought the introduction of a new formula for the FEI Nations Cup™. Following a new sponsorship deal with the Saudi Equestrian Fund, this historic series is now known as the Furusiyya FEI Nations Cup™. Under the new rules, the world has been divided into six regions for the purpose of qualifying teams for a World Final. The six regions are Europe 1 and 2, North America, South America, Middle East, Asia and Africa.
Representing the FEI, John Madden congratulated the Canadian team on their win and praised the competition as a whole. "We saw fantastic sport here today," Madden stated. "The Nations Cup is truly a very important part of our sport. It is very important to our Olympic endeavor. It takes a lot of people to put that together, and I'd like to thank Gustavo Mirabal and G&C Farm for presenting this, and of course we have to thank Furusiyya for their wisdom and support for this Nations Cup Series throughout the world. Thank you very much to Mark Bellissimo and all of your people and staff that put on a truly excellent night."
"I think the United States can be very proud to host part of this series," Madden said. "On behalf of the FEI, thank you to HH Prince Faisal Al Shalan of the kingdom of Saudi Arabia, Furusiyya, G&C Farm, and the state of Florida. Wellington is really a welcoming place and this is a really excellent venue."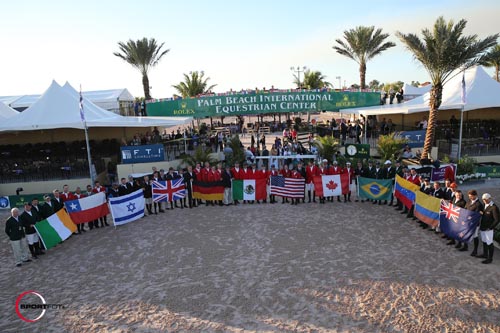 Nations Cup Team Photo
Final Results: $75,000 Furusiyya FEI Nations Cup™ presented by G&C Farm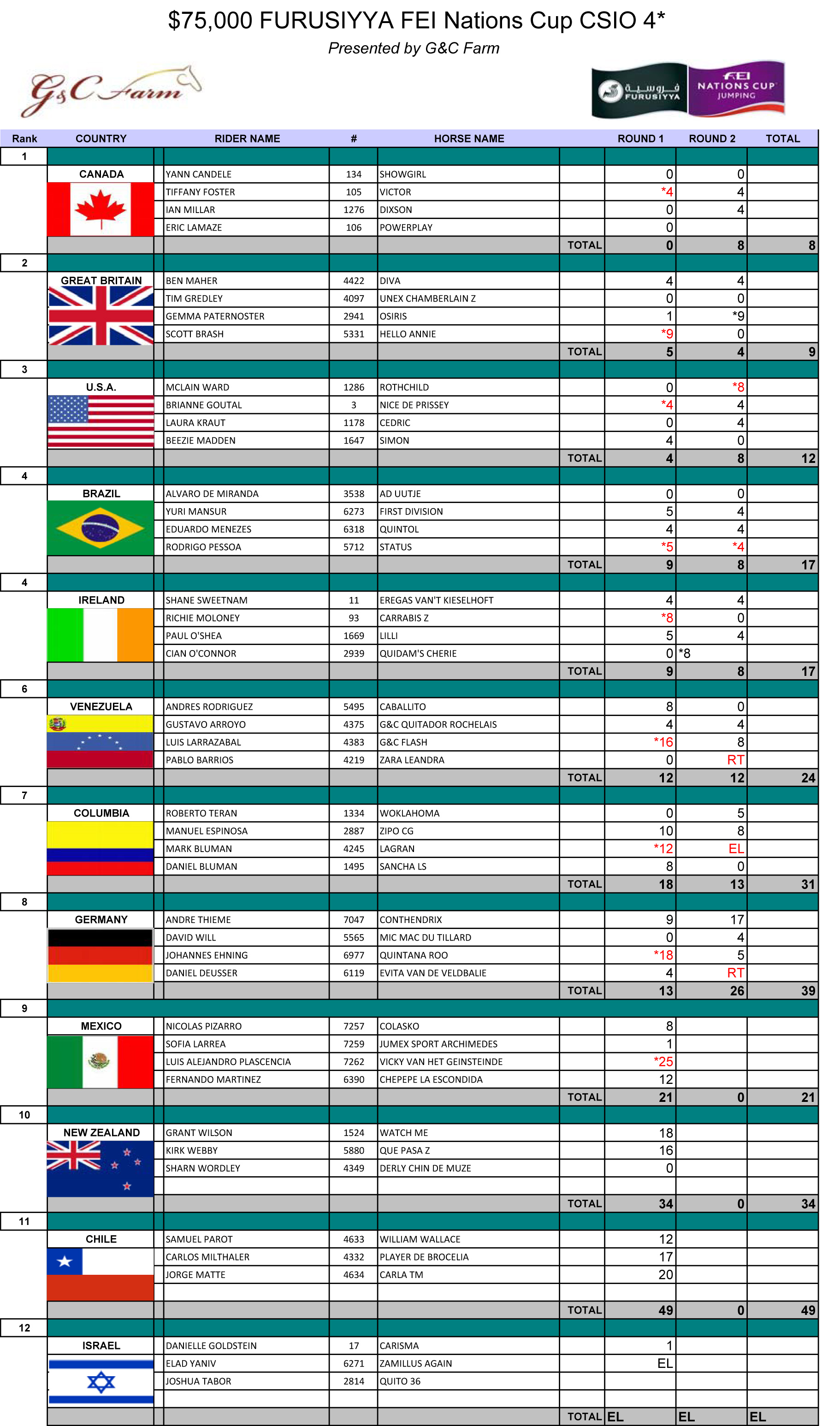 Alexander Zetterman and Canora Fly to Victory in $10,000 G&C Farm Speed Stake
G&C Farm's $10,000 Speed Stake was held on Friday with a win for Sweden's Alexander Zetterman and Canora. Steve Stephens set a difficult track for Friday's competitors that yielded four clear rounds out of 22 entries. Zetterman was the first entry to clear the course with Canora in a time of 67.11 seconds that would hold on for the win. Last to go, Ian Millar (CAN) and The Baranus Group's Baranus finished second in 68.90 seconds.
Chile's Carlos Milthaler finished third in 71.11 seconds aboard Santana Stables LLC's Calvano v/h Harteveld Z. Irleand's Paul O'Shea and Gotham Enterprizes LLC's River Dance Semilly placed fourth in 72.43 seconds.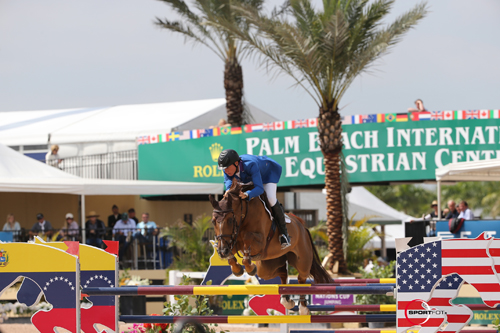 Alexander Zetterman and Canora
Zetterman has had Canora, a 12-year-old Belgian Warmblod mare (Baloubet du Rouet x Renville), since September of 2011. He explained that the fiery chestnut is always fast and in it to win.
"She's a superstar," he declared. "She has the exact right mentality. She always knows what she needs to do when she is in the ring. She is not always the best one to ride at home, but she knows exactly when she needs to be clear. She is a very fast mover; not the biggest stride, but very fast. You can go kind of normal fast and still have a very good time, so that is very good to have."
"She doesn't like to be patted all that much," Zetterman described. "She likes sweets, but she doesn't like patting and a lot of attention. She likes to do her own thing, and nobody is allowed to touch her really. When she has a bad round she is angry, so she knows exactly what it's about. She is very much a competitor."
Commenting on the day's class, Zetterman noted, "I thought the course was tricky. It was not like you could go crazy galloping. You had to be careful a little bit everywhere, and if you took one risk at one place, then you kind of got it in another place in the course. I kind of figured that out when I walked the course already. Luckily I have a horse who moves really quick, so even if I stay on a steady stride, I am traveling quite a bit. It was good for me because I could do all of the technical stuff in peace and quiet, and she still covered the ground. We made a couple of turns, and then I just try not to pull too much, and she always has a very good time."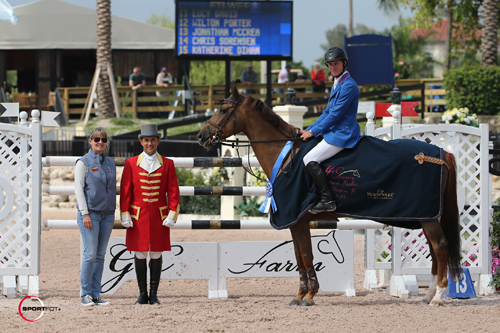 Alexander Zetterman and Canora in their winning presentation
"She is getting better and better for every year," Zetterman added. "She is getting stronger and every now and then, I try to to do 1.45m speed classes with her. She wins most money like that and I think she is going to stay sound and healthy for a longer time if I keep her at this level where she is comfortable and try not to push her too hard. She is a good mare and she is hopefully going to be going for many years more."
Also showing in the International Arena on Friday, Laura Chapot and Bradberry earned a victory in the $6,000 Spy Coast Farm 1.40m Speed Challenge.
Final Results: $10,000 G&C Farm Speed Stake CSIO
1. CANORA: 2002 Belgian Warmblood mare by Baloubet du Rouet x Renville
ALEXANDER ZETTERMAN (SWE), Alexander Zetterman: 0/67.11
2. BARANUS: 2003 Oldenburg gelding by Balou du Rouet x Centauer Z
IAN MILLAR (CAN), The Baranus Group: 0/68.90  
3. CALVANO VH HARTEVELD Z: 2005 Zangersheide stallion by Calvaro Z x Nabab de Reve
CARLOS MILTHALER (CHI), Santana Stables LLC: 0/71.11
4. RIVER DANCE SEMILLY: 2005 Selle Francais stallion by Kalaska de Semilly x Ulior des Isles
PAUL O'SHEA (IRL), Gotham Enterprizes, LLC: 0/72.43
5. SI BELLA: 2006 Selle Francais mare by Diamant de Semilly x Digne Espoir
ADAM PRUDENT (FRA), Henri Prudent: 4/68.43
6. APPLE: 2004 BWP mare by Diamant de Semilly x Carnutte
JUAN ORTIZ (VEN), Sarah Bagworth: 4/68.52
7. CON CHILLI: 2005 Holsteiner mare by Con Air x Heraldik xx
DAVID WILL (GER), Sevil Sabanci: 4/71.25
8. AHAVEROS: 2005 KWPN by Hemmingway x Pierrot
HENRIK GUNDERSEN (DEN), Henrik Gundersen: 4/71.73
9. ECKHAM VAN HET STEENTJE: 2004 BWP gelding by Berlin x Kannan
MARGIE ENGLE (USA), Elm Rock LLC: 4/73.45
10. TIZIMIN LA SILLA: 2006 La Silla gelding by Tlaloc La Silla x Polydor
SANTIAGO DIAZ (COL), Santiago Diaz: 4/73.51
11. BARRON: 2004 Swedish Warmblood gelding by For Pleasure x Nabab de Reve
LUCY DAVIS (USA), Old Oak Farm: 4/88.01
12. DIAMONTE DARCO: 2005 Great Britain Sport Horse mare by Unbelievable Darco x Unknown
WILTON PORTER (USA), Sleepy P Ranch LLC: 6/80.81
Ali Tritschler Tops Platinum Performance USEF Show Jumping Talent Search at FTI WEF
Sixteen-year-old Ali Tritschler of Southport, CT, and her own Helio Rouge bested a field of 42 riders in the Platinum Performance USEF Show Jumping Talent Search on Friday morning at the FTI WEF. Tritschler and Helio Rouge were called back on top of the order to test on the flat before ultimately winning the class. Victoria Colvin and Stallone VDL were second and Megan MacPherson rounded out the top three with Class Action.
Tritschler acquired Helio Rouge, known as "Ranger" in the barn, last November and the pair have quickly formed a solid relationship.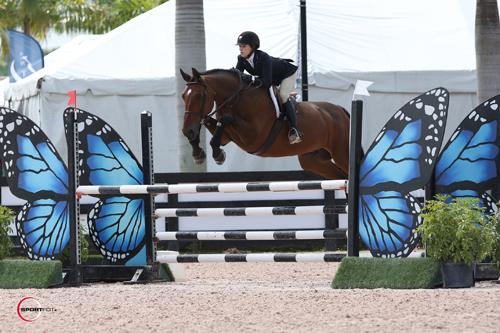 Ali Tritschler and Helio Rouge
"He's a lot different than my other horse. He's pretty straight-forward and he's very trusting, so it wasn't too hard [to get used to him]," Tritschler explained. "They both have a really big stride, but [Ranger's] is slow and big, and he also carries himself really well. With my other horse, you have to create yourself a little bit more. [Ranger also] jumps really well, but he doesn't jump hard."
Tritschler was thrilled to win in such good company, beating out many of the country's top equitation riders on her way to the blue ribbon finish.
"It's exciting. I needed my win in this class to qualify, so that was exciting. It's really cool to show against [riders] like Victoria Colvin, Megan MacPherson, and Kelli Cruciotti. They're all really good, so it's exciting when you win. It makes you feel like you're doing something right!" Tritschler smiled.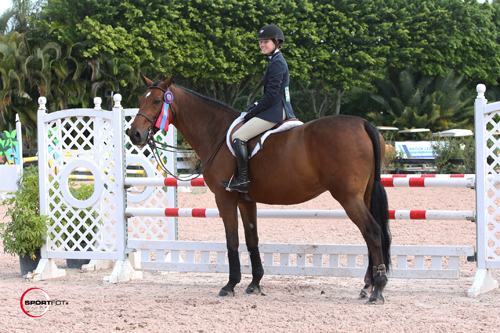 Ali Tritschler and Helio Rouge in their winning presentation
Tritschler described her round Friday with Ranger as one of the best trips they've had after suffering from minor mistakes in several of her previous rounds. She looks forward to making a go at year-end finals for the Platinum Performance USEF Talent Search, especially with a veteran mount like Ranger.
"I qualified last year, but I didn't end up going because I was qualified in all the other finals. We didn't end up going because we figured this one was the lowest priority since you can show in it for so much longer and it's just so hard. We saved my horse," Tritschler detailed.
She continued, "I really, really, want to go this year. I was going to show my jumper in it last year, but we didn't want to stress her out. I'm excited to go because Ranger has done it the past two years. It's fun for him; he loves it."
Tritschler enjoys the equitation because of its focus on each individual rider's ability, and also welcomes the extra challenge uniquely presented by the Talent Search.
"Not only are the courses harder and the jumps are spookier, but you also have the open water. For a lot of people that's hard and a lot of horses don't like it, but Ranger doesn't care. It's kind of nice to have a horse that really doesn't care [about the more difficult jumps], so then I can relax. It's definitely one of the smaller classes [because it's so much more difficult]," she commented.
Tritschler, who trains with Norfield Farms' Molly Ashe-Cawley, Chris Cawley, and Timmy Kees, is grateful to have the opportunity to learn from quality horsemen, particularly Ashe-Cawley.
"[I look up to] Molly. She's always so positive. It's never the horse's fault, and she always puts the horse first. She's very good at never being a bad sport, and she's a really good rider," Tritschler concluded.
Hunter competition continues on Saturday morning with the Amateur-Owner Over 35 Hunter 3'3″ division in the E.R. Mische Grand Hunter Ring. For full results, please visitwww.showgroundslive.com.
Photo Credit: Photos © Sportfot, An Official Photographer of the FTI Consulting Winter Equestrian Festival, us.sportfot.com, An Official Photographer of the FTI Consulting Winter Equestrian. These photos may be used only in relation to this press release and must include photo credit.
 About FTI Consulting, Inc.   
FTI Consulting, Inc. is a global business advisory firm dedicated to helping organizations protect and enhance enterprise value in an increasingly complex legal, regulatory and economic environment. With more than 4,100 employees located in 25 countries, FTI Consulting professionals work closely with clients to anticipate, illuminate and overcome complex business challenges in areas such as investigations, litigation, mergers and acquisitions, regulatory issues, reputation management, strategic communications and restructuring. The company generated $1.58 billion in revenues during fiscal year 2012.    
For more information, visit www.fticonsulting.com and connect with us on Twitter (@FTIConsulting), Facebook, and LinkedIn.  

About the FTI Consulting Winter Equestrian Festival    

The 2014 FTI Consulting Winter Equestrian Festival has 12 weeks of top competition running from January 8 through March 30. The FTI WEF is run by Equestrian Sport Productions, LLC, and Wellington Equestrian Partners and held at the Palm Beach International Equestrian Center. All 12 shows are "AA" rated and Jumper Rated 6, and $8 million in prize money will be awarded.