Wellington, FL – March 14, 2013 – The third international competition for the 2013 Adequan Global Dressage Festival (AGDF) began today with the opening CDI competition, the FEI Grand Prix. This week's show, the WEF Dressage Classic CDI 3*, presented by Today's Equestrian & Fellows, runs March 14-17, 2013. Today's winner was Tina Konyot from Palm City, FL, riding Calecto V.
There were 55 entries that jogged for the CDI competition this morning, with Carlos Munoz taking home the prize for Best Turnout Award from Show Chic with Klouseau.
The judges for today's FEI Grand Prix were: Anne Gribbons at E, Janet Foy at H, Isabelle Judet at C, Ulrike Nivelle at M, and Bo Ahman at B.
Konyot and Calecto V, winners of the FEI Grand Prix Freestyle at the last CDI-W competition at the AGDF, won today's FEI Grand Prix with a score of 70.553%. Cesar Parra (USA) and Van the Man placed second with a score of 68.213%. Susan Dutta (USA) placed third with Currency DC on a score of 67.383%.
Konyot traveled from Palm City to Wellington this morning in order to compete, and felt that the early morning wake-up call may have had an effect on Calecto V, her and John Byrialsen's 15-year-old Danish Warmblood stallion (Come Back II x Rastell).
"I had a few little bobbles. It felt maybe just a slight bit tired, and it shouldn't be because the weather is lovely. I did wake him up at 4 am," she acknowledged with a smile. "He's been laying down sleeping; he had three naps today. He's a very laid-back guy! I was happy with it. I had some very nice things, but we could have just a little bit more energy in the package. Tomorrow is another day."
Konyot joked about Calecto's penchant for napping, "He doesn't just lay down. He's lays out flat, goes to sleep, snores. At the Olympics, they took videos of him. He starts running and whinnying in his sleep. You've never seen anything like it. That's just him."
The pair will compete in tomorrow night's FEI Grand Prix Freestyle and Konyot said she's sure Calecto will "be on his toes." She added, "He feels good and he's happy. He felt very good physically and in his body."
Konyot is looking forward to the evening, which will combine show jumping and dressage. "It should be a beautiful evening. Tomorrow night should be a lot of energy and electricity. That's very exciting and this is such a gorgeous showgrounds. It's very special to have it right here."
In addition to their class win, Konyot and Calecto were presented with the Champion Equine Insurance Dressage Style of Riding Award presented by Laura Whitlow of Champion Equine Insurance.
In the national divisions, Megan Glynn had a one-two finish in the FEI Prix St. Georges – AA class with Tyto (62.303%) and Everybody's Darling (61.908%). The high score of the day was Alix Szepesi on Primative Dancer, who did the First Level Test 2 in the USEF Test of Choice and received a 74.189%.
The Para-Equestrian competition begins tomorrow in the Van Kampen Covered Arena, along with a full schedule of competition in the National divisions in the Wellington Equestrian Realty Rings 1 and 2. The Para-Equestrian riders will compete tomorrow in five grades for their team scores. Their individual tests will run on Saturday, and the team and individual scores combined will determine the team placings. On Sunday, they will have their freestyle classes.
Come see top United States para-equestrians such as Mary Jordan on her homebred mare Clever, along with Sebastian, with whom she placed fifth in qualifications for the London Paralympic Team. The Canadians have brought a strong contingent as well, including three out of four of their team from last summer's Paralympic Games.
Don't miss tomorrow night's exciting line-up of events at the AGDF, including the $10,000 Head-to-Head Competition over the high jump "Puissance" wall at 6 pm, the FEI Grand Prix Freestyle presented by Horseware Ireland under the lights at 7:30 pm, and The Yale Spizzwinks (?) A Capella singing performances. General admission and parking are free, and there will be fantastic raffle prizes handed out to general admission seat holders. It will be a night of power and grace for equestrian sport that you won't want to miss!
For full results and more information, please visit www.globaldressagefestival.com.
Final Results: FEI Grand Prix
Rider, Country, Horse, Judge E %, Judge H %, Judge C %, Judge M %, Judge B %, Total %
1 Tina Konyot (USA), Calecto V: 71.702, 73.404, 72.553, 67.234, 67.872, 70.553
2 Cesar Parra (USA), Van the Man: 69.255, 65.851, 69.787, 70.638, 65.532, 68.213
3 Susan Dutta (USA), Currency DC: 68.298, 66.596, 65.745, 70.638, 65.638, 67.383
4 Jill Irving (CAN), Pop Art: 65.638, 68.936, 66.809, 66.170, 66.383, 66.787
5 Evi Strasser (CAN), Action Tyme: 66.383, 65.319, 65.106, 65.106, 65.851, 65.553
5 Mikala Munter Gundersen (DEN), My Lady: 64.894, 65.957, 64.468, 65.000, 67.447, 65.553
Photo Credit: Photos © SusanJStickle.com. These photos may be used only in relation to this press release and must include photo credit.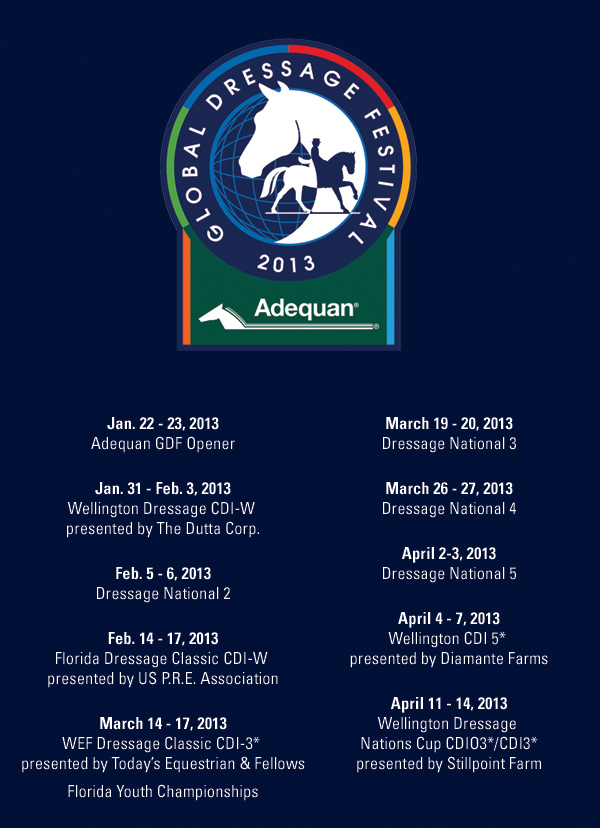 About the Adequan Global Dressage Festival:
The Adequan Global Dressage Festival (GDF) is one of the world's largest international and national dressage circuits featuring five CDIs, including a 5*, the first non-championship CDIO Nations' Cup in the Western Hemisphere, and nine U.S. national events.The Adequan GDF is offering more than $275,000 in prize money for the five international competitions making it one of the richest circuits in the world. In addition to the CDIs with national competitions, the Adequan GDF will feature six separate national shows to be held at the Stadium section of the Palm Beach International Equestrian Center (PBIEC) show grounds. The Adequan GDF encompasses almost 60 acres of the former Palm Beach Polo Grounds. The facility includes the Van Kampen covered arena (made possible by Kimberly and Frederic Boyer and family) and four outdoor arenas with world class footing, 200 permanent stalls, and a VIP seating area for the International Arena fully catered for relaxing and having an enjoyable experience.
First Founding Sponsors: Matt Varney, Chris and Rob Desino, Wellington Equestrian Realty; William Pearson and Janet Richardson-Pearson, Chesapeake Dressage Institute of Annapolis, MD; Devon and Terri Kane, Diamante Farm; Joe and Gaye Scarpa, Magnolia Farm; Tuny Page and Family, Stillpoint Farm; and Kimberly and Frederic Boyer, United States P.R.E. Association
Founding Sponsors: Ashley Holzer and Diane Fellows, Today's Equestrian; Bethany Peslar, Everglades Dressage; Betsy Juliano, Havensafe Farm; Carol and Rebecca Cohen, Two Swans Farm LLC; Janne Rumbough, MTICA Farm; Mike & Roz Collins; Suhail and PJ Rizvi, Peacock Ridge; and Tim and Susie Dutta, The Dutta Corp.
Corporate Sponsors
Brown Distributing, Champion Equine Insurance, Charles Owen, Chronicle of the Horse, Custom Saddlery, Der Dau, Dever Golf Carts, Equestrian Services International (ESI), Elite Equestrian Magazine, European Dressage Connection, Everglades Farm Equipment, Gold Coast Feed & Supply, Horse Of Course, Horseware Ireland, Interagro Lusitanos, Moet Hennessy USA, Nespresso USA, Paddock Cakes, Palm Beach Equine Clinic, Pennfield, Piaffe Performance, Premier Equestrian, Ritz-Carlton, Palm Beach, Rolex, Sanctuary at PBIEC, Show Chic, Sidelines Magazine, World Equestrian Brands
Please visit
www.globaldressagefestival.com
www.equestriansport.com
or call 561-793-5867 for more information.
Adequan Global Dressage Festival is located at
13500 South Shore Blvd, Wellington, Florida 33414