Bridgehampton, NY-August 25, 2013 – Victoria Press, of New York, N.Y., rode her horse Mayfair to victory in the $50,000 Hampton Classic Hunter Derby, presented by Meadow View Farms, on the opening day of the
Hampton Classic Horse Show. Press-at 14 the youngest rider in the 42-horse starting field-confidently guided Mayfair to the best score of the second round to claim the blue ribbon and the $15,000 prize with a two-round score of 178.5.
Darragh Kenny urged O'Ryan (171.0) to second place and a $10,000 prize, and Molly Ashe-Crawley claimed the $7,500 third-place prize on Ennzo (170.0). Ennzo won this class in 2012, while Kenny rode four more horses to top finishes: eighth on Julian, 11th on CR Moet, 12th on Caprisio and 15th on Ne-Yo.
Two panels of judges evaluated the 10-jump first round and the 11-jump second round. Scores from the two panels were averaged in each round, and the averages were added together. Ennzo  earned the top score, a 92, in the first round but faltered to score a 78 in the second round.
"He was amazing in both rounds," said Press of Mayfair. "He was so smooth, and it was just so easy to gallop around on him."
Press has been showing at the Hampton Classic since she was the short stirrup champion on her pony Irish Rain at age 6. "Every time I come here, I remember that first year, and I want to do even better. But this is the first time I really have done better," said Press, a sophomore in high school.
"This was more special than this show has ever been for me," she added.
Press purchased Mayfair, a Hanoverian gelding who's now 8, two years ago to be her first junior hunter, after she'd graduated from the pony divisions. "Really, my mom bought him for me without telling me. I didn't really like him when I tried him, but she thought he was the right horse for me and went ahead and had him vetted," said Press. "She's always right about horses, so I should know better than not to believe her."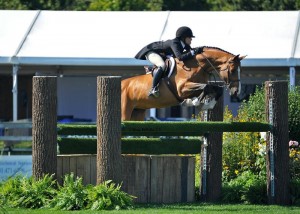 Photo: Victoria Press and Mayfair won the $50,000 Hampton Classic Hunter Derby on the opening day of the show. (Shawn McMillen photo)
During the $50,000 Hampton Classic Hunter Derby, New York Gov. Andrew Cuomo toured the green and sun-drenched showgrounds with show president Dennis Suskind.
The 38th annual Hampton Classic Horse Show runs through Sunday, September 1 and features world-class show jumping competition, as well as magnificent shopping and a variety of entertainment attractions.  The Classic features six show rings with more than 100 classes of competition for horses and riders of all ages.  A wide range of jumper, hunter, equitation, short stirrup and leadline classes are all part of the Classic's schedule, as well as competitions for riders with disabilities.
The Classic features an FEI-recognized Grand Prix on three consecutive days – the $50,000 Spy Coast Farm/Young Horse Show Series Grand Prix Qualifier Presented by Longines on Friday, the $40,000 Longines Cup on Saturday, and the $250,000 FTI Grand Prix and FEI World Cup™ Qualifier on Sunday.  The world-class field of riders will also be looking to win the new Longines Rider Challenge that awards $30,000 to the rider who accumulates the most points in the horse show's Open Jumper division.
The FTI Grand Prix is part of the Taylor Harris Triple Crown Challenge which awards a $200,000 bonus should the same horse-and-rider combination win the $100,000 Wells Fargo Grand Prix of Devon, $250,000 FTI Grand Prix at the Hampton Classic, and $250,000 Alltech Grand Prix at the Alltech National Horse Show.  McLain Ward won the Wells Fargo Grand Prix of Devon on Rothchild  in May and now stands to win the $200,000 bonus should he ride Rothchild to wins in the remaining two events in the Taylor Harris Triple Crown Challenge.
For those who can't make it to the show grounds, WVVH-TV, the official Long Island television station of the Hampton Classic, broadcasts up to five hours of competition and highlights each day during the Classic. These telecasts can also be seen online atwww.WVVH.com.
Free live webcasts of all  Grand Prix Ring competition will be available, courtesy  of ShowNet, at www.HamptonClassic.com. Competition in other rings will be available on a pay-per-view basis at www.shownet.biz.
Further information on the Hampton Classic Horse Show, please visit the Hampton Classic website at www.hamptonclassic.com or call (631) 537-3177.  Hampton Classic Horse Show, Inc. is a 501(c)(3) charitable corporation.