Wellington, FL – February 4, 2013 – The Wellington Dressage CDI-W at the 2013 Adequan Global Dressage Festival (AGDF) concluded on Sunday after a great week of competition at The Stadium. With riders winning multiple classes over the course of the week, many were happy with how they performed during the week. The AGDF would like to thank The Dutta Corp. as the sponsor throughout the week. The next show in AGDF is the Dressage National 2 on February 5-6, while the Florida Dressage Classic, CDI-W, presented by The US P.R.E. Association, is on February 14-17, 2013.
As presenting sponsor this week, Tim Dutta, founder and chairman of The Dutta Corp., believes that the AGDF is, "one of the finest facilities in the world." He continued, "Good riders and horses at the top of this sport come here to compete. It has the best stabling, amazing footing, and great judges. I think this is the beginning of a great season and I'm proud to sponsor and be a part of the AGDF."
The first day of competition saw a win in the $6,000 FEI Grand Prix for David Marcus (CAN) aboard Chrevi's Capital, owned by Deborah Miculinic. The pair won with a score of 70.340%. Tinne Vilhelmson-Silfven (SWE) and Antonia Ax:son Johnson's Divertimento were second with a score of 70.319%. Third place went to Lisa Wilcox (USA) and Pikko del Cerro HU, owned by Horses Unlimited, with a score of 68.234%.
David Marcus and Chrevi's Capital were victorious again with a win in the $20,000 FEI Grand Prix Freestyle. Under the lights, the the international riders dazzled. For the second day in a row, the top two spots were held by the same rider/horse combination. Marcus and Chrevi's received a score of 74.450% and Tinne Vilhelmson-Silfven riding Divertimento were second with a score of 72.350%. Also featured was the $3,000 FEI Prix St. Georges and FEI Junior Team. The winner of the FEI Prix St. George was Sonia Zugel (IRL) riding her mount Ungaro who scored 62.974%. The FEI Junior Team win went to Naima Moreira-Laliberte (CAN) with her mount Diamond with a score of 66.324%.
The Style Award was given to David Marcus for his impeccable technique. In winning the award, Marcus said, "I think it's important to be presentable and to make that important in the way you dress and present your horses. I appreciate receiving those awards and I love getting them."
Winning the $10,000 FEI Grand Prix Special was Lisa Wilcox riding Horses Unlimited's Pikko del Cerro HU. The 10-year-old dark bay Hanoverian stallion and his rider received a score of 71.583%. Sonia Zugel riding her mount, Ungaro were winners again in the $5,000 FEI Intermediare I. Zugel and her 16-year-old BWP bay gelding scored 64.395%.
First place in the $6,000 FEI Intermediare Freestyle went to Sonia Zugel riding her mount Ungaro with a score of 66.167%. The Young Horse award was presented to Anna Marek (USA) riding AJ Stapleton's Dilona. The horse and rider combination were also the Overall High National scorers with a 82.000%.
In the FEI Junior Individual class, Naima Moreira-Laliberte posted the highest score of 67.053% for victory with Diamond.
For full results and more information, please visit www.globaldressagefestival.com.
Photo Credit: Photos © SusanJStickle.com. These photos may be used only in relation to this press release and must include photo credit.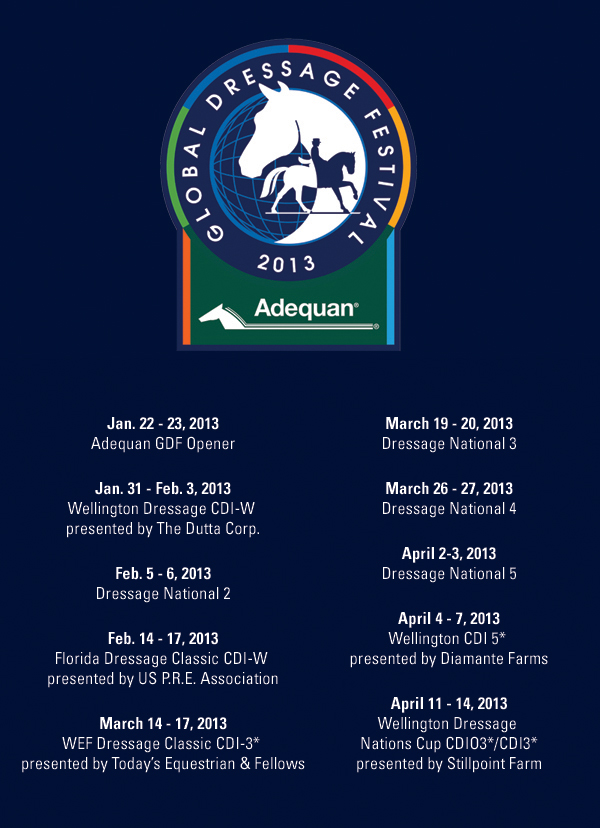 About the Adequan Global Dressage Festival:
The Adequan Global Dressage Festival (GDF) is one of the world's largest international and national dressage circuits featuring five CDIs, including a 5*, the first non-championship CDIO Nations' Cup in the Western Hemisphere, and nine U.S. national events.The Adequan GDF is offering more than $275,000 in prize money for the five international competitions making it one of the richest circuits in the world. In addition to the CDIs with national competitions, the Adequan GDF will feature six separate national shows to be held at the Stadium section of the Palm Beach International Equestrian Center (PBIEC) show grounds.  The Adequan GDF encompasses almost 60 acres of the former Palm Beach Polo Grounds. The facility includes the Van Kampen covered arena (made possible by Kimberly and Frederic Boyer and family) and four outdoor arenas with world class footing, 200 permanent stalls, and a VIP seating area for the International Arena fully catered for relaxing and having an enjoyable experience.
First Founding Sponsors:
 Matt Varney, Chris and Rob Desino, Wellington Equestrian Realty; William Pearson and Janet Richardson-Pearson, Chesapeake Dressage Institute of Annapolis, MD; Devon and Terri Kane, Diamante Farm; Joe and Gaye Scarpa, Magnolia Farm; Tuny Page and Family, Stillpoint Farm; and Kimberly and Frederic Boyer, United States P.R.E. Association
Founding Sponsors: Ashley Holzer and Diane Fellows, Today's Equestrian; Bethany Peslar, Everglades Dressage; Betsy Juliano, Havensafe Farm; Carol and Rebecca Cohen, Two Swans Farm LLC; Janne Rumbough, MTICA Farm; Mike & Roz Collins; Suhail and PJ Rizvi, Peacock Ridge; and Tim and Susie Dutta, The Dutta Corp.
Corporate Sponsors
Brown Distributing, Champion Equine Insurance, Charles Owen, Chronicle of the Horse, Custom Saddlery, Der Dau, Dever Golf Carts, Equestrian Services International (ESI), Elite Equestrian Magazine, European Dressage Connection, Everglades Farm Equipment, Gold Coast Feed & Supply, Horse Of Course, Horseware Ireland, Interagro Lusitanos, Moet Hennessy USA, Nespresso USA, Paddock Cakes, Palm Beach Equine Clinic, Pennfield, Piaffe Performance, Premier Equestrian, Ritz-Carlton, Palm Beach, Rolex, Sanctuary at PBIEC, Show Chic, Sidelines Magazine, World Equestrian Brands
Please visit
www.globaldressagefestival.com
or call 561-793-5867 for more information.
Adequan Global Dressage Festival is located at
13500 South Shore Blvd, Wellington, Florida 33414